MLBTR is publishing Offseason Outlooks for all 30 teams.  Click here for the other entries in this series.
"We want to run the organization without having to go over our means. We want to stay competitive, but at the same time, this organization has been working way above its means for some time." ~ Tigers GM Al Avila, Oct. 18, 2016
Guaranteed Contracts
Arbitration Eligible Players (service time in parentheses; projected salaries via MLBTR contributor Matt Swartz)
Free Agents
Other Financial Commitments
Tigers Depth Chart; Tigers Payroll Information
The comment from Avila that opened this outlook was one of many headline-grabbing quotes he delivered last month, as the second-year GM's words were the first significant indication that Tigers owner Mike Ilitch may not continue his free-spending ways. Avila was charged with spending aggressively to assemble a contender last year in his first winter atop Detroit's baseball ops hierarchy — business as usual in the Detroit front office — and responded by shelling out more than $270MM to sign Justin Upton, Jordan Zimmermann, Mike Pelfrey, Mark Lowe and Jarrod Saltalamacchia while also swinging trades for bullpen help in the form of Francisco Rodriguez and Justin Wilson.
The results, clearly, were not encouraging. Though the Tigers finished with 86 wins and were in contention for much of the year, each of the free agents signed to a multi-year deal flopped in year one of their contract. Zimmermann suffered injuries and faded after a brilliant start, while Upton looked lost at the plate until a strong six-week finish. Pelfrey's contract was baffling from the get-go, and Lowe was unable to recreate the terrific 2015 campaign he authored with the Mariners and Blue Jays. The trade results were more promising, at least. K-Rod proved still capable of handling a late-inning role, and Wilson posted terrific peripherals that suggest his 4.14 ERA will improve in 2017 and beyond (10.0 K/9, 2.6 BB/9, 54.9 percent ground-ball rate, 3.02 SIERA).
The disappointing performance of last winter's additions, though, didn't simply cause the Tigers to miss out on the 2016 postseason. Rather, they further clogged what was already a dreadful long-term payroll outlook and seemingly served as the tipping point to curb some of the team's offseason aggressiveness. That's not to suggest that a full tear-down is in the offing. Franchise cornerstones like Miguel Cabrera and Justin Verlander — both of whom have full no-trade protection via 10-and-5 rights anyhow — seem unlikely to move. Zimmermann, too, has full no-trade rights early in the five-year deal he inked last November. Upton, meanwhile, can block trades to 20 teams and would be difficult to unload. The Tigers would probably love to deal Sanchez, Pelfrey and Lowe, but it seems unlikely that any team would line up to take on those onerous financial commitments. If they're to be moved, the Tigers will have to chip in some cash or take on a similarly unwanted deal.
Where, then, do they turn to accomplish Avila's stated goals of getting younger and trimming some of the payroll? Detroit wasted such little time in beginning the process that this outlook required a last-minute update before publishing. Avila's first move of the offseason came less than 24 hours after the completion of the World Series, as he traded Cameron Maybin and his $9MM club option to the Angels in exchange for young right-hander Victor Alcantara. The move sheds Maybin's $9MM salary next year and also prevented the Tigers from needing to pay a $1MM buyout. Beyond that, Detroit added a hard-throwing prospect to its minor league ranks. The return on Maybin wasn't especially strong, but he's a one-year rental coming off an injury-shortened season, and it didn't appear to be a huge secret that the Tigers preferred to deal their center fielder.
Rodriguez's $6MM option was probably an easier call, as it came with a $2MM buyout, thus it a net $4MM decision for the team. Detroit exercised the option shortly after trading Maybin, so Rodriguez looks to be in the fold for the time being, although there's still a chance that the Tigers could field offers for him later this winter. The game's emphasis on relief pitching is trending up, after all, and while no one is going to mistake K-Rod for the powerhouse reliever he was during his peak with the Angels, he's still a very serviceable late-inning arm on a reasonable one-year deal. Moving K-Rod to a club that can't afford to pursue one of the top free-agent closers or to a team looking to use him to set up for a top-flight closer could net another interesting young piece.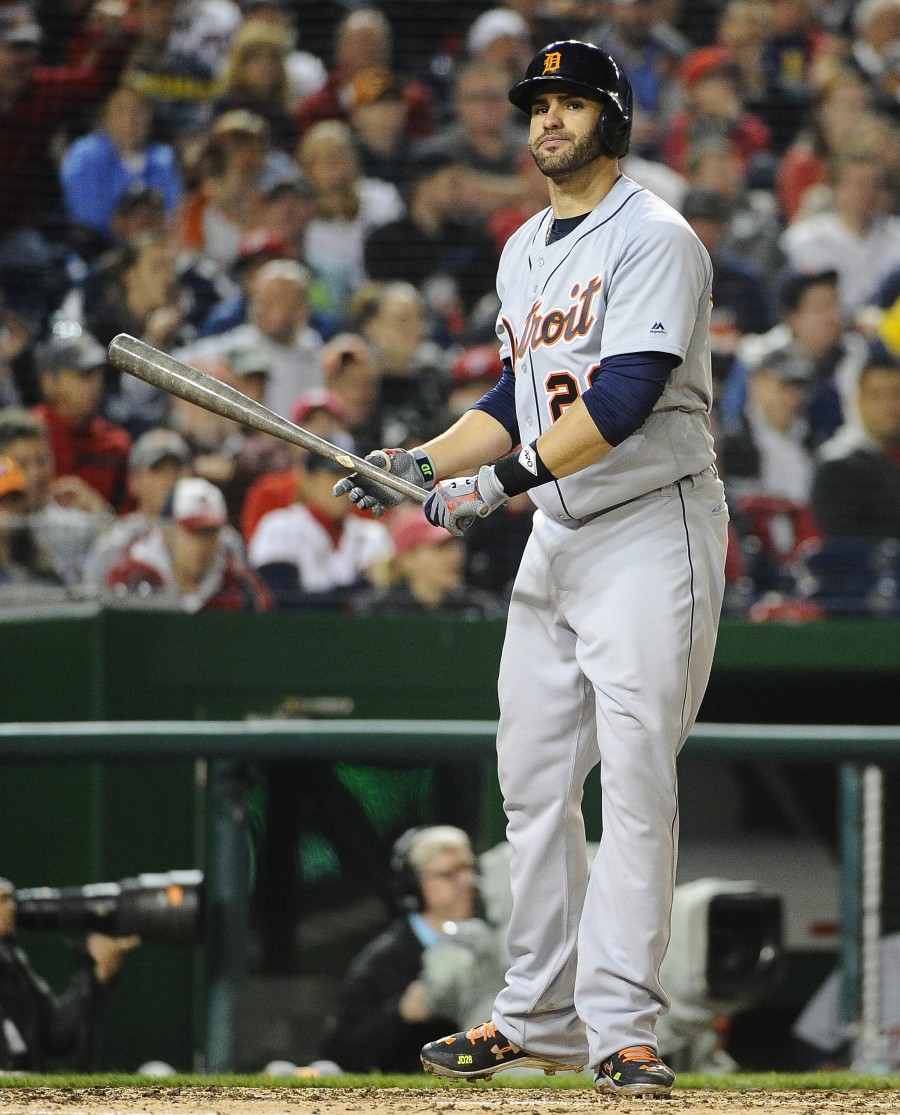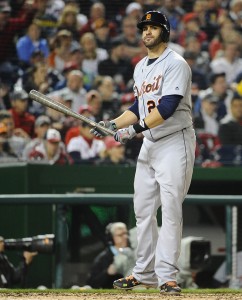 Beyond Rodriguez, right fielder J.D. Martinez (pictured) is perhaps the most palatable veteran for the Tigers to shop this winter. While the loss of an elite bat will unequivocally sting, Martinez is likely headed for a $100MM+ contract next winter, and extension talks with him aren't likely to come with any kind of notable discount just one year removed from such a tantalizing payday.
MLBTR's Mark Polishuk recently looked at Martinez's extension candidacy and suggested that something in the vein of $120MM-140MM over five to six years would be a realistic price (depending on the inclusion of an opt-out clause). That indeed seems like a fair prognostication for a player who just turned 29 and has laid waste to opposing pitchers with a .299/.357/.540 slash line and 83 home runs in 401 games since coming to Detroit. Avila candidly said he doesn't foresee a long-term deal happening with Martinez, making him a natural trade candidate. Though Martinez comes with just one more year of control (and some defensive question marks), his imposing bat and reasonable price tag could net a package fronted by at least one premium young prospect while also trimming some money off the payroll. The Mets (if Yoenis Cespedes signs elsewhere), Giants, Blue Jays, Orioles, Rangers, Mariners, Angels and Dodgers all seem like plausible landing spots (to varying degrees).
Kinsler, too, figures to have widespread trade appeal, though as a similarly excellent player with two years of club control remaining ($11MM 2017 salary, $10MM 2018 option), the asking price could be greater and the urgency to deal him lesser. Certainly it's fair to assume Avila and his staff would entertain offers on Kinsler, but contending teams in need of a definitive second base upgrade aren't as plentiful as those looking for corner outfield sluggers. The Dodgers, Mets (if Neil Walker departs) and possibly the Angels stand out as win-now clubs that could look to upgrade at second base.
Victor Martinez represents another highly productive veteran controlled for two more seasons, but the $36MM he's owed for his age-38 and age-39 seasons is probably excessive, and his market would be limited to AL-only teams with open DH slots. That's not to say a deal couldn't be worked out — the Dave-Dombrowski-led Red Sox do have a new opening at DH, for instance — but trading V-Mart looks decidedly more cumbersome than parting with the other middle-of-the-order Martinez on the roster.
With all the talk of selling pieces and trimming payroll, though, it's easy to forget that the Tigers won 86 games this season and could be firmly in the thick of things in the AL Central next year with better health from some of their veterans. A rebound from Zimmermann, for instance, would give the team a strong quartet of Verlander, Zimmermann, American League Rookie of the Year candidate Michael Fulmer and Daniel Norris on which to lean in the rotation. Meanwhile, the strides made by Nick Castellanos at third base give the team another intriguing bat to pair with Cabrera and a hopefully resurgent Upton in the middle of the order. Jose Iglesias is an elite defender, so much so that his glove largely offset the decline in his offense this year. A rebound with the bat shouldn't be ruled out for Iglesias, as his K/BB numbers remained identical in 2016 while his BABIP fell off (in part due to an increase in fly balls). With some combination of Kinsler and/or either Martinez likely to return in 2017 as well, the makings of a strong lineup are present.
And in the bullpen, Rodriguez could again anchor an improved relief corps if he's not dealt. Even if the Tigers do part ways with the game's active saves leader, there's still hope. Wilson's peripherals, as mentioned above, were outstanding. Young Bruce Rondon took a huge step forward with a 2.97 ERA on the season and a 1.52 ERA over his final 25 games. Joe Jimenez, one of the top bullpen prospects in baseball, logged a 1.51 ERA and 13.1 K/9 across three minor league levels and should be a factor at some point in the first half of the 2017 season. Alex Wilson quietly recorded his third straight season with a sub-3.00 ERA and his second in which he reached 70 innings.
Detroit could look to supplement that core group, though paying top dollar early in the offseason (as it has in some instances in the past) doesn't seem likely. Instead, help could come in the form of controllable relief arms via trades. (Alcantara, conceivably, could occupy a relief role later this year.) Alternatively, the Tigers could look to opportunistically wait out the free-agent market and snatch up a quality setup arm on a modest one- or two-year deal late in the winter. The relief market somewhat resembles a game of musical chairs each winter, and inevitably there's a name or two that's left standing without a big contract when the music stops.
Center field, too, presents an opportunity to make a value play, though Avila suggested immediately after the Maybin trade that his team's center field job will be a "wide-open competition." That could give out-of-options outfielders Anthony Gose and Tyler Collins a shot at cracking the roster, and young JaCoby Jones will certainly get a look as well. Jones could use more time to improve on his offense and familiarize himself with center field (most of his experience is in the infield), though, and Collins hit poorly in both Triple-A and in the Majors in 2016. Gose, meanwhile, was suspended by the team this summer for arguing with Toledo manager Lloyd McClendon, who is now the Tigers' Major League hitting coach and also posted a .521 OPS in Triple-A. If Detroit does take to the open market to look for a more affordable option than Maybin, then names like Peter Bourjos, Michael Bourn and even old friend Austin Jackson are among the options.
As for other possible spots where a low-cost addition might make sense, the utility infield and backup catcher roles need to be addressed. It's possible that Romine is tendered a contract and reprises the role he's filled in Detroit since 2014, but his bat has never developed. Dixon Machado represents a mildly cheaper (by about $700K) in-house alternative, and the team could also look to re-sign Erick Aybar to fill the role or pursue Ruben Tejada, as either could be an offensive upgrade. James McCann still hasn't hit much in Detroit, but all accounts seem to indicate that the Tigers think he's their man behind the plate in the long run. He figures to get at least another year to prove them right, so a backup option like Geovany Soto, Drew Butera or even old friend Alex Avila (GM Al Avila's son) could fit.
A new corner outfielder could make sense in the event of a J.D. Martinez trade, especially now that Maybin is gone. In addition to the aforementioned Gose and Collins, the Tigers have another out-of-options outfielder in Steven Moya that could compete for everyday at-bats in right field. Moya ripped 25 homers between Triple-A and the Majors last season in just 526 combined plate appearances, so his power is certainly intriguing even if it comes with a questionable OBP and some defensive uncertainty. Affordable value plays on the free-agent market could include Colby Rasmus (who is coming off a pair of surgeries and a down season) or former big leaguer Eric Thames, who has dominated the Korea Baseball Organization over the past three seasons.
And if the team is truly interested in forming a sustainable core that doesn't force it to play "above its means," perhaps there's the possibility of an extension for a younger star this winter. Fulmer is the most appealing youngster to lock up, but he's still three years from arbitration eligibility, so there's little in the sense of urgency. At the same time, his distance from significant earnings make it easier to sign him at a lower cost. Castellanos, too, could be an extension candidate if the team believes his 2016 strides at the plate and in the field to be legitimate improvement instead of a short-term blip on the radar. And even Rondon, who a year ago was sent home due to the Tigers' discontent with his "effort level," could be the recipient of a modest multi-year deal that would prevent his arbitration price from soaring in the event that he eventually inherits the ninth inning.
The potential spending standstill has been a long time coming and one that we've speculated about here at MLBTR on multiple occasions. Eventually, the Tigers' hyper-aggressive outlays were going to create long-term payroll difficulties, and that's very much the case right now. Detroit already projects to have a $195.7MM payroll in 2017, a $138.1MM payroll in 2018 and $111.1MM in 2019. Even as far out as 2020, the team is guaranteeing a fairly stunning $83.1MM to just three players (or $105.1MM to four players if Verlander's 2020 option vests).
Though a change in approach finally seems to be at hand, the Tigers don't need to wave the white flag. While the extent to which they continue to shed payroll (i.e. trade productive veterans) will of course be a significant factor in determining next year's postseason hopes, there's enough talent on the roster to withstand some financial housekeeping and still find success.
Photo courtesy of USA Today Sports Images.