FEBRUARY 14: Eovaldi can also earn up to $3.5MM in incentives in the 2018 season, Topkin adds on Twitter.
FEBRUARY 12, 8:27pm: Eovaldi will also earn $2MM in 2018 if the Rays exercise their option, Topkin reports (Twitter link).
4:04pm: Eovaldi's pact will include a $2MM salary for 2017, a club option for 2018 and incentives, tweets ESPN's Buster Olney.
1:30pm: The Rays are close to signing right-hander Nathan Eovaldi to a major league deal, reports Marc Topkin of the Tampa Bay Times (Twitter link). The contract will include a 2018 option, as the ACES client will miss the upcoming season while recovering from Tommy John surgery.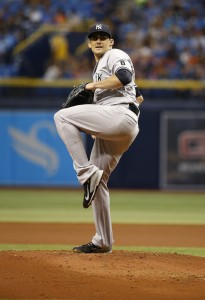 Eovaldi has been on the market since the Yankees released him in November, which came just over three months after his August elbow procedure. The soon-to-be 27-year-old previously underwent Tommy John surgery as an amateur, and he also had his right flexor tendon repaired during his latest operation.
Before landing on the shelf last year, the hard-throwing Eovaldi averaged a personal-high 97 mph on his fastball, registered a career-best 9.3 percent swinging-strike rate and posted a 49.6 percent ground-ball mark. Nevertheless, he struck out only seven batters per nine innings and logged a below-average 4.76 ERA over 124 2/3 innings frames. Home run troubles were the main reason Eovaldi had issues preventing runs, as he allowed HRs on 18.7 percent of fly balls.
From 2011-15, when he also spent time as a Dodger and Marlin, Eovaldi recorded a far more palatable homer-to-fly ball ratio (7.1 percent) and yielded a much better ERA (4.10) over 614 1/3 innings. Despite his velocity, Eovaldi wasn't a strikeout artist during those five years (6.48 per nine), though he did a respectable job limiting free passes (2.92 BB/9). Going forward, Eovaldi could at least provide the Rays an intriguing relief option in 2018 if he doesn't slot into their rotation.
Photo courtesy of USA Today Sports Images.