This is the latest entry in MLBTR's Offseason In Review series. The full index of Offseason In Review posts can be found here.
The Yankees entered the offseason with multiple holes to fill after trading away veterans at last year's deadline, but following a couple of early splashes, the team remained quiet for the bulk of the winter.
Major League Signings
Trades and Claims
Notable Minor League Signings
Extensions
Notable Losses
Needs Addressed
The Yankees managed to flirt with contention late into the 2016 season despite acting mostly as sellers at the non-waiver trade deadline. New York's three-headed bullpen monster of Aroldis Chapman, Andrew Miller and Dellin Betances (often referred to as "No Runs DMC") was the envy of clubs around the league early in the season and will be imitated (though not likely replicated) for years to come. However, GM Brian Cashman tore that trio apart just prior to the deadline, dealing Chapman to the Cubs and Miller to the Indians in exchange for a king's ransom of prospects, thus creating a need in the 'pen.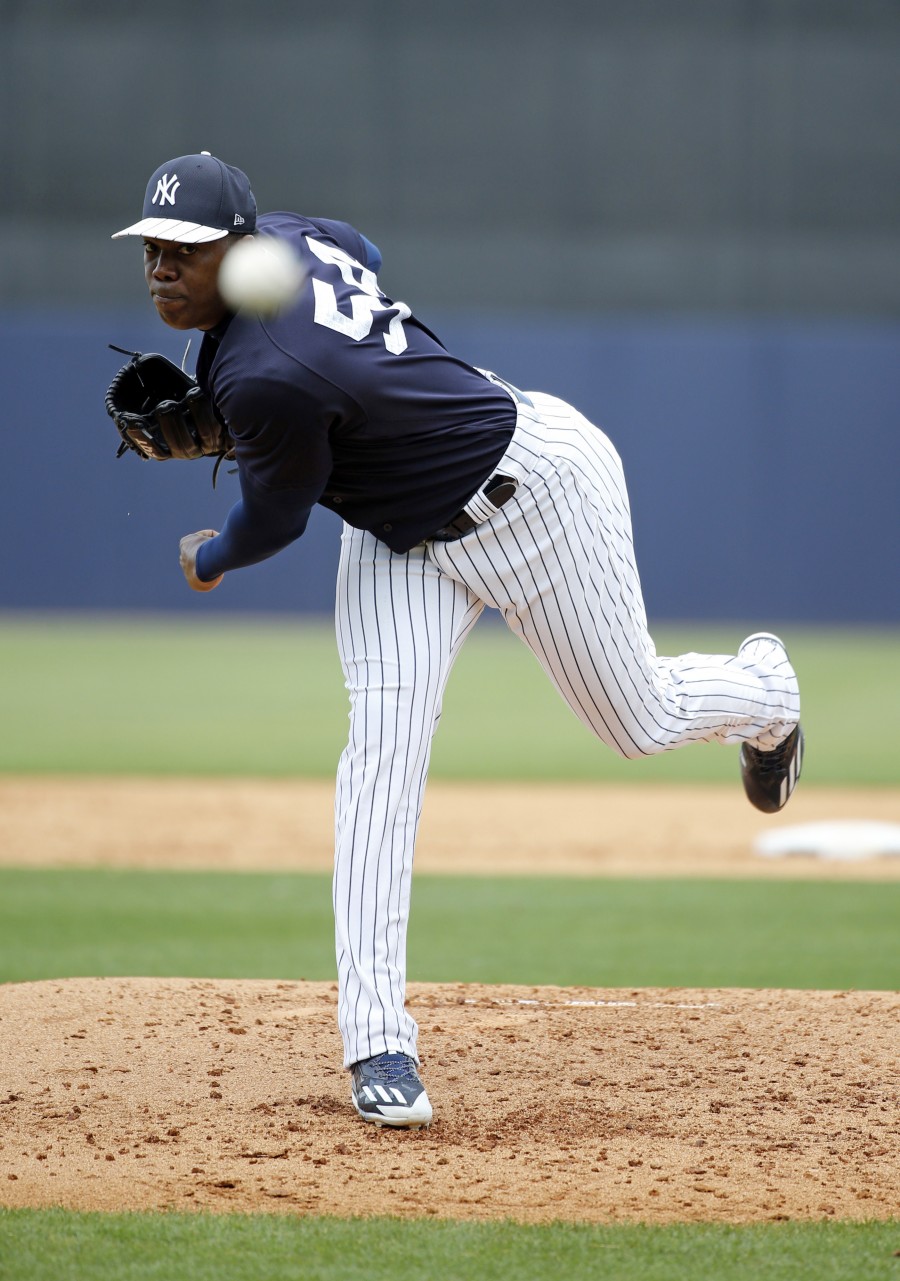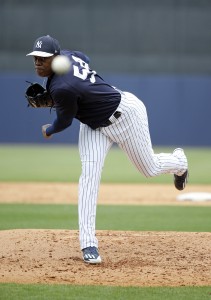 New York was linked to each of the "big three" closers on the market — Chapman, Kenley Jansen, Mark Melancon — but ultimately stuck with a known commodity by signing Chapman to a record-setting five-year, $86MM contract. The deal allows Chapman to opt out in three years, should he see fit. Following that addition, the Yankees were linked to countless other relievers, including Boone Logan, Jerry Blevins and Brett Cecil, but Chapman was their lone Major League signing.
Also changing hands at last year's trade deadline was Carlos Beltran, who went to the Rangers in exchange for yet another pair of prospects. Cashman & Co. explored the possibility of re-signing Beltran and also looked into top slugger Edwin Encarnacion for the better part of a month as they sought to add a DH bat. Ultimately, they settled on a more affordable option, inking Matt Holliday to a one-year, $13MM deal. The Yankees hit just .254/.317/.391 as a collective unit against left-handed pitching last season, and while Holliday had his own troubles against southpaws in 2016, they were largely BABIP driven. He still showed good power and solid strikeout and walk rates against lefties and should help with that deficiency.
Of course, when looking for ways in which to improve performance against left-handed pitching, clearing space for young Gary Sanchez to see regular at-bats likely ranked near the top of the Yankees' list of priorities. That goal was accomplished by shipping Brian McCann and $11MM to the Astros in exchange for a pair of low-level righties. That deal not only opened the door for Sanchez, who hit .299/.376/.657 as a rookie (albeit with a significant slump to end the year), it also cleared a fair bit of money off the Yankees' luxury tax ledger. For a club that has sought to get younger not only to build a sustainable core but also to escape the annual luxury taxation penalties, the two-fold value of that trade shouldn't be overlooked.
Following those three early moves, it was a fairly quiet winter for the Yankees. While they were linked to names like Jose Quintana, Chris Sale and numerous other trade targets, the Yankees elected to hold onto their recently acquired stockpile of prospects. On the other side of the coin, veterans like Brett Gardner, Starlin Castro and Chase Headley were all said to be available in trades but failed to generate interest and/or quality offers.
The Yanks did go bargain shopping late in the winter, poking around Travis Wood's market and eventually snagging defensively challenged/strikeout-prone NL home run king Chris Carter on a one-year, $3.5MM deal. Relative to the $37.5MM the division-rival Orioles spent on a comparable skill set (Mark Trumbo), that pickup looks like a nice value play for the Yankees.
Questions Remaining
When previewing the Yankees' offseason back in mid-October, I wrote that adding a rotation arm that's controllable beyond the 2017 season seemed "imperative" for a Yankees team that is poised to lose each of Masahiro Tanaka, Michael Pineda and CC Sabathia to free agency next winter. Clearly, the New York front office didn't agree: the closest the team came to bolstering its rotation was the minor-league signing of long-time starter and reclamation project Jon Niese, who battled in camp for a pen spot.
It was a minor miracle that three players with the injury concerns that Pineda, Tanaka and Sabathia carried into the 2016 campaign combined to start 90 games for New York. With Nathan Eovaldi gone following Tommy John surgery, Luis Severino won the fourth spot in the rotation. He's admittedly been very promising thus far, but Severino has yet to demonstrate that he's capable of sustaining this level of play for a whole season.
While rolling the dice, so to speak, on a pitcher of his upside is a perfectly reasonable play in a vacuum, it's considerably riskier when the rotation is led by three injury risks with four even more inexperienced arms on hand to round out the fifth slot. Southpaw Jordan Montgomery won the fifth spot and has looked solid through three starts, but the injury question marks and inexperience that permeate the Yankees' rotation could bite the team later this season. Righties Chad Green, Luis Cessa and Bryan Mitchell are all on hand as reserve options, though that trio has combined for just 25 Major League starts.
Looking to the bullpen, the Yanks again possess a solid late-inning trio in Chapman, Betances and Tyler Clippard. Adam Warren, meanwhile, is a fine multi-inning/swingman option, though the remainder of the relief corps, as is the case in the rotation, is lacking in experience. Tommy Layne posted a terrific ERA in the Bronx after a midseason pickup, but his secondary stats paint a less impressive picture. Rookie right-hander Jonathan Holder posted video game numbers in the minors last season but entered the year with just 5 1/3 innings under his belt. Mitchell claimed the other bullpen spot, but the 26-year-old hasn't yet shown the ability to miss bats on a consistent basis in the Majors. Chasen Shreve, Ben Heller, Green and Cessa are among the depth options in the upper minors, but it still looks like there was room to add another arm to the bullpen this winter.
Perhaps the lack of additions shouldn't come as a surprise, however. The Yankees are a club that has oft stated a desire to get younger, and that's played out both in the pitching staff and throughout the lineup. The early returns on both Aaron Judge and Aaron Hicks are both extremely encouraging — so much so that Gardner's playing time could potentially take a hit. (Should that play out, expect to hear his name once again bandied about trade rumors.)
The results at first base have been far less encouraging, with Greg Bird and Carter both struggling. Tyler Austin was lost for all of Spring Training due to a fractured foot and has yet to get back into the Triple-A lineup, so the Yanks will have to hope for one of the current options to come alive at the plate. If no one from that group can get it going at the plate, this past offseason served as proof that the current supply of first basemen is larger than the demand, so perhaps an addition could be made.
From a larger-picture perspective, the future of several veteran Yankees is also worth speculating upon. Gardner, Headley and even Castro (despite his relative youth) were all prominently featured in trade rumors this winter. As previously noted, Judge and Hicks could diminish Gardner's role if both stay productive, and Clint Frazier is waiting in the wings in Triple-A. Either Castro or the resurgent Headley could become expendable as well, once Gleyber Torres reaches the cusp of the Majors. And, of course, moving any of those veterans would further help the Yankees move away from the dreaded luxury tax threshold, as each is playing on a significant multi-year deal.
Deal(s) of Note
The Yankees will face obvious public relations issues for years to come for acquiring Chapman not once, but twice in the wake of his domestic violence allegations in the 2016-17 offseason. Some will move on and prioritize Chapman's on-field contributions over his off-field issues, but there will be fans and industry folk alike that pass harsh judgment on the organization.
From a purely baseball standpoint, though, the Chapman contract was noteworthy for the Yankees themselves and for the future of free-agent relievers. Chapman was one of three relievers to break Jonathan Papelbon's fairly long-standing record (four years, $50MM) for a relief pitcher this winter. Beyond that, each of Chapman, Jansen and Melancon secured an opt-out provision in his contract, further boosting the premium that is placed on elite bullpen help.
That's especially notable as we look ahead to the mega-class of free agents that looms in the 2018-19 offseason; Zach Britton will headline that year's crop of relievers, with Cody Allen, Kelvin Herrera and Jeurys Familia all on the open market as well. While it'd be tough for any of them to top Chapman's $86MM guarantee (Britton seemingly has the best chance), this offseason unquestionably helped to move the market forward for top-tier relief help.
And yet, despite the exceptional value placed on Chapman and other relievers in free agency, the arbitration system lags behind. There's no greater evidence of that disconnect than the bizarre scenario that unfolded between the Yankees and setup man Dellin Betances.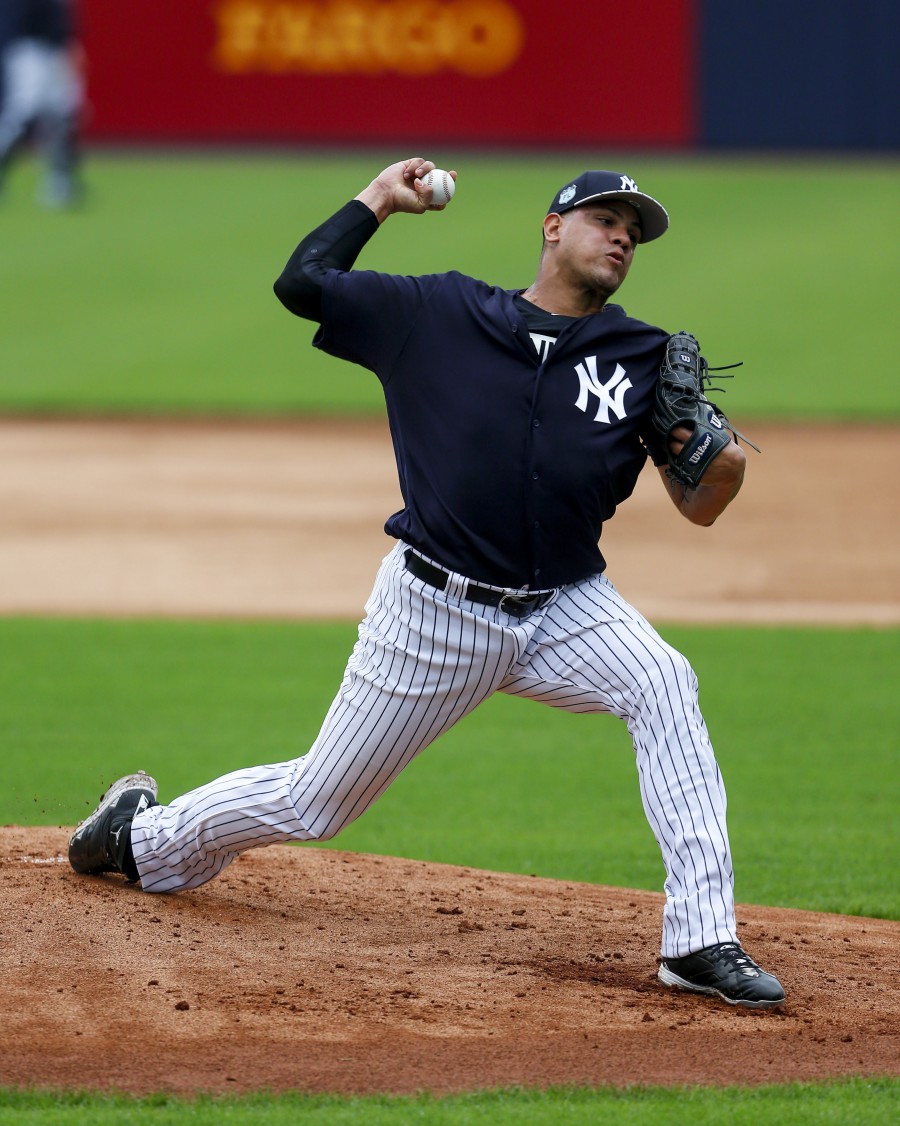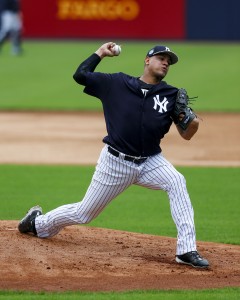 Betances carried one of the most unique arbitration cases in recent history into the hearing room this offseason, as he filed for a $5MM salary against the Yankees' $3MM submission.
Saves are king in arbitration dealings, and Betances is lacking in that department, with just 22 in his career. However, few relievers hit their first trip through arb with anywhere near the combination of 22 saves and 78 holds that Betances carried, and none has done so with those totals and Betances' rate stats. The 28-year-old, to date, has registered a career 2.16 ERA with 14.3 K/9 against 3.5 BB/9.
Betances ultimately lost his case, which was noteworthy on its own, but the bizarre tirade from Yankees president Randy Levine that followed the hearing was even more head-scratching. Seemingly unprovoked, Levine blasted Betances and his reps for attempting "to change a well-established market" by seeking a significant raise for a pitcher who had not been utilized as a pure closer. The unnecessary tirade may have damaged the relationship with Betances, as the righty said shortly thereafter that he thinks free agency "will be a little easier when the time comes."
There's admittedly little in the way of impact on the Yankees' roster in the near future, and perhaps the two sides can bury the hatchet between now and the completion of the 2019 season, when Betances will be a free agent. But it's nonetheless rare to see an executive so brazenly call out one of his players, especially with nothing to gain from the ordeal.
Overview
The Yankees broke the bank on arguably the most dominant reliever in the game, but the remainder of their moves were either short-term or made with an eye toward continuing to inject youth into the roster. For a team that won 84 games last season, a full year of Chapman in the 'pen and Sanchez behind the plate seems like a recipe for improvement. However, the Yankees almost wholly ignored their lack of rotation depth, instead continuing to bank on a trio of injury-prone starters and a host of unproven young pitchers that may or may not prove to be capable rotation cogs in the long-term.
For a team with postseason aspirations, the contradictory nature of spending $86MM on a closer while simultaneously passing up the ability to add rotation help despite an abundance of affordable arms is confounding. The Yankees' roster is teeming with young talent and upside, but a few extra arms in what wound up being a buyers' market for pitching would've gone a long ways toward bolstering their playoff hopes. Moreover, the plan for 2018 remains cloudy, as there's no one with an established Major League track record controlled beyond the current season
The Yankees are off to a strong start and may well return to the playoffs in 2017. Their minor league depth is impressive, to say the least, but I can't help wondering if the top-heavy allocation of resources in the rotation and in the bullpen necessitated relying too heavily on that depth this year.
Cast your own vote on the Yankees' offseason below (link to poll for Trade Rumors app users)…
[polldaddy poll=9733301]
Photos courtesy of USA Today Sports Images.