"Knocking Down the Door" is a weekly feature that identifies minor leaguers who are making a case for a big league promotion.


Matt Chapman, 3B, Oakland Athletics (Triple-A Nashville)
In an ideal scenario for a non-competitive A's team, Trevor Plouffe would already be generating interest on the trade market with Chapman ready to take over at the hot corner sometime in August or even September. Instead, the A's aren't anywhere close to a playoff spot and Plouffe's trade value might be as low as it's ever been—he has a .640 OPS and is in a 7-for-53 slump with 20 strikeouts over that span. Therefore, moving up the 24-year-old Chapman's MLB debut seems more likely by the day.
The 25th overall pick in the 2014 draft, Chapman had a rough start to the season. After going 0-for-7 with six strikeouts, he injured his wrist and missed the next two weeks. He had just three singles in his first 23 at-bats after returning, but he finally caught fire in early May and hasn't slowed down since. He finished May with 11 homers and a 1.031 OPS. So far in June, the right-handed slugger has hit five out of the park and has a 1.014 OPS. Ryon Healy was called up in mid-July of last season. At this rate, Chapman should be up prior to the All-Star break.
—
Tom Eshelman, SP, Philadelphia Phillies (Triple-A Lehigh Valley)
Heading into the season, Eshelman couldn't have been higher than 10th on the Phillies' starting rotation depth chart. Just two months into the season, though, he's making a strong case to be next in line. Injuries to Clay Buchholz and Vince Velasquez have helped, but the 22-year-old's quick rise has mostly been a result of his performance.
In 12 starts—seven in Triple-A and five in Double-A—Eshelman has posted a 2.11 ERA with only 10 walks and 59 strikeouts in 81 innings. Since two somewhat shaky starts to begin the season with Double-A Reading (10 IP, 4 ER, 13 H), he's been lights out, completing at least 6 innings in his last 10 starts with no more than one walk allowed and a 1.90 ERA.
—
Wilmer Font, SP, Los Angeles Dodgers (Triple-A Oklahoma City)
While it seems unlikely that Font makes a start for the Dodgers in 2017, it's hard for them—or other teams around the league—to not be intrigued by the significant jump in his strikeout rate this season. In 12 starts over 65 innings, the 27-year-old right-hander has 95 strikeouts and only 13 walks. That's more than two walks below and two strikeouts above his career BB/9 (4.1) and K/9 (10.6) rates over his lengthy Minor League career. He's also keeping runs allowed at a minimum, posting a 3.15 ERA over his last 11 starts, including a 15-strikeout game in which he was perfect through six innings.
As important as pitching depth is, it's likely that the Dodgers will hold on to Font just in case he's needed at some point to give them some innings. But it also wouldn't be a big surprise if a team in need of a starter tries to pry him away from the Dodgers in the near future, allowing them to cash in on a Minor League free agent acquisition.
—
Ryder Jones, 3B, San Francisco Giants (Triple-A Sacramento)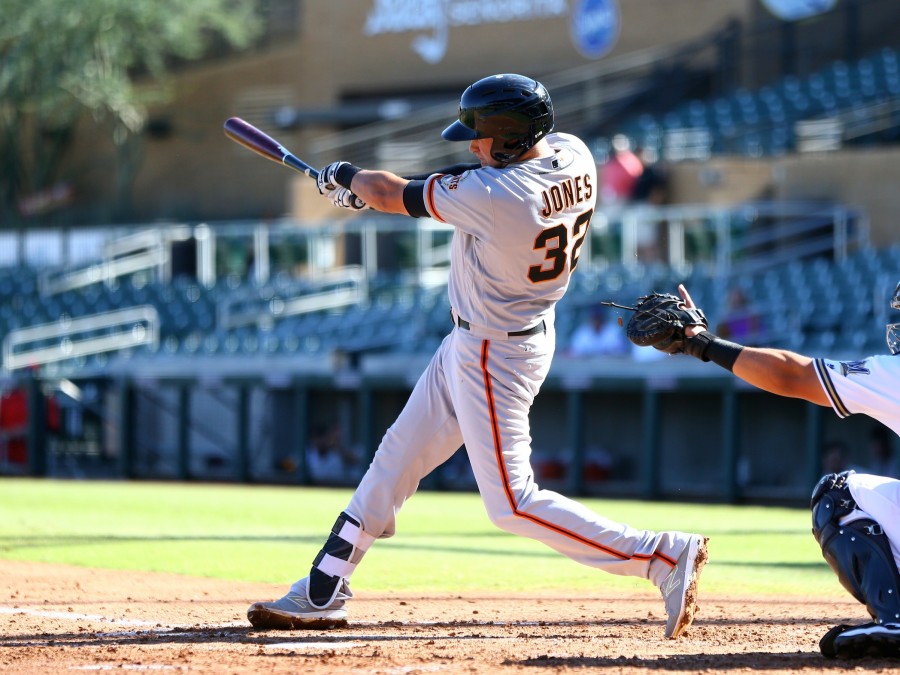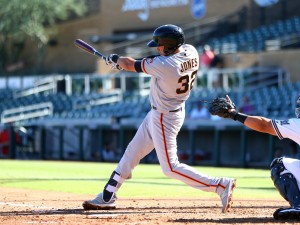 Top prospect Christian Arroyo was able to give the Giants a spark upon his arrival in the big leagues—he held his own at the plate and had a few big homers early on—but slumped badly before he was demoted in early June. He'll be back at some point, but the 22-year-old might be better off staying in Triple-A until September.
In the meantime, the 23-year-old Jones has set himself for a possible promotion with an impressive display of hitting (.292/.392/.522; 7 HR, 12 2B) and defensive versatility (he's primarily a third baseman, but he's also played left field, right field, first base and shortstop). Unless the struggling Giants can turn things around in the very near future, it's likely that third baseman Eduardo Nuñez will be on the trade block, which could give Jones an opening to regular playing time. For now, his left-handed bat and ability to play multiple positions could help the team during their last-ditch effort to jump back into the playoff picture.
—
Jason Leblebijian, 2B, Toronto Blue Jays (Triple-A Buffalo)
Injuries throughout the Blue Jays' infield have kept Ryan Goins busy—he's started 40 of the team's 63 games—but, as would've been expected, he's not providing much offense (.605 OPS).  A healthy return from Devon Travis, who is on the disabled list with a knee injury, would push him back to a bench role. But given Travis' extensive injury history and without a current timetable for return, it could be a good time to give Leblebijian a look at second base.
The former 25th Round draft pick has a .310/.380/.518 slash line with eight homers and 11 doubles in his first 57 Triple-A games. While his International League numbers aren't likely to carry over to the Majors, they're interesting enough, along with his strong defensive ability, to find out if he's capable of helping the Jays out now.
—
Photos courtesy of USA Today Sports Images.