The Marlins signed outfielder Christian Yelich to a seven-year, $49.57MM contract extension in 2015 with the idea that he'd be a long-term cornerstone in Miami, and that could still end up as the case. However, after rejecting other teams' overtures for Yelich in the past, the Marlins will reportedly listen to offers for the 25-year-old if they're not in the playoff hunt near next month's trade deadline.
At 25-33 and 12 games back of the NL East-leading Nationals, Miami is all but out of its division race already, which leaves a wild-card berth as its only hope. The Marlins are a lofty 9.5 games back of the NL's last playoff spot, though, and their minus-26 run differential isn't indicative of a sleeper team whose record is particularly unlucky.
Barring a major turnaround in the coming weeks, the Marlins are probably going to sell in an effort to strengthen their farm system. The Fish clearly need to replenish their prospect pool, which ESPN's Keith Law (subscription required and recommended) ranked 29th in the majors entering the season and could see promising left-hander Braxton Garrett undergo Tommy John surgery. As arguably Miami's best trade chip, dealing Yelich would add much-needed talent to the organization's pipeline, though it would obviously further weaken whatever chances it has to compete in the near future.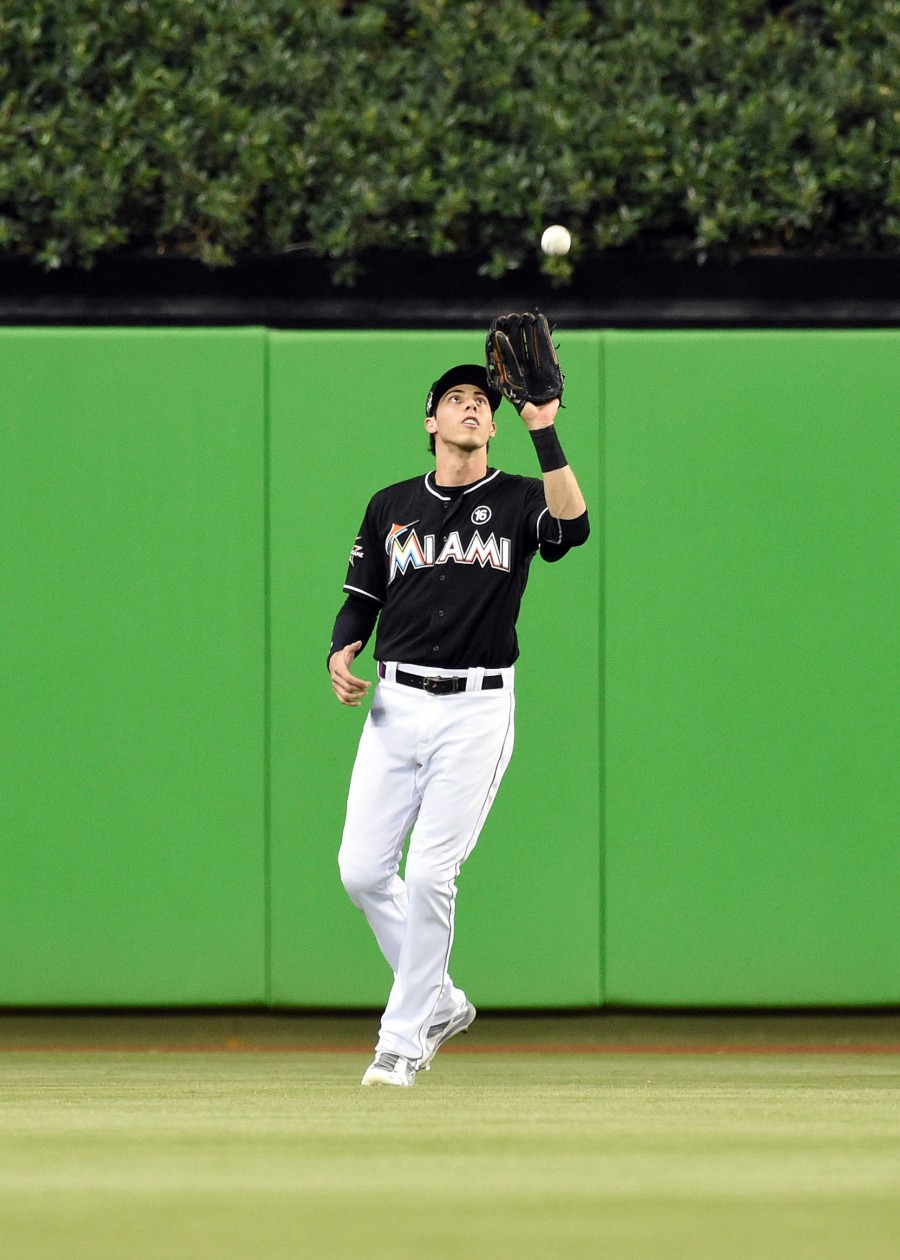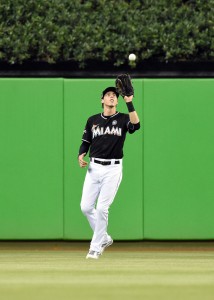 Yelich, a 2010 first-round pick who made his big league debut in 2013, established himself as a high-average, high-OBP hitter who could steal double-digit bases and play a quality left field during his first two-plus years in the league. While that blend of skills made Yelich quite valuable, the lefty-swinger didn't complement it with much power, hitting only 20 home runs and posting a .116 ISO in 1,458 plate appearances. Last year was a different story, though, as Yelich swatted 21 homers and recorded a .185 ISO (league average was .162) in 659 PAs en route to a career-best .298/.376/.483 line and his second 4-fWAR season.
Now, Yelich is again on pace for a respectable campaign (he has accrued 1.3 fWAR in 246 plate trips), but the terrific offensive production he registered from 2013-16 hasn't been present. At .259/.343/.392, Yelich has logged a league-average OPS+ (100) and a slightly below-average wRC+ (97). With a .132 ISO, the grounder-hitting Yelich has also lost much of the power he showed last season. One obvious problem has been a lack of line drives, as Yelich's 17.1 percent mark is both a career worst and a 6.3 percent decline from last season.
Even if Yelich's batted-ball profile stays the same, there are reasons to expect positive regression in his production. Yelich's batting average on balls in play (.286) is 68 points lower than his career figure (.354), for one, and his .342 xwOBA (via Baseball Savant) indicates he deserves better than his actual wOBA (.319). Plus, Yelich has continued to walk at a solid clip (10.6 percent, compared to a career 10.4 percent), and has not contributed to the league's growing strikeout trend. Yelich has struck out just 16.7 percent of the time, which is far better than both his lifetime mark (20.4) and the league average (21.6).
While Yelich's offensive game is the main reason he's so highly regarded, defense has also been a strength. Yelich combined for 32 Defensive Runs Saved and a 12.3 Ultimate Zone Rating in left field from 2013-16, leading the Marlins to shift him to the outfield's most important position – center – during the offseason. The returns have been encouraging so far, albeit over a small sample, with Yelich having saved a pair of runs and contributed a 7.5 UZR/150.
Affordable, well-rounded players – especially those who can handle a premium position – obviously carry major value, evidenced by the prospect haul the Nationals sent to the White Sox for Adam Eaton over the winter. Washington parted with two of MLB.com's top 40 prospects, right-handers Lucas Giolito (No. 3) and Reynaldo Lopez (No. 38), as well as 2016 first-round righty Dane Dunning to acquire up to five years and $38.4MM of Eaton. Yelich is three years younger than Eaton and also comes at a very reasonable cost. He's due around $45MM through 2021 and either a $15MM club option or a $1.25MM buyout in 2022. Yelich has already outperformed the worth of his contract, per FanGraphs, which values his production at $64.5MM dating back to 2015.
If the Marlins do market the remainder of Yelich's 20s prior to the deadline, plenty of potential suitors are likely to emerge. Thanks to Yelich's age and team control, even clubs that aren't in the playoff hunt this season (but view themselves as near-future contenders) could attempt to acquire him. As such, the Marlins would probably be in position to add multiple high-end youngsters to a system that, in Baseball America's view, only has one top 100 prospect. That prospect, Garrett, falls toward the low end of BA's list (No. 80) and is now facing a rather uncertain future on account of his elbow injury.
Photo courtesy of USA Today Sports Images.