The non-waiver trade deadline is behind us, and about one-third of the regular MLB season remains.  The list of top free agents for the 2017-18 offseason is beginning to come into focus.  Below, the projected free agents are ranked based on their current earning power.  To view the full list of players eligible for free agency after the season, click here.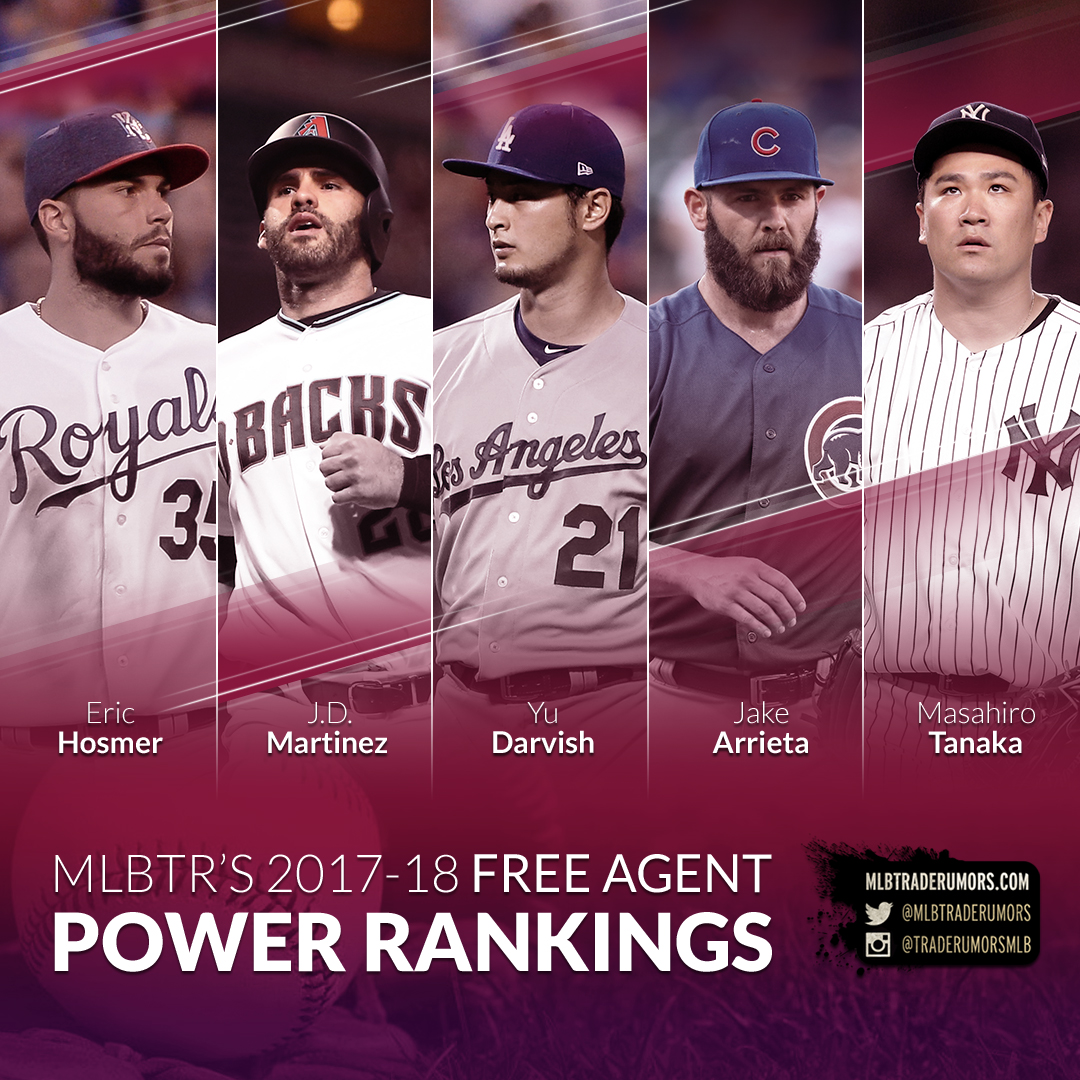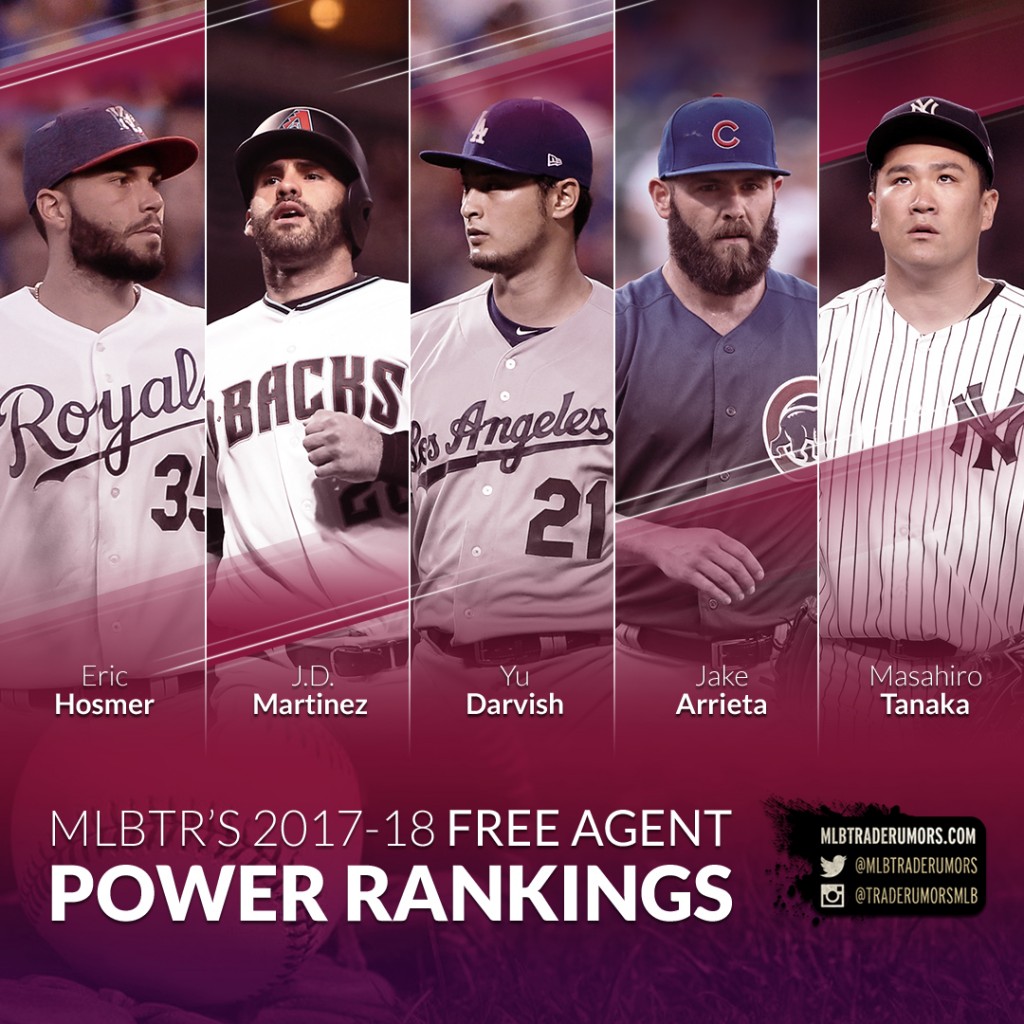 1.  Yu Darvish.  The Rangers traded Darvish to the Dodgers right at the July 31st deadline, making him ineligible for a qualifying offer after the season.  The Dodgers seemingly added the former strikeout king as a playoff luxury.  Darvish began his Dodgers tenure with one of his best starts of the season, a seven-inning gem against the Mets.  Darvish's leap to the best team in baseball grants the pitcher a major pitch framing upgrade, as explained by Chris Anders at Beyond The Box Score.  Darvish is around nine starts away from his second career 200-inning campaign, quieting health concerns related to his Tommy John surgery.  When he takes the mound next spring, he'll be three years removed from that procedure.  The righty turns 31 soon, so we're projecting a six-year contract this winter.
2.  J.D. Martinez.  Martinez, the best hitter in the upcoming free agent class, was traded from the Tigers to the Diamondbacks on July 18th, removing his qualifying offer eligibility.  He was hit in the hand by a pitch in his second plate appearance for Arizona, but avoided a serious injury.  Martinez has slugged 39 extra base hits in 293 plate appearances, a rate surpassed only by Mike Trout and Nolan Arenado among regular players.  However, Martinez's right field defense continues to diminish his value.  With a six-year contract in play for the soon-to-be 30-year-old, his agent may be best suited looking toward the American League.
3.  Jake Arrieta.  With a strong seven-start run, Arrieta has shaved his ERA down to 3.83.  He's proven durable since his Cy Young breakout in 2015, and he's only about five months older than Darvish.  The two righties have a similar free agent profile: still quite good, but not at peak levels.  Our current projection is a five-year deal for Arrieta, who recently laughed off the idea of accepting a one-year qualifying offer.  Talking to Bob Nightengale of USA Today this week, Arrieta expressed a lack of concern about his upcoming foray into free agency.
4.  Eric Hosmer.  Hosmer hit .352/.408/.561 from May through July, boosting his free agent stock immensely.  Still, he's been out-hit this season by impending free agent first basemen Yonder Alonso, Logan Morrison, and Lucas Duda, so the market features cheaper (but older) alternatives.  Plus, Hosmer seems a strong bet to receive a qualifying offer from the Royals, dampening his value a bit.  Every free agent class seems to have that one polarizing player, and it might be Hosmer this winter.  Is this really a $100MM+ player, or will sabermetrics win the day?
5.  Masahiro Tanaka.  Speaking of enigmas, Tanaka has a chance to experience free agency in advance of his age-29 campaign.  The catch is that he'll have to opt out of the $67MM the Yankees are obligated to pay him over the 2018-20 seasons.  Tanaka has been very good in his last 13 starts (and downright brilliant in his last eight), but it's difficult to ignore his season mark of 1.87 home runs allowed per nine innings.  If Tanaka thinks he can get something close to Jordan Zimmermann's five-year, $110MM pact, opting out is the correct call.
6.  Justin Upton.  Upton, too, is facing an opt-out decision.  He's owed four years and $88MM and will turn 30 years old in a few weeks.  Upton raked in June and July, and has a shot at a five-year deal.  Even if he's unsure of earning more money on the open market, Upton may like the idea of leaving the rebuilding Tigers to choose his next team.  If he does opt out, Upton will be ineligible to receive a second career qualifying offer.  On July 30th, Upton told George Sipple of the Detroit Free Press, "I haven't thought about it, honestly.  But I mean, I came here to win, so I'd have to see what the landscape is like at the end of it.  I enjoy playing here. I enjoy the guys in the clubhouse. I enjoy the atmosphere, the city. That decision is long down the road, months away."
7.  Mike Moustakas.  Moustakas' home run barrage has continued, leaving the Royals' third baseman second in the American League with 32 bombs.  Barring injury, Moose seems likely to become the first Royal to hit 40 home runs.  At his current pace, he'll wind up closer to 50.  Even with a paltry 4.3% walk rate, Moustakas seems like a candidate for a five-year deal heading into his age-29 season, despite a probable qualifying offer.
8.  Lorenzo Cain.  Cain is quietly on track for his third career season worth at least four wins above replacement.  The value isn't quite as obvious as the position players ranked above him, but capable center fielders with above-average bats are hard to find.  We're projecting Cain to get four years, with a shot at five.  Like his teammates on this list, Cain may get a qualifying offer.  Under the new CBA, that's not nearly as limiting as it has been in the past.
9.  Wade Davis.  The Cubs' laid-back closer has a career-worst walk rate, but he also has a 2.31 ERA and zero blown saves on the season.  Davis will likely have Mark Melancon's four-year, $62MM contract in his sights, even if that particular deal doesn't look so great currently.
10.  Greg Holland.  Holland leads MLB in saves and has slightly outpitched Davis this year.  The Rockies' stopper has a $15MM player option he's likely to decline in search of a multiyear deal.  Despite missing all of 2016 due to Tommy John surgery, Holland should be a popular free agent.
Johnny Cueto, previously a mainstay on this list, must decide after the season whether to opt out of the $84MM remaining on his contract with the Giants over the next four years.  He's currently on the disabled list with a mild flexor strain, an injury that may be enough to convince Cueto to play it safe and keep his current deal.  Also falling off the list is Michael Pineda, who had Tommy John surgery in mid-July and will miss most of the 2018 season.
Players just missing the power rankings top ten include Logan Morrison, Zack Cozart, Lance Lynn, and Carlos Santana.  LoMo sits sixth in the AL with 28 home runs.  Cozart is tied with Upton for the free agent WAR lead with 3.6, despite a pair of DL stints.  Lynn's strong ERA looks somewhat dubious when stacked up against pedestrian peripheral metrics.  Santana, meanwhile, has turned it on lately but is trying to distance himself from a very poor start to the year.  Ultimately, these players may be hard-pressed to find four-year deals, though there's still time left to bolster their stock.