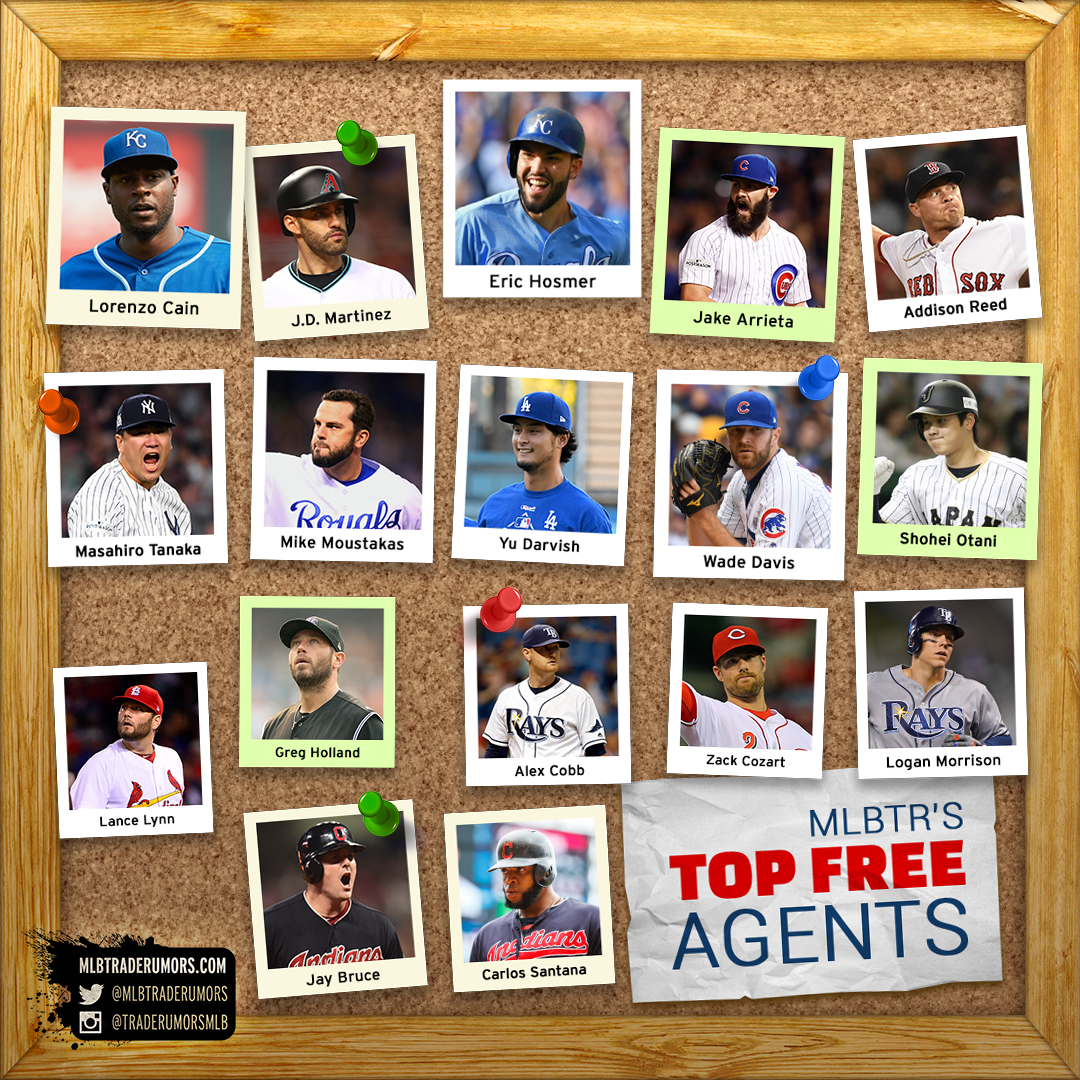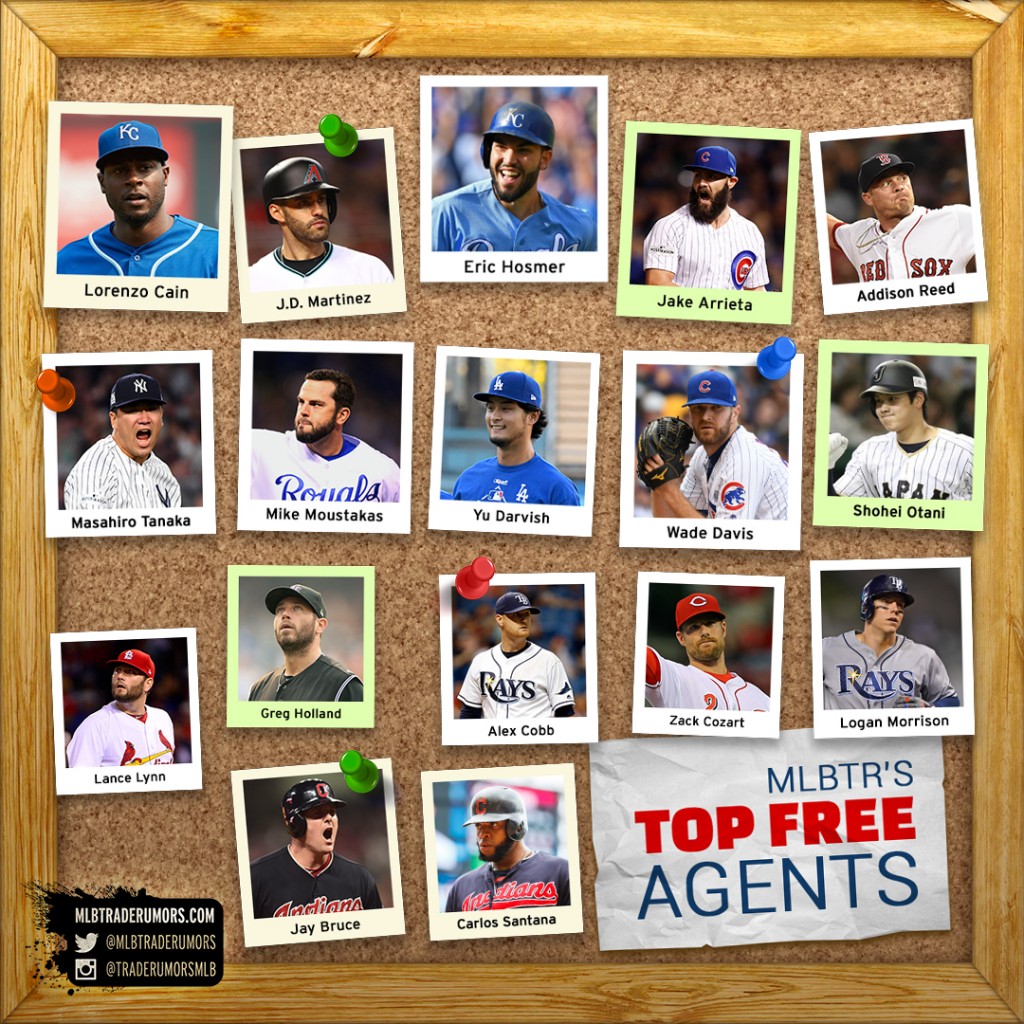 MLB Trade Rumors is proud to present our 12th annual Top 50 Free Agents list! The entire list of available free agents can be found here, and you can filter by position, signing team, and qualifying offer status with our mobile-friendly free agent tracker here.
New to MLBTR? You can follow us on Twitter, like us on Facebook, follow us on Instagram, and download our free app for iOS and Android.
MLBTR writers Steve Adams, Jeff Todd, and Jason Martinez joined me in this collaboration, debating free agent contracts and destinations for many hours. We vetted these as much as possible, but with 50 predictions and a volatile free agent and trade marketplace, we know we'll be off on some. Let us know what you think in the comment section!
Looking for Shohei Otani?  Scroll to the bottom of the post for information on Japan's Babe Ruth, whose free agency is a special case.  On to our Top 50 free agents:
1.  Yu Darvish – Cubs.  Six years, $160MM.  Let's start by addressing the elephant in the room.  Darvish recorded a mere ten outs in his two brutal World Series starts for the Dodgers.  With those ugly outings fresh in our minds, projecting him to receive the winter's largest contract creates cognitive dissonance.  However, Darvish remains what he was a week ago: a very good starting pitcher and the best in this free agent class.
Darvish spent the first seven years of his career in Japan starring for the Nippon Ham Fighters.  The Fighters made Darvish available to MLB teams in December 2011, at a time when there was no limit on bidding for the exclusive right to negotiate with the player.  The Rangers beat out the Blue Jays, Yankees, and Cubs with a $51.7MM bid and signed Darvish to a six-year, $56MM deal on top of that.  Darvish's fine Rangers career included 782 2/3 innings of 3.42 ERA ball with a 11.0 K/9, plus four All-Star appearances and a second-place Cy Young finish.  He was traded to the Dodgers in July, making him ineligible for a $17.4MM qualifying offer.  While with the Rangers, Darvish went about 22 months between starts due to Tommy John surgery.  He's been injury-free this year and nudged his way past the 200-inning plateau in his brief start last night.  The 31-year-old righty should have no problem setting a new free agent record for a Tommy John survivor, passing Jordan Zimmermann's five-year, $110MM deal.  Seven-year contracts have historically been reserved for slightly younger pitchers without elbow surgery on their resume, so we're expecting six years for Darvish.  Free agent starters have exceeded a $25MM salary four different times, and we're projecting Darvish to become the fifth.  If the Dodgers decide to move on, the Cubs, Phillies, Nationals, Cardinals, Astros, and Twins could be potential suitors.  There's a shortage of obvious big-market players here, allowing for dark horses to enter the mix.
Signed with Cubs for six years, $126MM.  Deal includes opt-out clause after second year.
2.  J.D. Martinez – Red Sox.  Six years, $150MM.  Martinez came up through the Astros' farm system but struggled through 975 plate appearances in the Majors and was released in March 2014.  The Astros didn't understand the impact of his recently-overhauled swing.  The Tigers scooped Martinez up on a minor league deal, and he went on to rake at a .300/.361/.551 pace with 99 home runs in 1,886 plate appearances for them from 2014-17.  A trade to the Diamondbacks this past July removed the possibility of a qualifying offer and boosted Martinez's stock further as he went nuts with 29 home runs in 62 games.  He finished with a career-high 45 bombs on the season.  The biggest knock on Martinez is his right field defense, which has been a clear negative for the last two years.  He also missed significant time with an elbow fracture in 2016 and a foot sprain to begin this year.  Still, Martinez's right-handed power will make him the most coveted bat on the market, enough that teams without corner outfield openings could trade someone to create a spot.  The Diamondbacks may not have the payroll space to retain Martinez, leaving the Cardinals, Red Sox, and Giants as top suitors.
Signed with Red Sox for five years, $110MM.  Deal includes opt-out clauses after second, third, and fourth years.
3.  Eric Hosmer – Royals.  Six years, $132MM.  Every year one free agent is particularly polarizing, and this winter it's Hosmer.  The first baseman did solid work for the Royals over seven seasons, with a well-timed career-best batting line of .318/.385/.498 in 671 plate appearances this year.  He just turned 28 and will be looking for at least six years — quite likely more.  However, defensive metrics rate his glove poorly (a 2017 Gold Glove nomination notwithstanding), and off years with the bat resulted in replacement level seasons in 2014 and '16.  A case will be made for a $200MM contract, but it's not a very good case.  Teams seeking a first baseman have free-agent alternatives such as Carlos Santana, Logan Morrison, and Yonder Alonso, as well as trade candidate Jose Abreu.  If Hosmer gets a huge contract, it probably won't be from the game's more analytical teams.  The Royals seem likely to make a spirited effort to retain Hosmer as the face of their franchise, while the Red Sox, Cardinals, Mariners, and Rockies could enter the market to varying degrees.  Hosmer is a lock to receive and reject a qualifying offer.
Signed with Padres for eight years, $144MM.  Deal includes opt-out clause after fifth year.
4.  Jake Arrieta – Brewers.  Four years, $100MM.  A July 2013 trade from the Orioles to the Cubs rebooted Arrieta's career, which peaked with the NL Cy Young Award in 2015.  Arrieta's star has dimmed since then, as he's become more prone to walks, home runs, and hits and stopped pitching deep into games.  He still provided value to the 2017 Cubs, with 30 starts of 3.53 ERA ball.  Though he turns 32 in March, Arrieta's case for a long-term deal is boosted by excellent physical conditioning.  We expect him to come out looking for a six-year deal, but land at four or five.  Arrieta appears likely to move on from the Cubs, with whom he was unable to agree to an extension in the past few years.  However, it's possible Arrieta could circle back to the Cubs later in the offseason if his market disappoints.  We don't see a clear favorite to sign him, so we've chosen a dark horse pick in the Brewers.  The Cardinals, Nationals, Astros, Rangers, Phillies, Yankees, Angels, Mariners, Braves, Twins, and Dodgers could be in the mix depending on the price.
Signed with Phillies for three years, $75MM.  Deal includes opt-out clause after second year, which Phillies can void with two-year extension.
5.  Masahiro Tanaka – Phillies.  Five years, $100MM.  Tanaka, 29 this month, is coming off his fourth and perhaps worst MLB season.  He posted a 4.74 ERA in 30 regular season starts, with a ridiculous 21.2% of his flyballs allowed becoming home runs.  It wasn't a Yankee Stadium problem, as Tanaka was even more homer-prone on the road.  On the bright side, Tanaka put up a career-best strikeout rate, a 3.77 ERA in the second half, and three excellent, homer-free postseason starts.  Back in January 2014, Tanaka joined the Yankees via the Japanese baseball posting system after pitching seven years for the Rakuten Golden Eagles.  With the posting fee capped at $20MM, the Yankees won the bidding over the Cubs, White Sox, Dodgers, and Diamondbacks with a seven-year, $155MM deal that included an opt-out that comes due at midnight on Saturday.  The biggest wrinkle in Tanaka's long-term prospects may be the partially torn UCL in his right elbow, which surfaced more than three years ago.  Tanaka went the rehab route instead of undergoing Tommy John surgery.  In 2015 Tanaka missed time with a forearm strain and had arthroscopic elbow surgery in the offseason.  This year, he had a DL stint for shoulder fatigue.  If Tanaka opts out, he will be walking away from three years and $67MM left on his Yankees contract.  Ervin Santana was able to land a four-year deal with a rehabbed and healed UCL, and it seems that opting out is the right call for Tanaka.  The Yankees could be in a position to lower their luxury tax hit by adding a year or two and reducing the average annual value of his contract.  If Tanaka moves on from the Yankees, the Cubs, Nationals, Astros, Cardinals, Dodgers, Angels, Phillies, Twins, Mariners, Rangers, and Brewers could be possibilities.  If he does opt out, the Yankees will assuredly issue a qualifying offer in order to collect draft-pick compensation.
Elected to remain with Yankees, forgoing opt-out clause and free agency.
6.  Mike Moustakas – Braves.  Five years, $85MM.  Moustakas, 29, set a Royals franchise record with 38 home runs this year.  The second overall draft pick in 2007, Moustakas didn't click as a hitter until 2015.  The third baseman suffered an ACL tear in May 2016, ending that season early, but exhibited no health problems in his return this year.  The biggest flaw in Moose's game is his low 5.7% walk rate this year, resulting in a .314 OBP that drove down his overall value as a hitter despite the power.  Defensive metrics were also down on his once well-regarded glovework this year, though teams may be willing to chalk that up to rust coming off his knee injury.  Regardless, he should do well in free agency.  If the Royals move on, the Angels, Braves, and Cardinals could be options.  Like Hosmer, Moustakas is going to receive and reject a qualifying offer.
Re-signed with Royals for one year, $6.5MM.
7.  Lorenzo Cain – Giants.  Four years, $70MM.  Yet another Royals free agent, Cain adds value with his hitting, baserunning, and glove as a center fielder.  He's a speedy, well-rounded player who was worth more than four wins above replacement this year.  Dexter Fowler's five-year, $82.5MM deal with the Cardinals will be a likely model, though Cain is a year older than Fowler was.  Cain is the only plus defensive center fielder on the market who also carries an above-average bat, which should create plenty of demand.  If the Royals don't retain him, the Giants, Mariners, Blue Jays, and Rangers could be matches.  The Royals have reportedly yet to decide on a qualifying offer for Cain, but it'd be a big surprise if he doesn't get one.
Signed with Brewers for five years, $80MM.
8.  Wade Davis – Astros.  Four years, $60MM.  Davis, 32, came up as a starter in the Rays system and was traded with James Shields to the Royals in a December 2012 blockbuster.  2013 was a tumultuous year for Davis – his wife had a baby, he lost his stepbrother unexpectedly, and he pitched his way out of the rotation by August.  He began 2014 as the Royals' setup man and never looked back, garnering Cy Young votes in a dominant season.  He moved into the team's closer role when Greg Holland got hurt the following year and will forever be remembered flinging his glove into the air after punching out Wilmer Flores looking to end the 2015 World Series.  Davis missed time late in 2016 with a flexor strain in his pitching elbow, but the Cubs were not deterred in deftly trading Jorge Soler for him last offseason.  Davis had a fine year as the Cubs' closer, though he walked more than five batters per nine innings in the second half and that trend continued as manager Joe Maddon pushed him into multi-inning postseason stints.  Despite a few warts, Davis is the best closer available and will likely be targeting Mark Melancon's four-year, $62MM deal from last winter.  The Cubs shied away from big-money closers last winter, but it's still possible they could pony up for Davis.  If the Cubs look elsewhere, the Astros, Cardinals, Rangers, Nationals, Twins, Braves, and Rockies could be fits.  Davis is another slam-dunk recipient of the qualifying offer and will reject in search of a long-term deal.
Signed with Rockies for three years, $51MM.
9.  Lance Lynn – Rangers.  Four years, $56MM.  Lynn, a 30-year-old righty, kicks off the second tier of free-agent starting pitching.  He made 161 starts for the Cardinals in his career, regularly topping 30 per year.  Lynn went under the knife for Tommy John surgery in November 2015.  He missed all of 2016, as expected, but was one of only 12 pitchers to reach 33 regular season starts in 2017.  While Lynn was never a big control guy, his 3.8 walks per nine innings was the second-worst mark of all qualified MLB starters.  His strikeout and home run rates were also career worsts, so his 3.43 ERA can be attributed largely to a .241 batting average on balls in play.  If Lynn's BABIP regresses and other rates hold steady, his ERA could easily jump past the mid-4.00s.  Still, Lynn takes the ball every fifth day and has had a lot of big league success since 2012.  The righty's reported asking price of $100MM+ over five years seems unattainable, but half of baseball is seeking rotation help.  That includes the Rangers, Orioles, Twins, Mariners, Phillies, Cubs, and Brewers.  Given the expected demand for Lynn, the Cardinals are likely to make a qualifying offer, and he's likely to reject.
Signed with Twins for one year, $12MM.
10.  Greg Holland – Cardinals.  Four years, $50MM.  Holland ascended to the Royals' closer job when they traded Jonathan Broxton at the 2012 trade deadline.  He established his dominance in 2013-14 with a 1.32 ERA and 13.4 K/9 in 129 1/3 regular season innings, earning Cy Young Votes and All-Star nods in each season.  Holland apparently tore his elbow ligament late in the 2014 season, pitching through the injury in 2015 before succumbing to Tommy John surgery shortly before his team began its World Series run.  He spent 2016 as a rehabbing free agent and landed a one-year contract with the Rockies in January of this year.  A $15MM player option for 2018 vested in that contract, which he will reportedly decline in search of a multiyear deal.  Holland was healthy in 2017 and was one of the best relievers in baseball for the first two months of the season.  He endured a brutal eight-game stretch in August before rebounding with a strong finish in his final 11 regular-season appearances.   Holland will have a market similar to that of his former setup man, Wade Davis.  Considering the fact that he's turning down a $15MM player option, Holland is a lock to also reject a one-year, $17.4MM qualifying offer.
Signed with Cardinals for one year, $14MM.