The Phillies have scrupulously maintained their future balance sheets, preferring not to make any commitments that might tie their hands in future seasons. But the organization has already made one exception, inking Odubel Herrera last winter, and could explore yet more extensions with core players this winter.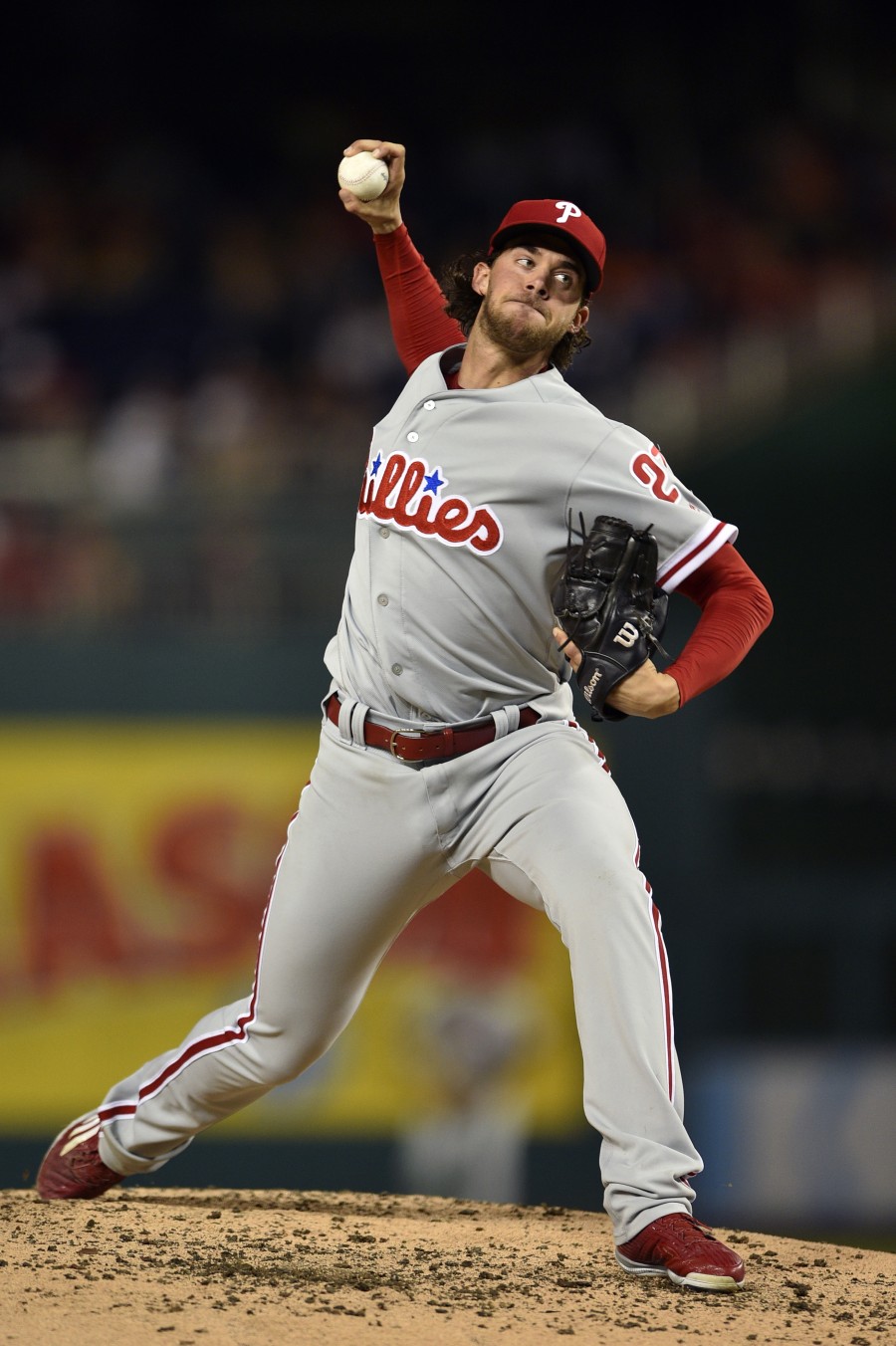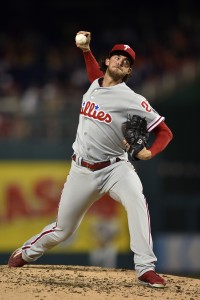 One could probably make a case for a very early strike with one of the team's less-experienced would-be stars — chief among them, Rhys Hoskins. But by far the likeliest candidate for a long-term deal is righty Aaron Nola, who was selected with the seventh overall pick of the 2014 draft and has since established himself as one of the game's better young starters.
Nola, 24, reached the majors after just 30 minor-league appearances, showing quite well in his 13-start debut at just 22 years of age. Last year, though, he faded after a strong opening and ended the season facing injury questions. Nola ultimately avoided surgery for some UCL and flexor tendon issues and was able to rehabilitate through the problem over the offseason.
It's easy to forget now, but entering the current season, nobody was quite sure what to expect from Nola. He responded with 168 innings of 3.54 ERA ball. Nola also racked up 9.9 K/9 against 2.6 BB/9 along with a 49.8% ground-ball rate in his 27 starts, showing career-best numbers in average fastball velocity (92.5 mph) and swinging-strike rate (10.8%).
Looking at Nola's overall body of work, it's hard not to be impressed. While he did struggle to keep runs off the board in 2016, advanced metrics have basically loved him from day one. Through 356 2/3 MLB frames, he carries a 3.38 FIP, 3.33 xFIP, and 3.52 SIERA.
The hugely positive outlook on his future makes Nola a bargain, as Fangraphs' Dave Cameron suggested when ranking him 49th in all of baseball on his top 50 trade value rankings. Because he didn't reach the Majors quite soon enough back in 2015, Nola will fall shy of Super Two qualification, meaning he'll play at (or near) the league minimum in 2018 before reaching his three years of arbitration eligibility.
While Nola did take home over $3MM to sign out of LSU, he has another year to wait for significant Major League earnings. That means risk aplenty, which is true of any pitcher but perhaps especially so for Nola, given his prior injury scare. He and the team are aware of the details of the medical situation and thus can adequately account for the risk it entails, but that factor could also push him in the direction of weighing a contract extension.
It's tempting to speak abstractly about a possible discount for the injury questions. In truth, though, the more interesting question is just what framework might be utilized as a starting point for talks. To this point, no pre-arbitration starter has scored a guarantee of over $40MM. Even Corey Kluber, a 2+ service-class pitcher like Nola, was promised $38.5MM over five years (while giving up two option years) in his 2015 contract. Kluber was more than five years older than Nola is now but also was coming off of a Cy Young Award at the time.
The Kluber deal largely fell in line with prior pre-arb starter contracts, though, and even moved the standard up a bit. Chris Sale ($32.5MM), Derek Holland ($28.5MM), and Trevor Cahill ($30.5MM) are a few of the prior 2+ service hurlers that took five-year deals with similar structures.
Though Nola has staked out a claim as a top-quality young starter, it's hard to argue that he has shown more to this point than had Sale or Madison Bumgarner (who signed his own five-year, $35MM deal as a 1+ service-class player). Considerations of inflation could be somewhat offset by Nola's health record, though his representatives would surely argue that his avoidance of surgery and a 2017 season free of arm issues render that a largely moot point.
Provisions could be worked in that would protect the team in the event of an elbow flare-up, such as the addition of cheap option years at the end of the pact. (For example, both Felix Hernandez and John Lackey have previously agreed to clauses that add a league-minimum option to the end of their deal in the event of Tommy John surgery) Or, perhaps the wealthy Phils would be willing mostly to look past Nola's elbow questions in the hunt for upside, reasoning that the overall risk is minimal and that the open-market price for pitching has steadily risen in recent years and figures to do so between now and the point at which Nola himself would reach the open market.
The previously mentioned five-year structure would run through Nola's age-29 season and buy out one free-agent year. That's still a lucrative age at which to reach the open market, though the Phils may seek to add a club option or two that'd further delay his path to the open market. Reaching free agency in advance of his age-31 season would leave Nola with plenty of earning capacity, though tacking on a second club option (and thus delaying his free agency by three full years) could be a tough sell. Generally speaking, Nola and his reps at Paragon Sports would be weighing whether an immediate guarantee is worth forgoing the opportunity to reach free agency before his age-29 season — an age at which he'd almost certainly be one of the youngest starters on the market.
With a number of factors for both sides to weigh, it'll be an interesting situation to watch if the Phillies and Nola do indeed sit down this winter. Nola could well become the latest Phillies player to secure a long-term commitment as part of the organization's hopeful contending core, but his proximity to arbitration should reduce his urgency to take a deal to some extent.
Photo courtesy of USA Today Sports Images.