MLBTR is publishing Offseason Outlooks for all 30 teams.  Click here to read the other entries in this series.
The Marlins could hold the key to the offseasons of many other organizations, as new ownership (led by CEO Derek Jeter) will reassess the team's direction after a disappointing 2017 campaign.
Guaranteed Contracts
Contract Options
Arbitration-Eligible Players (service time in parentheses; projections via MLBTR contributor Matt Swartz)
Free Agents
[Marlins Depth Chart; Marlins Payroll Information]
Jeter seems to be tweaking, rather than overhauling, the team's baseball operations department, which will still be led by Michael Hill. But with new decisionmakers at the top of the food chain and key new execs installed downstream (in particular, Gary Denbo), the Marlins seem ripe for at least a partial roster overhaul.
Financial pressures will surely weigh in. Though incoming ownership is surely hoping that an improved business and baseball approach can turn the club into an annually profitable undertaking, that won't be the case right off the bat. There are continued whispers that the purchase price was high and that the ownership group isn't quite as firm, financially speaking, as might have been hoped.
Whatever the precise cause, rumor has it that Jeter and his charges will be looking to significantly reduce the team's payroll this winter, perhaps as far south as $90MM. That's hardly unfamiliar territory; indeed, the organization has only twice cracked nine figures and has otherwise never gone over $75MM in Opening Day payroll. But after several investments drove last year's franchise-record $115MM+ slate of salaries, it's a big drop. Since the existing guarantees and projected arbitration payouts would alone push the team into the $130MM range, the reported target likely portends some major trades.
Much of the speculation thus far has focused on slugger Giancarlo Stanton — for good reason. He nearly reached 60 long balls last year, will just 28 years of age over the offseason, and is going to begin earning annual salaries in excess of $25MM in 2018. While the overall contractual guarantee remains daunting, perhaps it's an approximately market rate of annual pay for a player of Stanton's abilities. His appeal is unlikely to be higher than it is now, after he raised his national profile with his dinger barrage and turned in a productive and healthy overall season.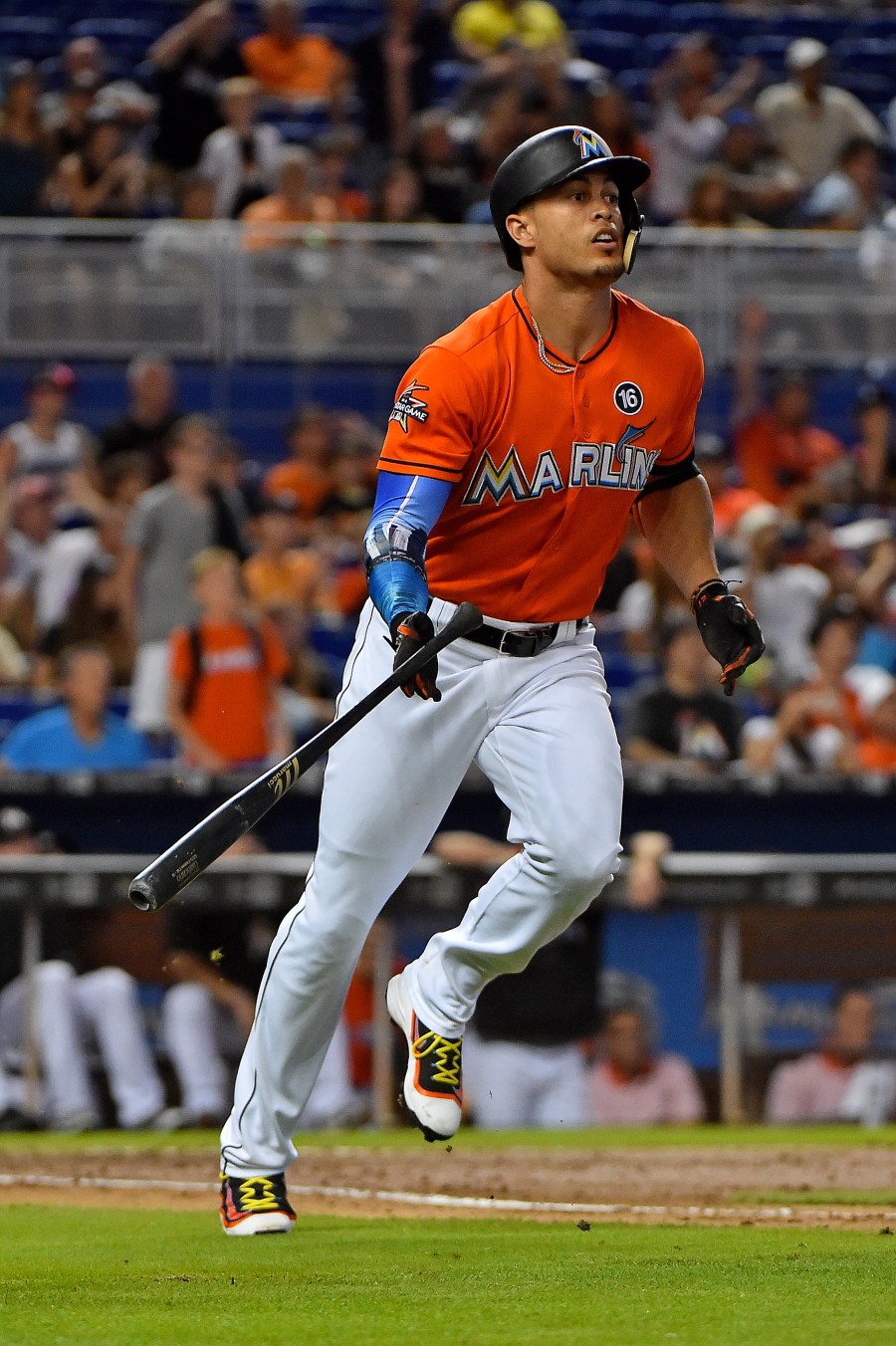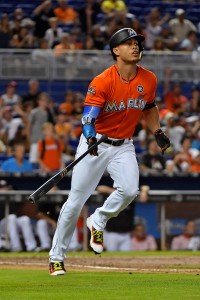 Though Stanton is an obvious trade candidate, his contract is hardly a straightforward asset to deal. From a PR standpoint, it's hard to move a player of such prominence, though perhaps the ownership change also represents an opportune moment to turn a new leaf. Stanton enjoys full no-trade protection, but he has indicated he would rather not hang out in Miami for a rebuild. The post-2020 opt-out may perhaps give some other teams some pause if asked to give up significant young assets (quite apart from the lofty total contract price). Sufficient future payroll capacity will be an obvious prerequisite to acquiring Stanton. As of yet, the market situation is mostly undeveloped, but there's been (in some cases speculative) mention of teams like the Phillies, Giants, and Red Sox as potential suitors.
There are any number of fascinating scenarios that could be dreamed up regarding Stanton, depending upon the precise motivations of the teams involved. Will the new Miami leadership be willing to keep some of the money (or take on an underperforming veteran in the swap) to increase the prospect return? Or is the primary goal to realign the balance sheets? And might other veteran Marlins players even potentially enter trade talks as the various teams seek to structure mutually beneficial scenarios?
There are plenty of other conceivable trade candidates on Miami's roster, especially on the position-player side. In all likelihood, the offseason changes will be driven more by trade interest from rivals than by any specific needs the Marlins wish to address. It's possible that the club will move Stanton but mostly otherwise keep together its relatively affordable and youthful core. But it's equally conceivable — and perhaps advisable — that the organization will rip the band-aid off all at once.
Other teams are no doubt eyeing swaths of Miami's roster as players to consider pursuing over the offseason. Outfielders Christian Yelich and Marcell Ozuna will hold even more appeal than Stanton to many organizations, given Yelich's eminently affordable contract and Ozuna's reasonably priced projected salary. There are loads of sluggers that can be had for cheap, but first baseman Justin Bour still stands out as an ascendant and affordable hitter. Derek Dietrich could be a useful platoon piece for other clubs given the solid pop he brings along with defensive capacity (albeit not mastery) at the 3-4-5 spots in the infield as well as the corner outfield.
Miami's best trade asset, though, could actually be catcher J.T. Realmuto. That's due in large part to scarcity at the position; reliable everyday backstops are one of the game's rarest assets. Realmuto, 26, is an above-average hitter and baserunner who comes with three more seasons of affordable control. He throws and blocks well. And while he once rated as a poor framer, there's now a notable (and quite unusual) split: Stat Corner views him as a wreck at winning strikes, while Baseball Prospectus now sees Realmuto as an ace pitch sweetener.
Those players all carry excess value against their contractual commitments. In a wholesale sell-off scenario, the Fish could recoup serious young talent. Other players hold out more promise of freeing payroll space. Dee Gordon should draw some interest, though there are quite a few other second basemen available and his contract looks to be in range of his hypothetical open-market value. And though Martin Prado won't be a hotly pursued commodity — he is coming off of an injury-plagued 2017 and turns 34 at the end of October — some clubs would surely take on some of his salary. The better bet, in Prado's case, might be to hope that an early-season turnaround boosts his value at the trade deadline.
Any acquisitions on the position-player side will be dependent upon what happens with the long list of players just discussed. The Marlins could end up adding young MLB talent in trades. Or they could end up with some pretty distinct holes to be filled by seeking lower-priced veterans in free agency. Third baseman Brian Anderson is perhaps the best candidate to join JT Riddle as a new semi-regular. Otherwise, there isn't much in the way of quality young talent pressing for MLB time from the upper minors, as most of the Marlins' best prospects are pitchers and/or lower-level position players.
To the extent the Marlins really try to compete in 2018, the chief needs would be found in the pitching staff. And the team will need enough arms to make it through the season regardless, so odds are that it will at least pursue lower-cost and minor-league free agent candidates.
In the rotation, that could mean adding at least two or three arms. Another opening could be made if the Marlins decide to move righty Dan Straily. He turned in another solid season and offers surplus value to teams that want quality innings at a below-market rate. Straily's projected $4.6MM salary would represent only represent a small fraction of the sum the Marlins reportedly hope to shed, but he could net some upper-level talent that could conceivably step onto the big league roster in the not-too-distant future. Affordable arms are always in demand, and Straily reportedly drew a fair bit of interest prior to the non-waiver deadline.
While the club would love to find a taker for its remaining obligations to lefty Wei-Yin Chen, that's hard to imagine after he missed most of the season with a partial UCL tear that did not require surgery. Rather, he'll be run out there if he's healthy in hopes that he'll give innings and perhaps regain his form. His ability to do so is no sure thing, though, as skipper Don Mattingly has questioned whether Chen will be able to pitch at all next season. It's perhaps still theoretically possible that Edinson Volquez will make it back from Tommy John surgery late in 2018, but the Marlins can't count on anything from him and aren't likely to shed his $13MM commitment.
Otherwise, Jose Urena outperformed his peripherals but surely deserves a starting job. And the team's aggressive promotion of Dillon Peters suggests a belief that he's ready to shoulder a big load at the game's highest level. He has typically shown excellent control, so he'll no doubt pare back his 5.5 BB/9 debut walk rate, and there's obvious promise in his 63.3% groundball rate. The team can also give more opportunities to southpaws Adam Conley, Justin Nicolino, Chris O'Grady and Jarlin Garcia (who may yet move from the 'pen back to the rotation) or dip further into the system, where Trevor Richards is one of the more interesting, near-term possibilities. Clearly, though, there's cause for the front office to pursue some bounceback arms and perhaps make a selection in the Rule 5 Draft to pair with righty Odrisamer Despaigne as depth options.
The situation is rather similar in the bullpen, where there's one interesting young potential trade candidate (Kyle Barraclough), two expensive veterans that did not quite live up to their salaries (Brad Ziegler and Junichi Tazawa), and a slate of inexperienced youngsters. The team could get something of interest back for Barraclough, who has four more years of team control and has averaged 12.1 K/9 with a sub-3.00 ERA in 163 big league innings. It's also feasible that Miami could generate some interest in Ziegler following a strong finish to the season (especially if the Fish pay down some of his $9MM price tag), but that'd only mean opening yet more jobs at the MLB level. Regardless of what happens with the existing players, there's an evident need to add plausible major-league arms, as Drew Steckenrider represents the only other young, controllable lock for a bullpen slot.
All things considered, the Marlins' pitching staff is among the worst-positioned in baseball for near-term success. While there are some high-upside arms filtering northward, none seem likely to arrive soon, and recent top 10 overall picks Tyler Kolek (No. 2 in 2014) and Braxton Garrett (No. 7 in 2016) have both had Tommy John surgery. The organization has felt the pain of mortgaging the future already; for instance, while Straily worked out about as well as could have been hoped, he cost the team young flamethrower Luis Castillo, who has an exceedingly bright future and has already turned in 89 1/3 quality MLB innings for the Reds.
Fielding a competitive team would mean upgrading the pitching, which in turn would require some combination of: 1) weakening the position-player mix through trade; 2) spending more money; 3) parting with prospect capital; and 4) hitting on buy-low targets. With the Marlins looking to shave payroll and set the stage for a sustainable future, there's little in the way of opportunity — let alone justification — for trying again to win with this basic roster mix.
Instead, it's almost surely time for the organization to part with some of its best players in service of a new plan. How far they'll go (along with how they'll backfill) remains anyone's guess — and also represents perhaps the most wide-reaching variable in the development of the overall player market this winter.
Photo courtesy of USA Today Sports Images.