The Reds' short- and long-term plans for their rotation hit a snag in 2016 when promising starter Raisel Iglesias shifted to the bullpen after encountering shoulder problems. Now, with Iglesias having morphed into one of the game's most valuable late-game assets over the past two seasons, it's clear that something positive came from the right-hander's role change.
Since he became a member of Cincinnati's relief corps, Iglesias has combined for 126 innings of 2.29 ERA pitching, with 10.43 K/9 against 3.29 BB/9. Any team would sign up for that type of production, including the Reds themselves, who seem inclined to retain Iglesias entering his age-28 season. But with the Reds amid a rebuild and not looking like near-term contenders, there's an argument to be made that they should sell Iglesias this winter.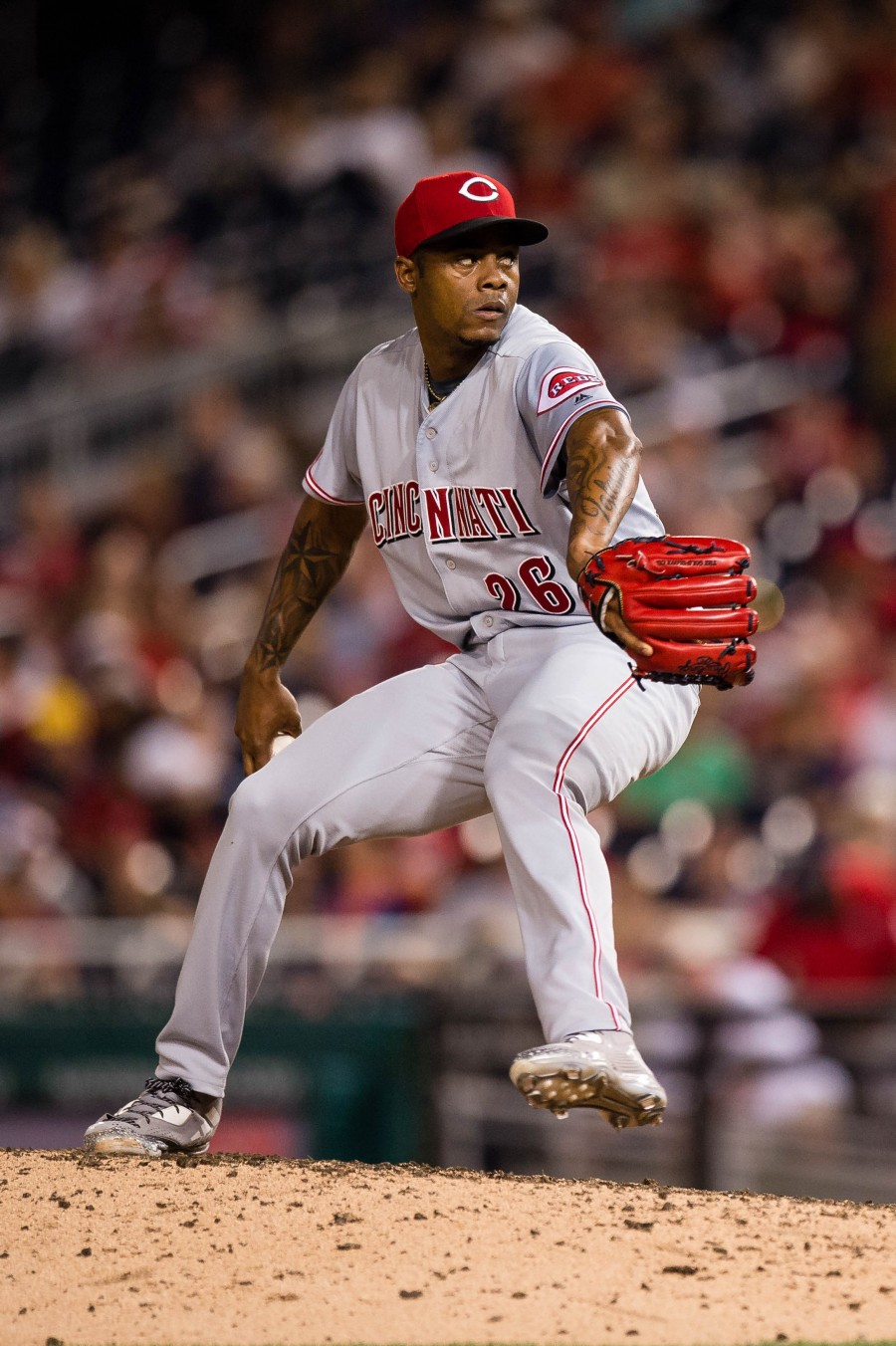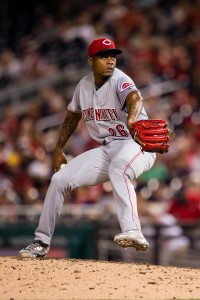 Iglesias has already drawn reported interest from the Twins, who will need to bolster their thin bullpen if they're going to build on the unexpected success they experienced in 2017. Iglesias would be a fit for a Minnesota club seeking more strikeouts from its pitching staff, but with a farm system that lacks impact talent (per Baseball America), he may be out of its reach.
The Twins are one of a multitude of teams that could inquire about Iglesias (or maybe already have). Indeed, general manager Dick Williams estimated earlier this month that two-thirds of the league would have interest in Iglesias without the Reds even having to shop his services. That seems like a reasonable guess on Williams' part, given both Iglesias' superb pitching and his affordability.
Thanks to the seven-year, $27MM contract he signed as a Cuban defector in 2014, Iglesias is under control through the 2020-21 offseason. He's guaranteed a relatively meager $14.5MM in salaries over the next three years ($4.5MM in 2018, $5MM in both '19 and '20), though he could opt into arbitration in each of those offseasons if he believes he'd rake in more money that way. That's unlikely to happen in 2018, with MLBTR contributor Matt Swartz projecting a $2.8MM arbitration award for Iglesias should he choose that route. Regardless, Iglesias' contract only adds to his appeal, and it's a big part of the reason why he'd command a significant haul in a trade.
Teams with good systems that are either in contention or close to it stand out as the best fits for Iglesias in a hypothetical trade, which would seem to rule out rebuilding clubs such as the Tigers, Padres, Marlins, Athletics and White Sox. None of the Blue Jays, Rays, Orioles, Yankees, Red Sox, Royals, Mariners, Angels, Rangers, Indians, Mets, Cubs, Pirates, Diamondbacks or Giants look like ideal fits, either, for various reasons.
Toronto and Tampa Bay have two of the top 10 farms in the league, according to BA, though neither team appears to be in position to strip itself of major young talent to acquire a reliever. The Yankees and Indians seem to possess more than enough quality relievers, meanwhile, and the rest of the aforementioned clubs probably don't have the youth on hand to put together a suitable package for Iglesias. That leaves us with seven of the Reds' National League counterparts — the Braves, Phillies, Nationals, Cardinals, Brewers, Rockies and Dodgers — and the World Series champion Astros.
An earnest Iglesias pursuit could be a tad aggressive for either Atlanta or Philadelphia, a pair of clubs that have resided at the bottom of the standings in recent years. Both teams seem to be pushing toward contention, however, and there's no shortage of capable prospects on hand in either case (even though the Braves just lost a dozen youngsters thanks to ex-GM John Coppolella's transgressions).
The Nationals figure to rule the NL East for the third straight year in 2018, but they're not loaded in the bullpen after Ryan Madson and Sean Doolittle. Next season might be the last in D.C. for Bryce Harper, which could lead to some bold, go-for-broke moves from general manager Mike Rizzo this winter. Landing Iglesias would qualify, though it would mean further thinning out a top-heavy system.
The Cardinals look poised to serve as one of the league's most active teams in the next few months, and the need for relief help is apparent with Trevor Rosenthal out of the organization and Seung-hwan Oh and Juan Nicasio having hit free agency. The division-rival Brewers had the world-class game-ending tandem of Corey Knebel and Josh Hader in 2017, but the latter could shift to the rotation in the near future. Even if he doesn't, there's room for another inexpensive, top-notch reliever in Milwaukee, a low-payroll club with the prospects to assemble an Iglesias package.
As for the two NL West clubs, the Rockies and Dodgers, it's clear there's a greater need for Iglesias in Colorado. The Rockies surprisingly earned a playoff berth in 2017, in part because of relievers Greg Holland, Jake McGee and Pat Neshek. All three of those hurlers are now free agents, however, so Colorado is going to have to focus on its bullpen this offseason. Enter Iglesias, then? Notably, he's rather reliant on a slider, a pitch the Rockies' relievers threw more than 28 other bullpens last season and one that's capable of surviving in the high altitude at Coors Field.
The pennant-winning Dodgers have arguably the game's preeminent closer in Kenley Jansen, but their second-best reliever from last season, Brandon Morrow, is currently on the open market. That leaves room for an Iglesias pickup if they're willing to part with the prospects, as he's superior to late-inning holdovers such as Pedro Baez, Josh Fields, Luis Avilan and ex-Reds teammate Tony Cingrani.
The Astros managed to knock off the Dodgers in a Fall Classic that lived up its name, though the slump Houston's bullpen endured nearly foiled its plans. Still, Iglesias would be more of a luxury than a must-have for the Astros, who look to be in fine shape with Ken Giles (playoff struggles notwithstanding), Chris Devenski, Will Harris and Joe Musgrove in the fold. But GM Jeff Luhnow tried to meaningfully improve the Astros' bullpen over the summer, when he nearly swung a deal for the Orioles' Zach Britton, and that was before Giles' disastrous postseason run. With that in mind, perhaps Luhnow will dip into his high-end farm system this offseason to reel in a premier reliever like Iglesias, who would join a bullpen that led the majors in slider usage in 2017.
While the Reds may choose to go forward with Iglesias, it's inarguable that they have an eminently valuable trade chip on their hands. As someone who saved 28 of 30 opportunities and recorded more than three outs in 17 of 63 appearances last season, Iglesias is the type of flexible late-game weapon who'd be worth more to a playoff-caliber team than a non-contender. With Cincinnati falling into the latter category, Iglesias just might himself in another uniform in 2018.
Photo courtesy of USA Today Sports Images.