After a prolonged saga in which the Giants and the Cardinals were the primary trade suitors for Giancarlo Stanton, the reigning NL MVP spurned both clubs in order to approve a trade to the Yankees that seemingly came together in a matter of days. The Yankees introduced Stanton at a press conference at the Winter Meetings in Orlando, Fla. on Monday, and the slugger spoke about his decision to approve a trade out of Miami as well as the process of ultimately green-lighting a deal to New York.
"When I signed up in Miami, I wanted things to work out," Stanton began in his address of the media. "I had a good vision there. But, sometimes things just spiral out of place, and you have to find a new home. I'm very excited to be here and I'm looking forward to stepping up and being with this winning environment and winning culture."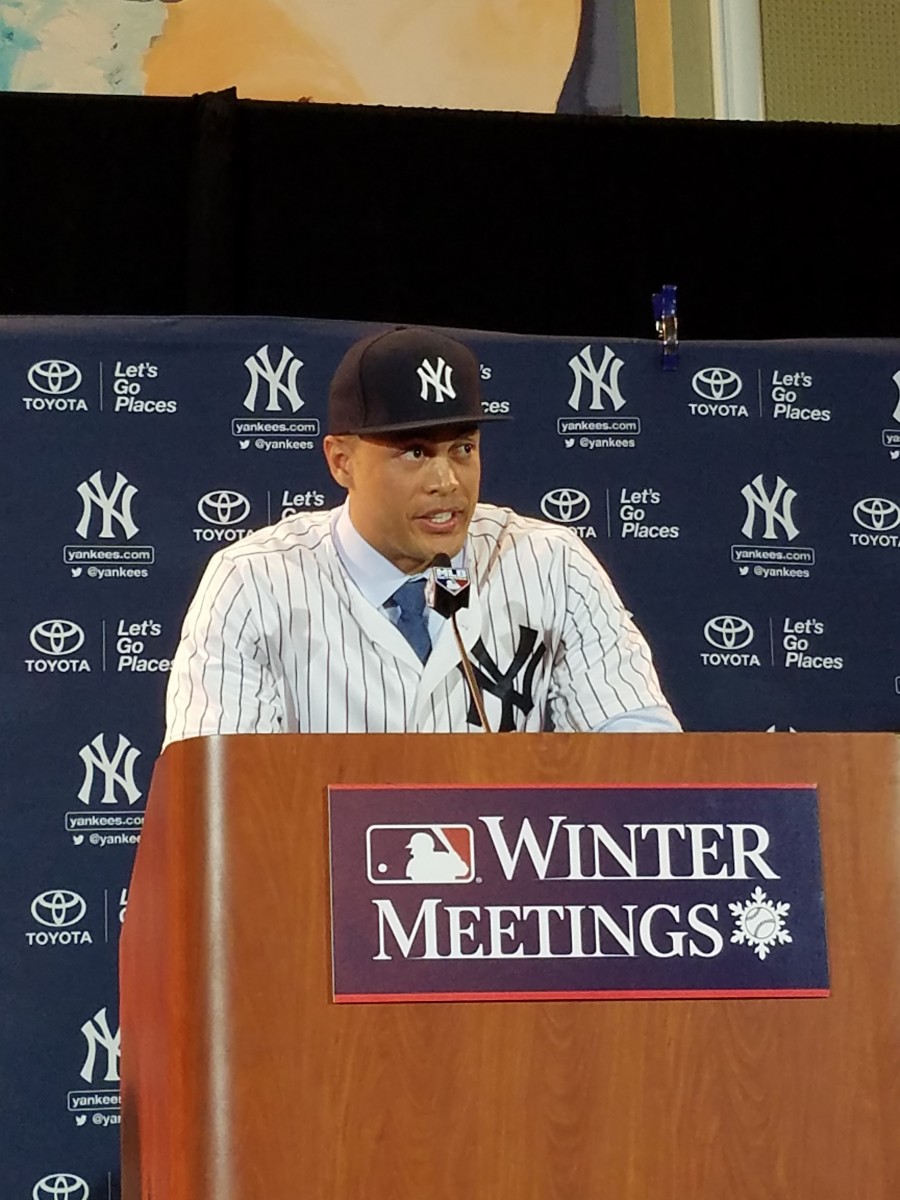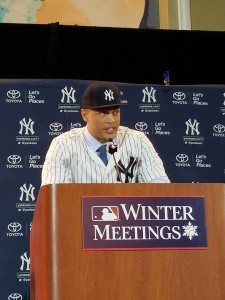 Stanton's comments regarding the Marlins mirror those that he made on Instagram earlier today. "…I've always tried to be as professional as possible during the unprofessional, circus times there!" he wrote amid a thank you/farewell message to Marlins fans, the city and the organization.
Indeed, the Miami organization has long drawn flak from the media and throughout the industry under the leadership of former owner Jeffrey Loria and president David Samson. From the team's 2012 fire sale just one year after moving into a publicly funded stadium to a near-constant managerial shuffle as well as the seemingly interminable saga of Loria's sale of the team, Stanton withstood a roller coaster ride like few other players experience in their careers.
"You guys in the media, you've seen what's gone on down there," said Stanton, who played for seven different managers in his eight seasons in Miami (including a season in which former GM Dan Jennings bizarrely shifted from the front office to the dugout). "What I mainly meant was just no structure — no stamp of, 'This is how things are going to be.' It's a different direction every Spring Training. Something new every spring. A different manager every spring or middle of the season. That's mainly what I meant."
In the Yankees, it seems, Stanton sees a largely different scenario: a young team with a freshly appointed manager that has clear designs on winning over a sustained period of time.
"Just watching them from afar, seeing their young dynamic group, the way they flow together on the field," Stanton said when asked why the Yankees appealed to him. "They never give up, never quit. The atmosphere, the storied franchise — there's not much you could say of why you wouldn't want to be there. They were for sure on the list of where I wanted to be."
Stanton also noted that the team's young core can "strike from everywhere," calling them "well-balanced" and "hungry." That's not to say that he didn't hold former teammates such as Christian Yelich, Marcell Ozuna, J.T. Realmuto, Dee Gordon and others in similarly high regard. Stanton made clear that he felt the basis of a contender was there in Miami, but his vision for the team's future did not align with that of new owners Derek Jeter and Bruce Sherman.
"We had a meeting, yes," Stanton said when asked if he sat down with Jeter. "We spoke about the direction of the team. I wanted us to go forward and have an advance with the pitching staff. I thought our lineup was legit, and we needed help with our pitchers and we needed to add — not subtract. Derek, the way they wanted to go was to subtract, so I let that be known that I didn't want to be part of another rebuild or another losing season. That's almost a guaranteed losing season, taking away what I thought was a great lineup."
At that point, Stanton said he provided the Marlins with a list of teams prior to the beginning of trade negotiations. Though the Cardinals and Giants weren't on that list, those two teams have long been reported to have the most interest in Stanton, and the Marlins went ahead in negotiating potential deals to send Stanton there, pending his approval.
Stanton noted that he was open to hearing what the Giants and Cardinals had to say, and he was complimentary of the executives with whom he met as well as the history of each organization and its culture. Ultimately, however, he simply stated that a trade to either San Francisco or St. Louis "just wasn't the fit for me." Stanton unsurprisingly declined to delve into his exact motivation for vetoing trades to both clubs, though he did shed some light on his reasons for meeting with two teams that weren't on his list of approved trade destinations.
"I really just wanted to learn what another organization is like," said Stanton. "All I've ever experienced is the Marlins and basically one way of going about things, so I wanted to see how other organizations went about their business and how the city would appeal to me."
"I've always watched them from afar," Stanton said of the Cardinals when asked specifically about his talks with St. Louis. "We share the same Spring Training, so I've noticed how they go about their business. It's winning first, culture, the fans and everything — it's a great organization. We did have a good meeting, but I wanted to see my options [with] the teams that I initially chose."
That, Stanton emphasized, was a list that always included the Yankees. The Dodgers, too, were on the list, though Stanton stated he wasn't sure how aggressive Los Angeles ever was in its attempts to acquire him.
As for what's to come, he acknowledged an excitement to play with a player that he feels is similar to himself in Aaron Judge. The exact nature of the outfield alignment remains to be seen, and Stanton said there's been no talk of how they'll all line up defensively, but he's willing to play anywhere. His focus isn't on where he's playing in the field but the ultimate outcome of his team's efforts.
"It's what I've always wanted," Stanton replied upon being asked about playing in a major market with definitive postseason expectations. "It's what I've dreamed of. You always want to be in competitive games where they mean something and your performance means something to the team and the city. It's going to be a fun challenge, and I'm looking forward to it."
As for the Marlins, they did not have a contingent on hand to discuss the franchise-altering move. In fact, Jeter did not even travel to Orlando for the Winter Meetings, though he did speak to reporters by phone today. Clark Spencer of the Miami Herald and Tim Healey of the Sun Sentinel rounded up the key bits of information (all links that follow are to their Twitter feeds).
Jeter gave some details on the process, saying that the Yankees were the only team really involved beyond the Cardinals and Giants. He stressed the financial flexibility that comes with shedding Stanton's salary and emphasized that Stanton told the Fish that he "wanted to continue his career elsewhere" after learning of the team's plans. The new Marlins CEO emphasized that he understands why some fans are disappointed, though he also stressed that he thinks building a sustainable winner in the long run will reward the patience the organization is asking for. Jeter also rejected any inkling that his connections to the Yankees had anything to do with the move.