Entering the offseason, it was often suggested that the Orioles should listen to offers on Manny Machado with one year remaining until he reaches the open market, but most reports suggested that the O's hoped to take one more shot at contending in 2018 before Machado, Zach Britton, Adam Jones and Brad Brach reach free agency. To that end, GM Dan Duquette spoke openly about his hope of adding as many as three starters to round out the rotation behind Dylan Bundy and Kevin Gausman in an effort to remain competitive.
Over the past week, reports have tilted in the other direction, as suggestions that the O's would listen on Machado have now evolved to the point where The Athletic's Ken Rosenthal reported that Baltimore is shopping Machado and asking interested parties to make offers on the three-time All-Star. Baltimore is eyeing a pair of controllable young starters in talks for Machado, per Rosenthal. It's a steep ask for a one-year rental of a player projected by MLBTR to earn $17.3MM in his final offseason of arbitration eligibility — even if Machado has been among the game's truly elite talents over the past five seasons.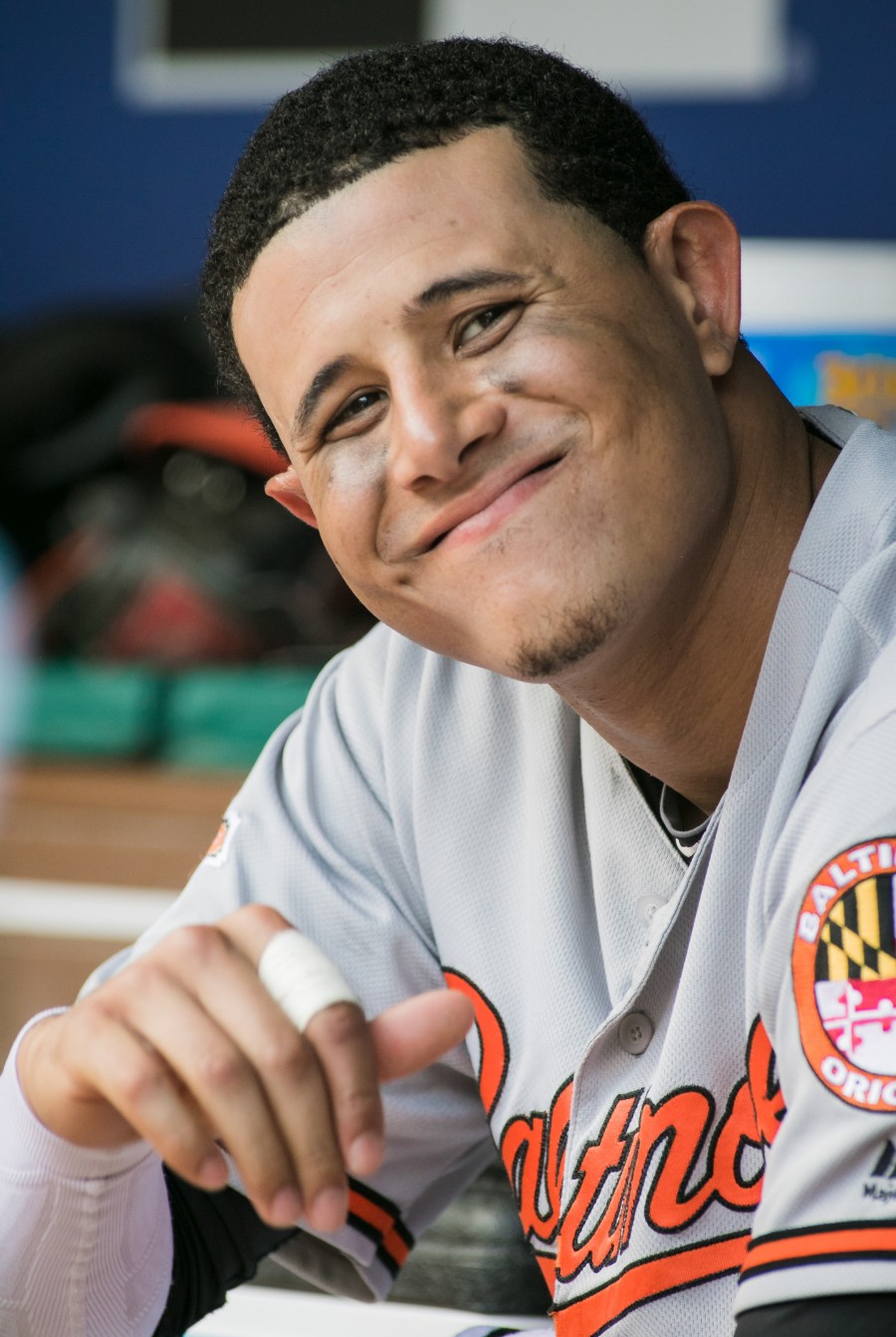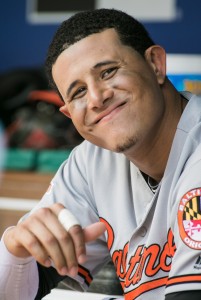 Baltimore's preferences aside, it's probably fair to assume that a trade package for Machado doesn't expressly need to be built around two starters. Teams can offer any combination of Major League position players and prospects with some upper-level pitching as they attempt to pique Baltimore's interest, and if the Orioles are truly open to the idea of moving Machado, it's doubtful that they'd turn down a strong offer simply because the best player involved happened to be a position player.
It's also worth noting that while many have suggested that a theoretical Machado trade could come with a "window" to negotiate an extension with his reps at MVP Sports, that scenario is uncommon. Nor, for that matter, should it be considered especially likely that Machado is particularly amenable to an extension with a new organization when he's less than 12 months removed from hitting the open market as a 26-year-old free agent with a legitimate chance at a record-setting extension.
The Best Fit
From my vantage point, the Cardinals represent the best fit in terms of need and available prospects. The Cards are flush with young pitching, boasting names ranging from Alex Reyes to Luke Weaver to Jack Flaherty to Sandy Alcantara. They've also got a sizable crop of upper-level outfielders — another potential area of need for an Orioles with Adam Jones set to hit free agency next winter and no established presence in right field (with no disrespect to Austin Hays, who could well cement himself there in 2018).
The Cards may be reluctant to part with someone of Reyes' upside or a pitcher like Weaver who shined so brightly down the stretch, but they have plenty of pieces to entice the Orioles. And, they could easily accommodate Machado's desire to play shortstop by moving Paul DeJong to third base and/or dealing from the infield surplus that a Machado acquisition would create. For a team that just missed out on adding Giancarlo Stanton, acquiring Machado would be a strong fallback option, even if he comes as a short-term rental.
Plausible Landing Spots
Rosenthal noted in his report that Orioles owner Peter Angelos didn't want to move Machado to the division-rival Yankees, but they have the farm system to make a Godfather offer and a newly vacated hole in their infield with today's trade of Chase Headley to the Padres. Were it not for the reported reluctance on Angelos' behalf, they'd merit mention alongside the Cards as one of the clearest fits for Machado.
It's abundantly clear that the Angels have their sights set on returning to prominence in the AL West sooner rather than later. While they can't offer Marte time at shortstop with Andrelton Simmons in tow, adding Machado would give the Halos one of the best defensive shortstop/third base combos of this generation. The Angels have an improving but still-not-elite farm, but they have some arms on the big league roster that could at least intrigue the Orioles. Andrew Heaney is coming back from Tommy John surgery but has four years of remaining control. Tyler Skaggs has had his own injury issues but has three years of control.
Weird Dark Horse Suggestions
The Rockies' roster is stacked with controllable arms on the cusp of the big league roster and the team could view a Machado acquisition as a means of elevating them to the next level while they still have Nolan Arenado in the organization. Adding Machado at shortstop would likely push Trevor Story into a utility role, but having a versatile piece with that type of power would only seem to be a boon for the Rox.
The O's and Nationals are hardly on the best of terms thanks to their ongoing MASN dispute, and in fact, the two teams have never brokered a trade since the Nats moved to D.C. However, Washington is committed to an aggressive bid at contending in their final guaranteed year of team control over Bryce Harper. The Nats are largely set in the outfield, but they could still shift Trea Turner back to center field and bump Michael Taylor to a fourth outfielder for one year in order to add a player of Machado's caliber.
No Clear Need
It's borderline insane to suggest that any team "doesn't need" Machado; a player of his caliber would improve virtually any team, and he could be deployed at either third base or shortstop next season, so there'd be a variety of ways for him to slot into a new team's lineup.
Still, teams such as the Cubs, Dodgers, Astros, Indians and Mariners lack a pressing need on the left side of the infield and/or already have long-term commitments already in place there. (Cleveland may also have some financial trepidation.) Any team could reasonably look at a Machado rental as a unique opportunity to acquire one of the game's elite talents, but there'd be enough moving parts involved in talks with any of these teams to make each of them seem unlikely.
Long Shots That Merit Mention
The Giants are another club that missed out on Stanton and have an obvious spot at which they can work Machado into the infield. The hot corner was a black hole in San Francisco last year, as Giants third basemen combined to post a putrid .216/.268/.300 batting line on the season as a whole. Much as the Giants might love the notion of installing Machado at third base though, their best offer could almost certainly topped by an interested party with a better system.
Machado is an upgrade over Jorge Polanco at short for the Twins, who could push Polanco to third base and Miguel Sano to DH. But, the Twins are in dire need of arms themselves. It'd be a surprise to see them part with near-MLB ready arms in a trade to rent Machado for one year. The Brewers are in a similar spot in the sense that while Machado would upgrade over Orlando Arcia, adding pitching is a priority in Milwaukee. Taking a one-year shot on Machado for either Midwest club seems unlikely.
The Mets have plenty of uncertainty in their infield as David Wright and T.J. Rivera both try to return from injuries and Amed Rosario looks to establish himself as a big leaguer. But, New York's pitching staff was in shambles last season due to injuries, and the depth they once had in the upper levels of the minors has thinned out. It's tough to see them depleting their supply for a short-term add.
Up in Boston, the Red Sox are known to be looking to add some power to the lineup, but they're currently penciling Rafael Devers and Xander Bogaerts in at third and short. Outside of moving Devers across the diamond to first base or a trade of Bogaerts (which some have speculated about but has yet to emerge as a serious possibility), it's tough to envision that fit. Elsewhere in the AL East, the Blue Jays have their own superstar third baseman in Josh Donaldson with Troy Tulowitzki and Aledmys Diaz in the mix at shortstop.
Everth Cabrera and Khalil Greene are the only two Padres shortstops to post seasons of 3+ fWAR in the past two decades. San Diego has a glaring need at shortstop and a stacked farm system, but it's still tough to see A.J. Preller depleting the farm he's built up for a one-year addition of Machado in a year the team has little hope of contending.
Oakland has a steady shortstop in the form of Marcus Semien and will struggle to contend in a stacked AL West division as they wait on their young core to further cement itself in the Majors. The A's have made some surprise veteran additions in the past and made a serious push for Edwin Encarnacion last offseason, but they're a substantial reach in this regard.
The Phillies and Braves, too, figure to be oft-mentioned candidates to make a play for Machado. Philadelphia has widely been considered to be a likely pursuer of Machado in free agency, and new Braves GM Alex Anthopoulos has a vacancy at third base and a reputation for making big splashes. But neither team was competitive in 2017, neither seems likely to push past the Nationals atop the division and both would be changing course somewhat from rebuilds by flipping long-term talent for short-term gain.
Out of the Picture
Teams that are just embarking on lengthy rebuilds and/or face significant payroll restrictions can more or less be ruled out entirely. The Tigers, Royals, Marlins, Rays and Pirates don't seem possible by almost any stretch of the imagination. (And, clearly, there's been some imagination stretching in some of the above-portrayed scenarios.) The Reds and White Sox are further along in the rebuilding process than Detroit, Kansas City or Miami, but neither club makes sense as an ultimate landing spot. The Diamondbacks have a weak farm with several infield options on the left side already, and they're up against a rather substantial payroll crunch that could make Machado's $17MM+ salary difficult to stomach.
Photo courtesy of USA Today Sports Images.