After spending the past six seasons in Major League Baseball, outfielder Nori Aoki is reportedly headed back to Japan. Both the Kyodo News and Japan Times report that the 36-year-old Aoki has agreed to a three-year contract with the Yakult Swallows of Japan's Nippon Professional Baseball. The CAA client's deal is reported to be worth one billion Yen — or $9.19MM in total over that three-year term.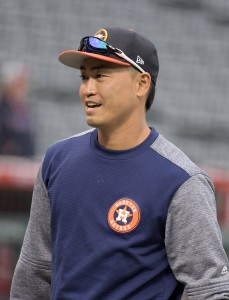 Aoki split the 2017 season between the Astros, Blue Jays and Mets, hitting a combined .277/.335/.393 with five homers and 10 steals over the course of 374 plate appearances. That marked the lowest total of plate appearances he'd received in a season since coming over from NPB with the Brewers in 2012, though his overall output at the plate was still only slightly below the league average in the estimation of metrics like OPS+ (98) and wRC+ (97).
That said, Aoki was one of many options for MLB teams on a crowded free-agent market for outfielders (MLBTR Free Agent Tracker link), and heading into his age-36 campaign, he was also one of the older players on that market. As the game increasingly gravitates away from guaranteeing significant commitments to players in their late 30s, it seems likely that Aoki would've had to settle for a minor league pact or a low-salary, one-year commitment from a big league team if he wished to continue playing in North America.
Instead, he'll head back to the organization where he starred from from 2005-11 prior to making the move to Major League Baseball. In parts of eight seasons with Yakult, Aoki posted a hefty .329/.402/.454 batting line with 84 homers and 164 stolen bases. He'll return as a well-traveled elder statesman on the tail end of his career, hoping to benefit the team both on the field as well as off the field as he shares his experiences with the organization's younger talent.
Given that the reported contract will run through Aoki's age-38 season, it seems quite likely that his days in the Majors could be over. If that indeed proves to be the case, then he more than held his own in the big leagues. The remarkably consistent Aoki hit between .277 and .288 in each of his six seasons here, and his on-base percentage never dipped below this past season's mark of .335. In all, he batted .285/.350/.387 as a Major Leaguer, spending time with the Brewers, Royals (with whom he appeared in the 2014 World Series), Giants, Mariners, Astros, Blue Jays and Mets.
Photo courtesy of USA Today Sports Images.