After an extended run at or near the top of the American League Central, the Royals have watched much of their vaunted core hit the open market. What remains in Kansas City, beyond the everlasting title of 2015 World Series champions, is a collection of fairly expensive veterans and a larger group of unproven young assets. The Royals appear destined for a rebuild, joining their AL Central brethren in Detroit and on the south side of Chicago in that regard.
While there aren't all that many top-shelf trade chips, GM Dayton Moore and his staff do have some commodities that they can market to other clubs as an alternative to the stagnant free-agent market.
[Related: Kansas City Royals depth chart and Royals payroll outlook]
One-Year Rentals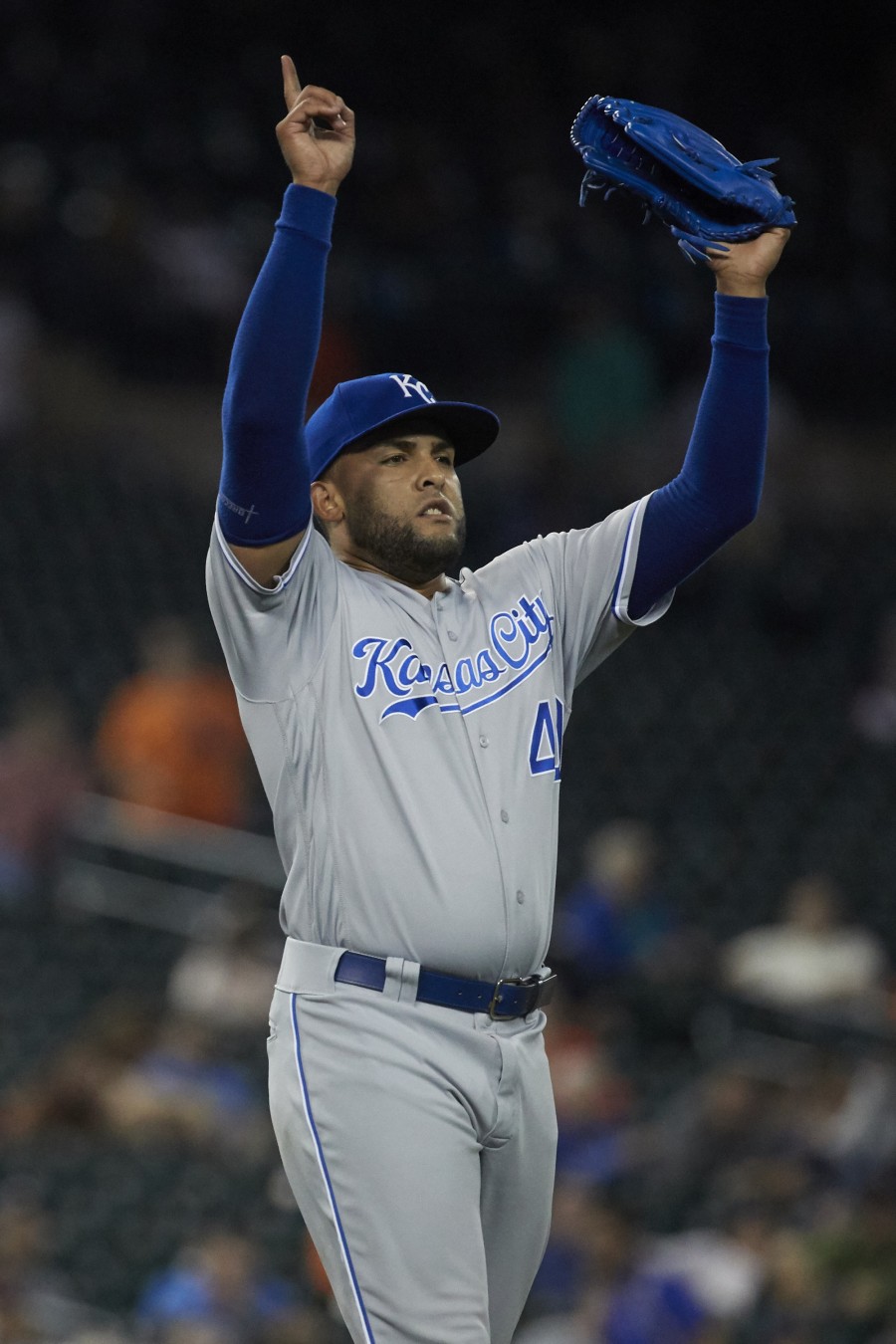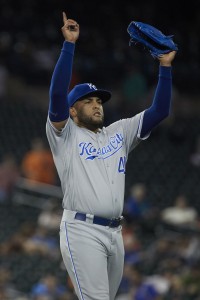 Kelvin Herrera, RHRP (projected arbitration salary of $8.3MM): Herrera is coming off the worst season of his career, having struggled to a 4.25 ERA as he watched his K/9 (8.5), BB/9 (3.0) and HR/9 (1.37) all trend in the wrong direction. That said, Herrera's average fastball checked in at 97.5 mph, tying him for 10th among all qualified relievers in the game. His 11.5 percent swinging-strike rate and 34 percent chase rate on pitches out of the zone were both down from recent seasons but comfortably above the league average. He's still just 28 years old, as well.
Joakim Soria, RHRP ($10MM through 2018, including buyout of a 2019 mutual option): Unlike Herrera, Soria saw virtually all of his rate stats improve in 2017. While his 3.70 ERA looks fairly pedestrian, his 2.23 FIP and 3.16 SIERA are more indicative of the success he enjoyed as his K/9 (10.3), BB/9 (3.2), HR/9 (0.16), ground-ball rate (54.8 percent) and swinging-strike rate (13.2 percent) all looked better than they did in a lackluster 2016 season. Soria will turn 34 in May, and he's not cheap at $10MM, but he can help the back of a contender's bullpen.
Jason Hammel, SP ($11MM through 2018, including buyout of a 2019 mutual option): Hammel is 35 years old and registered an ERA north of 5.00 last year, but his 4.37 FIP, 7.2 K/9 and 2.4 BB/9 are all at least somewhat encouraging. He's made at least 29 starts in each of the past four seasons, so a team looking for durable innings in the fifth slot of its rotation could do worse than lining up a deal for Hammel. It shouldn't require much more than simply picking up the tab on his $11MM remaining salary.
Brandon Moss, 1B/OF/DH ($8.25MM through 2018, including buyout of a 2019 mutual option): Moss, 34, saw his production crater in 2017. The slugger hit just .207/.279/.428 and struck out in nearly a third of his plate appearances, though he did connect on 22 homers and walk at a solid 9.2 percent clip. Still, his struggles in '17 make him a difficult piece to move right now — especially in a market that is once again rife with first basemen who come with longstanding platoon issues. If he rebounds in the first half, Kansas City shouldn't have much trouble dealing him to a contender in need of a bench bat come July.
Two Years of Control
Brandon Maurer, RHRP (projected arbitration salary of $3.8MM): Maurer, 27, posted a sky-high 6.52 ERA last year, continuing a trend of delivering questionable bottom-line numbers despite more promising underlying metrics. Maurer averaged 96.6 mph on his heater and racked up a strikeout per inning with solid control. His 1.21 HR/9 mark was a bit high but not extraordinarily so — especially when considering the leaguewide uptick in long balls. But, Maurer stranded just 61.1 percent of the baserunners he allowed, and his career 64.9 percent mark in that category is demonstrably worse than the league average.
Longer-Term Assets
Danny Duffy, SP ($60MM through 2021): One of Kansas City's most marketable assets, Duffy would be an upgrade for any rotation in the league. The 29-year-old has never crossed the 180-inning threshold in the Majors due to previous injuries and a stint in the K.C. bullpen, but he's been very good since moving to the rotation on a full-time basis.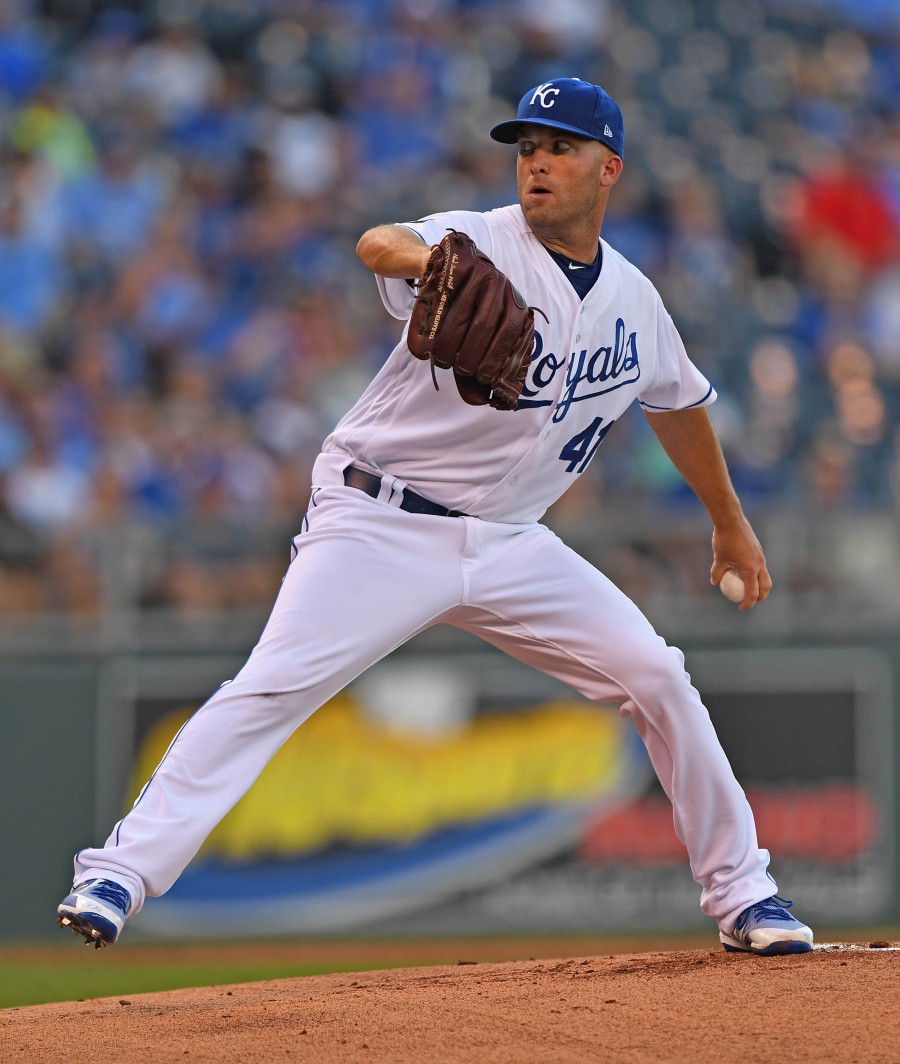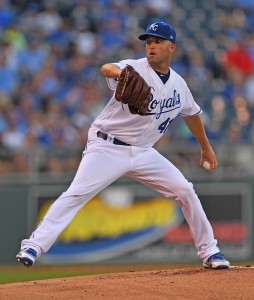 Over a span of 50 starts dating back to May 15, 2016, Duffy has worked to a 3.68 ERA with 8.7 K/9, 2.3 BB/9, 1.14 HR/9 and a 37.8 percent ground-ball rate. He's signed affordably for another four years, and his contract only runs through his age-32 campaign, so interested parties needn't worry about signing up for too many decline years. He's not a Jose Quintana or Chris Archer style bargain, but Duffy should command a fairly substantial return in a trade.
Salvador Perez, C ($43.5MM through 2021): The notion of trading Perez likely causes most Kansas City fans to recoil, as the beloved backstop has emerged as one of the faces of the franchise. Few teams are actively looking for a new starting catcher, though Perez would be the type of player that clubs would make other moves to accommodate. That said, the Royals probably relish the notion of keeping Perez on hand to work with a wave of inexperienced young arms, and a trade doesn't seem especially likely even if they do take off on a large-scale rebuild.
Whit Merrifield, 2B (pre-arbitration, controlled through 2022): Merrifield has enough club control remaining that there's no urgency to move him, as he could very well be a part of the next contending Royals roster. The late bloomer broke out with a .288/.324/.460 slash in 2017 and led the AL with 34 stolen bases. He'll turn 29 this month, though, so the Royals could be wary that he'll be entering a decline once they're closer to contending again. The Athletic's Ken Rosenthal has reported that the Royals are willing to listen to offers on Merrifield.
Scott Alexander, LHRP (pre-arbitration, controlled through 2022): Rosenthal also noted that Alexander could potentially be had even though he, too, has five years of club control remaining. Alexander, 28, turned in an excellent 2.48 ERA in 69 innings last season, averaging 7.7 K/9, 3.7 BB/9 and 0.39 HR/9 along the way. Lefties hit .240/.313/.317 against him, while righties mustered just a .250/.333/.347 line.
Ryan Buchter, LHRP (pre-arbitration, controlled through 2021): Buchter's strikeout rate plummeted following a trade from the Royals to the Padres, as he began to throw fewer four-seamers and curveballs while substantially increasing his use of a cut fastball. The 30-year-old Buchter averaged better than 11 strikeouts per nine innings in a season and a half with the Padres, albeit with shaky control and extreme fly-ball tendencies. He's been terrific against both lefties (.160/.255/.306) and righties (.179/.284/.339) to this point in his MLB career.
Jorge Soler, OF/DH ($12MM through 2020, may opt into arbitration once eligible): Acquired from the Cubs last offseason, Soler didn't seize the limited opportunity he has in Kansas City last year. In 110 plate appearances, he batted just .144/.245/.258 with a pair of homers. However, Soler raked at a .267/.388/.564 clip in the minors, leaving some room for optimism that the former top prospect can still realize some of his potential at the big league level. There's little reason for the Royals to sell low on him, given his affordable nature and relative youth (26 in February).
Salary Dump Candidates
Ian Kennedy ($49MM through 2020), Alex Gordon ($44MM through 2019, including buyout of 2020 mutual option)
Moving either Kennedy or Gordon would be a tall order and would almost certainly require the Royals to take on a similarly undesirable contract in exchange. Kennedy remains a durable source of innings — he's made at least 30 starts in each of the past eight seasons — but his penchant for giving up home runs expanded to new heights in 2017 (1.99 HR/9, 5.38 ERA). Finding a taker for Gordon's contract would be difficult enough in and of itself, but the Royals would also be wrestling with the notion of dumping the contract of a player that has long served as the face of the franchise. And, as a player with 10-and-5 rights (10 years of MLB service, the past five with the same team), he has full no-trade protection.
Photos courtesy of USA Today Sports Images.