The Royals front office is in an interesting spot as it attempts to engineer a soft landing after multiple seasons of contention from a roster whose core is no longer fully intact. Despite the obvious challenges, GM Dayton Moore says he's as optimistic as ever about the organization's outlook.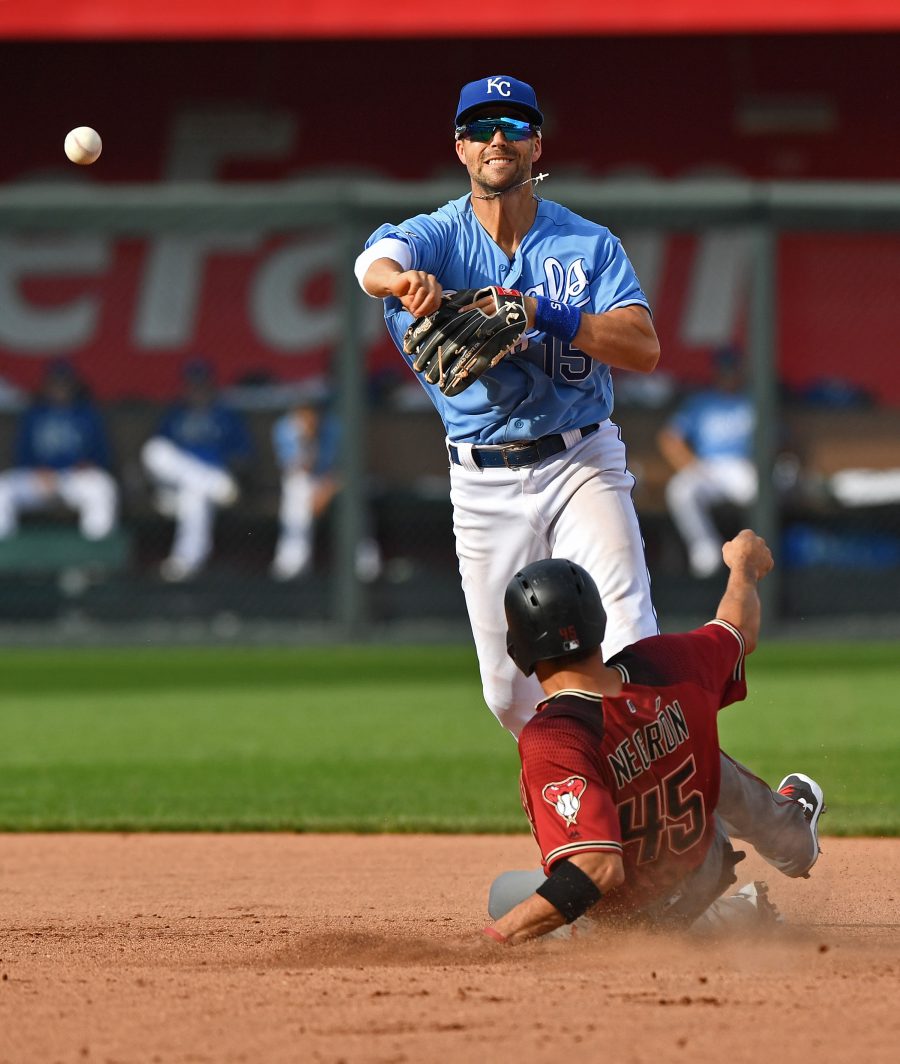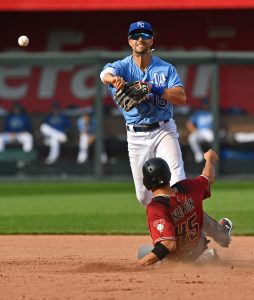 Perhaps no single player embodies that hope and this team's unique approach more than infielder Whit Merrifield, a late-bloomer who quietly became one of the team's best players. Given their current stance, the Royals shouldn't be opposed to considering long-term deals with key players. But is Merrifield a worthwhile target?
As is often the case for teams that push for a World Series in — in this case, successfully — there's a dent to the future outlook. That frequently shows up in the form of lost prospects, missed opportunities to swap veterans for younger talent, and ongoing commitments to expensive, older veterans. In this case, Alex Gordon and Ian Kennedy stand out as underperforming contracts.
At the same time, the Kansas City organization does have some valuable deals on the books — namely, the extensions agreed to with lefty Danny Duffy and catcher Salvador Perez. There's still potential for those agreements to sour, but at present they seem to represent appealing commitments. And they both run through 2021. It's worth remembering, too, that the club pursued star first baseman Eric Hosmer. Though it's clear the Royals will be increasingly attentive to drawing down salary commitments, they did not force deals for players such as Duffy, Perez, or even pending free-agent closer Kelvin Herrera this winter. While Kansas City did give up talent to move some salaries (see here and here), those swaps are nothing like the full-throated efforts we've seen some other clubs take after a downturn in fortunes.
Unlike some small-market organizations that find themselves in this general situation, then, the Royals do not appear to be pursuing a strip-down rebuild. The retention (to this point) of Herrera and the signing of Lucas Duda confirm that the club isn't just punting in the hopes of securing favorable draft position. Trying to remain at least somewhat competitive while undergoing a roster transition comes with quite a different blend of risk and benefit from a "tanking" strategy — which brings us back around to Merrifield, who deserves some consideration as a potential extension target after compiling 3.9 rWAR and 3.1 fWAR in his first full MLB campaign.
In most cases, perhaps, a player who achieves that kind of value immediately upon reaching the majors would be a clear candidate for a long-term deal. Here, though, there's no getting around the fact that Merrifield is already 29 years of age — older than Hosmer and just a smidge younger than Mike Moustakas. With just 1.101 years of MLB service to his credit, though, he won't quality for arbitration until 2020 and can't reach the open market until 2023, when he'll be entering his age-34 season.
Given that they already control him until he's 33, the Royals need not be in any rush to secure Merrifield for the long haul. At the same time, though, the club ought to have ample leverage, so perhaps we shouldn't immediately dismiss the merits of exploring a deal. While picking up control over Merrifield's earliest-possible free agent campaigns might be a nice feather in the cap, the potential value for the team lies mostly in locking in future salaries at an appealing rate while announcing the presence of a new core piece to go with Duffy and Perez.
Despite his late ascension to the majors, Merrifield showed good promise in a half-season of time in 2016, with decent hitting output along with high-end glovework and baserunning. Though he took a slight step back in the latter two areas on a rate basis last year, at least by the numbers we have to work with, Merrifield also took a step forward with the bat. His low walk rate (4.6% in 2017) means he'll probably never be an OBP monster, but he made plenty of contact (14.0% strikeout rate), showed a sudden power outburst (19 home runs, .172 isolated slugging), and produced overall at about five percent better than league average. It doesn't hurt that Merrifield can steal a bag, having recorded 34 swipes in his first full season in the big leagues.
There's some risk here, to be sure. Merrifield needs to hit at a high average to maintain a palatable on-base percentage. And he's no sure thing to keep up the power surge — he never maintained an ISO that high over a full minor-league season — though perhaps Merrifield is one of those players who has benefited from a bouncier baseball. As Eno Sarris of The Athletic recently explained (subscription link), history suggests that Merrifield likely won't have more than a few more quality seasons before the aging curve catches him.
In the aggregate, though, there's good reason to believe that Merrifield will at least continue to profile as an above-average regular for some time. His athleticism and background — he has plenty of professional time at second, third, and the corner outfield, and the team is trying him in center this spring — suggests he could move around the diamond as the team's needs change, providing value even if he checks back into a reserve role.
Merrifield may not be a face-of-the-franchise type, but taking an opportunity to lock in value on a player of his ilk is just the kind of move that can pay dividends for an organization that is already thinking about how it will compile a winning roster in the near future. To be sure, it would be a somewhat novel contract to negotiate. While players with non-star profiles and equally thin track records (and service time tallies) have certainly agreed to terms in the past — e.g., Juan Lagares (4 years, $23MM) and pre-breakout Jose Altuve (4 years, $12.5MM) — they were significantly younger. Perhaps the Yan Gomes contract, a six-year, $23MM pact that included two options at the end, would be a closer fit, but even he was just 26 years of age at signing.
There are certainly some light shades of Ben Zobrist here, though it's a stretch to draw any strong comparisons. As a quality player who can move around the diamond, Merrifield could be viewed as a much lesser version of the renowned utilityman, who commanded only a $18MM guarantee in an extension with the Rays back in 2010. Zobrist was 28 at the time but was already a Super Two. Of course, that deal was a ridiculous bargain; on the other hand, there's nothing to suggest Merrifield will ever approach Zobrist in overall value.
In truth, the Zobrist pact is tough to use as a comp for any purposes because it was so unique. The same might hold for a hypothetical Merrifield extension. My own thought is that Merrifield's age/service status ought to make him much more amenable to taking a discount on his anticipated future earnings while also leaving the Royals with less incentive to give value for the right to control any prospective free-agent campaigns than they would for a more youthful player. (To be clear, that's all speculation based on my outside observation of the circumstances.) Perhaps, then, the sides could explore a contract that includes a relatively limited overall guarantee for most or all of Merrifield's pre-arb and arb-eligible seasons, with a range of possible options scenarios to be considered.
At what price might this become attractive for the Royals? Merrifield is going to earn just over the league minimum for 2018 and 2019. His salary for the ensuing three campaigns will depend upon what he does in the meantime, of course, but there are some comps that give some idea of what Merrifield could earn if he continues playing at the same general level. Joe Panik just agreed to a $3.45MM first-year arb salary, for instance, while DJ LeMahieu started with $3.0MM and has taken down a total of $16.3MM in his three seasons of arbitration.
Even if we peg Merrifield's anticipated earnings through 2022 in the realm of $16MM or so — give or take a few million – that doesn't mean the Royals should be willing to spend that much on an extension. Pre-committing isn't necessary unless there's some benefit to the club, yet the rights to free-agent years won't have that much value for an older, non-star performer. Perhaps the Royals would promise Merrifield something in the realm of his likely arb earnings if he agrees to very low prices on two option years. Or maybe the team will pursue a discount on the arb seasons if the contract includes an option or two at higher prices (such that they likely won't be exercised unless Merrifield succeeds beyond expectations, in which case he'd be rewarded). The most interesting scenario, though, may be a deal that only locks the sides in through the first two seasons of arbitration while leaving team options for the third arb year, at a discounted rate, along with one or two would-be free-agent years. That might give the late bloomer the security he needs while affording the team an appropriate blend of protection and expected cost savings.
To reiterate: there's no urgency here and likely not a huge amount of upside to be captured for K.C. But if this organization really does intend to remain competitive in the relatively near future while steadily building up a new core, it'll require a whole lot of incremental moves that add value. Exploring a new deal with Merrifield offers just that sort of potential opportunity, but only in the right circumstances.
Photo courtesy of USA Today Sports Images.