March 16: ESPN.com's Jerry Crasnick reports that Gonzalez is actually guaranteed just $5MM on his deal with the Rox, though he can earn $3MM of incentives quite easily (Twitter link). Per Crasnick, Gonzalez will earn a $1MM bonus for accruing 125, 150 and 175 days of Major League service time this season. In other words, as long as he's on an active roster or disabled list (be it the Rockies' or another team) for that number of days, he'll receive those bonuses. In effect, he'll get that $3MM so long as he isn't released.
March 12: The club has announced the signing.
March 9, 12:23pm: Gonzalez will be guaranteed $8MM on his deal with the Rockies, per USA Today's Bob Nightengale (Twitter link).
9:44am: The Rockies are reportedly set to bring right fielder Carlos Gonzalez back to Denver. Jon Heyman of FanRag Sports reports that the two sides are merely working through the final language details of the contract, and MLB.com's Jon Morosi adds that there's an agreement "in principle" on a one-year pact. Heyman reported last night that the two sides were close to an agreement on a one-year deal. Gonzalez is represented by the Boras Corporation.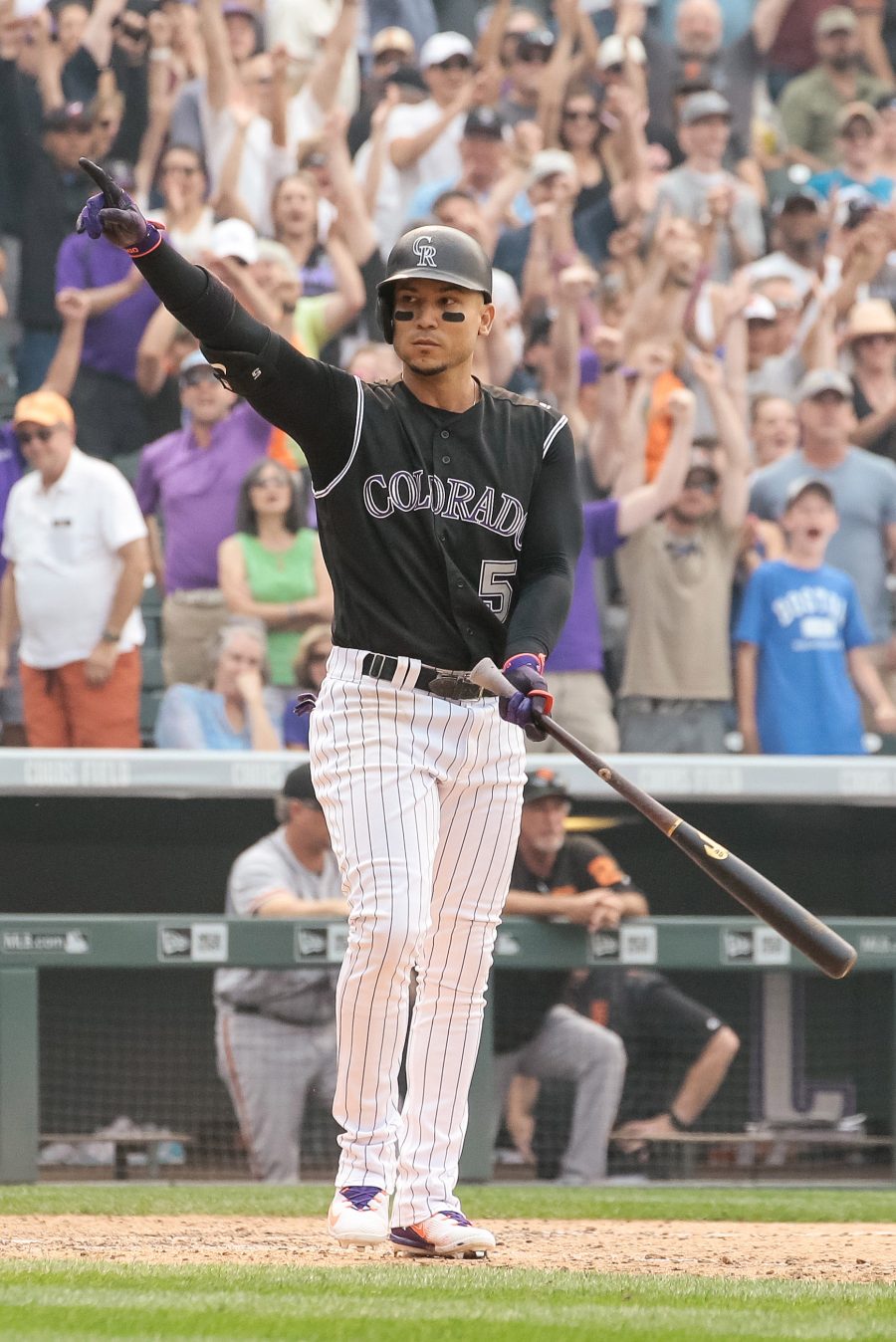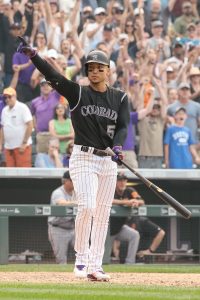 A reunion between the two sides has been reported to be a possibility for much of the offseason, but CarGo remained on the market well into Spring Training as he explored all opportunities. He'll now return to the team with which he broke out as a star-caliber player back in 2010 and the team which he has thrice represented at the All-Star Game over the past nine seasons.
Gonzalez, 32, picked a poor time to struggle through one of the worst seasons of his big league career. The slugger posted a .262/.339/.423 slash and 14 home runs in 2017 — his lowest total in a full season at any point in his career. While he rebounded in the season's second half and finished out his 2017 campaign with a torrid .327/.401/.553 batting line in his final 227 plate appearances of the season, that apparently didn't prove convincing enough to garner a multi-year deal on the open market. (Gonzalez did sport a ridiculous .401 BABIP during that turnaround.)
He'll now look to carry as much of that production as possible into a full season and rebuild his stock in an effort to land a longer-term pact next winter. Bryce Harper, of course, headlines the 2018-19 crop of free-agent outfielders, and CarGo will also face competition in the form of Andrew McCutchen, Adam Jones and longtime teammate Charlie Blackmon.
Gonzalez was one of baseball's most feared hitters from 2010-13, when he batted .311/.370/.556 in nearly 2200 plate appearances with the Rockies. Since that time, he's been more good than great, posting a collective .272/.332/.484 line, which translates to a 103 OPS+ after adjusting for Coors Field. To be fair, he's turned in two fairly strong seasons — including a 40-homer 2015 campaign — against two weak seasons in that time, and his 2014 season was ruined by a knee injury that has not sent him back to the disabled list since.
As far as 2018 goes, Gonzalez will likely supplant Gerardo Parra as the primary right fielder. His return will present Rockies brass with a similar outfield quandary to the one they faced last spring, as the team will now have Blackmon and Gonzalez as outfield regulars with Parra, Ian Desmond, Raimel Tapia and a (hopefully) healthier David Dahl all in the mix for the remaining outfield at-bats. It's possible that Gonzalez could be platooned to an extent, and there's previously been talk of him eventually getting some occasional looks at first base, where Desmond also has experience. Extra time at first base for Desmond could take some time away from top prospect Ryan McMahon, but McMahon also has experience at second base and third base, giving skipper Bud Black plenty of opportunities to get creative with his lineup.
Regardless of how the team divides the playing time, the added depth should serve as a boon to the on-field product, and CarGo's return should also go over well in the clubhouse. Rockies superstar Nolan Arenado recently lauded his longtime teammate in an interview with the Denver Post's Patrick Saunders, and the Post's Nick Groke tweeted this morning that the clubhouse seems energized by the news, with Blackmon stating that he "would love to have CarGo back."
Photo courtesy of USA Today Sports Images.