The close of the Winter Meetings brought with it a interesting three-team trade — authored by none other than Seattle dealmaker Jerry Dipoto, who was apparently operating from a hospital bed. The Mariners have added slugger Edwin Encarnacion while sending recently acquired first baseman Carlos Santana (Encarnacion's former teammate) to the Indians in the deal. The Rays, too, involved in this swap. They'll pick up corner infielder Yandy Diaz and righty Cole Sulser from the Indians and send first baseman/corner outfielder Jake Bauers to the Indians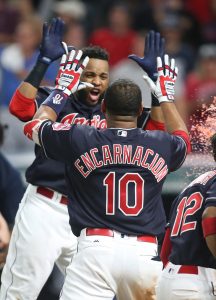 Beyond the players involved in the trade, a reported $5MM will go to the Mariners from the Rays. Seattle, meanwhile, will send a reported $6MM on to the Indians and will also acquire the Cleveland org's competitive balance pick in next year's draft. It's a Round B choice that currently sits at No. 77 — though the exact order of next year's draft will be altered slightly by the compensation and draft penalization for teams signing players who have rejected qualifying offers. Regardless, the Mariners have likely added a top 80 selection to their slate of picks next summer.
Needless to say, there are some varying considerations at play here. Cash is king with regard to the notable veteran sluggers, who are certainly the most recognizable players in this deal. Encarnacion is owed $24MM through the 2019 campaign (including a buyout on a club option), while Santana's deal promises him $35MM through 2020 (also with an option buyout).
It's far from clear that Encarnacion will remain in Seattle when all is said and done. To the contrary, in fact, he may well go to Tampa Bay in a separate swap, per Scott Miller of Bleacher Report (via Twitter), though Marc Topkin of the Tampa Bay Times emphasizes there's nothing "in place or lined up" in that regard (Twitter link). With the M's looking to shed payroll and boost their talent reserves, they'll surely be willing to spin off Encarnacion — to the Rays or another rival — if there's a favorable offer. After all, the organization already acquired and dumped Santana this winter.
Both Encarnacion and Santana will be looking to recover from relative down seasons. The former, 35, slashed .246/.336/.474 with 32 home runs last year, still a productive campaign but not to his usual standards. He's seen mostly as a DH at this stage of his career, but can still line up at first base on at least a part-time basis. The 32-year-old Santana, meanwhile, turned in a .229/.352/.414 batting line and swatted 24 long balls in 679 plate appearances with the Phillies, who signed him after out-bidding the Indians but soured on the fit this winter. He's regarded as a solid performer at first and still draws walks at an impressive clip; in 2018, in fact, he took 110 free passes while going down 93 times on strikes.
Working out the math for Seattle, the team will end up sending out $1MM while paring $11MM in obligations, resulting in a net savings of $10MM. They'll only have one year of Encarnacion to deal along elsewhere, but they'll also pick up the draft selection for their trouble.
The Indians, meanwhile, will open some additional 2018 payroll space by shedding the big hit on Encarnacion. Santana will cost more ($29MM) in the aggregate, but it's spread over multiple years. The money from the M's is split into $2MM and $4MM payments, Paul Hoynes of the Plain Dealer tweets. Plus, there's the post-2020 buyout. All said, there's now added cash hung on the 2020 and 2021 ledgers. Presumably, the club is also pleased to bring back a long-time franchise stalwart. Of course, now that Bauers is on hand along with Santana, there are now new trade possibilities here as well. First baseman Yonder Alonso, who's owed $8MM in 2019 along with a $1MM buyout on a 2020 option, could end up on the move, though Bauers could also factor in the outfield mix and the team could utilize Alonso and Santana as a first base/DH pairing.
On the Rays' end of the swap, Bauers was long considered a top prospect but clearly wasn't seen as a key piece for the club. Diaz will enter an ever-changing infield mix in Tampa Bay after a strong 2018 showing in which he posted .797 OPS figures at both the Triple-A (426 plate appearances) and MLB (120 plate appearances) levels. In addition to possessing some of the game's most impressive biceps and the ability to line up at third base as well as the corner outfield, Diaz will come with six seasons of future control. Rays exec Chaim Bloom says the club likes the versatility and the upside that comes with the 27-year-old (video link on Twitter from Topkin). Sulser, 28, has yet to reach the bigs, but will presumably factor into a deep Rays relief corps after throwing 105 innings of 3.51 ERA ball with 12.3 K/9 and 3.6 BB/9 at Triple-A over the past three seasons.
Jon Heyman of Fancred (Twitter links), Marc Topkin of the Tampa Bay Times (all Twitter links) and Joel Sherman of the New York Post (Twitter links) were all at the forefront of the reporting on this news.
Photo courtesy of USA Today Sports Images.