This is the latest post of MLBTR's annual Offseason in Review series, in which we take stock of every team's winter dealings.
The Padres stunned the baseball world with a franchise-record free-agent signing for a second straight offseason as they look to emerge from an arduous rebuilding process.
Major League Signings
Manny Machado, 3B: ten years, $300MM (opt-out clause after the 2023 season)
Garrett Richards, RHP: two years, $15.5MM
Ian Kinsler, 2B/3B: two years, $8MM (includes $500K buyout of 2021 club option)
Adam Warren, RHP: one year, $2.5MM (includes $500K buyout of 2020 club option)
Aaron Loup, LHP: one year, $1.4MM (includes $200K buyout of 2020 club option)
Total spend: $327.4M
Trades and Waiver Claims
Notable Minor League Signings
Notable Losses
If the Padres' signing of Eric Hosmer to an eight-year, $144MM deal a year ago raised eyebrows around the baseball world, then this offseason's decision to sign Manny Machado to what was then the third-largest contract in MLB history prompted jaws to hit the floor. The move made some sense on paper even before the Padres were linked to Machado in earnest. But it's one thing to observe that an on-the-rise team lacks a clear heir apparent at third base at a time when a 26-year-old marquee player at that position hits the market; it's another thing entirely to legitimately expect the Padres, who have topped a $100MM Opening Day payroll exactly once, to take the $300MM plunge and alter the very fiber of their organization to this extent.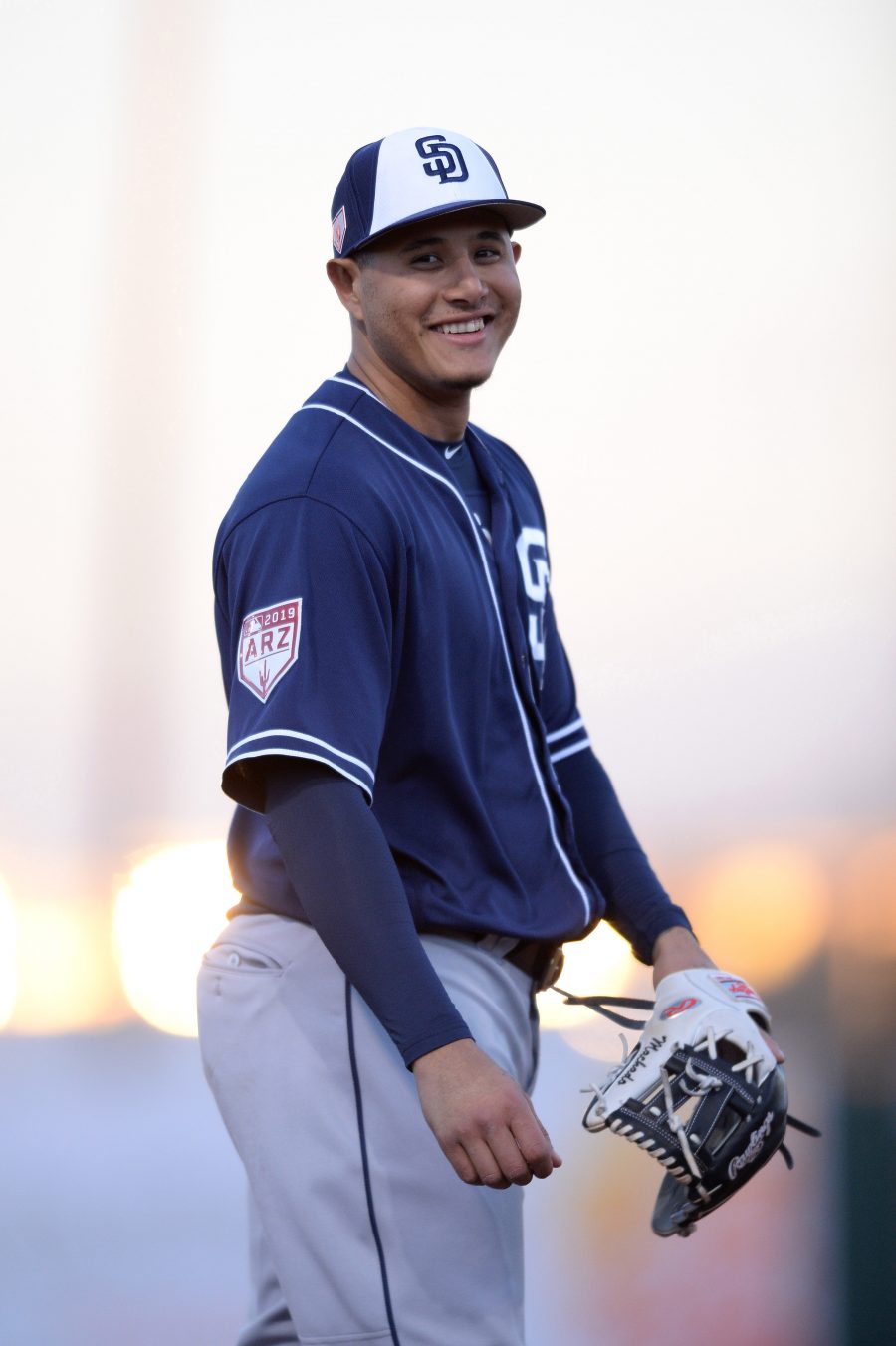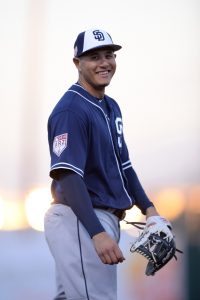 It sounds odd to call the deal a bargain for San Diego, but the market for Machado never developed to the point where the Padres had steep enough competition to bow out of the bidding. The Phillies were linked to Machado all winter but seemingly preferred Bryce Harper (whom the Friars also explored to at least some extent). The White Sox talked a big game early in the winter but only came through with an offer that no one would've expected to be competitive prior to the onset of free agency and, in the end, was two years and $50MM in guaranteed money shy of the Padres' offer. The Yankees wined and dined Machado back in December, but it doesn't seem that they were even keen on reaching the White Sox' level of interest.
Machado has been worth 22 to 23 wins above replacement over the past four seasons, depending on one's preferred version of the metric, and at just 26 years old, there's little reason to expect imminent decline. It's possible that Machado's best offensive year(s) has yet to come, in fact, and a move back to third base could give him an even higher ceiling in terms of WAR given his superlative defense there (as compared to his glovework at short, which was met with mixed reviews). Penciling Machado in for 25 wins over the first half of his contract wouldn't be particularly aggressive. Even if his output halved from that point forth, the Padres would still be paying just about $8MM per win over the life of the deal.
A simple dollars-per-WAR argument is perhaps too rudimentary a means of evaluating a contract of this magnitude. But, the fact that the Padres bought a huge portion of a star player's prime while only paying him through his age-35 season (as opposed to the Albert Pujols/Miguel Cabrera-style deals that began on the tail end of their primes and run into the players' early 40s) is a win in and of itself. From a bigger-picture level, it's refreshing to see a team act in a win-now capacity. Granted, the Padres are as guilty as anyone when it comes to trotting out half-hearted rosters in the name of "rebuilding" toward a "sustained window of contention" — popular terms in today's game but concepts that yield inherently diminished returns when a third of the league is acting in such a capacity — but they've made good on their promise to invest when their core is on the cusp of the Majors.
The Machado addition was far from the only blockbuster move the Padres tried to orchestrate this winter. San Diego was tied to ace-caliber arms like Corey Kluber, Trevor Bauer and Noah Syndergaard on the trade market. They were reported to be a legitimate player for All-Star catcher J.T. Realmuto before Miami flipped him to Philadelphia. They also explored a plethora of trades involving their glut of outfielders  The Padres, as previously noted, at least internally discussed the possibility of adding Harper even after signing Machado, and they did have a face-to-face meeting with him at one point.
Ultimately, however, the remainder of the team's offseason moves amounted to tinkering around the edges of the roster. The Padres know that for better or worse, they're stuck with the contracts given to Hosmer and Wil Myers, and they entered the winter with a farm system teeming with near-MLB-ready options at a number of other key spots. Kinsler was brought in largely to serve as a leader who'll function as a reserve player. General manager A.J. Preller knows the well-respected former All-Star from the pair's days together in the Rangers organization. Preller & Co. also added a pair of affordable relief arms, Adam Warren and Aaron Loup, who can be controlled through 2020 via reasonable club options.
San Diego became the latest club to jump on the trend of guaranteed two-year deals for pitchers rehabbing from Tommy John surgery as well. However, their $15.5MM promise to Garrett Richards doesn't leave that much space for the team to consider the signing a bargain. Richards won't pitch in 2019, meaning they're essentially banking on the oft-injured righty to be a $15MM+ pitcher in his first year back from Tommy John surgery. It's a tall order, although Richards has admittedly been that type of pitcher since 2014 … when healthy.
Questions Remaining
The biggest question surrounding the Padres may not even be whether Machado can prove their $300MM investment to be sound when all is said and done. Rather, the more immediate question was created by the organization itself with last week's announcement that wunderkind Fernando Tatis Jr. would break camp as the Opening Day shortstop.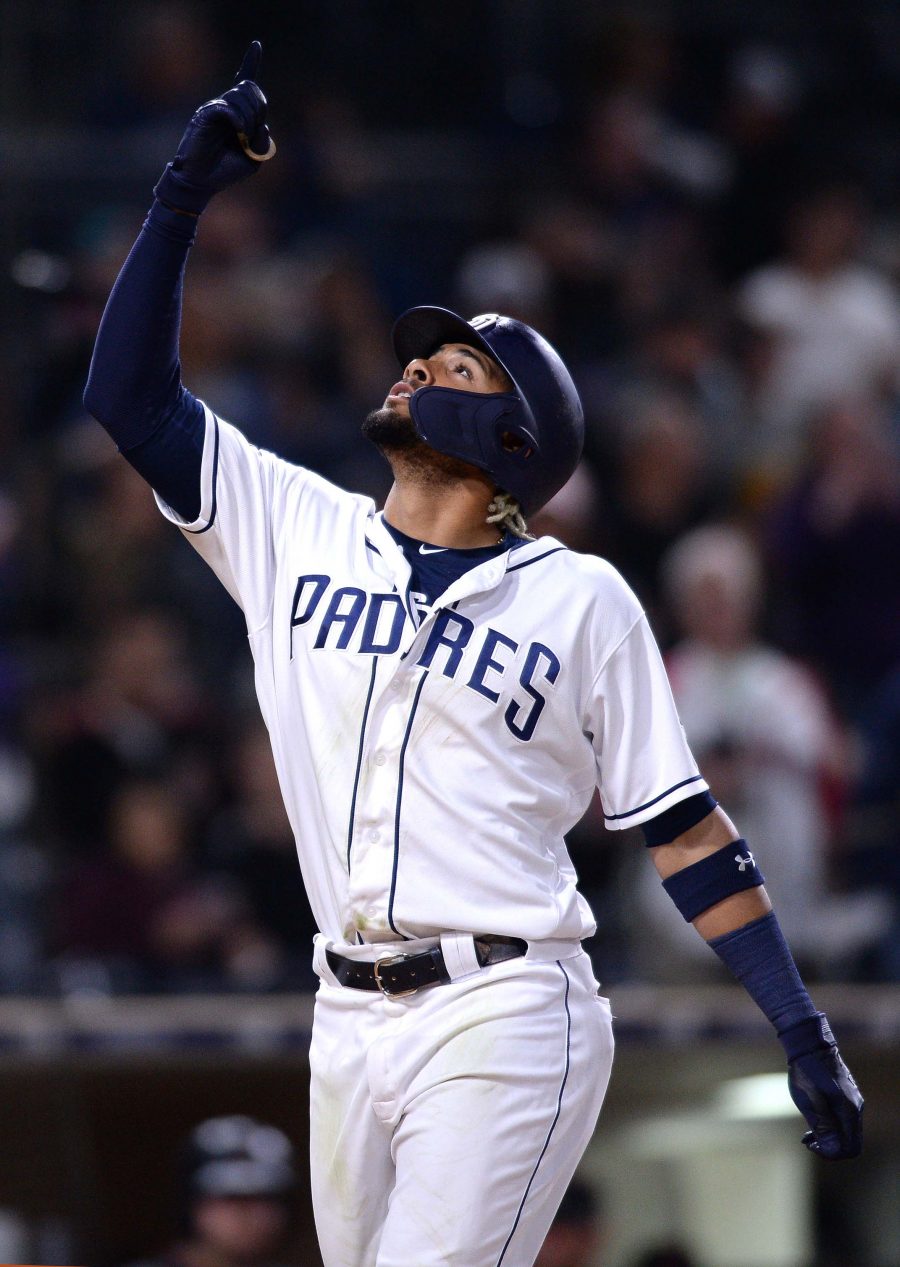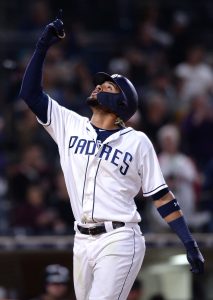 Tatis is a lauded young talent who is generally regarded as one of baseball's three best overall prospects. He'll eventually team with another well-regarded young talent, Luis Urias, though Kinsler will fill out the initial double-play tandem. The Padres are confident that the Tatis-Urias duo will ultimately form an elite middle-infield pairing, but the sudden nature of Tatis' promotion to the Majors only puts him in a larger spotlight. If he's ready for a starring role right off the bat, the organization's timeline to contention will be considerably accelerated.
It might be misleading to call the aforementioned bulk of outfielders on the Padres' roster a "logjam" or a "surplus." While the Padres have a large group — Myers, Manuel Margot, Hunter Renfroe, Franchy Cordero, Franmil Reyes and the currently injured Travis Jankowski — none is a lock to be all that productive. Myers certainly has a track record of hitting for power and stealing bases, but his glovework is questionable and his strikeout tendencies limit his on-base percentage.
None of the other four have established themselves yet as everyday Major Leaguers. It seems that something will have to give eventually, especially once Jankowski is back this summer. Perhaps it'll sort itself out if some combination of Reyes, Margot, Cordero and Renfroe performs poorly enough to be optioned back to Triple-A, but a trade between now and July 31 also seems quite plausible.
The 2019 season could also serve as a proving year for the Padres' catching corps. Austin Hedges, at this point, seems unlikely ever to be much of an on-base threat. His power and premium defense make that a reasonable trade-off, though. What to expect from Francisco Mejia will be the greater question with regard to this pairing. Mejia's bat has long made him one of baseball's most highly ranked prospects, but his defense isn't as advanced. If he can cement himself as a viable option, the Padres could either look to deal Hedges or simply relish in a strong pairing that can be manipulated to focus either on defense or run production depending on the day's opponent.
The other significant question facing the Padres this year is which of their touted young pitchers will take the next step and stake claims to long-term rotation spots. Joey Lucchesi looks to have done so with a solid rookie campaign in 2018, and there are extraordinarily high hopes for top prospect and Spring Training showstopper Chris Paddack, whose dominant Cactus League efforts put him under the microscope. Eric Lauer and Nick Margevicius are getting early opportunities, as is 27-year-old Matt Strahm (now that the former Royal is healthy). Waiting in the wings are Logan Allen, Cal Quantrill and Michel Baez, among many others.
The success of that group will determine how aggressively the Padres pursue rotation options. San Diego figures once again to discuss the possible acquisition of a high-end arm with multiple years of club control remaining in the coming summer or in the 2019-20 offseason to follow. The team would surely be more motivated to strike a deal if its collection of young arms struggles or suffers numerous injuries. (Jacob Nix is already sidelined by a partial UCL tear.) Looking ahead to the winter, Gerrit Cole leads a crop of free-agent pitchers that also includes 30-or-younger arms such as Madison Bumgarner, Zack Wheeler, Alex Wood, Michael Wacha, Jake Odorizzi and Michael Pineda.
The argument can certainly be made that the Padres should make a more immediate upgrade to the pitching staff right now by signing either Dallas Keuchel or Craig Kimbrel. Adding either would bolster the team's 2019 outlook and possibly deepen the pitching staff in 2020 and beyond. Whether the organization wants to take on that kind of financial obligation when either pitcher might not be in a big league game before May is anyone's guess, but there's been very little in the way of recent connections between the Padres and either of those former All-Star pitchers.
Suffice it to say, there will be options for the organization to pursue if in-house options falter. But with Richards, Lucchesi and a host of young arms headlined by Paddack, the Padres hope that most of the answers are already pitching somewhere in the system.
2019 Season Outlook
The Padres might have more variance in their range of possible outcomes than any team in the game. Their heavy reliance on high-ceiling but unproven talents such as Tatis, Urias, Paddack, Mejia and whichever babyfaced pitchers get their first extended auditions could bring about huge yields if a few young players break out into immediate stardom. They're a long shot to contend in a National League that is rife with strong clubs, but there's enough upside permeating the roster to take a never-say-never approach.
More likely, however, the 2019 season will be one final year for the Padres to bide their time and evaluate a young core before relaunching into all-out "win-now" mode with regard to every spot on the roster.
How would you grade the Padres' offseason? (Link to poll for Trade Rumors app users.)