Avisail Garcia is destroying much of what he's being thrown by Major League pitchers. After striding to the plate 208 times, he has an even .300 batting average, 11 dingers, and a healthy 138 wRC+.  That's awfully good value for the Rays, who paid him all of $3.5MM for one season of work.
There's a reason they got Garcia for that amount: his substandard, injury-filled 2018 season, at the end of which he was non-tendered by the White Sox. It really didn't come as a surprise when the South Siders cut bait and the Tampa Bay org picked up Garcia for less than half his projected arbitration salary.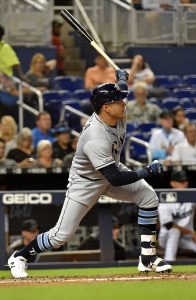 The past is the past, so far as the Rays are concerned. What matters right now is that Garcia is seeing red and putting his contract in the black. But what happens when he returns to the open market this coming winter? We've still got a lot of plate appearances to watch, but what if he keeps up something like his current pace?
It isn't as if he hasn't done it before. Back in 2017, Garcia carried a .330/.380/.506 slash over 561 plate appearances — good for a 137 wRC+ that's a near match for his current output. Then again, he leaned on a whopping .392 batting average on balls in play to reach that number, which plummeted back to .271 in the ensuing season while he tried to play through a hamstring injury. And he had posted underwhelming numbers previously. Garcia doesn't stand out at all in terms of plate discipline, with roughly average strikeout numbers (despite huge swinging-strike rates) and slightly below-average walk rates for his career.
When he's hot, he's hot … not/not. Is that all there is to it? Should teams be wary of putting too much stock in his current upswing? Perhaps. The K/BB numbers are in line with his personal mean. There were some lean years in the past. Then again, it's not as if there aren't any changes worthy of attention in Garcia's profile.
Statcast has picked up on quite a few interesting observations. Garcia is putting the barrel on the ball more than about nine in ten of his peers. He carries a healthy and career-best 46.5% hard-hit rate. His average exit velo is up to 91.4 mph after sitting just over 90 for the prior three seasons. Put it together, and Statcast actually thinks Garcia has been unlucky, crediting him with a .392 xwOBA that exceeds his .379 wOBA.
Garcia is doing things a bit differently than in the past. He's putting the ball in the air more often than ever, with a launch angle that sits at 11.1 degrees after a third-straight year-over-year gain. His 1.24 GB/FB rate is by far the lowest of his career. (The leaguewide reduction in sinkers is likely playing a role, as Garcia is suddenly seeing half as many as he had before.) The flies are flying quite nicely, too. Just 2.0% are harmlessly dropping into infielders' gloves, while 20+% are going over the outfield wall (about the same rate as they did for him last year).
There's no question: Garcia is an increasingly interesting upcoming free agent asset. Garcia is enjoying a lofty .346 BABIP, but that's not an outlandish number — particularly for a player who owns a .331 career mark. He's even trending up defensively (+3 DRS, +3.4 UZR) and on the bases (six steals). With 1.6 fWAR in the bank, he's on pace for a ~5 WAR campaign.
And we saved one of the best parts for last: Garcia hasn't even turned 28 years of age. Okay, he's just a week away from his birthday. Still, teams pondering a purchase this coming winter will get to plug a 28-year-old slugger onto their 2020 Opening Day roster.
What's most interesting about Garcia's free agent case is the presence of three other remarkably similar players: Marcell Ozuna of the Cardinals, Yasiel Puig of the Reds, and Nicholas Castellanos of the Tigers. Their numbers obviously vary a bit, but over the past three seasons they have landed within a fairly narrow band.
All four are right-handed hitters with roughly league-average plate discipline (Ozuna and Puig are the best of the trio in K/BB) and good but not exceptional power (Garcia sits just under .200 ISO, the other three just over). Most carry high batting averages (excepting Puig, though he has done so in the past) and well-regarded corner outfield glovework (Castellanos is the exception, though he has graded as a palatable performer this year). They're also all rather youthful free agents; Castellanos is the youngest, having just turned 27 in March, with Ozuna and Puig already past their 28th birthdays. All have had their ups and downs.
There's more to consider than the past three seasons — Ozuna, in particular, has a much better and more consistent overall track record — but Garcia lines up rather well on a rate basis in that span. And he has handily outperformed the other three in the present season, with only Ozuna (121 wRC+) turning in above-average offensive output to this point.
In the latest iteration of MLBTR's 2019-20 free agent power rankings, Ozuna placed third and Puig landed the tenth spot, while Castellanos drew an honorable mention. It's plenty understandable that my wise and able boss, Tim Dierkes, mentioned those three while excluding Garcia. At that point, Garcia carried a decent but uninspiring stat line. But as the sample has grown, so has Garcia's case to be considered among this group. Indeed, given Puig's struggles at the plate this seasons and a tepid early showing from Castellanos — with league-average offense and marginal defense, he's a full win behind Garcia — it's possible Garcia will be the top challenger to Ozuna in this market class.
We'll see how things shake out over the coming months, but Garcia's reemergence helps to create an interesting dynamic. The broader free agent class is rather uninspiring, owing to a round of major extensions, but it's interesting to see this foursome of youthful, rather analogous players entering free agency at the same time. Each will drive his own earning power on the field over the final two-thirds of the season, though the markets will surely intertwine. Garcia has a long way to go to securing a quality multi-year deal — in addition to producing, he'll need to avoid further hamstring problems — but he has already done enough to this point to make that a realistic possibility.
Photo courtesy of USA Today Sports Images.