As cliched as it sounds, this truly has been a tale of two seasons for Marlins second baseman Starlin Castro. Back on July 2, I wrote a piece titled "Starlin Castro's Nightmare Season." At that point, the four-time All-Star was in the throes of one of the worst years of anyone in baseball. He was a .230/.258/.313 hitter whose 51 wRC+ ranked last among qualified hitters and whose minus-1.2 fWAR was also at the absolute bottom of the sport. Since that date, though, Castro has rescued his season – an especially fortuitous development for someone who's likely headed for free agency in another couple months.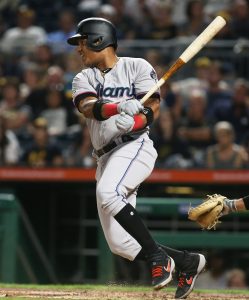 This will hardly go down as a banner year for Castro, whose sorry first half has doomed him to a .270/.298/.420 line with an 87 wRC+ and 0.8 fWAR through 597 plate appearances. But the 29-year-old has quietly been among the majors' most effective position players going back to the beginning of July. Since then, Castro has batted .324/.353/.567 in 252 trips to the plate. The 138 wRC+ he has posted ties him with Mets first baseman and NL Rookie of the Year favorite Pete Alonso, while the 2.0 fWAR Castro has accrued puts him in company with MVP candidates Cody Bellinger and Ronald Acuna Jr., among other big-time producers.
So what's behind Castro's radical change in production? A massive upswing in power seems to be the obvious answer. When Castro was one of the game's least effective hitters, he managed a pitiful .083 ISO – the game's third-lowest figure – and just four home runs. Over the past couple months, though, Castro's ISO has climbed to .244, and he has swatted 13 homers. As always, Castro has drawn few walks and struck out less than most players. However, a more aggressive, power-driven approach has led to a drastic turnaround. Take a look…
Castro before July:
Groundball percentage: 52.2
Fly ball percentage: 30.9
Line drive percentage: 16.7
Pull percentage: 40.8
Infield fly percentage: 10.7
Hard-hit percentage (per FanGraphs): 40.1
Castro since:
Groundball percentage: 43.9
Flyball percentage: 33.3
Line drive percentage: 22.7
Pull percentage: 49.5
Infield fly percentage: 7.6
Hard-hit percentage: 43.4
All of the above bodes well for an increase in power, making it no surprise Castro's home run-to-fly ball rate has risen from a meager 6.0 percent to 19.7 since he began digging himself out of an enormous hole earlier in the summer. The success has come with less selectivity for Castro, whose swing rate has climbed from 47.6 percent to 51.3 in the past couple months. At the same time, Castro has made less contact and swung and missed more, but it hasn't mattered. The rise in meaningful contact has helped beget a sizable gain in batting average on balls in play (from .262 to .346). While there may be good fortune baked into the new number, it's closer to Castro's career figure than his first-half mark. Dating back to his MLB debut in 2010, the former Cub and Yankee has recorded a .320 BABIP. Moreover, Castro has registered a BABIP of .330 or greater in five different seasons. With that in mind, it's all the more clear that his in-season revival hasn't simply been a product of luck.
Looking past this season – which will go down as yet another lost campaign for the woebegone Marlins – Castro still has another year of team control remaining. However, even though Castro has gone back to being a useful contributor as the season has gone on, the Marlins are sure to decline his $16MM club option for 2020 in favor of a $1MM buyout. Consequently, Castro will get his first taste of free agency on the heels of a quality finish to the season. That's a major relief for a player whose contract year looked like a disaster not long ago.
Photo courtesy of USA Today Sports Images.