The Braves have signed free-agent catcher Travis d'Arnaud to a two-year contract worth $16MM dollars, according to an official team announcement. The deal will pay him $8MM in both 2020 and 2021.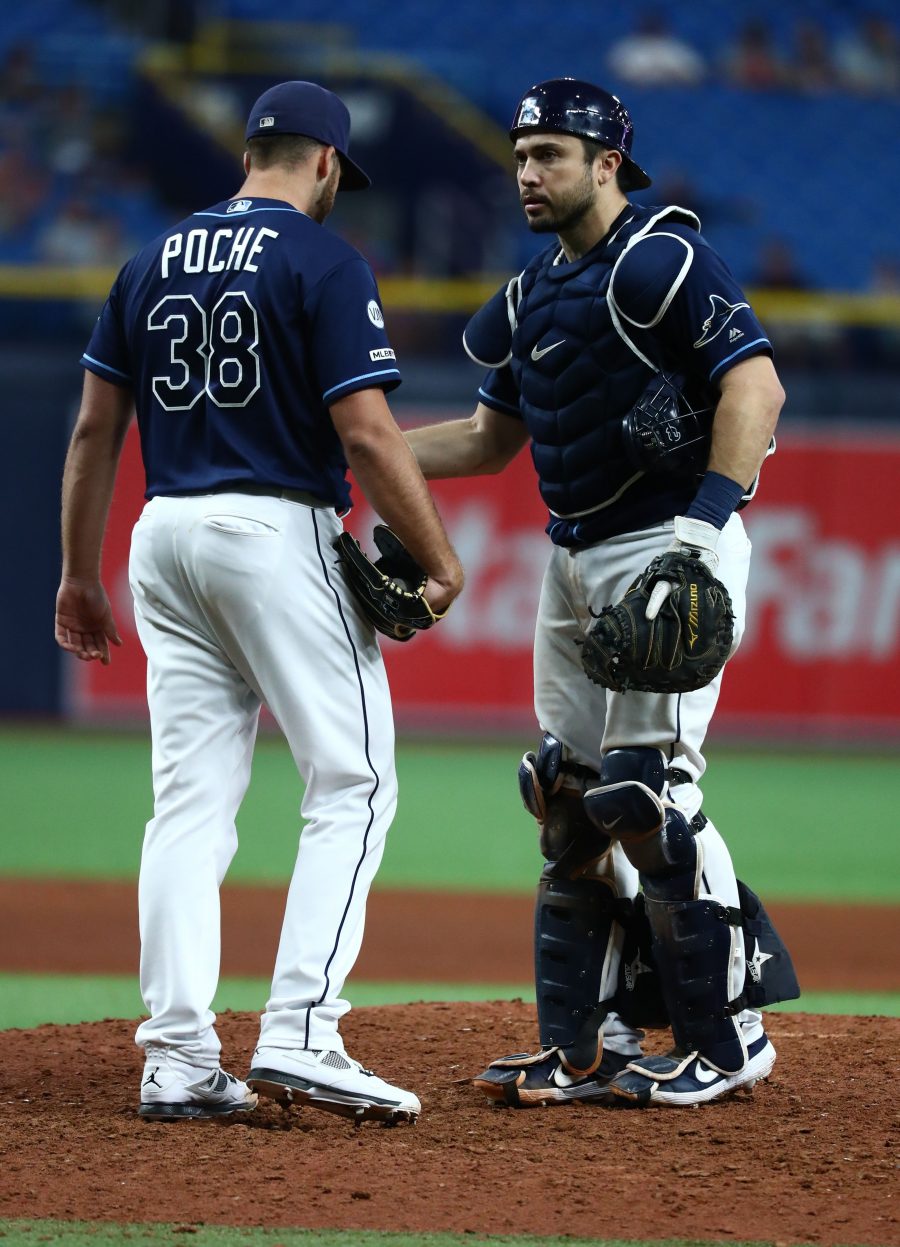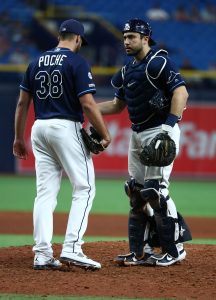 The Braves continue their busy winter, adding a position player to the healthy crop of relievers they have already inked. Between guarantees handed out to Will Smith, Chris Martin, Darren O'Day, and now d'Arnaud, the Braves are wasting no time adding upgrades to a team that came up a game short of the NLCS in 2019. In d'Arnaud, GM Alex Anthopoulos adds MLBTR's 26th-ranked free agent on guarantee that slightly exceeds our prediction.
The contract puts a bow on what's turned out to be a nice year and a surprising turnaround for d'Arnaud, who found himself jobless after the Mets designated him for assignment in May. After a pit stop with the Dodgers, he was dealt to the Rays and proceeded to post a .263/.323/.459 batting line for his new club, representing an integral part of the team's playoff run. His 16 home runs matched a career-best mark, with d'Arnaud doing much of his damage against left-handers, against whom he notched a 130 wRC+.
Equally notable was d'Arnaud's ability to stay healthy in Tampa, an issue that plagued his stint with the Mets. After he was acquired as a promising catching prospect in 2012, d'Arnaud appeared in more than 75 games in just two of six seasons with the Mets, including a 2018 season in which he missed all but four games thanks to Tommy John surgery.
As a defensive catcher, d'Arnaud is regarded as an above-average framer, though he saw his numbers in that department dip in 2019 compared to his Mets days. Baseball Savant measures his average pop time in the 55th percentile, which allowed him to throw out 29 percent of would-be base stealers in 2019, a notch above his career mark of 22 percent.
In Atlanta, d'Arnaud will join incumbent Tyler Flowers to make up a solid catching tandem that will earn a combined $12MM this year. With Braves icon Brian McCann retiring and Francisco Cervelli hitting free agency, the team found itself in need of a second option heading into the winter. We'll see just how Brian Snitker and the Braves' decision-makers allocate playing time between Flowers and d'Arnaud, but the bet here is that d'Arnaud settles into the primary starting role with Flowers getting into the lineup a couple times every week. Flowers's framing prowess likely gives him the edge over d'Arnaud defensively, but his offensive track record is spotty.
With top free-agent catcher Yasmani Grandal signing with the White Sox on Thursday and d'Arnaud now off the board, teams who entered the offseason in need of catching help have seen their options thin out considerably in the blink of an eye. It wasn't an especially deep class of free agents to begin with, and d'Arnaud was widely considered the second-best catcher on the market. The top remaining options include Robinson Chirinos, Yan Gomes, and Martin Maldonado.