The Giants have signed right-hander Kevin Gausman, Andrew Baggarly of The Athletic was among those to report. It's a one-year, $9MM contract with up to $1MM in performance bonuses, the team announced. Gausman is a client of Tidal Sports Group.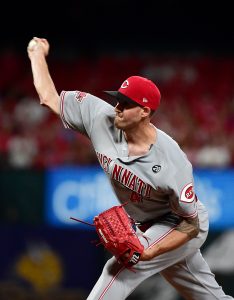 If he maxes out his bonuses, Gausman will end up with almost the same payday he'd have received had the Reds retained him for 2020. They moved on from Gausman at last week's non-tender deadline in lieu of paying him a projected $10.6MM next season. However, that doesn't mean Gausman performed poorly as a member of the Reds, who claimed him off waivers from the Braves in August. On the contrary, the soon-to-be 29-year-old Gausman pitched well over a limited sample of 22 1/3 innings, evidenced by a 4.03 ERA with tremendous strikeout and walk rates of 11.7 and 2.0, respectively.
Of course, Gausman only became a Red because he had trouble preventing runs as a Brave. He put up an ugly 6.19 ERA across 80 innings as a starter before working almost exclusively as a reliever for the Reds. That said, the Atlanta version of Gausman did manage a respectable 4.20 FIP with a similarly solid 9.6 K/9 and 3.0 BB/9. And before Gausman's career experienced a downturn in Atlanta, he recorded several quality seasons as a starter for the Orioles, who selected him fourth overall in the 2012 draft.
Now that he's on the fourth team of his career, Gausman will presumably return to a role as a full-time starter. The Giants – whose longtime No. 1 starter, Madison Bumgarner, remains a free agent – are sorely lacking in that department. Unless the Giants re-sign Bumgarner or add another veteran, the hard-throwing Gausman, who has averaged just under 95 mph on his fastball during his time in the majors, looks as if he'll team with Johnny Cueto and Jeff Samardzija as the elder statesmen of the group. At least for now, Gausman's guarantee is the largest one president of baseball operations Farhan Zaidi has doled out since he joined the organization last winter.
Photo courtesy of USA Today Sports Images.