In the wake of severe MLB discipline arising out of the Astros sign-stealing scandal, team owner Jim Crane announced that he has fired both GM Jeff Luhnow and manager A.J. Hinch. It's a stunning end to a notable tenure in Houston for both men.
The Astros organization has been a lightning rod ever since Luhnow took over in December of 2011. But the swings in fortunes have reached dizzying levels in recent months. The club bungled a self-created controversy even as it prepared for the World Series, then lost consecutive home games in spectacular fashion, thus failing to win a second title in a three-year span.
It turned out that was only the beginning. It started out as a normal-enough offseason — some change was afoot with top starter Gerrit Cole reaching free agency and Crane suggesting the team might tighten up payroll. But things took a calamitous turn when allegations emerged in mid-November that the Houston organization had improperly utilized technology to ascertain opposing teams' signs and then convey them in real-time to Astros hitters during the 2017 and 2018 seasons.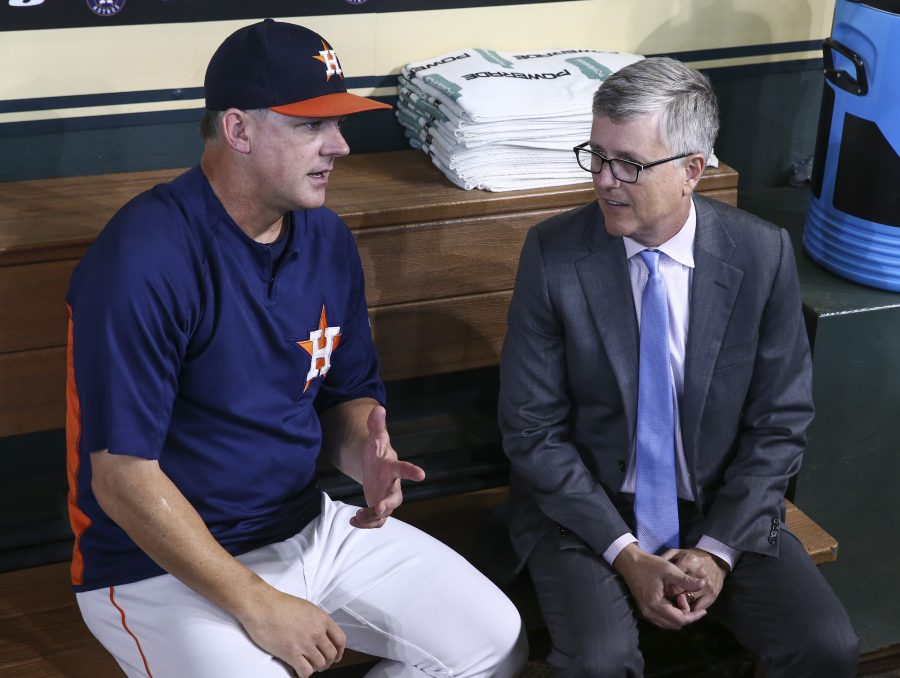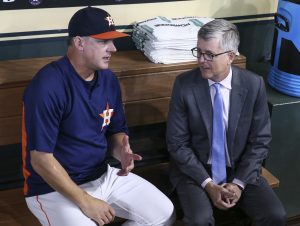 The resulting league investigation unfolded even as public evidence emerged to fully confirm the claims. It became undeniably clear that the Astros had acted in a manner that fell well outside the traditional sign-stealing culture of the game and clearly broke the rules. Commissioner Rob Manfred had made clear previously that he'd come down hard on any teams that misused technology.
While a big punishment had been anticipated, this nevertheless rates as a momentous decision for the organization as well as for the game generally. The fallout will be immense and can't be fully known at the moment.
From the Astros' perspective, the firing unquestionably taints the team's successes in recent years — even if Crane declined to acknowledge that fact in his press conference. And it raises huge questions about the future. It takes out the club's baseball architect in Luhnow, even as his top understudies have already departed the organization. (Brandon Taubman was fired. Previously, David Stearns and Mike Elias left for GM jobs elsewhere.) There had already been some degree of uncertainty regarding the team's precise direction this offseason and beyond. Now, the club's top leaders are gone and more could still follow. Crane said he was still assessing the culpability of other personnel and deciding how to fill the void for the departing leaders. He'll personally oversee baseball ops for the time being. Whether there'll be an impact to the roster isn't yet known.
Across the league, there'll surely be a strong desire to avoid a similar fate. Available information and scrutiny — both publicly and within the game — are obviously reaching new heights. Manfred's statement made clear that, despite the lack of a smoking gun linking Luhnow to the cheating effort, he and Hinch were being punished for overseeing a baseball operations department and uniformed staff that pursued it. As Crane told reporters today, it was obvious that both men were aware of and did not intervene to stop the sign-stealing. The onus will now be on other top organizational leaders to halt any untoward behavior, at risk of severe consequences.
Beyond that, any changes to the course of the Houston organization will obviously impact the broader player market and their competitors in the American League West. The organization's philosophical approach and its near-term decisionmaking could well undergo change.
Baseball has long grappled with the cutthroat approach to roster building that Luhnow brought to the Astros. As an analytically focused executive who launched a full-blown tear-down/rebuild, that was somewhat inevitable. But the organization went to extremes to build what has been characterized as "an unprecedented player-development machine" — albeit one that also created "human costs." The win-at-all-costs vibes left many feeling uneasy well before news emerged of actual rules violations.
Luhnow insists that he did not direct any cheating and wasn't even aware it was occurring, as Jared Diamond of the Wall Street Journal reports (Twitter link). But the league investigation did find that Luhnow failed to take adequate action to ensure compliance with league rules — and that he had at least some amount of knowledge regarding the sign-stealing operation. Despite disavowing any intent to break the rules, Luhnow did state that he accepts responsibility for what went on during his stewardship of the organization's baseball operations.
Luhnow's baseball operations department carried an image akin to the unfeeling Soviet boxing-industrial complex portrayed in the Rocky series. But Hinch was no Ivan Drago. He and some of the team's biggest stars put a much more personable face on the organization. He was by all appearances not only a high-quality skipper and tactician, but also a genuinely thoughtful and caring figure.
But that reputation, even if largely accurate, did not absolve Hinch of responsibility. Manfred's report on the investigation's findings makes clear that the manager knew what was going on. He's said to have had some misgivings about the actions but obviously failed to act firmly to halt the operation, either by issuing clear orders to those theoretically under his command or by raising the matter to higher authorities. Hinch acknowledged as much in his own statement on the matter (via Chandler Rome of the Houston Chronicle, on Twitter). Though he says he did not "endorse or participate in the sign stealing practices," he acknowledges that he "failed to stop them."
It's a major shift for a Houston organization that had seemingly arrived at a winning formula. With Luhnow masterminding the talent flow and Hinch maximizing the pieces made available to him, the organization built a powerhouse that won the 2017 World Series, came up just shy in another, and reeled off three-straight 100-win regular seasons. Much was achieved and it seemed likely there was more success yet to come. Quite a lot of creative thinking and hard work went into the undertaking. But the wins will be remembered with an asterisk — in collective memory, if not in the actual record books — and the Astros will now embark upon a new era under new leadership.
Photo courtesy of USA Today Sports Images.