Over the past couple of seasons, the Padres have struck gold on a pair of bullpen waiver claims, parlaying essentially free pickups of Brad Hand and Kirby Yates into utterly dominant performances at the MLB level over the life of multiple seasons. We see relievers whom we believe to be more or less fungible make the rounds on the waiver, DFA and minor trade circuit with great regularity, as clubs hope to acquire their own Yates or Hand. No one has had that level of success in recent years.
Enter Austin Adams. No, not that Austin Adams from Detroit/Minnesota. The one who pitched with Washington/Seattle in 2019. (Who can forget the hope we had for an Austin Adams vs. Austin Adams showdown when Minnesota and Seattle met over the summer?) With all due respect to Minnesota/Detroit Austin Adams, it's the Seattle version that particularly intrigues to this onlooker. And yes, technically he wasn't a waiver claim — but being acquired in a DFA limbo trade in exchange for a 23-year-old lefty with a career 5.00-plus ERA who has yet to reach Double-A isn't much different.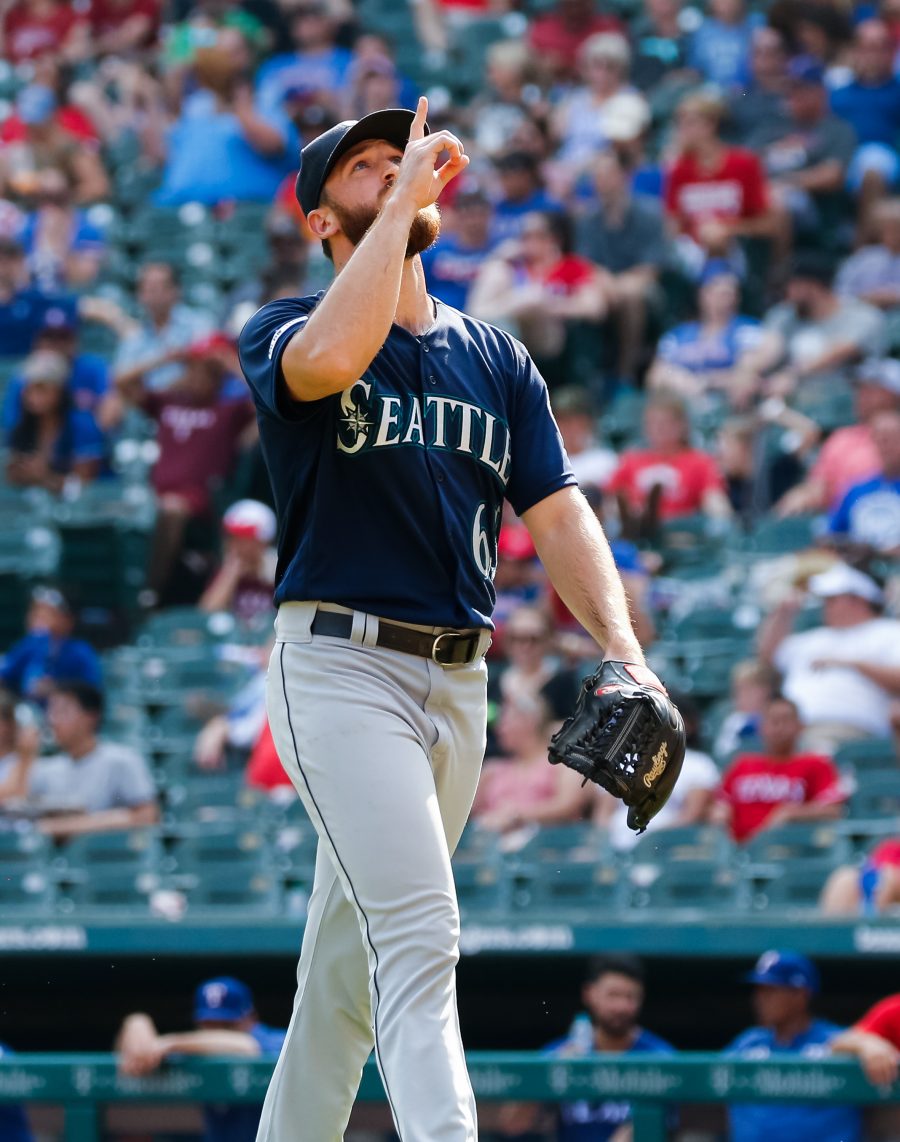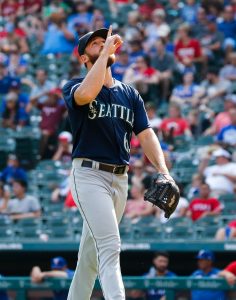 There's a good chance that casual MLBTR readers are wholly unaware that even one Austin Adams exists in MLB — let alone two. Some, meanwhile, may think it's just one guy who's bounced all over the league. More dedicated fans might be keenly aware of both! To this point, the career of each has been rather unremarkable. So why did I spend what I freely admit to be far, far too much time researching and writing this post? Here's why!
In mulling potential names to profile as breakout candidates, I made a list of players who came to mind easily, then did some rudimentary perusals of various leaderboards for names that surprised me. Jeff Todd and I have spoken about how Adams had looked like a steal for the Mariners in his half season there, but I was nevertheless a bit stunned when browsing FanGraphs and seeing Adams' name land eighth among 259 MLB relievers (min. 30 IP) in K-BB% at 30.6. His 2.71 SIERA tied him with Will Smith for 12th-best in that same subset and put him alongside top relievers like Ryan Pressly, Taylor Rogers, Ken Giles, Emilio Pagan and Seth Lugo. Not bad company! But we're talking about a sample of 32 innings. I remained skeptical, although admittedly intrigued. Absent of actual baseball news on which to focus — why not dig in?
First up, his primary offering! Adams' four-seam– wait, no. He throws his slider twice as much as his four-seamer. Only two pitchers threw sliders at a higher clip than Adams' whopping 64.6 percent, and the pitch was filthy (just ask Christian Yelich). Opponents posted a pitiful .133/.217/.229 slash against it and swung through the offering at a gaudy 22 percent clip. Twenty-two percent isn't quite Josh Hader/Nick Anderson territory — that's nearly 25 percent — but it's pretty darn close. Among 450 pitchers who threw 50 or more sliders in 2019, Adams ranked 25th in terms of spin rate (94th percentile). Not too shabby.
A look at Adams' fastball initially proved similarly encouraging. He throws the pitch hard (average 95.3 mph) and spins it even better than his slider. There were 598 pitchers in the Majors who threw at least 50 four-seam fastballs in 2019. Only eleven of them had a higher spin rate. Surely, hitters struggled with Adams' four-seamer just as much as with his slider! Or so I thought. In reality, they hit .263/.464/.632 against it. That… is bad.
However, that's also a small sample of pitches within an already small sample of innings. Those numbers look terrible, granted, but the reality is that Adams threw his fastball infrequently enough that hitters were all of 5-for-19 against it. Two of those five hits were dingers, and another was a double. A four-seamer was also called for ball four on eight of the 16 walks he issued in 2019. That's one way to inflate a slash line real quickly.
Adams is interesting in that his slider is so good, he uses the pitch at extraordinary levels when he's ahead in the count. It's part of the reason he's averaged better than 14 strikeouts per nine innings in his minor league career and nearly 15 per nine in the Majors last season. But his fastball, despite its spin and velocity, hasn't been effective. He throws it almost exclusively when he's behind in the count or on the first pitch — such situations accounted for a whopping 131 of his 176 four-seamers in 2019 — and he doesn't command that heater especially well. Only 90 of his 176 four-seam fastballs were thrown in the strike zone, and Adams tossed a first-pitch strike at just a 54.6 percent rate. The league average was 60.9 percent.
Unsurprisingly, Adams has battled walk issues throughout his career. He walked 16 hitters in his 32 frames last year, and that was actually an improvement over his career marks in the minors (5.8 BB/9 overall — 5.0 in Triple-A). Adams has also plunked two hitters in the Majors, hit 2.2 percent of the batters he's faced in his minor league career and uncorked a combined 71 wild pitches in 384 2/3 innings. He's no Rick Vaughn, but the "Wild Thing" moniker wouldn't be a total stretch, either.
The contrast between Adams' slider and fastball isn't the only set of contradictory components to his skill set. A look at Adams' .263 expected weighted on-base average (xwOBA) indicates that based on his K-BB numbers and the quality of contact he allows, hitters should be overwhelmed by him. Only 34 of the 631 pitchers who allowed at least 50 balls in play last year had a lower xwOBA. And yet, it's clear that Adams' strikeout prowess weighs heaviest of all in that evaluation. He tied for 461st in terms of opponents' exit velocity within that same subset and was right in the middle of the pack with 8.3 percent of the balls put into play against him being considered "barreled" by Statcast.
Adams' power slider, his ability to miss bats and his ability to keep the ball on the ground (50 percent) are a tantalizing combination that give him the makings of a potentially dominant reliever. His lack of fastball command and his propensity for surrendering hard contact have held him back to this point.
So — what to make of Adams? He'll be 29 years old by the time the season begins — if it does at all — and will be on his way back from surgery to repair a torn ACL. That's not as worrisome as an arm injury but certainly an issue that can have lingering effects. But the Mariners were clearly encouraged enough to keep him on the 40-man roster all winter despite undergoing that rehab-intensive surgery in September. It's true that the bullpen-starved Nationals (for several years now) never even gave Adams a real look, but I'd wager they'd like a mulligan on parting with him after watching him pitch with the Mariners.
I'm by no means proclaiming that Adams is going to go full Yates this season and post a 1.19 ERA while leading the league in saves — although I will obviously delete this sentence demand retroactive credit if he does! — but he's shown the tools to be the type of late-blooming breakout reliever that few saw coming, much like Yates and Hand were down in San Diego. It's far easier to write "with better control of his fastball…" than it is for Adams to actual improve that skill, but the foundation for a knockout reliever is clearly in place here.
And if there's a team that can afford to give Adams a lengthy look, it's one like Seattle. The Mariners are in what they hope will be the final stages of an accelerated rebuild, and a healthy Adams could potentially play a notable role in that. The Seattle bullpen is a hodgepodge of fliers and young MLB hopefuls, with no set closer of which to speak. It's entirely possible that a Adams could find himself holding down a high-leverage role and at last carving out a spot for himself in the big leagues. Of course, he's also out of minor league options and coming off a major knee surgery, so this isn't some surefire breakout candidate. But few relievers acquired at this low of a price have this dominant of a pitch and demonstrate as much potential as Adams did in 2019.
Photo courtesy of USA Today Sports Images.