The last time he tried to sort out a new contract with his existing team, things didn't exactly work out as hoped. But that doesn't mean it isn't worth it for the Nationals to try … after all, Max Scherzer was once open to doing a contract with the Tigers. And when he addressed the topic this spring, Scherzer expressed some degree of openness … though he also indicated he has no interest in pushing the topic himself with two seasons remaining on his old free agent pact.
[MLBTR on YouTube: What If Max Scherzer Stayed A Tiger?]
It's worth wondering whether a deal might actually make sense for both Scherzer and the Nationals. Committing in advance to a pitcher is always cause for some trepidation, all the more so at the prices and ages at issue here. But … well, let's just say I won't be the one to ask the famously intense hurler whether he's still up to the rigors of the sport.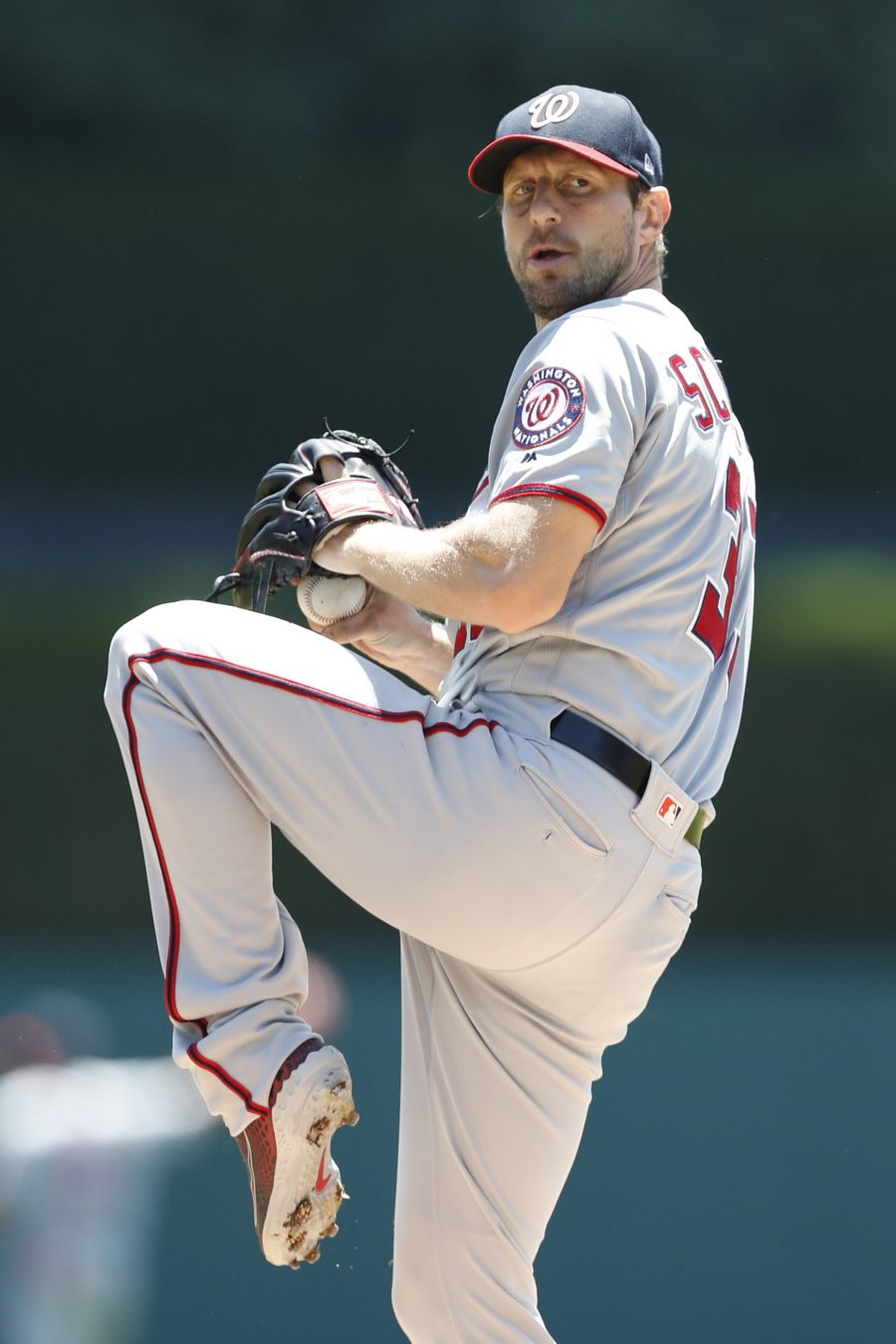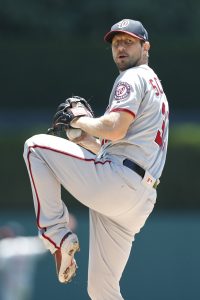 Scherzer has mostly been an exceptionally durable pitcher, though his decade-long string of 30+ starts finally ended in 2019. He ran into some ailments in the postseason and experienced minor health issues this spring. There's not much cause for worry, but it's still a reminder of baseball mortality. Many great players have run into late-career roadblocks relatively suddenly.
Let's be honest, though: Scherzer is still one of the very best in the business. While he missed five starts last season, he still provided 172 1/3 innings of 2.92 ERA ball. And he turned in a league-leading, career-low 2.45 FIP by generating 12.7 K/9 against 1.7 BB/9. His 2.88 xFIP matches his lowest mark since coming to D.C. Scherzer posted a career-best 16.3% swinging-strike rate while maintaining a 95.2 mph average four-seamer — tied for a personal high.
If Scherzer isn't the single best pitcher in baseball, it's only because Jacob deGrom and Gerrit Cole have elevated their own games that much more. There is one other guy who deserves mention, though, when considering the very top starters over the past two seasons. Like Scherzer, this Justin Verlander fella has only increased his output since leaving the Tigers, where they both once starred … and he isn't exactly a spring chicken.
Verlander represents the key comp when considering a potential Scherzer extension. His new deal — which was inked last spring and was to go into effect for the 2020 season — represents a highly relevant bit of contractual precedent. At two years and $66MM, the deal provides Verlander with eye-popping money at quite an advanced stage of his career: his age-37 and 38 seasons. You can easily argue that it's still a reasonably team-friendly rate of pay.
That pact was entered just before the start of the 2019 season, which was to be Verlander's walk year. There weren't any performance-based discounts: He was coming off of a doozy of a campaign in which he racked up 214 innings of 2.52 ERA ball with dominant peripherals and rising swinging-strike numbers. But Verlander quite understandably couldn't pry loose both a premium average annual value and an overly lengthy commitment from the Astros.
Like Verlander, Scherzer is slated to reach free agency ahead of his age-37 campaign. To be fair, though, the latter will hit the open market at a bit more advanced age than the former would've. Scherzer turned 35 late last July, so while 2020 is designated his age-35 season, he's actually closer in age right now to where Verlander was (he had just turned 36) when he inked his deal. But Scherzer is two full seasons away from free agency, rather than one, as was JV.
You have to think the Nationals would jump at the opportunity to tack on two years to Scherzer's deal at the Verlander rate. There was no indication that the Nats and Scherzer were going to reach agreement before Spring Training, so perhaps this is a conversation for the 2020-21 offseason. More will be known then, especially if the team gets to watch its staff co-ace work in a truncated 2020 campaign. There's less risk committing later, of course. But leverage will also be lost in the meantime.
Honestly, it might be worth making a run at a deal once the contract freeze is lifted; perhaps there were even some talks beforehand that never reached the public eye. While agent Scott Boras isn't fond of deals that keep his players from the open market, he has worked extensively with Nationals ownership — including on two massive contracts with the team's other top starter, Stephen Strasburg, one of which was an extension. Sorting something out to keep Max in D.C. through the end of his career would not only mean locking in another part of the team's highly paid, three-headed pitching monster (Patrick Corbin being the other), but might ensure that Scherzer becomes the first player to don a Nationals cap in Cooperstown. (He's not a sure thing just yet, but isn't far from locking down future admission.)
Thing is: would Scherzer really be willing to settle for a two-year deal, even at a sum that tops Verlander by a bit? Or would he hold out for an even larger and/or longer deal? Cole just took home a $36MM AAV on his monster contract with the Yankees. Perhaps Mad Max — who has earned that appellation through unremitting competitiveness — would want to be paid at or above that level on an annual basis. Maybe he'd find it limiting to suggest he's only worthy of a two-year extension. Scherzer certainly doesn't seem like the type to settle for something fair and plan ahead for hanging up his spikes. Come to think of it, he may not be that interested in a deal at all. He's obviously loaded already, so this wouldn't be life-changing cash (not that it was for Verlander, needless to say). Scherzer might rather wait to return to free agency … unless, at least, the Nats proved willing to go absolutely wild with an offer to keep him without the need to top other bids. Could it take three guaranteed years? Four?!
It's anyone's guess what his personal view is, not to mention that of Boras, but it's unlikely that it would make a ton of sense for the Nationals to over-commit. The team already placed a huge bet on Strasburg and will be paying Corbin major money through 2024, so there's a lot of rotation cash on the books already. While Scherzer's a living legend who's arguably just as good now as ever before, the baseball reaper ultimately comes for all the great ones. The only risks are paying him a bit more or losing him free agency. Then again, with a pitcher as special Scherzer, the thought of a departure may be enough to spur the Nationals to enter completely new contractual terrain to forestall that possibility.
Photo courtesy of USA Today Sports Images.