We just passed the three-year anniversary of a transaction that looked inconsequential at the time but has since turned into one of the finest moves of Padres general manager A.J. Preller's career.
On April 26, 2017, the Padres took a low-risk flier on reliever Kirby Yates via waivers. Yates had been with the Angels, but they and GM Billy Eppler designated him for assignment just a few days earlier. It was actually the second time that month that the Angels designated Yates, though no one took the bait the first time. That was understandable considering he never did much to stand out in the majors to that point, so you can't really fault the Angels for cutting ties with him in light of that fact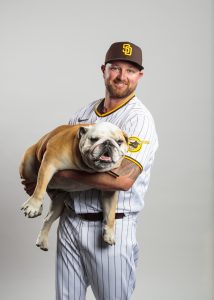 As MLBTR's Jeff Todd wrote when the Padres claimed the right-hander: "Yates, 30, only made it into one contest for the Halos this year. Over his 98 2/3 total MLB frames since the start of the 2014 season, he owns only a 5.38 ERA." However, Jeff went on to add, "[Yates] has also generated 10.4 K/9 to go with 3.7 BB/9 in that span and showed career-best fastball velocity (94 mph) in his sole MLB appearance this year."
And Yates, a 26th-round pick of the Red Sox in 2005, did put up excellent production at the minors' highest level. Also a former member of the Yankees and Rays in MLB, he caught on with the Padres as the owner of a 2.26 ERA with 12.9 K/9 and 3.5 BB/9 over 135 2/3 innings in Triple-A. Little did the Padres or anyone else know Yates would soon go on to post even better numbers in San Diego.
While Yates did not manage dominant run prevention figures during his first year as a Padre, he was quite serviceable, giving them 55 2/3 frames of 3.72 ERA/3.50 FIP pitching and fanning a jaw-dropping 14.07 batters per nine (compared to 3.07 BB/9). San Diego clearly had a useful hurler on its hands, and he took it up several notches from there.
Last year was especially incredible for Yates, who fired 60 2/3 innings of 1.19 ERA ball en route to his first All-Star nod and totaled 41 saves in 44 attempts. Yates did not win NL Reliever of the Year honors (that award went to the Brewers' Josh Hader), but maybe he should have. After all, along with amassing the most saves in the game, he paced all relievers in ERA and FIP, and finished second in fWAR (3.4; only Athletics steal Liam Hendriks was better), third in K/BB ratio (7.77), and fifth in strikeouts per nine (14.98).
So how did Yates, now 33, become such a force? As he explained to AJ Cassavell of MLB.com in 2018, the introduction of a splitter to his repertoire was the turning point.
"The Angels didn't want me to get away from the slider," Yates told Cassavell. "I wasn't necessarily going to get away from the slider, but I was trying to add a third pitch. When I got here, it was, 'We like your split, we want you to throw it more.'"
Yates leaned on the pitch better than 36 percent of the time in '18 and upward of 41 percent last year. Hitters could only muster a pitiful .182 weighted on-base average/.203 expected wOBA against it in 2019, per Statcast. According to FanGraphs, it has been the most effective pitch of its kind among all relievers since Yates began throwing it. It goes to show that any player, even a scrapheap pickup in his early 30s, might just be one adjustment from stardom.
For Preller, Yates was his second relief addition via waivers to evolve into an all-world bullpen piece. One April earlier, he grabbed Brad Hand from the Marlins (more on that here), and the Padres sold high on him when they sent him to the Indians in 2018. Perhaps Yates will meet a similar fate, or maybe he has already thrown his last pitch as a Padre. He's scheduled to become a free agent next winter, though the two sides have discussed an extension. No matter where Yates pitches going forward, there's no doubt he has provided worlds of value to the Padres and put himself in line to cash in on a multiyear contract. Who could have expected that to happen when they scooped him up three years ago?
Photo courtesy of USA Today Sports Images.