Andrew Miller was the sixth overall pick of the Tigers in the 2006 draft and continued as an elite prospect for a little while after that, but it took the left-hander several years to truly make his mark as a major leaguer. Miller began as a starter in Detroit, but after struggling over parts of two seasons, the team dealt him and others to the Marlins in December 2007 for Miguel Cabrera in one of the most impactful trades in the two clubs' histories. Miller didn't pan out in Miami from 2008-10, though, and he went to Boston after the last of those seasons in exchange for lefty Dustin Richardson.
Richardson never even threw a pitch as a Marlin, whereas the Red Sox are still profiting from the trade to this day. While Miller continued to flounder in his first year with the Red Sox, the 6-foot-7, 205-pounder moved to the bullpen on a full-time basis the next season. That represented a eureka moment for Miller, who began a years-long run as one of the most imposing late-game options in baseball.
Miller held his own in Boston into the 2014 season, but with the team well out of contention at that year's deadline, it traded the then-pending free agent to the AL East rival Orioles. Miller went on to provide 20 dominant regular-season innings in Baltimore, which coasted to a division title, as well as 7 1/3 scoreless, one-hit frames in the playoffs. The Orioles lost the ALCS in four games to the Royals, however, and then saw Miller head to a different division rival – the Yankees – during the ensuing period of free agency. In light of those results, and considering what they gave up for Miller, perhaps the O's now regret the trade. Boston definitely doesn't, having received one of its top pitchers in Eduardo Rodriguez for Miller.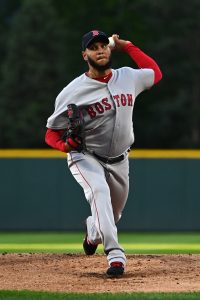 Dating back to the deal, the Red Sox have seen Rodriguez turn into an above-average major league starter. Rodriguez, who debuted with Boston in 2015, is the owner of a lifetime 4.03 ERA/3.94 FIP across 699 innings. Although Rodriguez didn't prove to be a workhorse in his first four years in the league, that changed last season. The 27-year-old Rodriguez was one of 15 pitchers who accumulated 200-plus frames (203 1/3, to be exact), and he posted a 3.81 ERA/3.86 FIP with 9.43 K/9 and 3.32 BB/9 to rank 24th among starters in fWAR (3.7). Ace-like numbers? No, though Boston was surely pleased with that production from a hurler who was on an eminently affordable $4.3MM salary. And the team could get at least two more seasons from Rodriguez, who won't be eligible to become a free agent until after 2021.
While he hasn't shown himself to be a true No. 1 starter, the Red Sox can't be displeased with acquiring Rodriguez for someone on an expiring contract. Meanwhile, the Rockies may be kicking themselves for passing on Rodriguez. Peter Gammons reported in 2014 that the O's agreed to send Rodriguez to Colorado for fellow southpaw Jorge De La Rosa, but Rockies owner Dick Monfort vetoed the deal. De La Rosa stayed in Colorado through 2016, though the team didn't contend then or in his last couple years on its roster.
You never know how Rodriguez would have turned out as a Rockie – everyone knows it's a bear to pitch in their home park – but he has certainly held up well in the AL East. Rodriguez is now one of the most valuable players Boston has.
Photo courtesy of USA Today Sports Images.