From 2016-18, Scott Schebler ranked third among Reds outfielders in games played and total innings. Acquired alongside Jose Peraza and Brandon Dixon in the three-team deal that sent Todd Frazier to the White Sox, Schebler struggled in his first taste of action with the Reds early in '16 but finished quite well upon returning from Triple-A for the final two months. In his final 213 plate appearances that year, Schebler slashed .290/.357/.461 and set himself up to serve as Cincinnati's primary right fielder in 2017.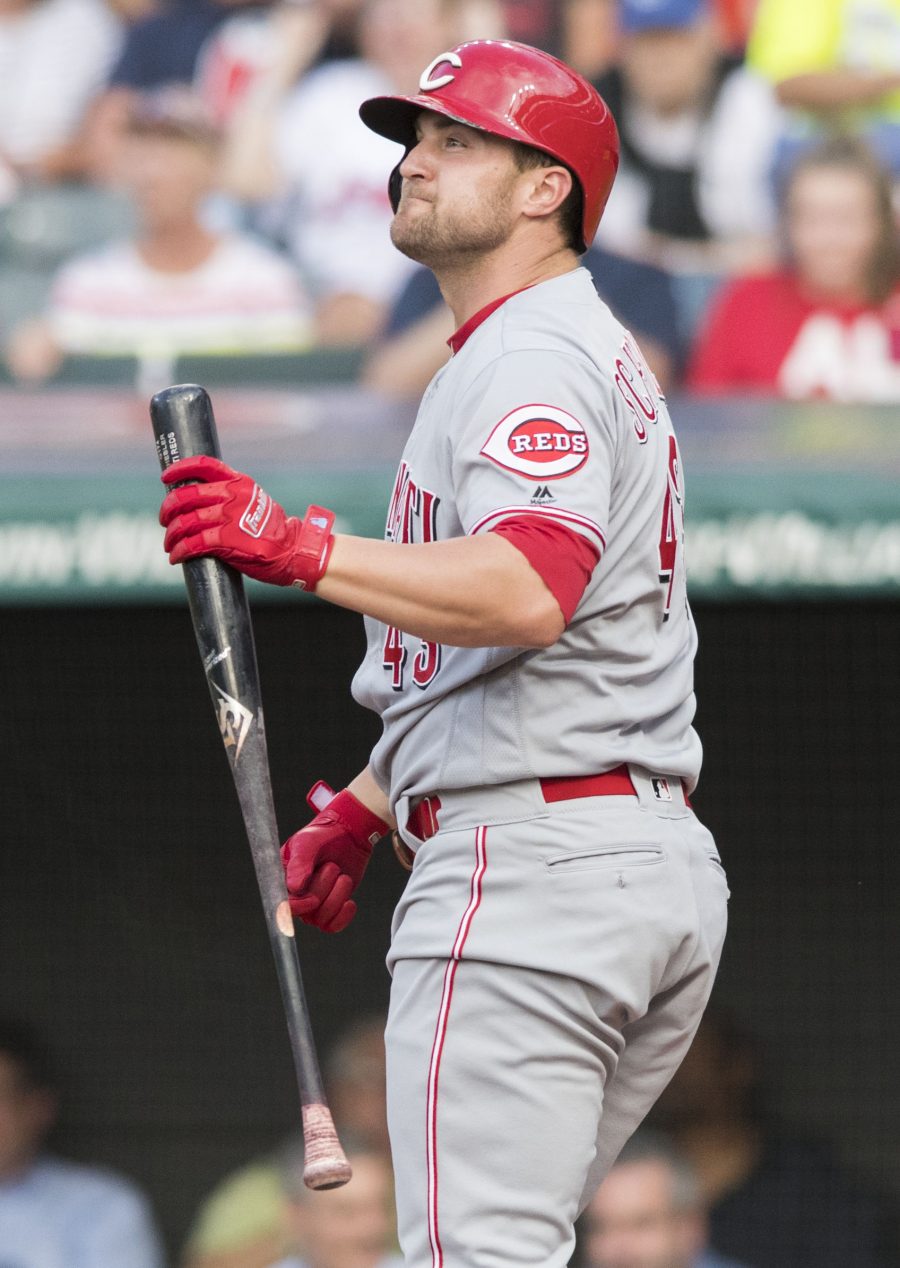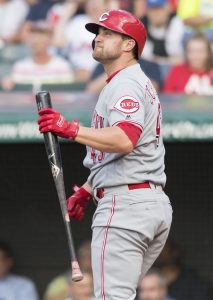 Schebler, who turned 26 shortly after that strong '15 finish, indeed logged the lion's share of innings in right field the following season. His overall .233/.307/.484 batting line was about league-average, per park- and league-adjusted metrics like OPS+ (102) and wRC+ (98), but Schebler clubbed 30 homers and played solid defense in the outfield (+2 DRS, -1.2 UZR, +3 OAA). A year later, his .255/.337/.439 slash again checked in above average (107 OPS+, 108 wRC+).
In 2019, however, the Reds were clearly motivated to emerge from a longstanding rebuild (of which Schebler himself was a product). Cincinnati acquired Yasiel Puig, Matt Kemp, Alex Wood, Sonny Gray and Tanner Roark over the winter, clearly seeking to fortify a roster that lost 95 games in 2018. Jesse Winker had mostly solidified left field, and top prospect Nick Senzel was knocking on the door to the Majors in center. A spring injury to Senzel led the Reds to open the year with Schebler in center field, and in 95 plate appearances, his bat cratered: .123/.253/.223. There was some poor luck on balls in play (.154), but Schebler also saw his strikeout rate climb as his hard-hit rate and average exit velocity plummeted. He was optioned to Triple-A in early May.
Schebler went down with an oblique injury not long after being sent down and missed more than a month of action. He was placed back on the minor league injured list less than three weeks later and due to a shoulder injury that ultimately required surgery. In 212 Triple-A plate appearances, he slashed just .216/.274/.325.
And while Schebler mended on the IL in August, Aristides Aquino was called to the Majors and posted a ridiculous .320/.391/.767 slash in his first month of action. His bat flopped in September (.196/.236/.382), but Aquino firmly put himself on the map as an option in future seasons. Over the winter, the Reds signed Japanese star Shogo Akiyama and slugger Nick Castellanos. They also acquired Travis Jankowski from the Padres.
Things appear rather bleak for Schebler in Cincinnati at this point. He's out of minor league options and sits behind Winker, Senzel, Akiyama and Castellanos on the depth chart — perhaps Aquino, too. Phil Ervin is a younger, better defender who hit .271/.331/.466 in 260 plate appearances last season. Both he and Jankowski, whose best asset is his glove, are more logical reserve outfielders. It's also worth remembering that setup man Michael Lorenzen is a two-way player who logged 89 innings in the outfield last year.
Perhaps expanded rosters will make it possible for the Reds to carry Schebler. The Reds would probably like to see how he looks with a healthier shoulder. However, even if his roster spot is salvaged, at-bats would figure to be hard to come by with such a glut of outfield candidates. And as the only one of the bunch who is out of minor league options, Schebler seems to be on the shakiest ground at the moment.
We of course don't know when play will resume and when the transaction freeze will be lifted, but whenever it does, it wouldn't be much of a surprise if Schebler eventually lands elsewhere. Last year's rough showing notwithstanding, he's controllable through 2023 and was a slightly above-average hitter with passable defense in parts of four seasons from 2015-18. He ranked well above average in terms of hard-hit rate, exit velocity and barrel rate in 2017-18.
Schebler may not be a star, but there's still a potentially useful player in there. A rebuilding club — e.g. Tigers, Orioles, Pirates — could hope that with a change of scenery, Schebler could again be a reasonably productive player. It's just hard to imagine that happening with such a stacked outfield mix in Cincinnati.