When the Rockies acquired Jeff Hoffman from the Blue Jays in the 2015 Jose Reyes/Troy Tulowitzki blockbuster, the hope was that Hoffman would burgeon into a high-profile starter to pair with fellow prospect Jon Gray atop the rotation. Hoffman, after all, was the No. 9 pick in the 2014 draft and was in the mix for the top overall selection as a junior at East Carolina University until he tore his UCL and required Tommy John surgery. He was a volatile pick for the Jays, but the industry believed in him; he landed on the top 100 prospects of Baseball America, MLB.com, Baseball Prospectus, FanGraphs and ESPN between 2015-17.
Hoffman ripped through Class-A Advanced and Double-A in his first full pro season — the same season that saw him shipped from the Jays to the Rox. While the 4.02 ERA he logged in Triple-A in 2016 wasn't eye-catching, posting that number in the Pacific Coast League while managing better than a strikeout per inning was encouraging. Hoffman looked plenty promising, even if his 2016 MLB debut resulted in a pedestrian 4.88 ERA with a 22-to-17 K/BB ratio in 31 1/3 frames.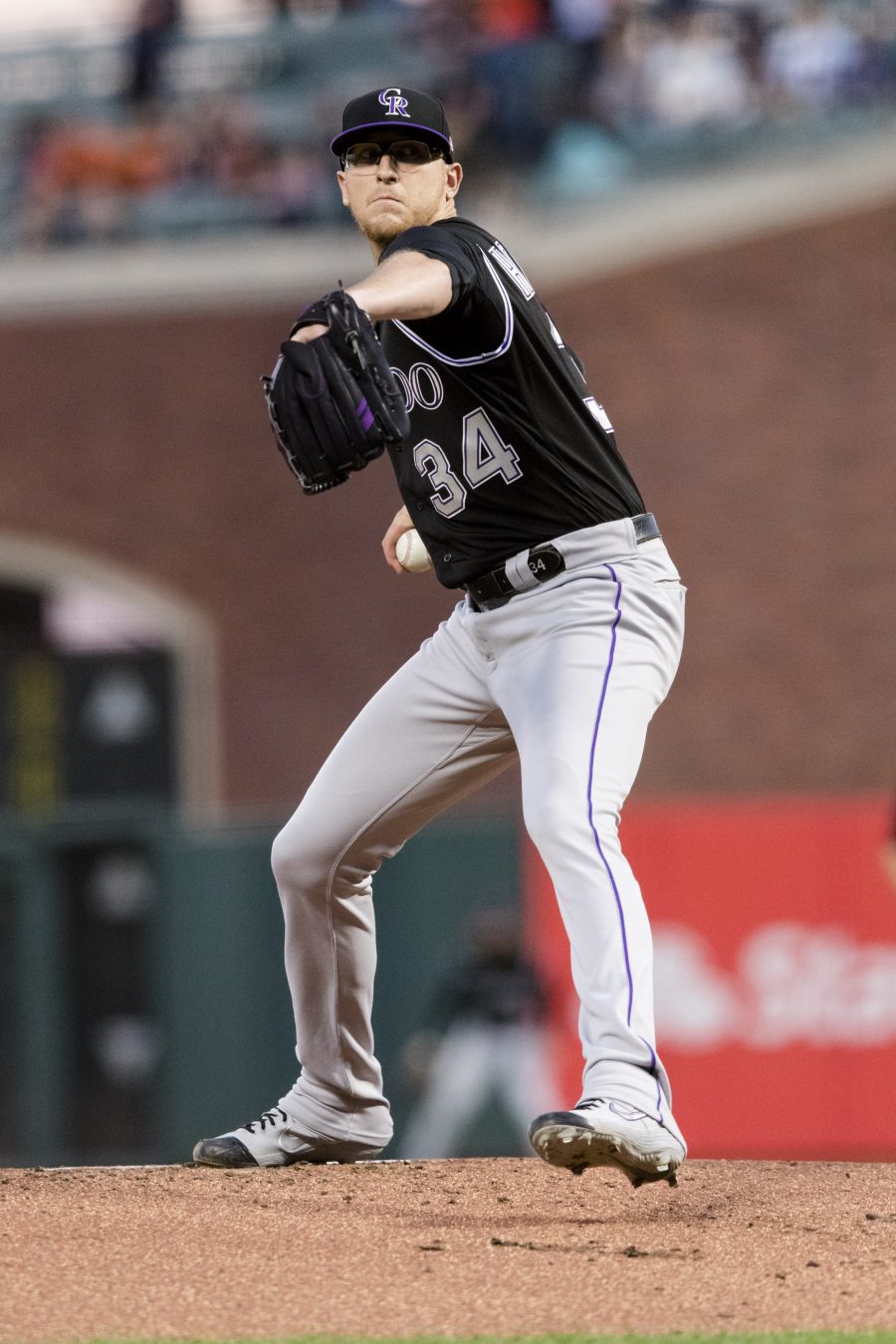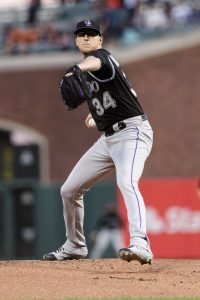 Since that time, though, he's seen his velocity drop and his results take a nosedive. Hoffman has compiled 178 innings in the Majors over the past three seasons, but he's been shelled for a 6.32 ERA with 7.8 K/9, 4.1 BB/9, 1.82 HR/9 and a 39.4 percent ground-ball rate that's a far cry from the 50 percent mark he displayed as a rookie. He dealt with a brief shoulder issue in 2018  but has otherwise been mostly healthy — but he still logged just 8 2/3 frames in the Majors that year while scuffling in Triple-A. Hoffman worked with Driveline Baseball in the 2018-19 offseason in hopes of regaining his velocity and improving his mechanics. Hoffman did average 93.7 mph on his four-seamer in 2019 — up from 92.8 mph in a tiny 2018 sample — but it wasn't the 99 mph he was pumping in offseason sessions at Driveline, either.
Hoffman made some other changes as well, completely scrapping his slider in favor of more curveballs — a pitch that was regarded as his best offering during his prospect days. He's tinkered with his release points on all of his pitches over the course of his career and made a particularly notable adjustment to the release point on his heater in 2019. Manager Bud Black discussed that change with Patrick Saunders of the Denver Post earlier this spring, noting that the goal was to shorten Hoffman's delivery in hopes of more consistency. The change was apparent early in the year, but whether by design or otherwise, Hoffman's vertical release point in September looked much closer to his release point from 2016-18.
Now out of minor league options, Hoffman is in a precarious position. He's fortunate that the Rockies' rotation is wide open behind the aforementioned Gray, German Marquez and rebound candidate Kyle Freeland. But this will be his last chance to either establish himself as a contributor with the Rockies or be placed on waivers and see his fate left up to the DFA gods. Then again, perhaps a change of scenery would ultimately be best for Hoffman.
Like many pitchers before him, Hoffman has been hammered at Coors Field, where his career 7.03 ERA is more than two runs higher than his 4.88 away mark. That road ERA is hardly an encouraging number — particularly with FIP, xFIP and SIERA marks north of 5.00 — but it does illustrate that his home surroundings haven't done him any favors.
Beyond those rudimentary home/road splits, another club might try a different approach with Hoffman. As is the case with Carson Fulmer, who finds himself in a similar position, Hoffman has a high-spin four-seamer (88th percentile) — but he works primarily at the bottom of the zone with the pitch year after year (2016, 2017, 2019). The resulting 7.2 percent swinging-strike rate isn't much to look at, nor is the .323/.428/.741 slash opponents posted against the pitch. The pitiful .151/.204/.267 line opponents posted against his hook, which also has above-average spin, is much more appealing though.
Even without the upper-90s heat he's had at times in the past, Hoffman would likely miss more bats working near the top end of the zone. It's not a novel concept — pitchers throughout the league have increasingly gravitated toward that approach — but 18 of the 21 homers Hoffman surrendered in 2019 came on that four-seamer. Clearly, pitching down in the zone isn't getting the job done, so a change of approach can't hurt at this point. And if the Rockies haven't pushed him toward that approach, perhaps another club would be willing to do so.
At this point, Hoffman enters a make-or-break year where he'll have to either lock down a spot on the pitching staff or likely be made available to other clubs. Expanded rosters may lengthen the leash that he's given, but Hoffman is surely on thin ice at this point. If he fades from the picture, the Rockies will have just one player left — right-hander Jesus Tinoco — remaining from the trade of one of the franchise's most iconic players.