Opening Day is three weeks away, and here at MLB Trade Rumors it's time to look ahead to the 2021-22 free agent class. These players are on track to become free agents after the 2021 season, but a lot can change before we reach that point. As always, these players are ranked by my estimate of their 2021-22 open market earning power. You can see the full list of 2021-22 MLB free agents here.
It's worth noting that the collective bargaining agreement expires on December 1st.  With so much uncertainty as to how that will play out and whether there will be a work stoppage, I'm going to mostly set it aside for the purposes of this post.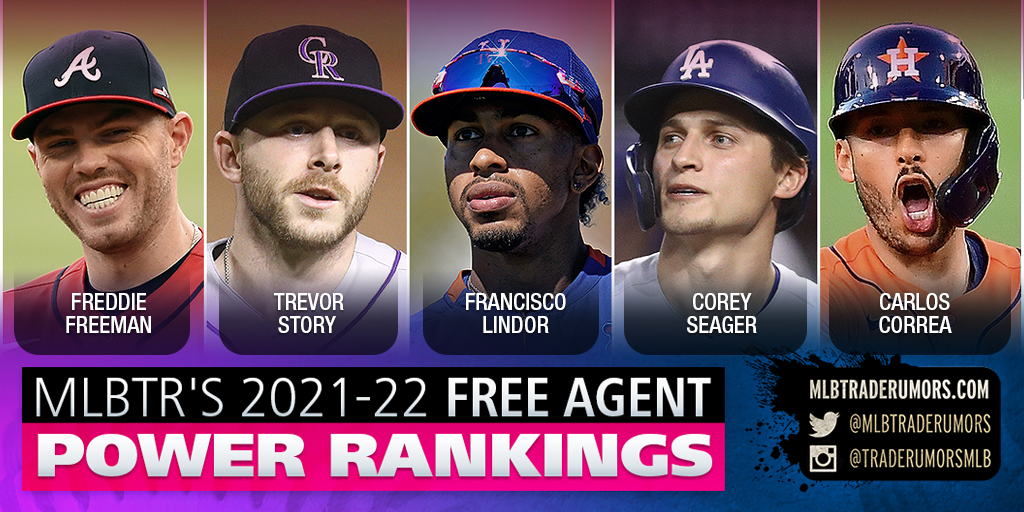 1.  Francisco Lindor.  The largest MLB free agent contract ever signed was Bryce Harper's 13-year, $330MM deal with the Phillies two years ago.  Meanwhile, the largest extension was the 12-year, $365MM deal signed by Mookie Betts last summer.  The highest average annual value was the $36MM achieved by Mike Trout and Gerrit Cole.  These are the records Lindor figures to be aiming for if he reaches free agency after a strong 2021 season.  A 5-WAR season, which is what projection systems call for, would help fully erase a 2020 campaign that saw the shortstop post a career-worst 102 wRC+ in 266 plate appearances.
Lindor is not the game's best-hitting shortstop, and might not even belong in the top five.  But it is the combination of a quality bat and strong defense that puts him in the conversation for the best overall at his position.  As you've no doubt heard, the 2021-22 free agent shortstop class is exceptional, with eight potential starters at the position.  At least half of them are star-caliber.
Lindor's nickname, Mr. Smile, comes from the impression that he represents "nothing but pure baseball joy," in the words of Will Leitch.  Lindor's personality will be amplified now that he's been traded to the big-market Mets.  Upon the January 7th trade, there was an assumption by some that the suddenly deep-pocketed Mets would move quickly to sign Lindor to a contract extension.  Those talks might be taking place right now, based on this Jon Heyman tweet, and he describes Opening Day as "at least a soft deadline."  By the next installment of these Power Rankings, we should know whether Lindor is likely to reach the open market at age 28.  Lindor is represented by SportsMeter.
2.  Corey Seager.  Born about five months after Lindor, Seager is arguably just as good.  Seager finished 9th in the NL MVP voting in the abbreviated 2020 season, and he too is forecasted to post a 5-WAR 2021 season.  Seager played beyond that level from 2016-17, but he underwent Tommy John surgery in April 2018 and was limited to 26 games that year.  His 2019 return was more good than great, but then Seager put up a 152 wRC+ in 232 regular season plate appearances in 2020, going on to win both the NLCS and World Series MVP awards.  Aside from possibly Fernando Tatis Jr., no shortstop carries a more potent bat than Seager.
Defensively, Seager's work does not jump off the page, especially that which came after his Tommy John procedure.  It stands to reason that Seager may be expected to move to the hot corner at some point during the course of his next contract.  For that reason we've got him a touch behind Lindor in earning power, but that could change.  The Dodgers have the inside track to signing Seager if they want to, and it's even plausible they could lock him up while dipping back under whatever the base tax threshold is in 2022.  Seager is represented by the Boras Corporation.
3.  Trevor Bauer.  Will Bauer return to the free agent market after a single season with the Dodgers?  He's built the option into his contract.  If Bauer opts out of the remaining two years and $64MM, he gets a $2MM buyout, but $20MM of his '21 salary will be deferred without interest until 2031.  So there's a financial calculation to be made, and locking in more guaranteed money – potentially more than $200MM – could become especially appealing if Bauer pitches at a Cy Young-caliber level for all of 2021.  He'll also be free of the qualifying offer the next time around, though it remains to be seen how that might be adjusted in the next CBA.
The easier choice might be to opt out after 2022, at which point Bauer will have earned $85MM over two seasons and wouldn't be risking much.  Bauer is represented by Luba Sports.
4.  Trevor Story.  Story's 13.5 WAR since 2018 has only been bested by Lindor and Xander Bogaerts among shortstops.  Still, age is a big factor in free agent earning power, as it affects the number of years teams are willing to give.  And Story is a full 22 months older than Carlos Correa.  Story is still a young free agent, however, as he'll play at age 29 in the first year of his next contract.
Story mainly has to contend with Coors Field, in that he has a 141 wRC+ there since 2018 but a 105 mark on the road.  It's not that simple, and many good hitters have seen continued success after leaving Coors.  But Story's earning power may be boosted if the Rockies move him at the July trade deadline and he puts up his customary 120 wRC+ for a new team.  Plus, he could potentially shed the qualifying offer with a trade.
Story's defense likely slots in ahead of Correa and Seager, and he'd beat any fellow free agent in a foot race.  As an all-around player, Story is quite valuable and comes with few question marks outside of the Coors Field factor.  He's represented by Excel Sports Management.
5.  Carlos Correa.  Correa was once mentioned in the same breath as Lindor and Seager for those prognosticating about this free agent class, but his star has dimmed considerably since the Astros won the World Series in 2017.  There's the sign-stealing scandal, in which Correa was a central player.  But so too was George Springer, and he was able to land a strong $150MM contract after re-asserting his hitting prowess sans trash cans.
For Correa, the problem is more that since 2017, he's not been able to post a season in which he was both healthy and an above average hitter.  He raked at a 143 wRC+ in 2019, but was limited to 75 games due to a cracked rib and a back injury.  He avoided the IL in 2020, but put up a career-worst 98 wRC+ in 221 regular season plate appearances before going nuts for 55 PA in the postseason.  So before extending a contract of seven-plus years, teams need to see if Correa can be the 5-WAR player he once was.  His defense probably rates somewhere between Lindor and Seager.
Correa has age in his favor, as he's about five months younger than Seager and 10 months younger than Lindor.  Still, he has the widest error bars of anyone on this list, and his 2021 season is crucial.  The Astros are at least taking the typical stance of planning to explore an extension.  Correa is represented by WME Baseball.
6.  Nolan Arenado.  Arenado, who was paired with Story on the left side of the Rockies' infield for five years, has the ability to join him in free agency.  It'd require opting out of the remaining five years and $164MM on his deal.  To take such a leap, Arenado's lone season with the Cardinals would have to be reminiscent of his stellar 2015-19 work, rather than the below-average output of his 48-game 2020 campaign.  He did play through a shoulder injury for much of the 2020 season.  Even with a 5-WAR 2021, Arenado might prefer to stick with the certainty of his current contract rather than chase a sixth guaranteed year.  Arenado is represented by Wasserman.
7.  Freddie Freeman.  Freeman had received MVP votes in five separate seasons prior to 2020, and despite a July COVID positive he went on to win the award.  He's inarguably one of the top eight hitters in baseball right now, and possibly better than that.  Freeman signed a record contract extension for his service class back in 2014, which is why he's scheduled to reach free agency as a 32-year-old.  Paying him through age 36 would mean a five-year term.  The Athletic's David O'Brien has made it clear Freeman is highly unlikely to leave the Braves, so perhaps he'll be surrendering his place on this list before long.  Freeman is represented by Excel Sports Management.
8.  Kris Bryant.  It seems odd to put Bryant this low, as he put up a 4.8 WAR season as recently as 2019.  At that point a free agent contract below $200MM would have seemed silly, but Bryant floundered in an injury-marred 2020 season and bears a 3-WAR projection heading into his age-29 campaign.  His defensive work at third base rates somewhere around average, and he's generally held his own in the outfield corners.
It's possible Bryant peaked early, with a 20.7 WAR total over his first three seasons that placed him on a Hall of Fame trajectory.  It's also possible there are many more 130 wRC+ seasons left in his bat, and he'll be a cornerstone in someone's lineup.  Despite losing a grievance against the Cubs for manipulating his service time, and more recently enduring trade rumors, Bryant remains open to contract extension offers from the North Siders.  He seems more likely to hit the open market following a critical 2021 season.  Bryant is represented by the Boras Corporation.
9.  Michael Conforto.  Conforto is easily one of the 30 best hitters in baseball, and with his recent excellent work a case can be made for top 20.  Though the Mets gave him some time in center field in 2017-19, he fits best in a corner.  It's been a while since a non-superstar corner outfielder has landed a six-year deal in free agency, but that figures to be a target for Conforto in light of George Springer's contract.  Interestingly, Mets president Sandy Alderson told reporters recently that one reason the team stopped at five years in the Springer bidding was that going to six would have made it harder to extend Conforto.
Conforto will be a full 29 months younger on Opening Day 2022 than Springer will be this year.  So there's a case to go to a sixth or even seventh year for Conforto, though he's generally not as center field capable as Springer.  As with Lindor, the Mets may look to hammer something out before the season begins.  Conforto is represented by the Boras Corporation.
10.  Clayton Kershaw.  Despite a Hall of Fame worthy 13-year career, Kershaw is only about to turn 33 years old.  As of last month, though, he was non-committal about even playing in 2022 before later saying he has "a few years left in the tank." Dodgers President of Baseball Operations Andrew Friedman told Jorge Castillo of the L.A. Times, "Obviously, it's personal for him and Ellen, but I feel like all is right in the world if he finishes his career, whenever that is, in however many years, as a Dodger." As Castillo notes, it would certainly be appealing to Kershaw to play close to home for the Rangers next year.
If it's only a two-horse race and Kershaw is not likely to chase the money, perhaps his earning power is diminished.  But a four-year contract paying him through age 37 wouldn't be unreasonable, if he wants to play that long.  Kershaw may prefer the flexibility of a two or three-year pact.  Kershaw is represented by Excel Sports Management.
Honorable mentions
At this point, generally the potential for a $100MM contract gets a player onto this list.  I see three more players who could get there: Javier Baez, Max Scherzer, and Noah Syndergaard.  Players such as Lance McCullers Jr., Kevin Gausman, Marcus Stroman, Dylan Bundy, Anthony Rizzo, and Lance Lynn might comprise the next tier.