The Blue Jays have added another arm to their bullpen mix, announcing the acquisition of veteran lefty Brad Hand from the Nationals in exchange for catcher Riley Adams. Hand, who signed a one-year, $10.5MM deal with the Nats this past offseason, will be a free agent at season's end.
Hand, 31, has been one of the game's most effective left-handed relievers in recent years, but his results in 2021 haven't been as dominant as they were during his time with the Padres and Indians. There have been some signs that his stock had dipped in the eyes of those around the game; Cleveland put him on outright waivers at the end of the 2020 season, hoping a club would claim him and pick up his $10MM option — thus sparing the Indians the $1MM buyout. He went unclaimed and was ultimately bought out. Hand did eventually land a greater guarantee, signing at that aforementioned $10.5MM price point.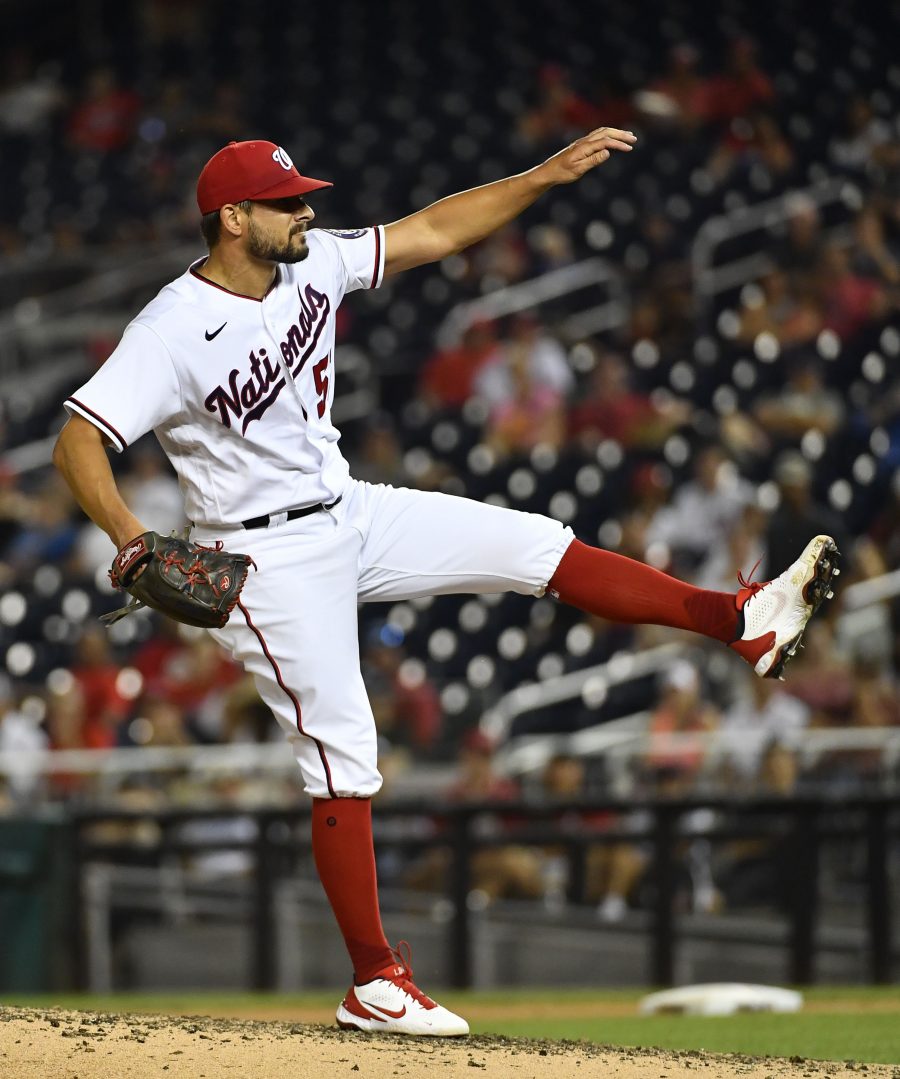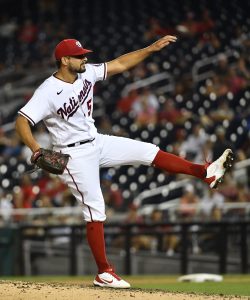 Some of the reservations regarding Hand when he was placed on waivers were simply due to financial uncertainty following the absence of fans in 2020, but there was also concern that the lefty's fastball had dropped by two miles per hour from its peak level. He's alleviated those concerns in 2021, tacking two miles back onto his heater and averaging 93.3 mph on the season. But Hand's 23.3 percent strikeout rate is his lowest since moving from the rotation to the bullpen back in 2016, and his 9.9 percent walk rate is a career-high (as a reliever).
Those ungainly strikeout/walk trends notwithstanding, Hand has been a solid reliever for much of the season in Washington. He's pitched to a 3.59 ERA, upped his ground-ball rate to its highest level since 2018 (39.5 percent) and generally limited hard contact and barreled balls quite well, per Statcast.
It's been a tough go more recently, as Hand has served up eight runs in his past nine innings — three of which came on an Andrew McCutchen walk-off home run that proved to be something of a backbreaker for the reeling Nationals. Not long after dropping that pivotal game, rumblings about the Nationals perhaps engineering a rare (for them) summer sell-off began to pick up steam, and Hand's departure (plus the persistent rumors on Max Scherzer and other prominent Nationals players) now make that speculation a reality.
For their half-season investment in Hand, the Nationals will acquire Adams, a 25-year-old backstop who's already made a very brief MLB debut. That didn't go particularly well, as he hit just .107/.167/.179, but he also received only 30 plate appearances with the Jays, so it's impossible to glean much of anything from that limited sample. Adams has spent the remainder of the 2021 season with the Jays' Triple-A affiliate, drawing plenty of walks and hitting for good power but struggling with strikeouts. In 143 plate appearances, he's hitting .237/.371/.487 with an 11.2 percent walk rate but a lofty 32.2 percent strikeout rate.
Adams ranked 20th among Jays prospects heading into the season over at MLB.com. He's already been bumped to No. 15 among Nationals prospects over at FanGraphs, where Eric Longenhagen calls him a bat-first backup option behind the plate. Adams, listed at 6'4″ and 246 pounds, is quite large for a catcher, but the Jays have been committed to developing him there. He's appeared in just one professional game at first base, where he logged only three innings. If Adams proves he's capable of sticking behind the dish and providing passable defense, he'll greatly outperform many of the more modest value projections most scouting reports have placed on him due to concerns over his size and glovework.
Jesse Dougherty of the Washington Post first reported Hand had been traded to the Jays (Twitter thread). USA Today's Bob Nightengale reported Adams was going back to the Nats.