The Braves announced Friday that they've signed catcher Travis d'Arnaud to a new two-year contract that guarantees him $16MM. The Wasserman client will earn $8MM in 2022 and in 2023, and there's an $8MM club option for the 2024 season that does not have a buyout.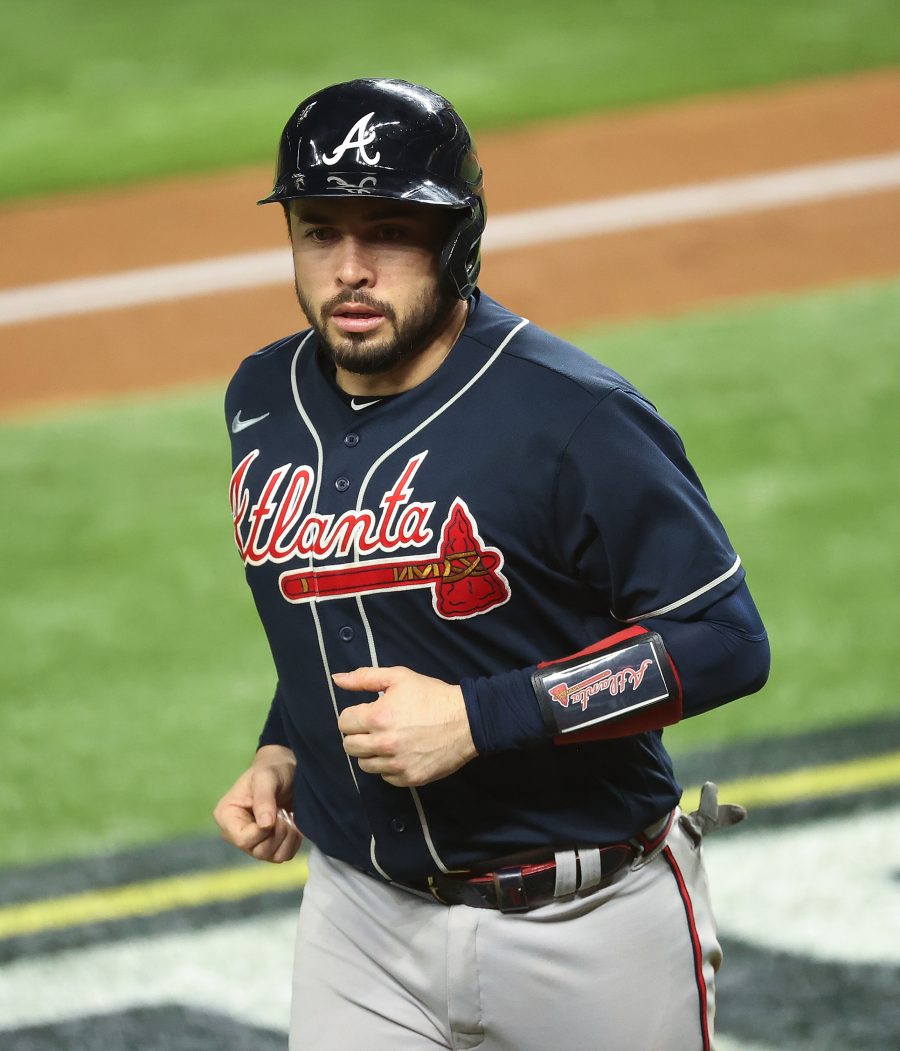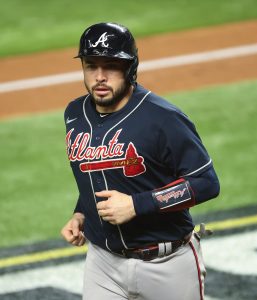 That $16MM guarantee matches the guarantee on the current two-year deal that d'Arnaud is playing out in Atlanta. He'd been slated to return to the free-agent market at season's end, but the new contract now locks him in as the organization's top catcher for at least another two seasons.
Selected by the Phillies with the No. 37 overall pick back in 2007, d'Arnaud quickly became a top prospect who was involved in a pair of trades involving Cy Young winners — the first sending Roy Halladay from Toronto to Philadelphia and the second sending R.A. Dickey from the Mets to the Blue Jays.
After debuting as a 24-year-old in 2013, d'Arnaud would go on to spend parts of seven seasons playing with the Mets. He showed the promise that made him one of the game's most highly regarded minor leaguers at times, particularly in 2016 when he batted .268/.340/.485. However, d'Arnaud's time with the Mets was marred by repeated injuries. In addition to undergoing Tommy John surgery in 2018, d'Arnaud also spent time on the injured list with a concussion, a broken finger, a strained rotator cuff and an elbow sprain (a separate one from the sprain that led to his Tommy John surgery).
Despite playing in parts of seven seasons as a Met, d'Arnaud only topped 100 games twice. The Mets released d'Arnaud in May 2019, and after signing with the Dodgers and making a lone plate appearance there, he was traded to the Rays in exchange for cash. Tampa Bay needed catching help with several backstops on the injured list, and what looked to be a short-term depth addition instead turned into a breakout showing that set the stage for d'Arnaud to eventually be paid $32MM from 2020-23.
With the Rays, d'Arnaud stepped up as the primary catcher and enjoyed one of his best and most productive seasons. He appeared in 92 games and tallied 365 plate appearances with Tampa Bay, batting .263/.323/.459 with 16 long balls. He parlayed that strong showing into what is now the first of a pair of two-year, $16MM deals in Atlanta.
D'Arnaud's first season in Atlanta, while shortened due to the pandemic, was the most productive of his career. He played 44 of the Braves' 60 games at catcher and turned in a huge .321/.386/.533 with nine homers and eight doubles in 184 plate appearances. He went on to bat .286/.380/.476 in 50 postseason plate appearances.
Things haven't gone as well in 2021, though that's again due to injury. After a lackluster start to the season, d'Arnaud went on the injured list in early May with a torn ligament in his thumb that required surgical repair. He returned just nine days ago and has gone 5-for-21 with a home run and four walks in that brief time. Overall, he's batting .223/.277/.369 through 112 plate appearances this year.
The d'Arnaud extension solidifies the team's catching spot for the next two seasons, though it also serves as something of a roadblock for 23-year-old William Contreras, who is tearing the cover off the ball in Triple-A this season. Contreras was originally promoted to the big league roster in the wake of d'Arnaud's injury and got out to a strong start before fading badly. He batted just .204/.278/.387 in 158 Major League plate appearances this year but has posted a massive .313/.368/.583 slash (150 wRC+) with eight home runs in 125 plate appearances with Triple-A Gwinnett.
Extending d'Arnaud gives the Braves the luxury of breaking Contreras in as a backup or part-time option, but it's certainly possible that he'll find himself in a larger role over the next two seasons. He'd likely be the first option in the event of an injury to d'Arnaud, and he could simply hit his way into a larger share of the workload behind the plate. The National League could very well have the designated hitter in place next season, which would give the Braves the option of getting both into the lineup at times.
Behind Contreras, the Braves have 23-year-old Shea Langeliers rising through the system. The No. 9 overall pick in the 2019 draft, Langeliers is regarded as one of the top game's top all-around prospects and is enjoying a strong season in Double-A, where he's batted .267/.346/.524 (136 wRC+). Langeliers likely wouldn't be an option until midway through the 2022 season or even into 23, so the d'Arnaud extension isn't necessarily a sizable deterrent to his ascension through the ranks.
Of course, locking d'Arnaud up for the foreseeable future also frees the Braves to explore the possibility of including one of Contreras or Langeliers as part of an offseason trade package to address other areas of need. A relatively modest two-year for d'Arnaud certainly doesn't make a trade of one of the promising young backstops a fait accompli, but it's easier to part with some of that upside if the Braves feel confident that there's a steady veteran in house.
By signing d'Arnaud now, the Braves sidestep the issue of searching for a catcher on the offseason market. A win-now club in their shoes wasn't likely to just hand over the starting job to Contreras in 2022 without a contingency plan in place, and the market for catching help looks fairly light. Yan Gomes and d'Arnaud were likely to be the only two starting-caliber options in free agency, assuming the Cardinals do indeed finalize the Yadier Molina extension they're reportedly discussing at the moment. Gomes might ultimately command a comparable price, though, and the Braves have already established a relationship with d'Arnaud. They clearly value both his on- and off-field contributions to the club, so it's sensible to keep him around at a price point that won't significantly impede their offseason dealings.
Even with d'Arnaud now on the books at $8MM next year, the Braves have just shy of $64MM on the books in 2022. They'll owe arbitration raises to several key players (Dansby Swanson, Max Fried, Mike Soroka, Richard Rodriguez, Austin Riley) and still need to work out an extension for franchise cornerstone Freddie Freeman at some point. Even when factoring for a theoretical Freeman extension and arbitration raises, the Braves should still have more than $20MM — potentially quite a bit more, if a Freeman deal were to be backloaded — separating them from this year's payroll level.