The first of what Angels fans hope will be multiple rotation additions is in the books, as the Halos announced a one-year agreement with free-agent righty Noah Syndergaard. The 29-year-old will reportedly collect a $21MM salary in 2022 before re-testing the free agent market next offseason.
Syndergaard received an $18.4MM qualifying offer from the Mets last week, and his agreement with the Angels effectively amounts to rejecting that offer. As such, the Angels will forfeit their second-highest selection in next year's draft. The Mets, meanwhile, will receive a compensatory draft pick after the completion of Competitive Balance Round B (typically in the No. 75 overall range).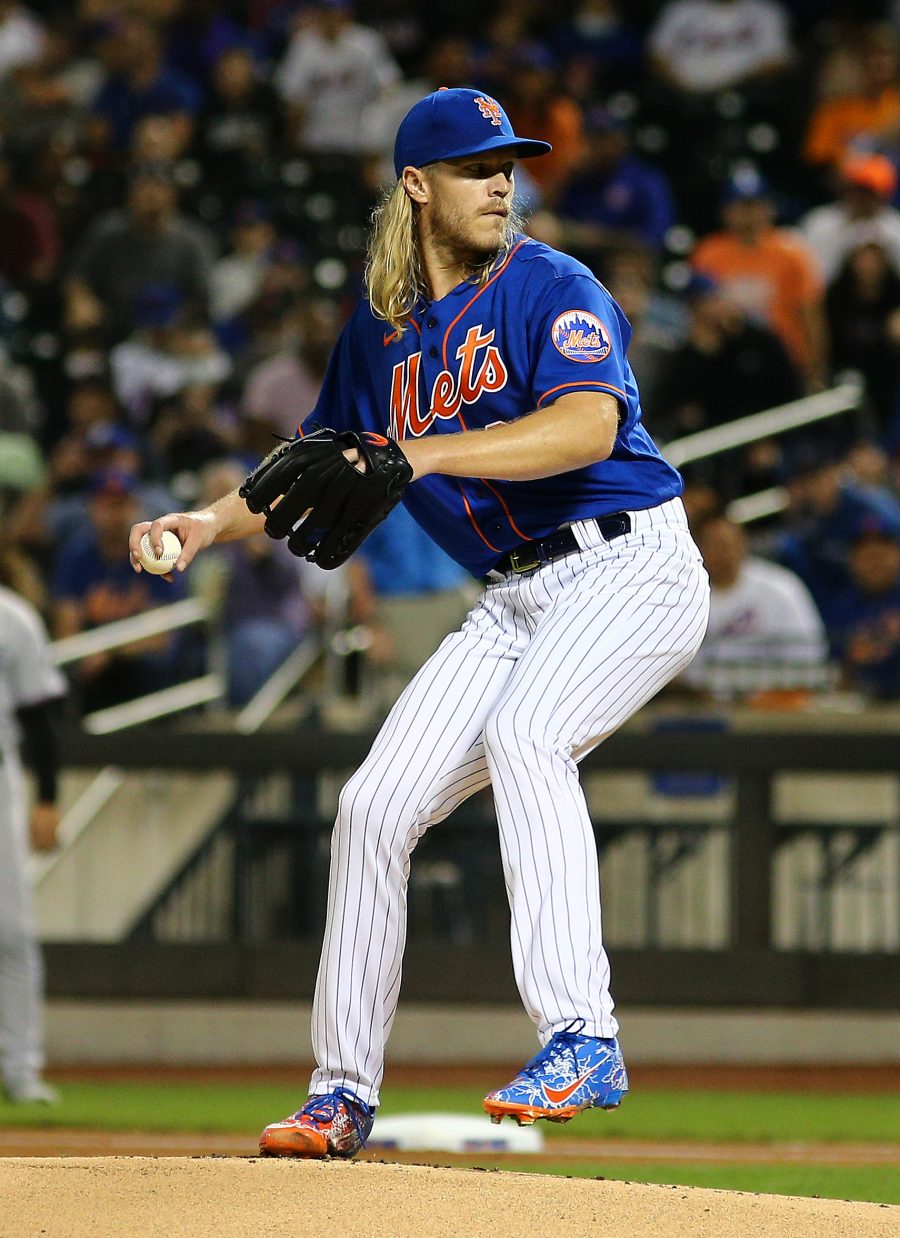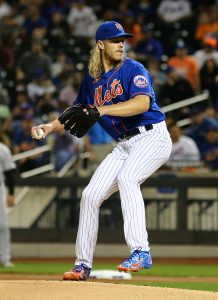 Syndergaard has scarcely pitched since the completion of the 2019 season thanks to 2020 Tommy John surgery and a series of setbacks in his recovery this year. He did make it back to the mound for two innings of bullpen work with the Mets late in the 2021 campaign, at least demonstrating that he was healthy enough to pitch in a big league game.
The general hope had been that he'd be recovered from surgery and rejoin the Mets' rotation around June, but Syndergaard's recovery was shut down on May 27 due to inflammation in his surgically repaired elbow. He resumed throwing about six weeks later but was again set back — this time by a positive Covid-19 test.
When healthy, Syndergaard has proven to be one of the more dynamic pitchers in the game. The 6'6″, 242-pound righty is one of the more physically imposing pitchers in MLB and, at his peak, boasted the velocity to match that frame. Syndergaard averaged a blistering 98.1 mph on his heater from 2015-19, pitching to a combined 3.31 ERA and 3.37 SIERA along the way. The big righty finished fourth in NL Rookie of the Year voting in '15 and finished eighth in Cy Young voting during an All-Star 2016 season.
At his best, Syndergaard combines that elite velocity with high-end strikeout rates and plus walk rates. He's fanned a hearty 26.4% of career opponents against just a 5.6% walk rate — including a career-best 29.3% strikeout rate in that All-Star 2016 season. Syndergaard has never walked more than 6.1% of his opponents in a given season, and he's also kept the ball on the ground at an above-average 49% clip in 718 career innings.
It's that lack of innings, of course, that is the primary red flag on Syndergaard at present. In addition to the 2020 Tommy John surgery and series of 2021 setbacks, Syndergaard was limited to just seven starts in 2017, owing to a torn lat muscle. He also missed time in 2018 due to some ligament damage in his pitching hand.
With that context in mind, Syndergaard falls in line with some recent rotation additions by the Angels: high-upside, high-risk arms on a one-year deal (e.g. Matt Harvey, Julio Teheran). That comes in spite of a new general manager — Perry Minasian replaced Billy Eppler to begin the 2020-21 offseason — though one would imagine that this is the first of multiple pieces Minasian and his staff will add this winter. It remains possible that the Angels will add a starter on a multi-year deal. Still, the Angels have had longstanding rotation issues but nevertheless repeatedly eschewed long-term deals for pitchers, suggesting at least some aversion to such deals on owner Arte Moreno's behalf.
To be fair, none of the short-term rotation additions the Angels have made in recent years carry the same upside as Syndergaard on a one-year contract. Minasian has vowed to "significantly" improve his team's starting staff in 2022, and a healthy Syndergaard would be a clear step in that direction. He'll join Shohei Ohtani atop the rotation for the time being, but that duo would require greater workload management than most top-of-the-rotation pairs throughout the league. As such, it wouldn't be a surprise to see the Angels also target some more reliable bulk innings with their next addition — be it on the free-agent market or via the trade market.
Beyond Ohtani and Syndergaard, the Angels have plenty of promising arms but little in the way of established MLB hurlers. Young lefties Patrick Sandoval and Jose Suarez both showed well in 2021 but tallied fewer than 100 frames apiece. Fellow southpaw Reid Detmers was a first-round pick in 2020 and is viewed as one of baseball's top pitching prospects, but he was hit hard in his 2021 MLB debut. Former top prospect Griffin Canning ought to get another look after some injuries and struggles have deflated his stock, and righty Jaime Barria gives the Angels a solid back-of-the-rotation option as well.
With a return to form by Syndergaard and another healthy season of Ohtani, it's easy to see this staff being the best the Angels have had in recent memory. At the same time, that's a lot to bank on. Given the injury risk strewn throughout this group and the general attrition rate of young pitchers, it's equally plausible that the Angels could again find themselves scrambling to piece things together. Syndergaard is quite arguably as great an upside play as there is on this offseason's market, but the Angels still have some heavy lifting to do on the rotation front if they hope to finally piece together the reliable staff that has eluded them in recent years.
The Syndergaard signing gives the Angels six guaranteed contracts on next year's books, totaling a hefty $129.95MM just among that group. A small arbitration class works in their favor and brings the team's projected payroll into the $150MM range, however, even after accounting for a slate of pre-arbitration players to round out the roster. That should leave room for at least one more significant addition on the starting staff (perhaps two, if one comes via trade).
As for the Mets, the loss of Syndergaard and the potential loss of fellow free agent Marcus Stroman — another reported Angels target — leaves them with ample questions in their own rotation. Jacob deGrom is the game's best pitcher but missed significant time due to injury in 2021. Carlos Carrasco's brief Mets tenure has been punctuated by injury troubles, and Taijuan Walker wilted after a terrific first half. The Mets have younger options in the rotation themselves (e.g. David Peterson, Tylor Megill), but they'll surely be on the hunt for upgrades after being spurned by Syndergaard.
Jon Morosi of MLB.com reported the sides were nearing agreement on a contract. Jeff Passan of ESPN reported the sides had agreed on a one-year, $21MM deal.
Photo courtesy of Imagn/USA Today Sports.