MARCH 28: Jon Heyman of the MLB Network reports the full breakdown (on Twitter): Marte receives a $3MM signing bonus, followed by successive salaries of $11MM, $13MM, $16MM, $16MM and $14MM through 2027. The 2028 option is valued at $13MM and contains a $3MM buyout. If Marte finishes in the top three in MVP voting in any season, the following year's salary would escalate by $3MM. A fourth through seventh place finish in MVP voting would increase the following season's base by $2MM. The deal also contains other incentives based on plate appearances.
MARCH 27: The Diamondbacks and Ketel Marte are in agreement on a five-year, $76MM extension, per Ken Rosenthal of The Athletic. (Twitter links) Reports emerged yesterday that Marte and the club were discussing an extension, and it appears there is now a deal in place, pending a physical. Marte was already under club control through 2024, via a $8.4MM salary this year, followed by club options valued at $11MM in 2023 and $13MM in 2024. Per Rosenthal, those options are now guaranteed, but with different salary figures. The extension will run through the 2027 campaign, with Marte earning an additional $51MM. There is also a club option for 2028, per Nick Piecoro of The Arizona Republic, with escalators based on performance and health that could increase the value of the contract.  Bob Nightengale of USA Today reports that the extension guarantees Marte another $52MM, with his signing bonus and buyout bumping that to $56MM.
After a dismal 2021 season that saw just about everything go wrong and the club finish with a record of 52-110, speculation turned to Marte and whether the D-Backs would cash him in for a huge prospect haul. However, the club insisted they had no interest in tearing down their roster for rebuilding purposes, intending instead to continue trying to build a winning team around their current core. This extension solidifies that course of action, keeping Marte around through his age-33 season, with the option of potentially adding yet another yet after that.
After making his MLB debut in 2015 at the age of 21 and spending a couple of seasons in Seattle, Marte was acquired by Arizona alongside Taijuan Walker, in exchange for Mitch Haniger, Jean Segura and Zac Curtis. This was one of the first moves in the tenure of Mike Hazen, who had just been named the club's general manager the month prior. Marte's first season in the desert was a lackluster one, as he hit just .260/.345/.395, wRC+ of 89. Still, Hazen doubled down on his faith in Marte by signing him to a five-year, $24MM extension four years ago. That faith was quickly rewarded, as Marte had a much better campaign in 2018, hitting 14 home runs and slashing .260/.332/.437, wRC+ of 104. The next year, he was able to take his game to incredible new heights, launching 32 homers, stealing 10 bases and hitting .329/.389/.592. That amounted to a wRC+ of 149 and 7.0 fWAR, with Marte coming fourth in NL MVP voting.
Although his performance dipped in the pandemic-shortened 2020 season, he proved that to be a fluke with a 2021 that was much more like his previous season. He missed time with hamstring issues and only got into 90 games, but hit 14 home runs and slashed .318/.377/.532 for a wRC+ of 139 and 2.9 fWAR.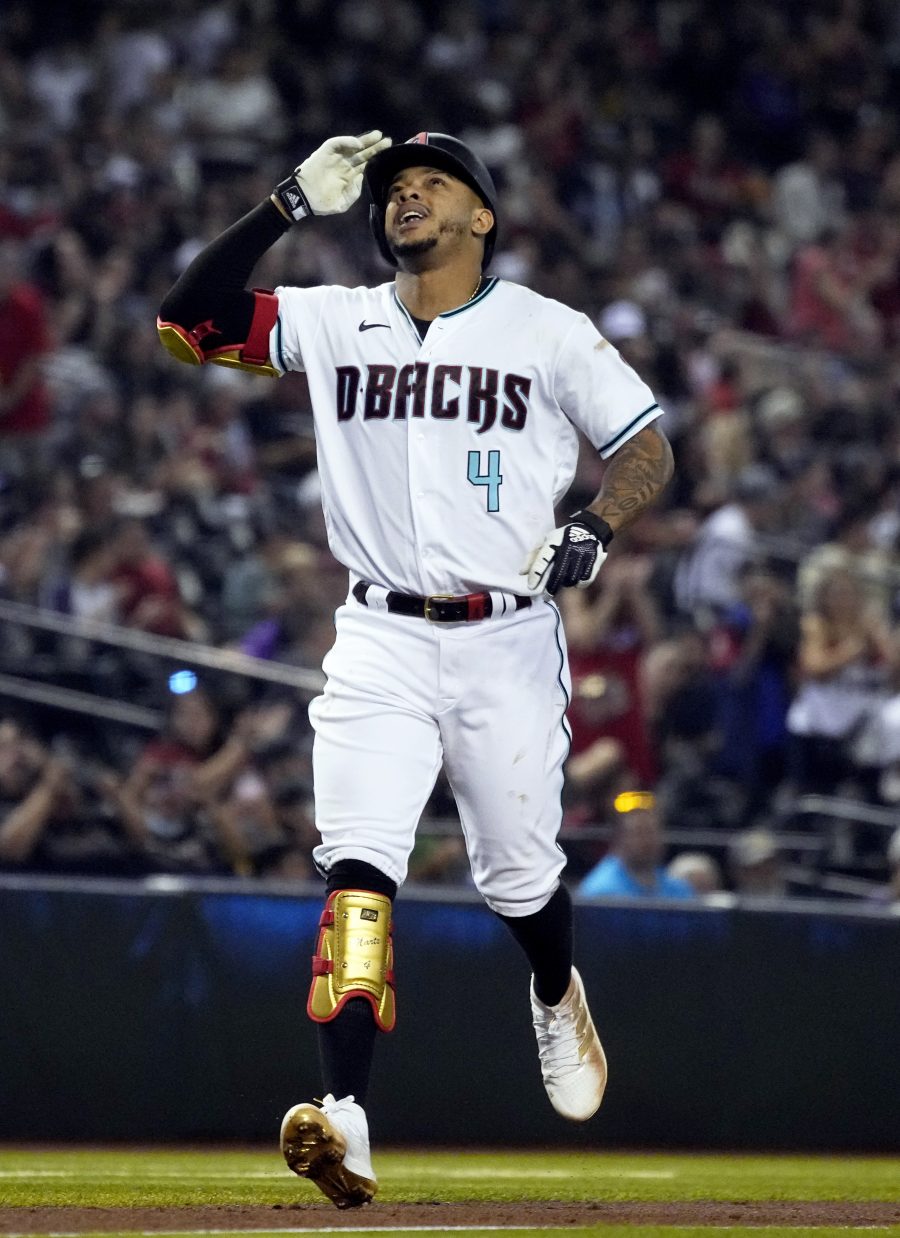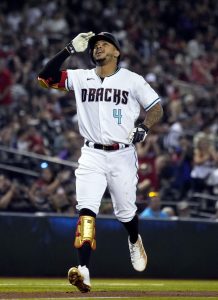 With Marte now firmly entrenched at the keystone for the foreseeable future, the club can focus on building a competitive roster around him. That won't be an easy task, considering the situation in the division. Last year, the Dodgers and Giants each won over 100 games and should continue being strong teams going forward. The Padres underperformed last year but are still loaded with talent and could perform better this time around. The Rockies have had a rough go recently but have shown a willingness to spend in order to try and keep pace, as evidenced by the recent signing of Kris Bryant.
The Diamondbacks have many talented players under their control for multiple seasons, such as Daulton Varsho, Carson Kelly, Josh Rojas and Zac Gallen. They also have a well-regarded farm system, with prospects Geraldo Perdomo and Alek Thomas likely working their way into the mix soon, followed by Corbin Carroll and Jordan Lawlar down the road.
Payroll wise, there's no reason the D-backs can't be aggressive in the remaining years of this extension, as it is now the only money on the books beyond 2024. Even for the current campaign, their Opening Day payroll is only slated to come in around $93MM, per Jason Martinez of Roster Resource, with only $51MM committed for next year. Considering that they've gotten their payroll as high as $132MM in recent years, per Cot's Baseball Contracts, there should be plenty of room for aggressive moves in the years to come.
Image courtesy of USA Today Sports.