For much of the offseason, all talk on the Athletics centered on where the likes of Matt Olson, Matt Chapman, Chris Bassitt, Sean Manaea and Frankie Montas would head once the trade market picked up. We got answers to four of those five, with only Montas surviving the offseason teardown. That's expected to be temporary, as Montas stands out as one of the most prominent trade targets on the summer market. Arguably the best arm who'll be available this summer, Montas will dominate headlines over the next seven weeks. However, while Montas is understandably the highest-profile trade target on the Oakland roster, he's not the only starter on whom the A's will receive trade interest.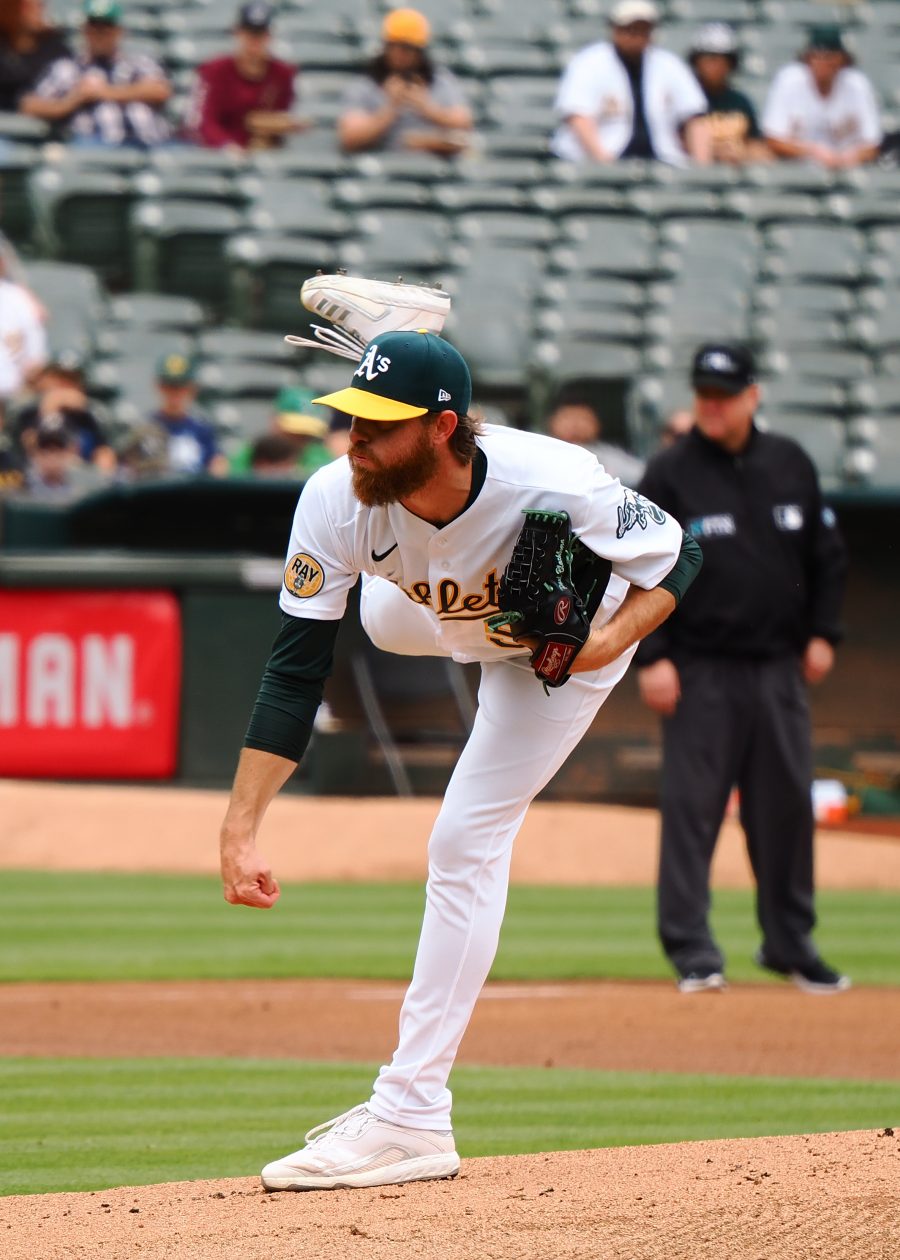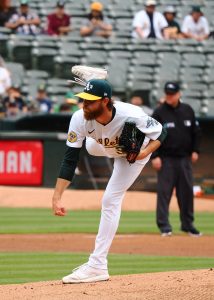 Fans would be forgiven if Paul Blackburn isn't someone who's been on their radar — or even if Blackburn is entirely unfamiliar. The 28-year-old right-hander came into the 2022 season with a 5.74 ERA in 138 career innings at the MLB level. He'd accrued two years of big league service already, but much of that was time spent on the injured list. Blackburn missed time in 2018 with a forearm strain and then with a tendon issue in his elbow (lateral epicondylitis). In his two years of service, he's appeared in just 30 total games — 27 of them starts.
Blackburn, however, has come out of the gate strong so far in 2022. His 66 1/3 innings already represent a career-high in the big leagues, though he's surpassed 140 total frames in a season several times when combining his Triple-A and Major League work, so workload management shouldn't be a major concern. So far, in 12 starts, the former No. 56 overall draft pick (Cubs, 2012) has pitched to a sterling 2.31 ERA. Blackburn doesn't miss many bats, evidenced by a sub-par 17.9% strikeout rate, but he's also issued walks to just 5.7% of his opponents and induced grounders at an excellent 51.3% clip.
There's surely some degree of good fortune at play for Blackburn, who's currently benefiting from a .253 average on balls in play, an 80.5% strand rate and a tiny 6.0% homer-to-flyball ratio. Even with some expected regression on those marks, ERA alternatives like FIP (3.13), xFIP (3.64) and SIERA (3.91) all feel there's some legitimacy to the idea that Blackburn has pitched like a capable mid-rotation starter thus far.
Statcast largely agrees, crediting Blackburn with a 3.36 "expected" ERA based on his lack of free passes and the generally poor quality of contact his opponents make. Hitters have posted an average exit velocity of just 87.4 mph against Blackburn (league average is 88.8 mph), and just 3.6% (seven total) of the balls hit against him have been considered "barrels" by Statcast — less than half the league average (7.7%).
It's tempting to assume that Oakland's cavernous home park has played a significant role in suppressing Blackburn's ERA, and perhaps it has to an extent, but it's not clearly reflected in his home/road splits. Blackburn's two "worst" starts of the season (four runs apiece) have come at the Coliseum, in fact, and he's sporting a 4.39 ERA at home against a nearly spotless 0.91 ERA in 39 2/3 innings on the road this season. Oakland's spacious dimensions help any pitcher on the mound from time to time, but Blackburn isn't the frequently seen case of a pitcher who excels at the Coliseum and is regularly hit hard on the road.
Blackburn doesn't have overpowering stuff by any stretch of the imagination, but it's at least worth pointing out that he's made some velocity gains and altered his pitch usage so far in 2022, which certainly seems to have contributed to his improved results. The right-hander's sinker sat at 90.4 mph from 2017-20 before climbing to an average of 91 mph in 2021, and it's now up to 91.9 mph so far in 2022.
Blackburn is also throwing his curveball at a career-high 17.8% rate — and getting outstanding results. He's thrown 172 curves this season (already a career high) and finished 44 plate appearances with the pitch; opponents have just three hits (all doubles) and 19 strikeouts (43.2%) in those 44 plate appearances. FanGraphs' run values credit Blackburn with the fifth-most valuable hook in MLB this year (min. 50 innings pitched), trailing only Kyle Wright, Shane McClanahan, Corbin Burnes and Framber Valdez. Among pitchers in that subset who actually throw a curveball regularly, Blackburn's has been the most valuable on a strictly per-pitch basis.
There's an easy case to be made for the A's simply hanging onto Blackburn even if (or when) they trade Montas. While both are controllable beyond the current season, Montas is a free agent after the 2023 campaign and will see his $5MM salary jump close to $10MM next year. His trade value won't ever be higher than it is over the next few weeks. Blackburn, however, is controlled for three more years beyond the current campaign. The A's may well decide that's enough value to hang onto him — particularly if the offers aren't all that aggressive given the right-hander's lack of track record prior to the 2022 season.
At the same time, money was the general driving force behind Oakland's offseason teardown, which stripped the payroll to just under $50MM — second-lowest in all of Major League Baseball ahead of only the rebuilding Orioles. The A's don't have a single guaranteed contract on the books for 2023, so payroll should be less of a concern than ever, but Blackburn will reach arbitration for the first time this winter and see his salary jump from its current $710K to somewhere north of $2MM. Oakland will have to spend at least some money on a few players, and Blackburn seems like a solid, affordable option to plug into the rotation at least for the next couple seasons. There's also a bit of "found money" appeal to the idea of getting a potentially decent return for a starting pitcher who cleared waivers in Feb. 2021 and was barely on the big league radar prior to the 2022 season
It's unlikely that the A's will aggressively shop Blackburn, but controllable pitching is the most coveted resource at the trade deadline, so teams will at least inquire about the right-hander's availability. And the A's, in the midst of their most aggressive step-back in years, aren't likely to take any player off the table unless they can control him for five or six more years. That'll likely lead to some conversations about Blackburn and perhaps about lefty Cole Irvin as well — though Irvin is controllable for an extra year over Blackburn and has some more questionable secondary marks to go along with rather glaring home/road splits. Blackburn, of course, isn't the ace that his rudimentary ERA currently suggests, but contending clubs need capable innings to round out the middle or back-end of their rotation as well, and he certainly appears capable of filling that role for the foreseeable future.