The Giants have landed the star player they'd been seeking. San Francisco is reportedly in agreement with Carlos Correa on a 13-year, $350MM contract. The deal doesn't contain any opt-out provisions but the Boras Corporation client will receive a full no-trade clause.
It'll be the third team in as many years for Correa, who turned 28 in September. The longtime Astro hit free agency last winter. Generally regarded as the top player in that offseason's class, he didn't find the long-term megadeal he'd sought after declining a qualifying offer from Houston.
After the lockout, Correa pivoted to a shorter-term gamble on himself, inking a three-year guarantee with the Twins that paid him the largest per-year salary ($35.1MM) for a free agent position player in MLB history. That deal allowed Correa to opt out and retest the market this winter, and he was ineligible for another QO thanks to the CBA's prohibition on a player receiving the offer multiple times in his career.
Correa's 2022 campaign got off to a slower than expected start. He hit .243/.309/.324 in April, presumably dealing with some lingering effects of his late signing and cold early-season weather that took a toll on his power output. In the first week of May, Correa dealt with a scare when he was struck on the right hand on a check swing. Initial x-rays indicated he may have fractured his right middle finger, but follow-up testing revealed he suffered only a bruise. He still landed on the injured list but returned after a minimal stint. Aside from a brief stay on the COVID-19 list a few weeks later, Correa stayed healthy the rest of the way.
After returning from the finger bruise, Correa was one of the sport's best players. He hit .299/.376/.488 in 487 plate appearances from mid-May onwards. Among 133 qualified hitters over that stretch, he ranked 14th in on-base percentage and 23rd in slugging. That excellent finish brought his season line up to .291/.366/.467 in 136 games. Correa's overall offensive productivity was 40 percentage points above league average, by measure of wRC+. That's right in line with the levels he'd established late in his time in Houston. Correa stumbled in the abbreviated 2020 campaign but had respective wRC+ tallies 42 and 33 points above average in 2019 and '21.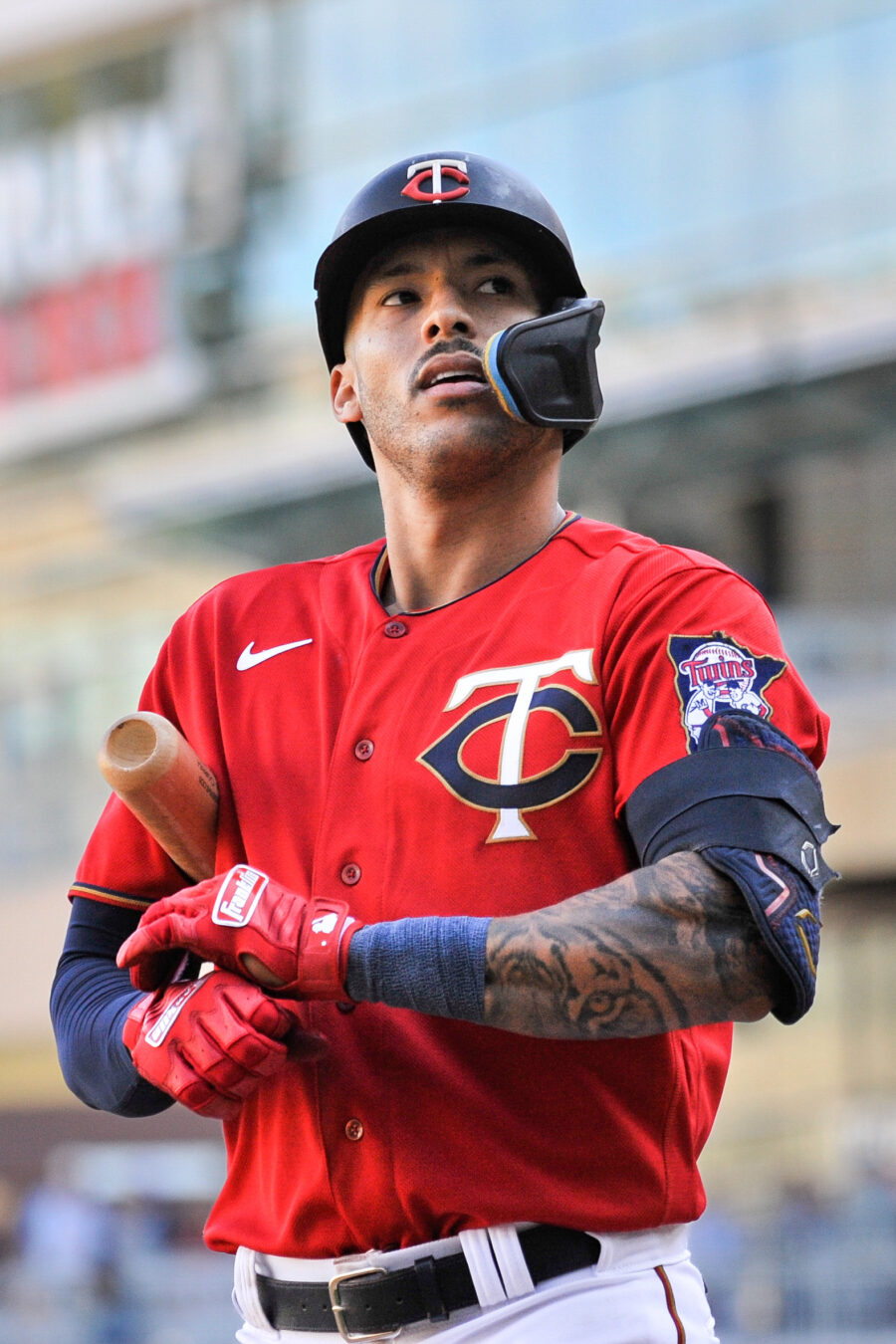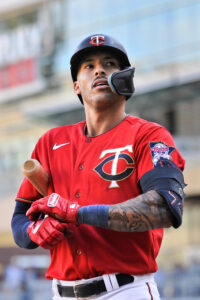 Over the past four seasons, the former first overall pick has tallied just under 1800 plate appearances. He's hit .281/.359/.481 with a strong 10.6% walk rate and a lower than average 20.4% strikeout percentage. Correa has posted a hard contact rate north of 42% in each of the past four seasons, well above the 35-36% league marks. Broadly speaking, there's nothing to nitpick with his offensive ability. He makes contact, has strong plate discipline and has topped 20 home runs in six of the seven 162-game seasons of his career. Correa has unsurprisingly been better against left-handers than righties, but he's been excellent against pitchers of either handedness. He owns a .291/.386/.482 career mark against southpaws, while he's hit .274/.346/.477 against same-handed arms.
Correa had some injury issues earlier in his career, missing time in 2018 with back discomfort and fracturing a rib in 2019. He's only twice topped 600 plate appearances in a season, but the aforementioned finger contusion is the only non-virus ailment that has sent him to the IL within the past three seasons. With his recent health and the strong finish to his 2022 campaign, his camp made the easy call to opt out of the final two years and $70.2MM on his Twins deal.
For the second straight winter, he was the top free agent option in a loaded shortstop class. Even with Trea Turner, Xander Bogaerts and Dansby Swanson hitting the open market, Correa was the best available shortstop. Aaron Judge was the market's top free agent overall on the heels of an MVP-winning, 62-homer season, but one can argue Correa was the best long-term bet available.
In addition to his strong offensive track record, the two-time All-Star is typically one of the sport's most valuable defenders. Defensive Runs Saved has pegged him as an above-average shortstop in every season of his career. Altogether, DRS has pegged him as 70 runs better than par in more than 7600 innings. Statcast hasn't been as bullish, but it also generally rates him as a plus gloveman. Statcast has pegged Correa as 17 runs above average since it began tracking defense in 2016, including plus grades each year from 2018-21.
Correa's defense marks were particularly excellent during his final season in Houston, when he rated as +20 runs by DRS and +9 runs at Statcast. He secured his first career Gold Glove award in the process. This year's reviews weren't so impressive. DRS still considered him a net positive at three runs above average, but that was the lowest mark of his career. Statcast pegged him two runs below par, his first below-average showing by that metric since 2017.
Defensive metrics can vary on an annual basis, and it doesn't seem San Francisco's concerned with this past season's mid-tier showing. Correa boasts a plus arm and has generally been very sure-handed. There may be some trepidation about how his 6'4″, 220 pound frame will hold up into his mid-late 30's, particularly since he's only an average runner. With his hands and arm strength, however, the Giants can at least project above-average glovework for the next few seasons.
San Francisco has four-time Gold Glove winner Brandon Crawford under contract for another year. They didn't enter the offseason needing shortstop help necessarily, but their infield around Crawford had its share of question marks. San Francisco re-signed Wilmer Flores to a two-year guarantee to add a productive righty bat to the mix at first, second or third base. Tommy La Stella is under contract for another season but hasn't played well since landing in San Francisco. J.D. Davis and David Villar are on hand as corner options, while Thairo Estrada can cover the middle infield and adds a solid righty bat.
There are a lot of moving pieces available for skipper Gabe Kapler, but adding Correa figures to solidify the left side of the infield with an everyday pair. Susan Slusser of the San Francisco Chronicle wrote last month the team planned to move Crawford to the hot corner if they were to sign Correa. Crawford has never played an inning outside of shortstop in the majors, but he figures to handle the less demanding position well.
While shortstop itself may not have been a priority for president of baseball operations Farhan Zaidi and his front office, adding impact talent certainly was. The Giants made no secret of their desire to land Judge. When he returned to the Bronx, the club pivoted to Correa — the clear top hitter remaining. He'll now become the highlight acquisition of the offseason, joining outfielder Mitch Haniger and pitchers Sean Manaea and Ross Stripling as players brought in to try to rebound from an 81-81 campaign.
Doing so requires one of the largest investments in major league history. The $350MM guarantee checks in as the fourth-largest ever. It's the second-biggest free agent deal of all-time, just narrowly below the $360MM deal that Judge inked a week ago. Correa becomes the second free agent to land a 13-year contract, matching the record length secured by Bryce Harper with the Phillies over the 2018-19 offseason. The deal runs through the 2035 campaign, what will be Correa's age-40 season.
That kind of lengthy megadeal has become en vogue this offseason. Turner and Bogaerts signed 11-year deals with the Phillies and Padres, respectively, taking them each through their own age-40 seasons. Judge inked a nine-year deal that paid him through age 39. MLBTR had predicted Correa for a nine-year, $288MM contract at the start of the offseason. As with Turner and Bogaerts, those deals lasted longer than anticipated, with each correspondingly securing a greater guarantee than expected.
That has involved a bit of a tradeoff with regards to annual salary, however. Correa's deal comes with an average annual value around $26.92MM, a mark that's outside the top 25 in MLB history. That's well lower than the $32MM per-year salary MLBTR had projected, with the Puerto Rico native electing to sacrifice some money on an annual basis to secure a larger total sum. Doing so could very well position him to spend the remainder of his career in the Bay Area.
From a team perspective, spreading the guarantee over a longer term adds more future downside but has the more immediate benefit of reducing the club's luxury tax hit. A team's CBT commitments are based on deals' average annual values, and the $26.92MM mark is more manageable in that regard.
That's now relevant for the Giants, whose payroll has spiked dramatically. The specific financial breakdown isn't yet clear, but an evenly distributed salary would push the Giants 2023 payroll around $190MM, as projected by Roster Resource. Their luxury tax figure is about $206MM, $27MM below the base threshold. San Francisco's spending is well above the $150-155MM range of the past few seasons, but it's still shy of their $200MM franchise-record Opening Day mark from 2018.
The Giants could keep pushing forward as they jostle for position atop a stacked NL West with the Dodgers and Padres. The bullpen is still a question mark, and San Francisco could look into upgrades at first base and/or center field. The Giants remained involved in the bidding for ace Carlos Rodón as of this afternoon as well, although signing both Correa and the top remaining free agent starting pitcher may push beyond their financial comfort level.
As for Correa's now-former team, they'll be left to regroup having missed out on their top target of the winter. Minnesota offered a 10-year deal worth $285MM, tweets Jon Heyman of the New York Post. That came with a higher annual salary than the offer Correa actually accepted, but the Twins were apparently reluctant to commit deep into his 30's. They're now facing an uncertain shortstop situation, with Kyle Farmer and Royce Lewis looking like the top internal options.
Minnesota has already had some discussions with Swanson this offseason, keeping tabs on him as a fallback possibility to Correa. The organization should have a decent amount of financial flexibility and could now pivot more strongly after Swanson if they're determined to address shortstop. They've also been linked to Rodón at various points and could try to allocate their spending capacity to a top-of-the-rotation arm. The Twins surely aren't done in any event, although that'll be little consolation for the front office and fanbase for the moment. Because Correa was ineligible for the qualifying offer, they don't receive any compensation for his departure.
It's the latest massive move in an offseason that has gained plenty of steam since the calendar flipped to December. Correa joins an increasingly loaded division and, more generally, a very competitive National League. In the process, he becomes the new face of the Giants — a role the club hopes he'll effectively hold well into the next decade.
Jeff Passan of ESPN first reported Correa and the Giants had agreed to a 13-year, $350MM contract. Jon Heyman of the New York Post reported the deal didn't include any opt-out provisions but contained a full no-trade clause.
Image courtesy of USA Today Sports.