The Brewers' lone free-agent move of thee offseason thus far — a one-year, $4.5MM deal with lefty Wade Miley — became official this afternoon. Miley returns for a second stint with the Brewers in hopes of rebounding from an injury-marred 2022 season with the division-rival Cubs. It's a pretty straightforward deal for a veteran pitcher in search of a rebound. The Brewers offered opportunity and some incentives based on innings to a pitcher who's had success in Milwaukee once before (2.57 ERA in 16 starts back in 2018). Miley gives the Brewers some depth and the potential for bulk innings at the back of the rotation.
Somewhat curiously, the Brewers already seemed to have plenty of that. Miley's contract quite likely locks him into the fifth spot in the rotation. The Brewers have maintained that they won't trade either Corbin Burnes or Brandon Woodruff this winter. Freddy Peralta is signed through 2024 with a pair of club options thereafter. Lefty Eric Lauer was second on the Brewers in terms of both innings pitched and games started in 2022, and while he had a rough finish to the year, there was a lengthy bit of time from summer of 2021 into the 2022 season where Lauer was one of the team's best pitchers. He's controlled another two years and seems unlikely to be moved.
That's five starting pitchers, but the Brewers also signed young Aaron Ashby to a five-year, $20.5MM extension last season in the midst of his rookie campaign last year. That deal, which contains club options for the 2028-29 seasons, was clearly issued with the vision of Ashby pitching out of the rotation. Perhaps for the 2023 season, he'll serve as a sixth starter and only be called upon to step into the rotation in the event of an injury, but he's clearly in the long-term plan as a potential starter.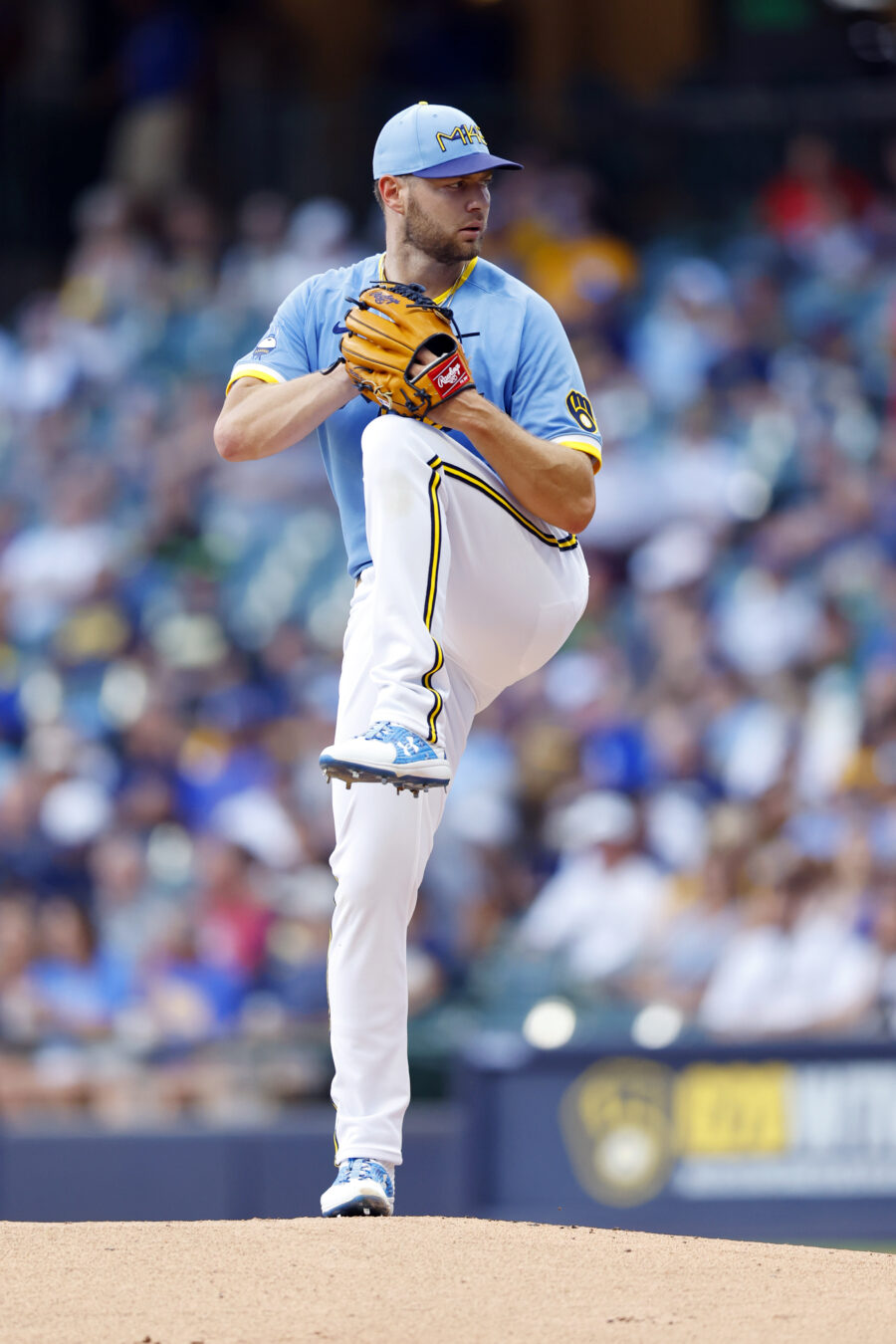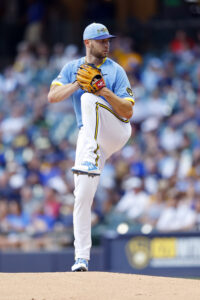 That brings the Brewers up to six rotation options, and that's before considering right-hander Adrian Houser, who ranked fourth on the team in innings pitched and games started in 2022. Admittedly, 2022 wasn't a great season for Houser, who limped to an uncharacteristic 4.73 ERA with a career-worst 15.2% strikeout rate and career-low 46.7% ground-ball rate.
Given those struggles from Houser and an uneven season for Ashby, it's understandable if the Brewers wanted some low-cost stability at the back of the rotation. Miley can provide that, health permitting, but it doesn't leave Houser with a clear role. He's out of minor league options, and Ashby seems likelier to be ticketed for the long relief/swingman role over Houser. The Brewers even added an eighth rotation candidate — fellow out-of-options hurler Bryse Wilson — in a small swap with the Pirates. Wilson figures to be in the bullpen to begin the season, if he even makes it to Opening Day on the 40-man roster. For now, his presence gives the Brewers a trio of bullpen arms who operated primarily as starters in 2022.
Houser already throws decently hard (94.4 mph average four-seamer, 93.8 mph sinker in 2022), so it could be argued that he's somewhat intriguing in a short relief role that might make his velocity tick up even further. But he also already agreed to a $3.6MM salary for the 2023 season, and that seems like a relatively expensive experiment for a Brewers team that declined a net $2.25MM salary for steady veteran reliever Brad Boxberger ($3MM option, $750K buyout).
Dropping Houser into short relief also overlooks the fact that from 2019-21, he was a solid member of the team's rotation. He began the 2019 season in the 'pen but moved to the rotation and hardly looked back; overall 55 of Houser's 75 outings in that time came as a starter. He made only three relief appearances in 2020-21. And, during that three-year period from 2019-21, he pitched to a combined 3.78 ERA with a 20.4% strikeout rate, a 9.3% walk rate and an outstanding 57% ground-ball rate. The strikeout rate was below-average, and the walk rate was a bit elevated, but fielding-independent marks like FIP (4.26) and SIERA (4.28) still felt Houser was plenty serviceable.
There's no getting around the fact that the 2022 season was an ugly one for Houser, but he's still an affordable 29-year-old right-hander (30 next month) with a career 3.97 ERA in 428 innings, most of which has come as a starter. He's eligible for arbitration once more next winter and can become a free agent after the 2024 season. Houser alone isn't going to change a team's fortunes in the rotation, but he's also very arguably as good a bet as the bulk of the remaining unsigned free agents. Certainly, he'll cost less from a financial perspective, though he'd of course require a modest package of young talent or perhaps a bat in a similar square-peg/round-hole situation.
With Houser falling to at least sixth, if not seventh on the Brewers' rotation depth chart, he stands out as a natural trade candidate. World Series hopefuls probably aren't going to look at Houser and think he's someone they can acquire and plug into a playoff rotation, but there are plenty of teams still on the lookout for solid innings at the back of their starting staff.
Even for a rebuilding team, it's conceivable they could buy low on Houser now and then recoup most of that value, if not more, at the deadline or next offseason if he's able to bounce back or partially reinvent himself under the tutelage of a new organization. (That's not a knock on the Brewers specifically, but it's common for new teams to alter pitch selection, arm slot, etc.) He could also help take the pressure off a team's young starters and allow those less experienced arms to be eased into the Majors.
Given the constant need for pitching throughout the league, there's no shortage of teams that could feasibly make sense as a Houser suitor. The Orioles, for instance, are still reportedly on the hunt for another veteran arm. General manager Mike Elias was in the Astros' scouting department in 2011 when Houser was a second-round pick. The Red Sox are teeming with injury uncertainty thanks to the presence of Chris Sale and James Paxton. Most of the Tigers' young pitchers have befallen some type of injury in the past calendar year. The Nationals could use some more support for young arms like Cade Cavalli and MacKenzie Gore. The Rockies' rotation is a collection of question marks, and Colorado tends to value ground-ball pitchers.
That's just a handful of speculative landing spots, and it's a given that other needs will arise during Spring Training, when camps begin to open and pitchers are inevitably sidelined due to injury. If the Brewers don't find any offers to their liking now, they can simply hold onto Houser and see how demand looks in two months' time. It's possible an in-house injury will alter the calculus for the Brewers themselves, too. The nice part is that while Houser may be a bit pricier than they'd prefer, given his lack of a clearly defined role, he's also not so expensive that the Brewers need to urgently pursue trades to dump his salary.
It's been a quiet offseason for the Brewers on the free-agent front, but Milwaukee has already swung seven trades under newly installed baseball operations leader Matt Arnold. Gone from the '22 Brew Crew via trade are Kolten Wong, Esteury Ruiz and Justin Topa. Newcomers include William Contreras, Jesse Winker, Abraham Toro, Javy Guerra, the previously mentioned Bryse Wilson, Owen Miller and Payton Henry. Based on the rotation depth they have with Miley in the fold and the lack of minor league options for Houser, he's a decent candidate to change hands and push Arnold's trade count in his first offseason at the helm up to eight.