The Astros have locked up a key member of their rotation, announcing agreement with Cristian Javier on a five-year deal. The contract, which does not contain any option provisions, locks in his final three seasons of arbitration control and buys out two would-be free agent years. It's reportedly a $64MM guarantee for the MVP Sports Group client.
Javier will receive a $2MM signing bonus and a $3MM salary for the upcoming season. That'll be followed by successive salaries of $7MM in 2024, $10MM in 2025, and $21MM annually between 2026-27. Javier's salaries in the final two seasons can escalate depending on his Cy Young finishes in prior years. He'd add $2MM to his salary in the final two seasons with any previous Cy Young win, $1MM with a runner-up, or $500K for a third through fifth place finish.
"Cristian is an outstanding pitcher, so we are really excited about signing him to a long-term deal," first-year general manager Dana Brown said in the team's press release. "We felt that he is the perfect candidate for this type of deal as a core piece of our rotation. This is in line with our vision to try to to lock players up to sustain our success both now and in the future."
Javier, 26 next month, signed with the Astros as an 18-year-old out of the Dominican Republic during the 2015-16 signing period. Two years older than the typical international amateur acquisition, Javier received a $10K bonus as an unheralded prospect. That he even made the majors given that modest starting point is a testament to his progression and the Astros' strong pitcher development staff. Javier has performed at an above-average level from essentially day one in MLB, breaking in with 54 1/3 innings of 3.48 ERA ball during the shortened 2020 schedule.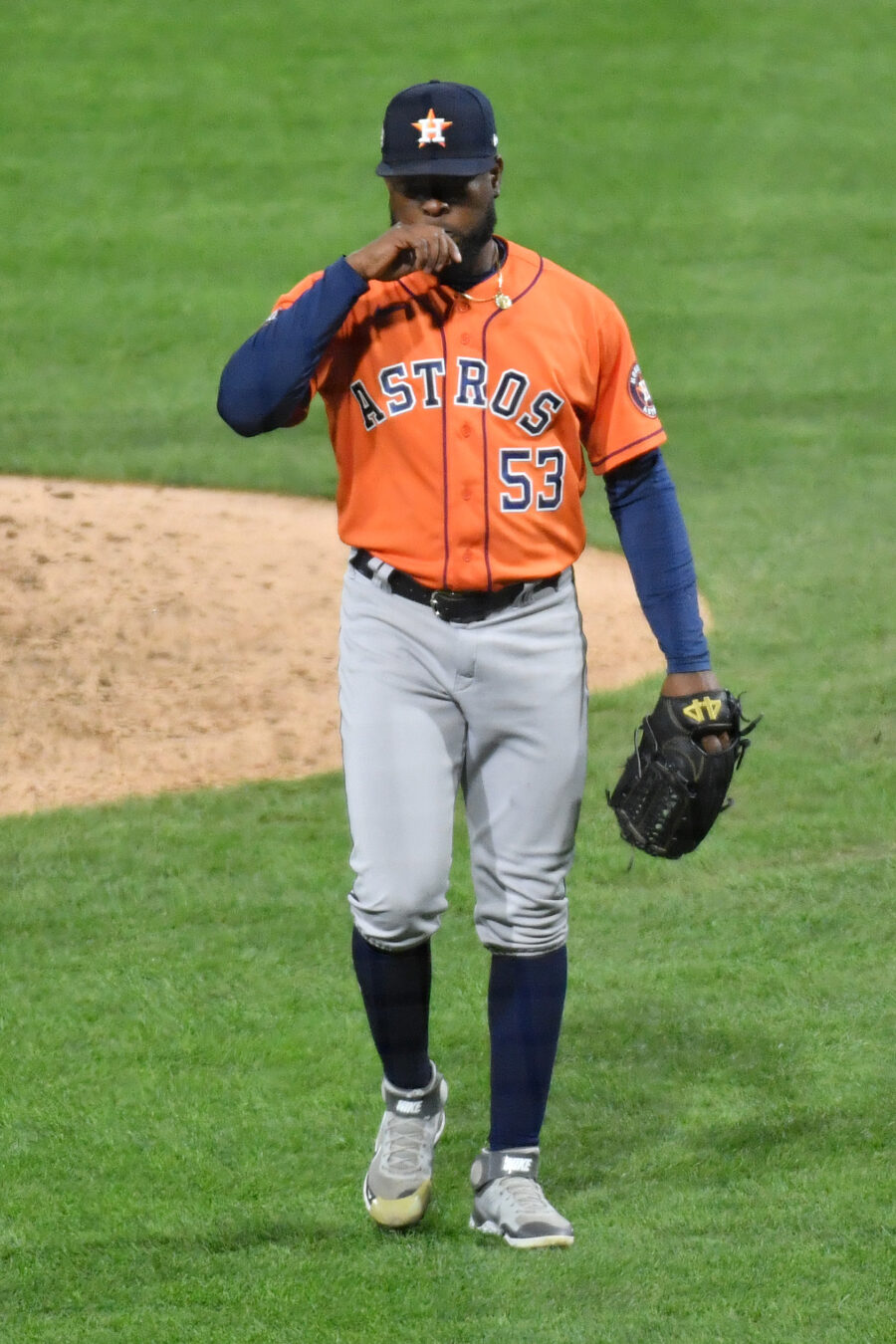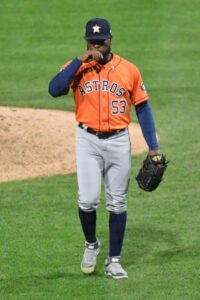 It was a promising rookie showing in which Javier started 10 of his first 12 outings. He started the first nine appearances of the following season but was kicked to the bullpen in late May thanks to the Astros' starting pitching surplus. Javier thrived in relief, striking out 31.3% of opponents with a 3.93 ERA as a multi-inning weapon. That affirmed his ability to perform at a high-end level over a full season and put him in the mix for a potential return to the rotation.
That transition back to starting came last April. After three relief outings to open the year, Javier was moved back into the rotation as part of a six-man starting staff. He improved upon his strong first couple seasons, totaling 148 2/3 innings of 2.54 ERA ball. He fanned 33.2% of opposing hitters while generating swinging strikes on an excellent 13.8% of his overall offerings. Among 72 pitchers with 140+ innings, only Carlos Rodón and Shohei Ohtani racked up strikeouts more efficiently. Javier's per-pitch whiff rate checked in 11th among that group.
Javier now carries a 3.05 ERA with a 30.9% strikeout percentage through 304 1/3 career innings of regular season action. That production was certainly eye-opening on its own, though he perhaps firmly put himself on the national radar last fall. Entrusted with a start in Game Four of the World Series with his club down 2-1, Javier outpitched Aaron Nola with six innings of no-hit ball and nine strikeouts. A trio of relievers closed out the second no-hitter in World Series history and evened a series which Houston would go on to take in six games.
Obviously, Houston's long-term belief in Javier goes well beyond that one performance. He's among the game's best young pitchers at missing bats. That's been particularly true against right-handed batters, who have struck out in 36.6% of plate appearances while hitting .143/.231/.304 against him over his MLB career. Lefties have had a little more success, working walks at an 11.1% clip with a .212/.307/.369 line, but haven't fared particularly well themselves.
The free passes against southpaws hint at fine but unexceptional control. Javier has walked 10.1% of opponents in his career and handed out free passes at a slightly higher than average 8.9% clip last season. He's not a pinpoint control artist but has thrown more than enough strikes considering his ability to miss bats. He's also one of the sport's more extreme fly-ball pitchers. That led to some home runs issues early in his career but wasn't a problem in 2022, when he allowed just over one longball per nine innings. That was on the strength of a minuscule 9.1% HR/FB rate he's not likely to sustain, and homer issues could be at least a modest concern moving forward.
Even if Javier doesn't replicate a 2.54 ERA annually, his first couple seasons demonstrate he's capable of keeping runs off the board with a few round-trippers mixed in. The Astros now have Javier and Lance McCullers Jr. signed for the extended future (McCullers through 2026, Javier through '27). Framber Valdez is arbitration-eligible through 2025, as is José Urquidy. Luis Garcia has yet to reach arbitration and won't hit free agency until following the 2026 campaign. Top prospect Hunter Brown, meanwhile, just reached the majors late last year and is controllable until at least the 2028-29 offseason.
That controllable rotation should position the Astros to stretch their run of success well into the decade. It's possible more deals are coming, as the new GM has already gone on record about a desire to lock up multiple key players on long-term extensions. That has been an organizational emphasis for the Braves, in whose front office Brown worked before landing the Houston GM job two weeks ago. It hasn't taken long for him to bring that philosophy to Houston, and while Brown candidly implied yesterday that a Javier deal was likely to be the first one coming, it's hard to imagine it'll be the last one that gets done.
Former GM James Click had already extended Yordan Alvarez through 2028 last summer. Star outfielder Kyle Tucker (arb-eligible through 2025) and infielders Alex Bregman and Jose Altuve (both under contract for two more seasons) are among the other players whom Brown has expressed a desire to keep around.
The Javier deal won't have a huge impact on the club's 2023 payroll. He and the team had been slated to go to an arbitration hearing that would've seen him earn either $3MM or $3.5MM for this season. Factoring in the signing bonus adds $1.5MM – $2MM to the club's ledger this year. Houston's payroll now sits around $193MM, as calculated by Roster Resource. That's above last year's estimated $174MM season0opening mark but not a dramatic spike for a franchise coming off a World Series win.
The extension has a more notable impact on the club's luxury tax calculation. A deal's average annual value counts against a team's CBT ledger. Javier's now at $12.8MM from a CBT perspective, bringing Houston's projected tax number around $218MM. That leaves them about $15MM shy of the $233MM base threshold.
The following $7MM and $10MM salaries reflect reasonable enough assumptions about how Javier's payments might have escalated over his final two arbitration seasons. Houston's $21MM annual payments for his two would-be free agent years, however, mark a step up in this service bracket. Marlins ace Sandy Alcantara signed a five-year extension that guaranteed $56MM last winter, the largest deal ever for a pitcher with between three and fours year of service. That was before Alcantara exploded for a Cy Young-winning 2022 season but he was coming off a 3.19 ERA showing over 205 2/3 innings and had twice topped 30 starts in a season.
That Javier broke the record for his service group is impressive enough, though his camp's stronger victory on the deal was in the absence of any club options at contract's end. Alcantara's extension came with a $21MM team option for a sixth season. Carlos Martínez, who had the second-largest guarantee among starters in the service class at $51MM, surrendered two team options. Nola agreed to one option in his $45MM deal over the 2018-19 offseason.
Javier didn't need to do so. He secures his first life-changing guarantee and set the record for pitchers in the service bracket while still remaining in strong position for a strong free agent deal down the line. Javier is scheduled to hit free agency after his age-30 campaign, when a six-plus year contract would be on the table if he continues to perform as a borderline top-of-the-rotation starter.
The Astros don't secure the extent of the long-term upside that's typically present on extensions of this nature. They do tack on two more years of Javier's services and the $21MM annual salary would be below his free agent market value if he stays healthy and performs at the level he has to this point in his career. Houston has arguably the sport's best roster already and has taken another step towards extending that window with core players. Given the aggressiveness with which their new GM hammered out his first significant deal, it wouldn't be a surprise if there were more on the horizon.
Chandler Rome of the Houston Chronicle first reported Javier was guaranteed $64MM, including a $2MM signing bonus, and that the deal didn't contain any option years. Jeff Passan of ESPN reported the yearly salary breakdown. Robert Murray of FanSided reported the presence of awards bonuses and escalators, with the Associated Press providing specifics on the bonus structure.
Image courtesy of USA Today Sports.