3:30pm: The Guardians and Rays have both formally announced the trade. It's a straight one-for-one swap.
2:33pm: The Rays and Guardians are in agreement on a trade sending right-hander Aaron Civale from Cleveland to Tampa Bay, reports Marc Topkin of the Tampa Bay Times. Top first base prospect Kyle Manzardo is headed back to Cleveland in the deal.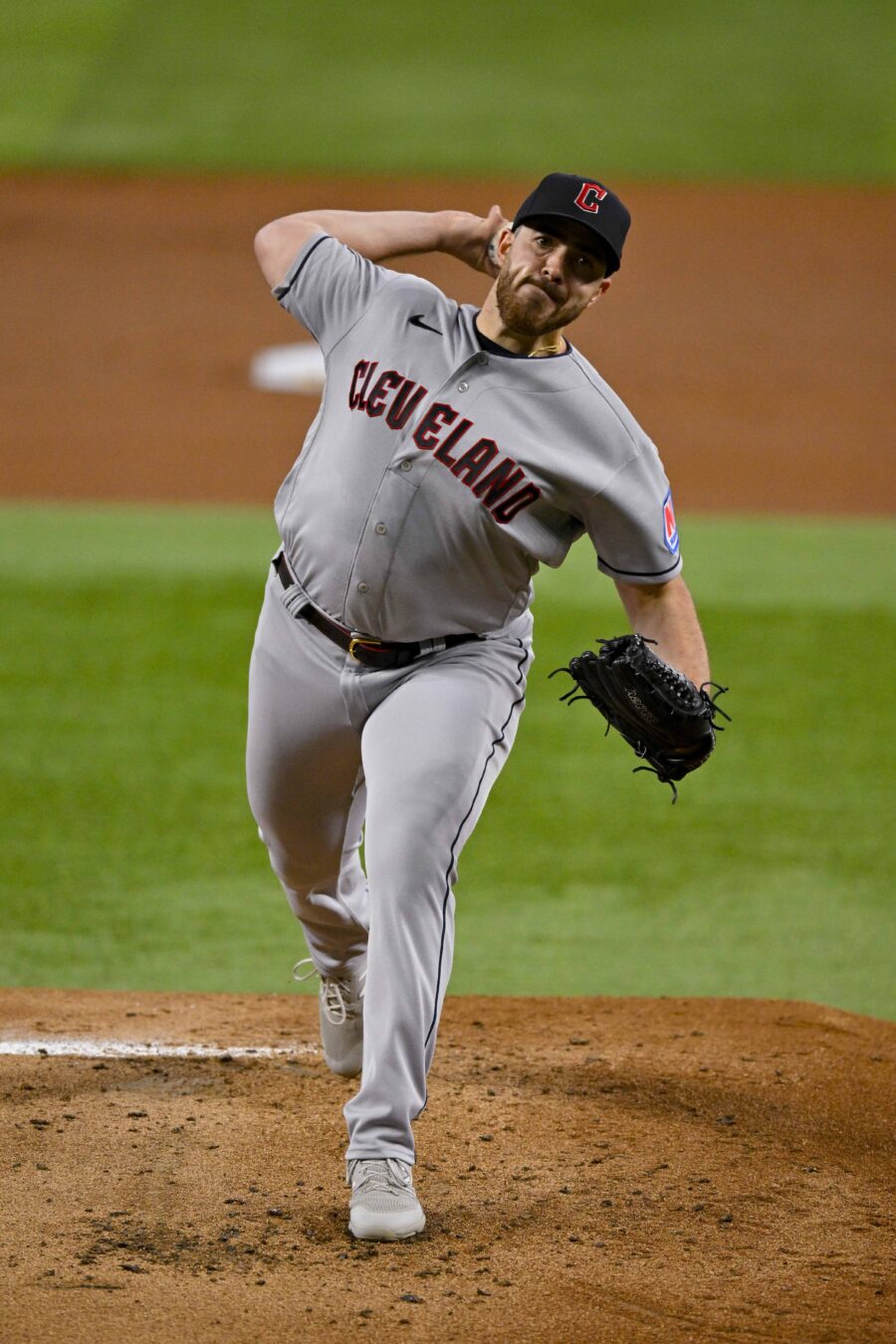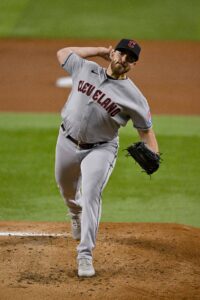 Civale, 28, is in the midst of a fine season and earning just $2.6MM with another two years of club control remaining beyond the 2023 season. The Guardians have been mulling the idea of shopping him, given their need for offense, their rich stockpile of pitching talent, and the general demand for rotation help throughout the league.
The Rays, needing rotation help with Jeffrey Springs and Drew Rasmussen falling to season-ending injuries — Tommy John surgery and flexor surgery, respectively — have been in the market for rotation help throughout the month. They previously had interest in Jordan Montgomery before his trade to the Rangers and in Cubs righty Marcus Stroman before Chicago won eight straight games and went from expected seller to potential buyer.
Civale will fill that need for the Rays, stepping into the rotation alongside Shane McClanahan, Tyler Glasnow, Zach Eflin and Taj Bradley. The Rays have been regularly deploying bullpen games and using openers since Springs and Rasmussen went down, but Civale will give them a conventional — and quite strong — five-man rotation moving forward. He's sitting on a 2.34 ERA in 77 innings this season, and while the right-hander's below-average 19% strikeout rate, tiny .242 average on balls in play and huge 82.7% strand rate all make that ERA seem bound for some regression, he's nonetheless a solid big league starter.
In 433 career innings, Civale touts a 3.77 ERA, 21.1% strikeout rate, 6.1% walk rate and 42.4% ground-ball rate. While he doesn't throw hard, averaging just 91.8 mph on his heater, Civale has long boasted excellent command, limited hard contact well enough and posted enough swinging-strikes with his versatile repertoire to find plenty of success. He uses a cutter as his primary fastball but also has a traditional four-seamer and a sinker in his quiver.
Civale's go-to breaking pitch has been a curveball that has graded as an excellent offering throughout his career. Opponents have batted just .182/.215/.299 in the 358 times the right-hander has finished off a plate appearance with that pitch — including a .186/.205/.302 showing in 2023. A hefty 36.3% of those plate appearances have yielded a strikeout.  Civale will throw very occasional sliders and changeups as well, but his curve functions as far and away his most frequent offspeed/breaking offering.
Civale is a clear upgrade to the Rays' staff and could help them through the 2025 season, but he's not without his own red flags and durability concerns. He's avoided major injury and hasn't had any surgeries, but Civale has never topped the 164 2/3 innings he pitched in the minors back in 2017 — his first full season as a professional. Since that time, he's been on the injured list (minors and majors alike) with a litany of issues, including a lat strain, shoulder tightness, a wrist sprain, a finger sprain, forearm inflammation and an oblique strain (earlier this season).
There's little doubting that he's a quality performer when healthy, but Civale has only reached 100 innings in one Major League season and has only twice reached 20 starts. On the other hand, Civale's frequent trips to the injured list have stunted his earning power in arbitration. He's earning just $2.6MM this season, and his subsequent pair of arbitration raises will be based off that sum, which should tamp down his earnings a bit further (at least relative to other starters throughout the game).
In exchange for those two and a half seasons of affordable control, the Rays will  part with one of the top bats in their system. Manzardo, 23, was Tampa Bay's second-round pick in 2021 and quickly hit his way onto top-100 prospect rankings throughout the sport. He's had a rough go in his first run at Triple-A as a 22-year-old, hitting just .238/.342/.442 with 11 homers in 313 plate appearances. Manzardo is walking at a huge 13.4% clip, however, and has a lower-than-average 20.8% strikeout rate despite facing older and more experienced competition. He's also just one season removed from hitting a combined .327/.426/.617 with nearly as many walks (59) as strikeouts (65) between High-A and Double-A.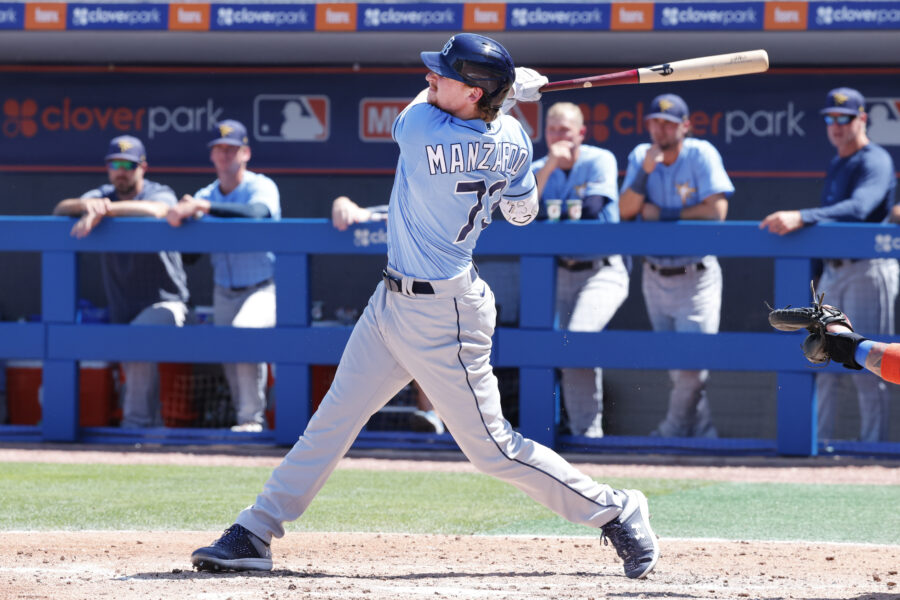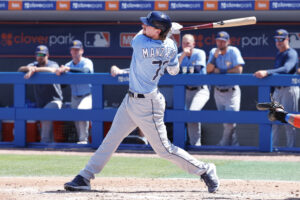 Manzardo entered the season as a consensus top-100 prospect, and even with a lackluster showing in Triple-A so far he's still quite highly touted. He ranks as the game's No. 31 prospect at FanGraphs, No. 37 prospect at MLB.com and No. 69 at Baseball America on each publications midseason, post-draft rankings. FanGraphs' Eric Longenhagen writes in his scouting report that "every aspect" of Manzardo's profile at the plate is plus, with the exception of his raw power, which is closer to average. He's lauded for keen strike zone knowledge, consistent hard contact, an all-fields approach, his bat control and a potentially plus-plus hit tool that should allow him to hit for a high average with high-end on-base percentages.
It's not yet clear when Manzardo will get his first big league opportunity, but it won't be immediately. He's been on the minor league injured list since early this month with a shoulder issue, though Cleveland clearly doesn't believe it to be a major concern. He'll be a candidate for a call-up late in the season and certainly will have a chance to break the Opening Day roster for the Guardians in 2024.
Since Cleveland isn't getting an immediate big leaguer in return, there's little doubting that this move hurts their chances of squeaking out a postseason berth in 2023. The American League Central has been the game's most feeble division all year, and Cleveland made this trade of one of its best starters despite the fact that Shane Bieber was recently placed on the 60-day injured list and despite the fact that the Guards are only a half-game behind the Twins in the standings. That speaks volumes about how the front office views the club's chances of faring in a potential postseason series even if they'd managed to overtake a middling and de facto first-place Twins club.
With Civale out of the picture, the Guardians' rotation will consist of Noah Syndergaard and rookies Tanner Bibee, Gavin Williams and Logan Allen. The latter trio has all found immediate success in the Majors, and each is generally living up to his own top prospect billing. The hope for Cleveland will be that righty Cal Quantrill can return from his current bout of shoulder inflammation sooner than later. Both Bieber and right-hander Triston McKenzie are on the 60-day IL and aren't expected back anytime soon. Depth options in Triple-A include Cody Morris, Joey Cantillo, Hunter Gaddis and Chris Vallimont — all of whom are on the 40-man roster.
The acquisition of Manzardo also has some implications for breakout Guardians star Josh Naylor, who's turned in an excellent .308/.347/.504 slash and 15 homers this year. Naylor has spent the bulk of his time at first base, but he could well be pushed to an outfield corner whenever Manzardo is called up for his debut. Manzardo is widely regarded as a first-base-only prospect, whereas Naylor has his share of experience in the outfield. It's possible the two could eventually split the first base and designated hitter duties, but Cleveland also has veteran Josh Bell currently playing on a two-year deal. Bell can turn down a player option for 2024 and return to free agency this winter, but his underwhelming .233/.319/.385 slash makes that feel rather unlikely.
Positional alignment to the side, the Guardians have clearly been focused on adding a controllable bat to their system for some time now, just as the Rays have been looking for some quality, affordable innings to round out the rotation behind a strong quartet. In that sense, today's one-for-one swap fills a goal for both parties and allows each to deal from a position of depth in order to satiate that need. The Rays get the more immediate boost to their roster, but the hope among Cleveland brass is surely that Manzardo will be holding down a key spot in the lineup long after Civale would've otherwise reached free agency in the 2025-26 offseason.