The Reds are MLB's most surprising first-place team heading into the All-Star Break. Cincinnati is nine games above .500 and a game clear of the Brewers in the NL Central. They're 24-12 since the start of June, largely thanks to an influx of rookie talent.
Elly De La Cruz and Matt McLain have gotten plenty of attention, while Andrew Abbott has quickly ascended to the role of staff ace with Nick Lodolo and Hunter Greene injured. Their midseason promotions have deservedly come with plenty of fanfare. They're not the only rookies in Cincinnati having quality seasons, though.
Spencer Steer, acquired from the Twins alongside Christian Encarnacion-Strand for Tyler Mahle at last summer's deadline, first reached the majors in September. While he struggled in that 28-game cameo, the Reds made clear Steer would get a chance to play regularly out of the gate. Cincinnati released Mike Moustakas in January and made Steer their Opening Day third baseman.
The 25-year-old wasn't long for the hot corner. By the end of April, the Reds had kicked him across the diamond to first base. That put a lot of pressure on the former third-round pick to produce offensively. He's done just that, finishing the year's unofficial first half with a .277/.367/.477 batting line over 376 plate appearances. The right-handed hitter has connected on 14 home runs, walked at an excellent 11.2% rate, and kept his strikeouts to a modest 18.9% clip.
Steer has demonstrated a well-rounded offensive profile. He rarely chases pitches outside the strike zone. He's making contact at an above-average rate. When he puts the bat on the ball, he tends to make solid contact. Just over 40% of Steer's batted balls have been hit hard (an exit velocity of 95 MPH or greater), a mark that's a couple percentage points above league average.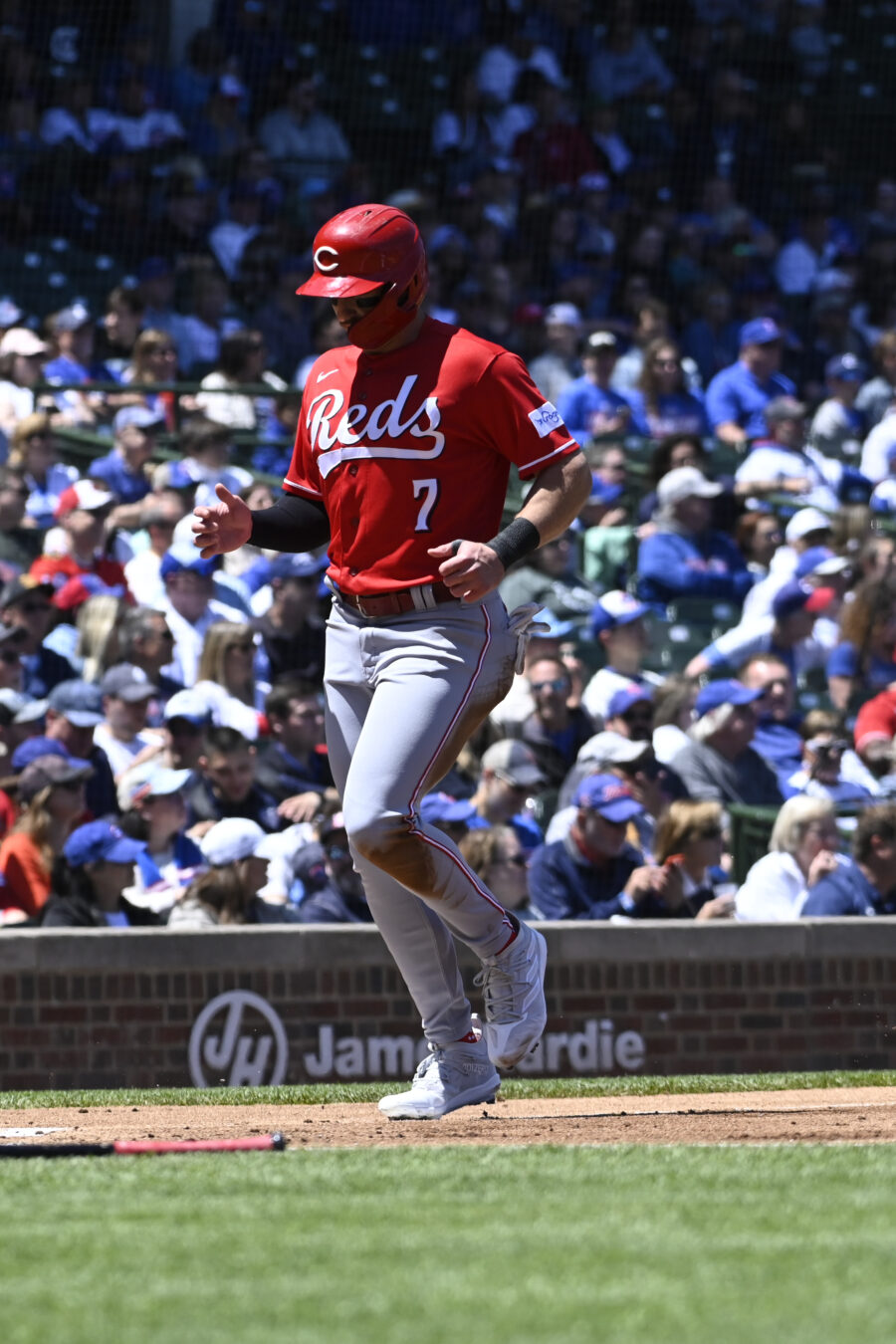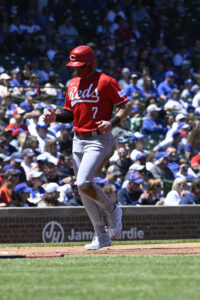 Prospect evaluators have generally suggested Steer's raw power potential is fringe-average. That's atypical for a first baseman, but he's shown just enough pop and a knack for getting the ball in the air. Steer hits a number of fly-balls, and while they're not hit with overwhelming power — his 92.2 MPH average exit velocity on fly-balls is exactly league average — it has been sufficient. That's particularly true at Cincinnati's hitter-friendly Great American Ball Park; Steer is slugging .497 with a .204 ISO at home and .461 with a .197 ISO on the road.
That production has been enough to solidify Steer as an everyday presence in David Bell's lineup. That came mostly at first base in the early summer. He's seen a little more left field time of late with Joey Votto now healthy. His initial third base position has essentially become De La Cruz's domain.
Coincidentally, Steer's excellent start has probably held off Encarnacion-Strand's debut. The latter is mashing at a .321/.392/.620 clip with 20 homers in 65 games for Triple-A Louisville. He's done nothing but rake since joining the professional ranks as a fourth-round pick in 2021. On many clubs, Encarnacion-Strand would already be in the majors.
There simply hasn't been room in Cincinnati. The Reds aren't going to call up the 23-year-old corner infielder to serve as a bench bat. Votto has been great since returning from the injured list. De La Cruz is entrenched at hot corner with McLain at shortstop. Steer's presence in the first base/corner outfield/designated hitter mix means there aren't many at-bats to go around, barring injury.
That's a nice short-term "problem" to have. Encarnacion-Strand figures to get a crack before too long as injuries necessitate. From a broader perspective, the Mahle trade added a pair of promising infielders to the upper levels of the Cincinnati organization. It looks like a massive coup for the Reds.
Unfortunately for Minnesota, they got very little out of the deal. Injuries kept Mahle to just four starts down the stretch last season. He started five games this year before a May Tommy John surgery ended his season and likely his time as a Twin. The right-hander is headed to free agency and could look for a buy-low two-year deal to finish his rehab with an eye towards a late-2024 return and full '25 season.
Cincinnati controls Steer through the 2028 campaign. He won't reach arbitration until after the '25 season. Encarnacion-Strand is controllable through at least 2029, depending on the time of his MLB promotion and whether he's subsequently optioned back to the minors. Left-hander Steve Hajjar, the third piece in the Mahle trade, has already been flipped to the Guardians as one of two minor leaguers for outfielder Will Benson.
With Steer contributing at the big league level, the Mahle swap has already helped the Reds emerge as playoff contenders quicker than most had anticipated. They can take the opposite approach to this summer's deadline, likely by acquiring pitching help.
Image courtesy of USA Today Sports.