Entering the season, the outfield was an area of some uncertainty on an excellent Houston roster. Kyle Tucker is an established star in right field. The other two positions were more questionable. Before Opening Day, Houston brass has suggested they planned to divide left field and designated hitter reps between Yordan Alvarez and Michael Brantley. As it has been for a couple seasons, center field looked to involve a battle for playing time between Chas McCormick and Jake Meyers.
Brantley's recovery from last summer's shoulder surgery hasn't been as smooth as hoped. The five-time All-Star began the season on the injured list, leaving rookie Corey Julks to assume the LF/DH hybrid role alongside Alvarez. Julks has had some good stretches of play but been equally prone to extended slumps. He owns a .245/.299/.353 line in his first 86 big league contests and is currently in Triple-A.
Various setbacks have continued to keep Brantley out of action all season. When Alvarez suffered an oblique strain in mid-June — an injury that'd cost him six weeks — it looked as if the outfield and/or DH could be a problem. Not only has that not been the case, Houston's outfield has thrived.
Since Alvarez first went on the IL on June 9, Houston outfielders are hitting .281/.370/.504 in 745 trips to the plate. They trail only the Braves' group in on-base percentage and slugging. They're third in on-base and sixth in slugging if one also includes DH production (where Alvarez would obviously have seen some time had he been healthy for that entire stretch).
In large part, that's thanks to Tucker. He'll find his name on MVP ballots for a third consecutive season. The star right fielder has raked at a .323/.410/.610 clip over that stretch and is hitting .297/.377/.526 overall. Alvarez has picked up where he'd left off since returning on July 26, putting up a .282/.378/.521 mark in 19 games.
It isn't just the established superstars though. McCormick was a quietly productive player over his first two big league seasons and has found a new gear in 2023. Over 313 plate appearances, he owns a .288/.378/.539 batting line. Of the 215 hitters with 300+ trips to the plate, McCormick ranks 18th in OBP and 12th in slugging. He has been on a particular tear of late, with a .317/.410/.593 slash since June 9.
McCormick's strikeout and walk rates aren't much different from his prior two seasons. His average exit velocity and hard contact percentage haven't changed and he's unlikely to maintain a .363 average on balls in play. Yet his uptick in production isn't entirely about batted ball fortune. McCormick is hitting for more power than he did in his first two seasons, at least in part reflecting a conscious change in his offensive approach.
Eno Sarris of the Athletic recently chatted with the right-handed hitter about a mechanical tweak he'd made to become more upright in his stance. The goal was to open his front shoulder slightly in order to allow him to become more pull-oriented. McCormick has always had raw power, but an extreme opposite-field approach muted some of that production. Pulled fly balls clear the fence at a much higher rate than flies to center or the opposite field. Few hitters pulled the ball in the air less often than McCormick between 2021-22. That didn't stop him from being a good player, but it left some power potential on the table (particularly with the Crawford boxes only 315 feet down the left field line in Houston).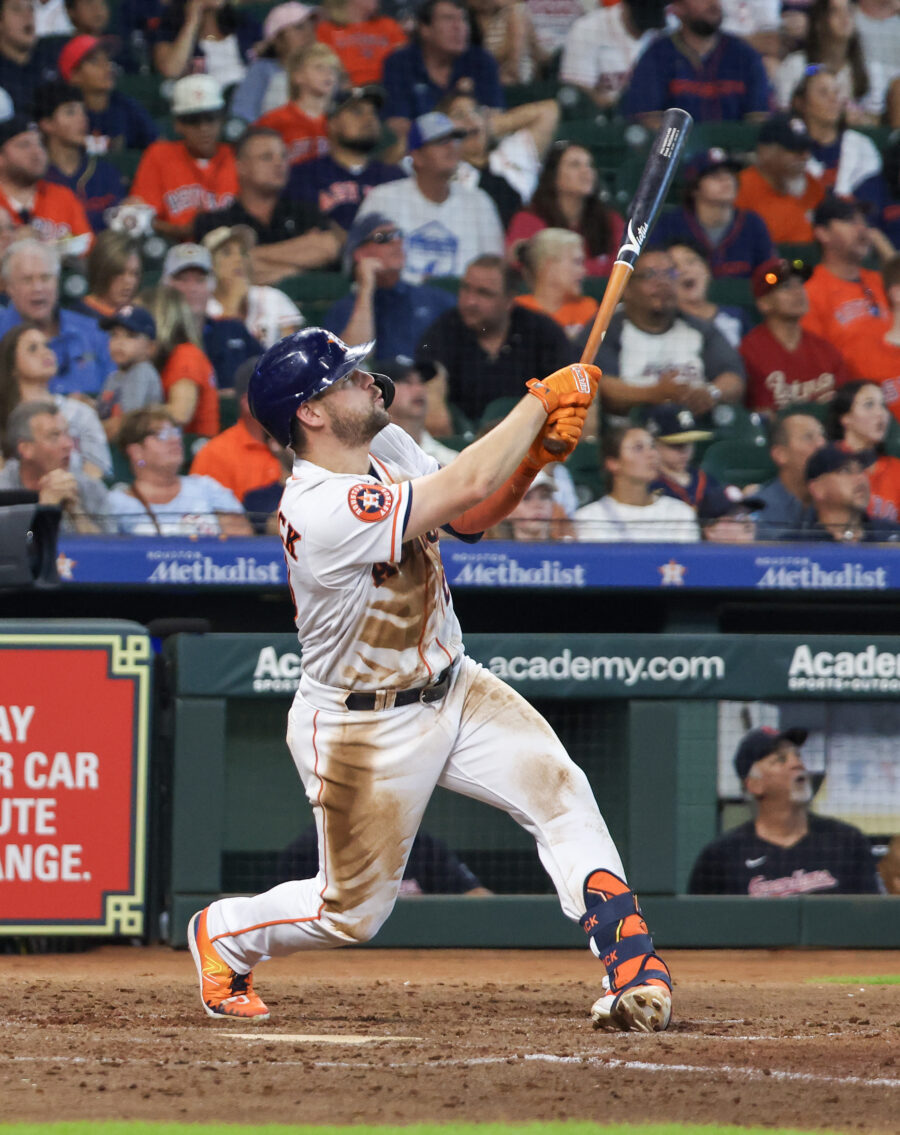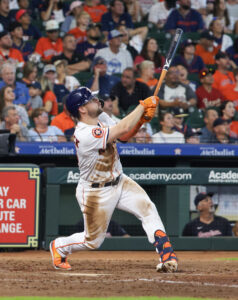 The change certainly seems to be paying off. His rate of pulled fly balls this season is nearly twice that of the previous two years. While he's not hitting the ball harder overall, his average exit velocity on fly balls specifically is a personal high. The production has followed. Even if his BABIP takes a step back, McCormick should be a better offensive player than he'd been over his first two seasons and certainly looks deserving of everyday playing time.
Lately, that has mostly come in left field. Brantley could soon cut into those corner outfield reps. The veteran began a rehab assignment at Triple-A Sugar Land on Tuesday. Barring another setback, he could rejoin the big league club within the next two weeks. Skipper Dusty Baker will likely carefully monitor Brantley's workload to ease the stress on his shoulder, but a healthy Brantley can be a key table-setter and adds a left-handed bat to a righty-heavy Houston lineup.
McCormick can play center field, so Meyers' playing time might be most adversely impacted by Brantley's expected return. Meyers isn't having a great offensive season, hitting .227/.303/.385 over 304 trips to the plate. He started the year well, but unlike Tucker and McCormick, he has struggled at the dish going back to the beginning of June. Meyers is an excellent defensive center fielder, though. In 710 1/3 innings this season, he has rated between six and eight runs better than average by measure of Defensive Runs Saved and Statcast. (In his career, he's been between 13 and 18 runs above average over 1406 frames.) Plugging Brantley in left, pushing McCormick to center, and moving Meyers to the bench should improve the lineup but will downgrade the defense.
It's an enviable "problem" to have. Potentially juggling four starting-caliber outfielders helps Houston's chances of tracking down their in-state rivals in a closely contested AL West. There's likely to be some degree of concern about Brantley's shoulder holding up down the stretch. Perhaps he or Alvarez could rotate through first base on occasion, at least while José Abreu is out. However Baker manages it, the outfield looks like a strength for the Astros as they enter the home stretch. And, with each of Alvarez (signed through 2028), Tucker (controlled through 2025), McCormick (controlled through 2026) and Meyers (controlled through 2027) standing as long-term pieces, their outfield outlook looks increasingly bright.
Image courtesy of USA Today Sports.