Nationals right-hander Stephen Strasburg plans to retire, per a report from Jesse Dougherty and Barry Svrluga of The Washington Post. A news conference is tentatively scheduled for September 9. He signed a massive seven-year, $245MM contract prior to the 2020 season but has hardly pitched since then due to injuries. The financial specifics of how that contract will be affected by this retirement are not yet known.
The news is, on the one hand, not terribly surprising in light of what has transpired in recent seasons. In the almost four years since the ink dried on that contract, Strasburg has only thrown 31 1/3 total innings. Frequent injuries have repeatedly derailed his attempts to get on the mound, with thoracic outlet syndrome the most significant. But taking a wider view, it's a shocking, sad and far-too-early end to a career that had such tremendous highs.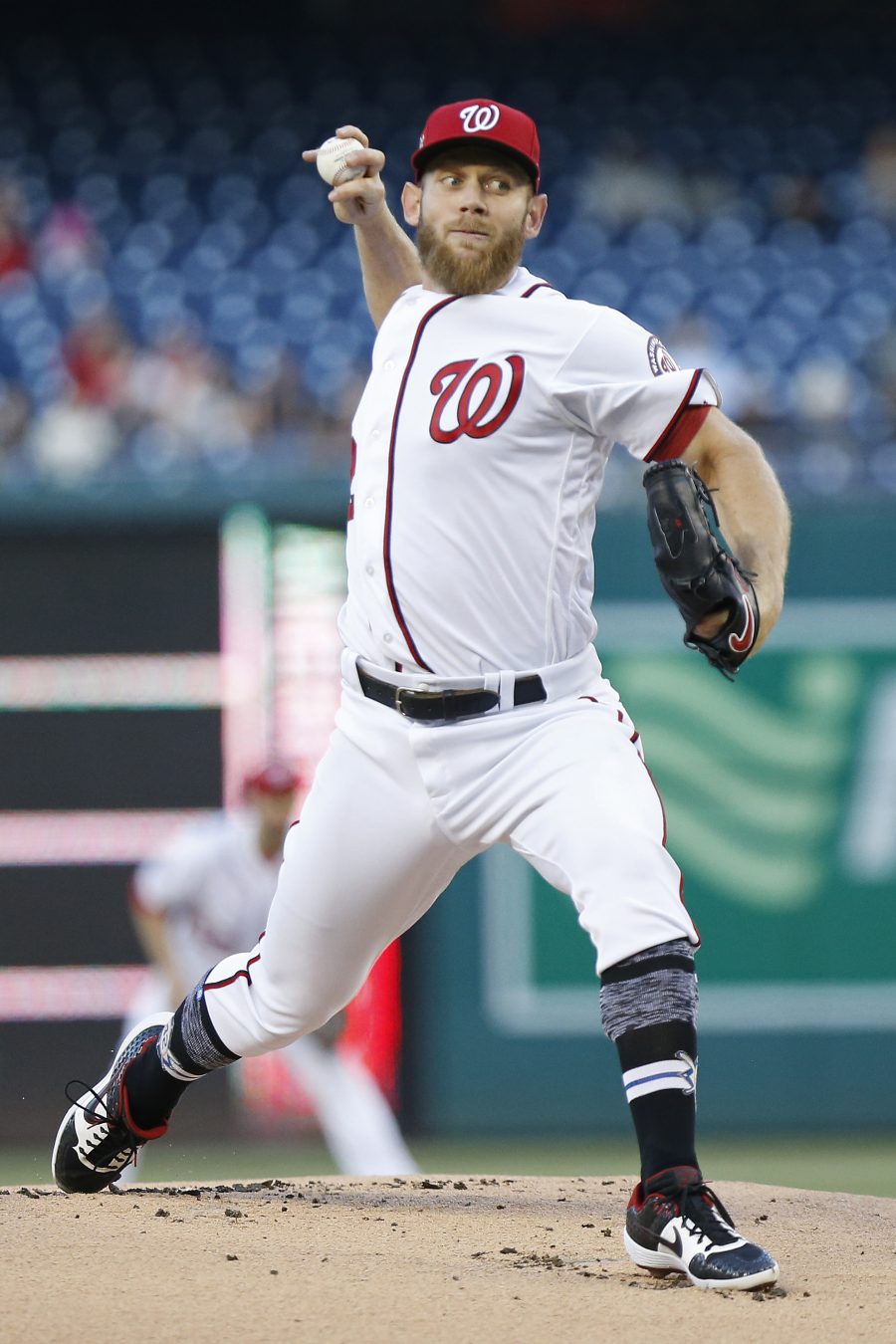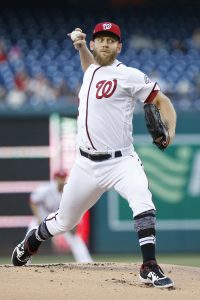 Strasburg, now 35, was one of the most highly-regarded prospects in history based on his work at San Diego State University. As a sophomore in 2008, he posted a 1.58 ERA in 98 1/3 innings and followed that up with a 1.32 ERA in 109 innings as a junior. The Nationals held the first overall pick in the 2009 draft and selected Strasburg, signing him shortly thereafter to a four-year, $15.1MM contract.
Strasburg made his professional debut in the Arizona Fall League that year and went into 2010 as already one of the top prospects in the league. Baseball America ranked him second overall, trailing only Jason Heyward at that time. Their report from that time noted his fastball, which sat in the mid-to-upper 90s and could touch 102 mph. They also highlighted his plus-plus curveball and plus changeup, noting that he had excellent command of all his pitches.
He came into 2010 with the highest of expectations, especially for a franchise that has just moved to Washington from Montreal in 2005 and had performed quite poorly since then. He began that year in Double-A but dominated in five starts with a 1.64 ERA and was in Triple-A by early May. Six starts at that level resulted in an ERA of 1.08 and a promotion to the major leagues by June.
In his much-hyped first major league outing against the Pirates, he tossed seven innings, allowing two earned runs on four hits. He didn't surrender a walk and punched out 14 opponents. He finished his rookie season with a 2.91 ERA in 68 innings, striking out an incredible 33.6% of batters he faced. Unfortunately, the excitement of those results was paired with the news in August that Strasburg would require Tommy John surgery.
Although Strasburg was set to miss most of the 2011 campaign, the positive feeling around the Nationals was starting to build. The club was able to select another franchise-altering player when they got Bryce Harper with the first overall pick in 2010. Subsequent years would see them add other significant young players like Anthony Rendon, selected 11th overall in 2011, and Trea Turner, acquired from the Padres in a 2015 trade.
Strasburg, along with those players and many others, would lead the Nationals out of their years-long rebuild and into a period of prolonged success. The club went 80-81 in 2011 as Strasburg returned from his Tommy John rehab and made five starts late in the year. The club would emerge as a perennial contender from there, making the postseason in 2012 and finishing above .500 in each season for the rest of the decade, with multiple playoff appearances sprinkled in.
That stretch was marked by tremendous work from Strasburg, though also significant injury issues. The 2012 to 2018 period saw him post a 3.19 ERA over 189 starts, striking out 28.8% of batters, walking 6.5% and getting grounders on 45.2% of balls in play. But there were limits to the volume of his workload, most controversially in 2012. His first full season after the Tommy John surgery, he was famously shut down in September. The Nats made the playoffs for the first time since the franchise relocated, but they were eliminated by the Cardinals in the NLDS as Strasburg was left off the roster.
He finished that year with 159 1/3 innings pitched and managed to increase that total over the next two years, getting to 183 in 2013 and then 215 in 2014. He added another five postseason frames in that latter campaign, though the Nats were again eliminated in the NLDS, this time by the Giants. But he struggled to stay at that level of output in the seasons to come. Issues with his shoulder, back and elbow would send him to the injured list at various times, which kept him between 127 1/3 and 175 1/3 innings in each campaign from 2015 to 2018.
But the results were still good, despite the injuries, with Strasurg never finishing any of those seasons with an ERA higher than 3.74. In the midst of that period, May of 2016, he and the Nats agreed to a seven-year, $175MM extension, though one that afforded him opt-out opportunities after 2019 and 2020.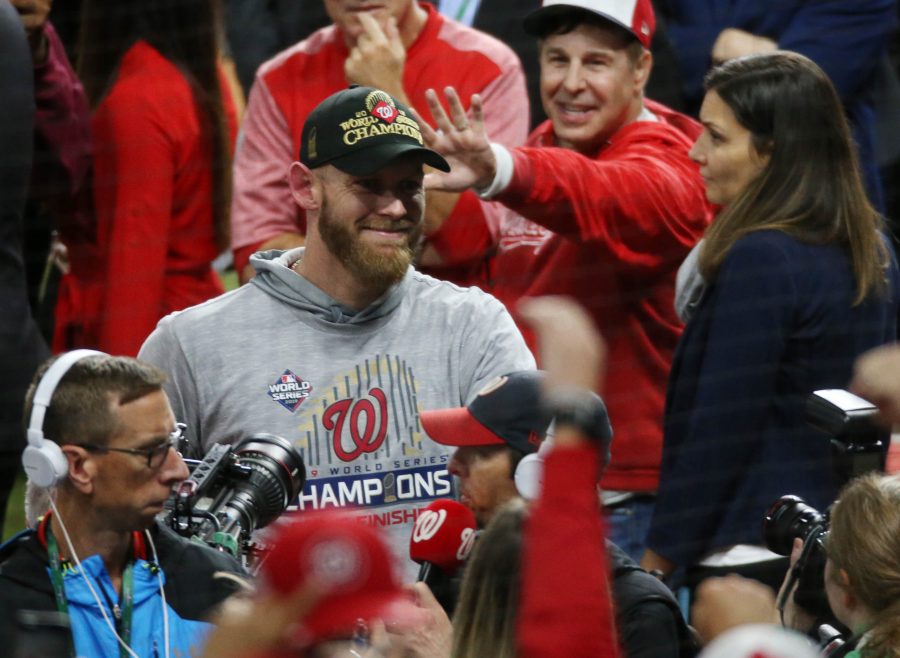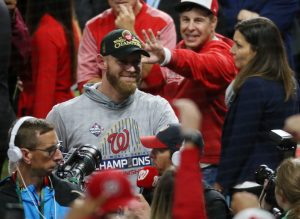 It was in 2019 that everything finally went right, both for him and the club. He stayed healthy all season and logged 209 innings over 33 starts. He registered a 3.32 ERA, 29.8% strikeout rate, 6.7% walk rate and 51.1% ground ball rate. The Nationals as a club got out to a dreadful 19-31 start but rallied over the rest of the season to finish 93-69, securing a spot in the Wild Card game. Max Scherzer started for the Nats against the Brewers, but Strasburg entered the game with the Nats trailing 3-1 after five. He tossed three shutout innings as they took the lead, eventually winning 4-3 as Strasburg went down as the winning pitcher.
From there, the Nats went through the Dodgers, Cardinals and Astros, winning their first World Series title. Strasburg tossed 36 1/3 innings in that postseason with a 1.98 ERA, including two starts in the World Series with a 2.51 ERA, earning MVP of the series in the process.
On the heels of that excellent season, Strasburg triggered his opt-out and signed the aforementioned seven-year, $245MM deal. In 2020, he made just two starts before being diagnosed with carpal tunnel syndrome and undergoing surgery. It was hoped that he would be fully healthy for 2021 but he only made five starts before it was determined he would require thoracic outlet syndrome surgery, a procedure that he was never able to recover from. He made one start in June of 2022, with diminished velocity, before landing right back on the injured list immediately after. Later that year, he expressed his belief that he had been dealing with the thoracic outlet symptoms since 2018.
This year, he tried to start a throwing program in the offseason but continued to experience nerve discomfort. He was shut down from all physical activity and apparently has given up on ever getting things back on track. Today's report indicates that his nerve damage is such that "he has struggled with mundane tasks, such as lifting his young daughters or opening a door with his right hand." A report from Dougherty back in July highlighted that there are two different types of thoracic outlet syndrome. Players like Merrill Kelly have had venous TOS and bounced back whereas Strasburg has neurogenic TOS, which typically is harder to recover from. Though his deal runs through 2026, he and the club have presumably worked out some sort of arrangement for the remainder, the details of which remain unknown at this point.
Thanks in large part to that condition, Strasburg's career will be filed in the brief-but-brilliant category. He appeared in 247 regular season games, throwing 1,470 innings with a 3.24 ERA. He struck out 28.9% of the batters he faced in that time, walked 6.6% of them and kept the ball on the ground at a 45.8% rate. He was selected to three All-Star clubs and won a World Series, earning series MVP honors in the process. MLB Trade Rumors congratulates Strasburg on a fantastic career and wishes him the best in retirement.
Images courtesy of USA Today Sports.