There are myriad reasons for the Dodgers' decade-long run of excellence. They've added elite players via trade (Mookie Betts) and free agency (Freddie Freeman). Their strong player development pipeline has allowed them to consistently supplement their high-payroll, star-laden roster with controllable talent.
As with any good team, the Dodgers have also hit on less visible acquisitions. Jason Heyward has looked reinvigorated after cracking the L.A. roster following an offseason minor league pact. Ryan Brasier and Shelby Miller have turned in solid results in the middle innings since being acquired at little cost. None of those have been as impactful as the August 2021 waiver claim of right-hander Evan Phillips.
Phillips had pitched in parts of four MLB seasons at the time. He'd debuted with the Braves and been included in the 2018 deadline deal that sent Kevin Gausman from the Orioles to Atlanta. Phillips flashed strikeout upside with the O's over the next couple seasons but couldn't consistently throw strikes. At the end of the 2020 campaign, a rebuilding Baltimore team put Phillips on waivers. He went unclaimed.
The reliever stayed in the O's system until the following August. He was carrying an ERA a little above 5.00 in Triple-A when Baltimore released him. The Rays signed Phillips to a minor league deal, called him up for one three-inning outing, then pushed him back off the MLB roster. When he hit waivers for a second time, L.A. claimed him.
It seemed a nondescript move. Phillips had a 7.26 ERA in 49 career appearances. Relievers with swing-and-miss potential but control woes often change hands. Phillips was out of options, meaning he couldn't be sent to the minors without running through waivers. It seemed entirely possible he'd get quickly squeezed out of the Dodger bullpen the way he had been in Tampa Bay.
Phillips threw 10 1/3 unremarkable innings down the stretch. He was left off the playoff roster for the first two rounds before working three scoreless frames in an eventual NLCS loss to the Braves. He held his spot on the 40-man all winter and began last year in middle relief.
It only took a couple months for him to establish himself in a higher-leverage role. Phillips broke out with 63 innings of 1.14 ERA ball, the lowest mark of any reliever with 60+ frames. He struck out nearly a third of opposing hitters while cutting his walks to a lower than average 6.4% rate. While he didn't dramatically increase the number of pitches he threw within the strike zone, he more consistently got hitters to chase pitches off the plate. Hitters' rate of swings on would-be balls went up, while they began taking more pitches within the zone. He was giving opponents a much more uncomfortable at-bat.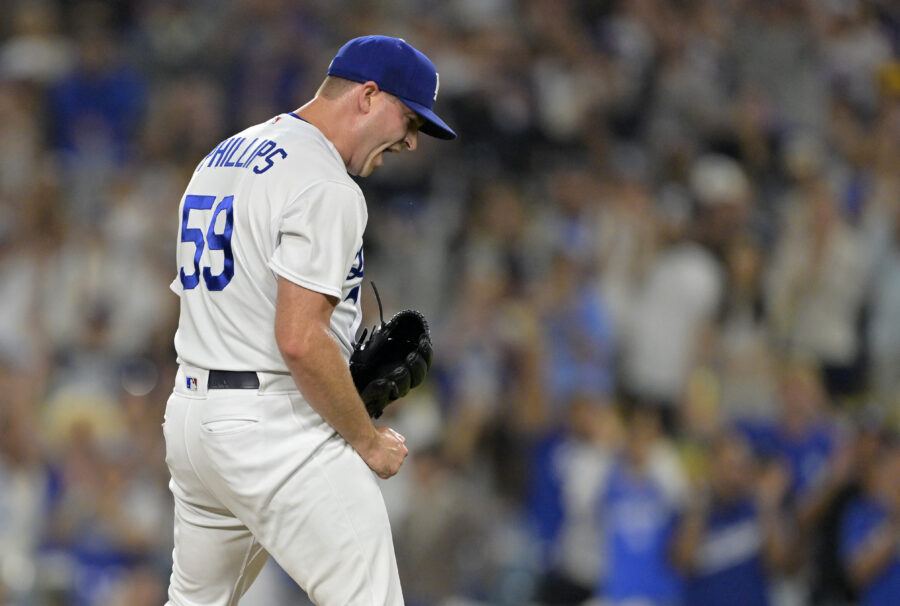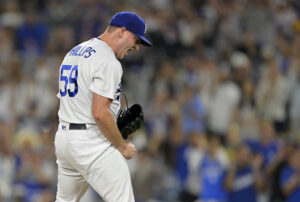 Upon landing with the Dodgers, Phillips made a couple adjustments to his pitch mix. Against right-handed batters, he increasingly leaned on his slider — his best offering — while scaling back on his four-seam fastball. When facing southpaws, he dropped a split in favor of a low-90s cutter. He has dominated hitters of either handedness since that point.
Phillips was never likely to repeat a 1.14 ERA — that's an almost impossible ask of any pitcher — but he has again been one of the game's best relievers. He's allowing only 2.18 earned runs per nine over 53 2/3 frames. His strikeout rate is down slightly but still well above-average at 29.9%. The Dodgers have increasingly used him in the ninth inning, and he's responded with 22 saves (and six holds) while blowing a lead just twice.
Going back to the start of last season, Phillips leads MLB relievers (minimum 100 innings) with a 1.62 ERA. He's 11th among that group in strikeout percentage and eighth in both strikeout/walk rate differential and SIERA. He'll turn 29 on Monday but still has three more seasons of club control via arbitration. Phillips played last year on a near-minimum salary and is making $1.3MM this season as a Super Two qualifier.
The Dodgers will go into the postseason with perhaps their spottiest starting staff in years. Julio Urías is on administrative leave after a felony domestic violence arrest. Clayton Kershaw is pitching through shoulder discomfort. Lance Lynn continues to struggle with home runs. Dustin May and Tony Gonsolin have undergone season-ending surgery. There's a case that rookie Bobby Miller — who has all of 17 major league starts to his name — is L.A.'s most reliable starter at the moment.
That'll very likely increase the pressure on the relief corps in October. The Dodgers have an above-average bullpen, with Brusdar Graterol and Caleb Ferguson joining Brasier, Miller and hopefully deadline acquisition Joe Kelly in bridging the middle innings. Dave Roberts figures to lean most heavily on Phillips, something no one would've projected when the Dodgers placed their claim a little over two years ago.
Image courtesy of USA Today Sports.