After months of speculation, Luke Voit's time with the Yankees organization drew to a close Friday. The Yankees and Padres agreed to a trade sending the slugging first baseman to San Diego in exchange for minor league right-hander Justin Lange, according to announcements from both clubs. The Padres moved right-hander Michel Baez to the 60-day injured list in order to open a spot on the 40-man roster Voit.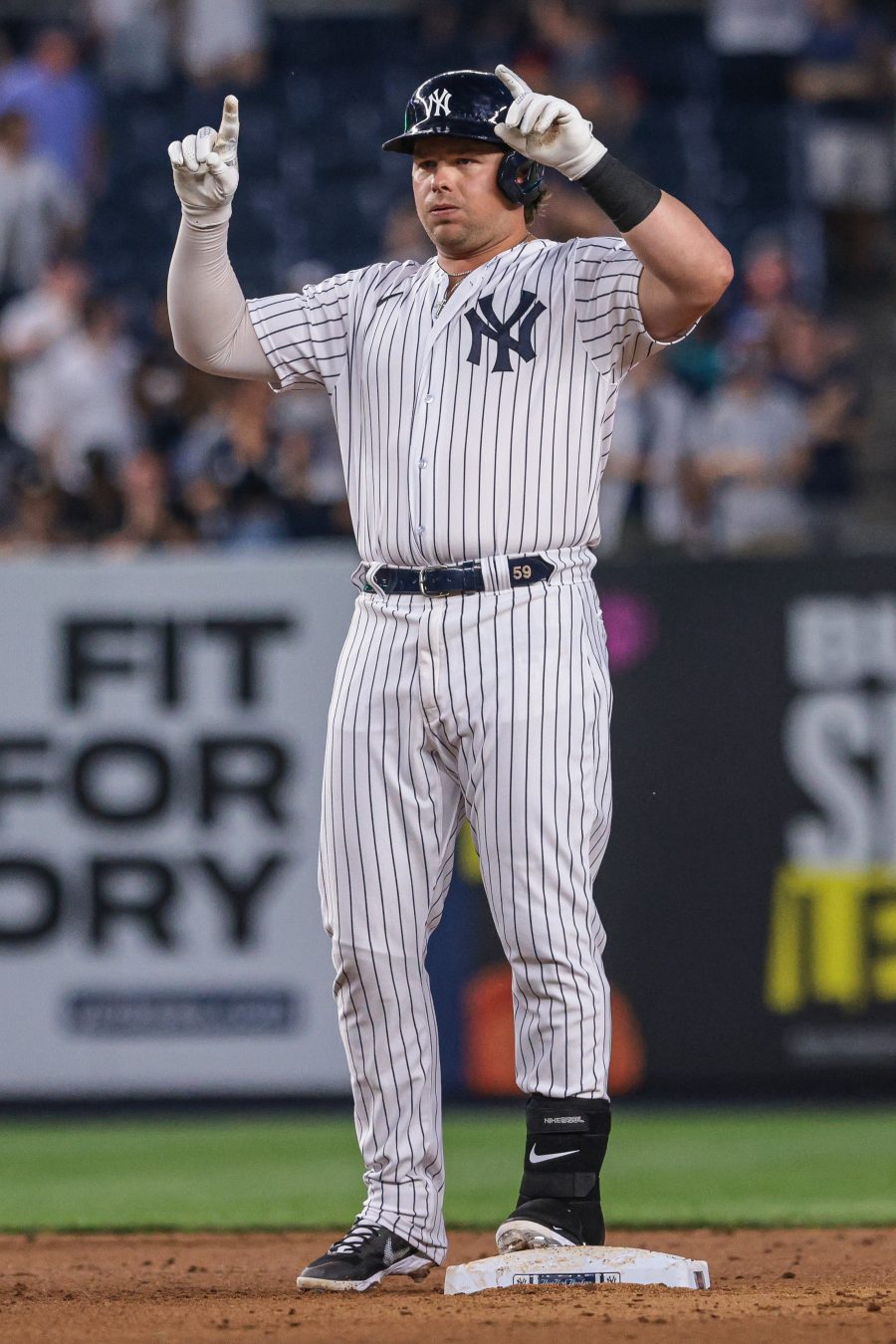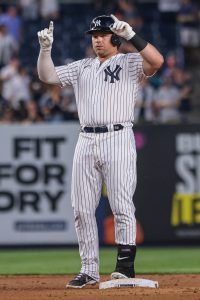 The writing for Voit has been on the wall at least since New York re-signed Anthony Rizzo — and quite arguably longer than that. The Yanks acquired Rizzo last summer while Voit was on the injured list for the third time that year alone, and since the 2021 season ended they've been connected to Rizzo, Freddie Freeman and Matt Olson as they made no secret about pursuing alternative options to the incumbent Voit.
Voit's trade marks the culmination of a swift shift in the organization's stance on him. Just one year ago, Voit was heading into Spring Training as the clear everyday first baseman, having just led the Majors with 22 home runs during the truncated 2020 season. However, a knee injury in camp led to meniscus surgery that kept Voit out of action for the season's first six weeks. Voit returned in early May, but just two weeks later he headed back to the 10-day IL due to an oblique strain. That issue kept Voit out another three-plus weeks, and he lasted only a month before going back on the IL in mid-July due to lingering inflammation in his surgically repaired left knee.
All told, Voit was limited to just 68 games and 211 plate appearances in 2021. When he was on the field, Voit remained somewhat productive, slashing .239/.328/.427 (111 wRC+), but his offensive output was nowhere near its peak levels. Looking beyond leading the Majors in long balls during the brief 2020 season, Voit had raked from the moment the Yankees acquired him from the Cardinals in exchange for relievers Chasen Shreve and Giovanny Gallegos.
Largely blocked from regular playing time in St. Louis, Voit immediately proved to be a hidden gem unearthed by the Yankees. He belted 14 home runs in less than two months down the stretch in 2018, and in 892 trips to the plate as a Yankee from '18-'20, he batted .279/.372/.543 with 57 home runs, 31 doubles, a triple and an 11.5% walk rate against a 26.3% strikeout rate. Even adding in his "down" year this past season, Voit's time with the Yankees will draw to a close with a stout .271/.363/.520 batting line in 1133 plate appearances.
That type of production would be a boost to any lineup, and the Padres in particular could use some thump of that nature at first base and/or designated hitter. San Diego first basemen, led by Eric Hosmer, hit a combined .275/.337/.412. That's not terrible production by any means, but the resulting 106 wRC+ ranked 20th in the Majors. Of more concern was that the Padres, as a team, hit just .241/.324/.380 against left-handed pitching (94 wRC+, 24th in MLB). Voit, a career .264/.344/.516 hitter against left-handed pitching, ought to be particularly helpful with regard to that deficiency — though it's important to note that he shouldn't be regarded as a platoon player. To the contrary, Voit actually has slightly better career numbers against right-handed pitching.
Productive as he's been at the plate throughout his Yankees tenure, Voit is a below-average defender at first base. The Yankees have made improving the defense a clear priority of late, evidenced not only by bringing Rizzo back but also moving Gleyber Torres to second base, acquiring Isiah Kiner-Falefa to take the reins at shortstop and moving Gary Sanchez to the Twins in favor of what currently projects to be a glove-first pairing of Kyle Higashioka and Ben Rortvedt (acquired in that deal with the Twins).
Voit now heads to the Padres not only for the 2022 season but perhaps all the way through 2024. He's still arbitration eligible, projected by MLBTR contributor Matt Swartz to earn $5.4MM in 2022 before earning a pair of raises on top of that sum. It's an eminently reasonable price to pay for a hitter of Voit's caliber, particularly if he can boost his production away from his 2021 output and closer to its 2018-20 levels.
As for the Yankees' return, they'll acquire a 20-year-old righty who can reach triple digits with his fastball but has drawn questions from scouts about his command. The 6'4″, 220-pound Lange was the No. 34 overall pick in the 2020 draft and made his pro debut with the Padres' Rookie-ball club in 2021. There, he pitched 22 innings with a 6.95 ERA, a 28.4% strikeout rate and a bloated 14.7% walk rate. When ranking Lange 13th among San Diego farmhands, The Athletic's Keith Law wrote that the righty has "huge stuff and a workhorse build" but questionable command in addition to a recent knee issue.
Lange adds a power arm to the lower levels of the Yankees' system, albeit a high-risk one who'll be a bit of a project for their development staff. Trading Voit drops the Yankees' projected 2022 payroll a bit south of $240MM, although in terms of luxury-tax obligations, they're still a bit over $253MM, which places them squarely in the new new CBA's second tier of penalization.
Ken Rosenthal of The Athletic first reported the Padres' interest in Voit. MLB Network's Jon Heyman first reported that Voit had been traded to the Padres (Twitter link). Joel Sherman of the New York Post reported the return (Twitter link).