The Padres and Red Sox have announced a trade that will send first baseman Eric Hosmer to the Red Sox along with prospects Corey Rosier and Max Ferguson, as well as cash considerations. In exchange, the Padres will receive pitching prospect Jay Groome. According to Alex Speier of the Boston Globe, the cash considerations are actually about $44MM, with the Padres paying down the remainder of Hosmer's contract, apart from the league minimum.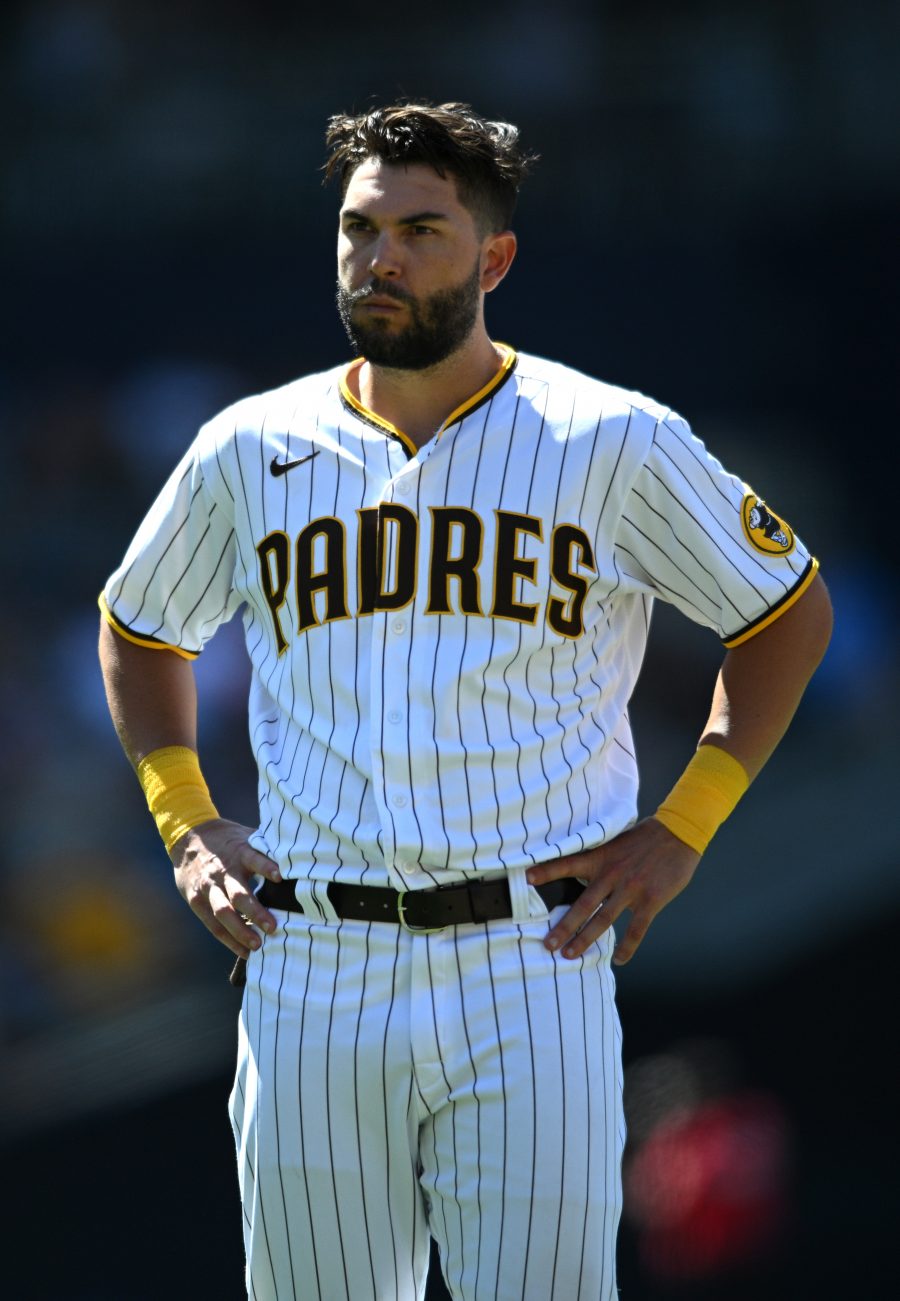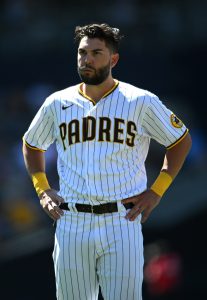 Hosmer previously exercised his partial no-trade clause to veto a deal to the Nationals, temporarily throwing a wrench into the Juan Soto negotiations. The Padres/Nats Soto blockbuster was completed anyhow, sans Hosmer, and Hosmer is now heading to Boston instead.
It's a fairly stunning sequence of events, but the Red Sox will take advantage of San Diego's willingness to pay the freight on Hosmer's underwater contract and take a low-cost look at a former All-Star who'll help solidify a position of need in the lineup. Boston has been pairing Franchy Cordero and Bobby Dalbec at first base for much of the season, often to disastrous results, and Hosmer should shore up some of the miscues that have become common in the Boston infield. Defensive metrics have never agreed with Hosmer's four Gold Glove Awards, but even still, he gives the Sox a more solid option than Cordero, who's made eight errors and been rated five outs below average in just 316 innings (per Statcast) while trying to learn first base on the fly in the Major Leagues.
Bringing Hosmer into the fold in many ways serves as a roadblock to top prospect Triston Casas, though the Sox could certainly have the two split time between first base and designated hitter. It does figure to tamp down rumblings of Rafael Devers eventually moving across the diamond from third base to first base, however, as Hosmer is now penciled in as the primary option at first for the next several seasons.
Hosmer, a former All-Star and 2015 World Series champion, is in the fifth season of an eight-year, $144MM contract signed with the Padres prior to the 2018 season. The deal was near-universally panned at the time of signing and fell into albatross territory almost immediately. Hosmer hit a combined .259/.316/.412 through his first 1344 plate appearances in San Diego — about six percent worse than league-average over that span by measure of wRC+ (which, notably, weights for league context like the juiced-ball season in 2019).
To Hosmer's credit, his offense has improved a bit over the past three seasons. As leaguewide production has trended downward following the 2019 homer boom, Hosmer has maintained a .273/.336/.411 batting line from 2020-22, which clocks in about seven percent better than average.
That's still not what the Friars had in mind when signing him to a frontloaded eight-year deal with an $18MM annual value, of course, and Hosmer's tepid production has pushed the Friars to explore trades for him for more than a year now. In the past, the goal was to find a taker for Hosmer and the bulk of his contract — likely by attaching him to a top prospect — but things have now reached the point where the Padres are simply willing to eat a notable portion of the contract to free up the roster spot for a more productive hitter in Josh Bell, who was acquired alongside Soto.
In order to rid themselves of said albatross, they have parted with Rosier and Ferguson, whom Boston will acquire in exchange for taking Hosmer off the Padres' hands. Rosier, 22, was a 12th round pick in last year's draft. The outfielder had a sparkling debut in A-ball last year, hitting .390/.461/.585 along with 13 steals. This year, moving up to High-A, he's hitting .263/.381/.396 with 33 swipes. Ferguson, 22, is an infielder who was selected in the fifth round last year. He's split his time this year between A-ball and High-A, slashing .221/.365/.358.
While the Padres have long wanted to be rid of Hosmer's contract for financial reasons, it seems they eventually gave up on those dreams, since they are eating effectively all of his contract. The club flirted with the luxury tax line all year, seemingly unwilling to cross it. However, the opportunity to get superstar players like Soto, Bell and Josh Hader seemed to be an opportunity too good to pass up, with the club now certain to pay the luxury tax for a second straight season.
Instead of financial relief, the Padres will receive a former first round pick, as Groome was selected 12th overall by the Red Sox in 2016. Baseball America considered him one of the top 100 prospects in the sport once upon a time, with Groome landing at #43 in 2017 and #83 in 2018. Unfortunately, Tommy John surgery wiped out his 2018 season and limited him to just four innings in 2019. That was followed by the pandemic wiping out the minor league seasons in 2020, meaning Groome hardly pitched at all for three straight seasons. He returned to the mound last year, pitching to a 4.81 ERA between High-A and Double-A. He's shown improved results this year, however, throwing 92 2/3 innings between Double-A and Triple-A with a 3.59 ERA and 24.2% strikeout rate, though a high walk rate of 11.4%. He'll add some pitching depth for the Padres, who just lost MacKenzie Gore in the Soto deal.
Jeff Sanders of the San Diego Union-Tribune first reported that Hosmer was headed to Boston. Ken Rosenthal of The Athletic first noted that Hosmer's no-trade list didn't include the Red Sox. Chris Cotillo of MassLive first reported that this would be a multi-player deal and that Rosier and Ferguson would be included (Twitter links). Robert Murray of FanSided first had Groome's involvement. Alex Speier of the Boston Globe first reported that the Padres are sending about $44MM to the Red Sox.