11:00am: The Yankees have formally announced the trade.
7:55am: Texas is also paying Rodriguez's salary, per Joel Sherman of the New York Post.
July 29, 7:20am: The Rangers are paying all of Gallo's remaining contract, tweets Jim Bowden of The Athletic. MLB.com's Mark Feinsand tweets that Texas will pay "most" of the deal. Either way, the Rangers' inclusion of cash and the Yankees' recent trade of Justin Wilson suggests they're still angling to remain under the luxury tax. Getting financial help from Texas will free them to continue pursuing other additions.
July 28: The Rangers and Yankees are reportedly nearing agreement on a deal that would send Joey Gallo and Joely Rodríguez to the Bronx in exchange for a four-player prospect package. Once finalized, the expectation is that Texas will receive infielders Ezequiel Duran, Josh Smith, Trevor Hauver and right-handed pitcher Glenn Otto in return. (Initial reports had suggested outfielder Everson Pereira and righty Randy Vasquez might also be involved, but the expectation is now that those two players will remain with New York).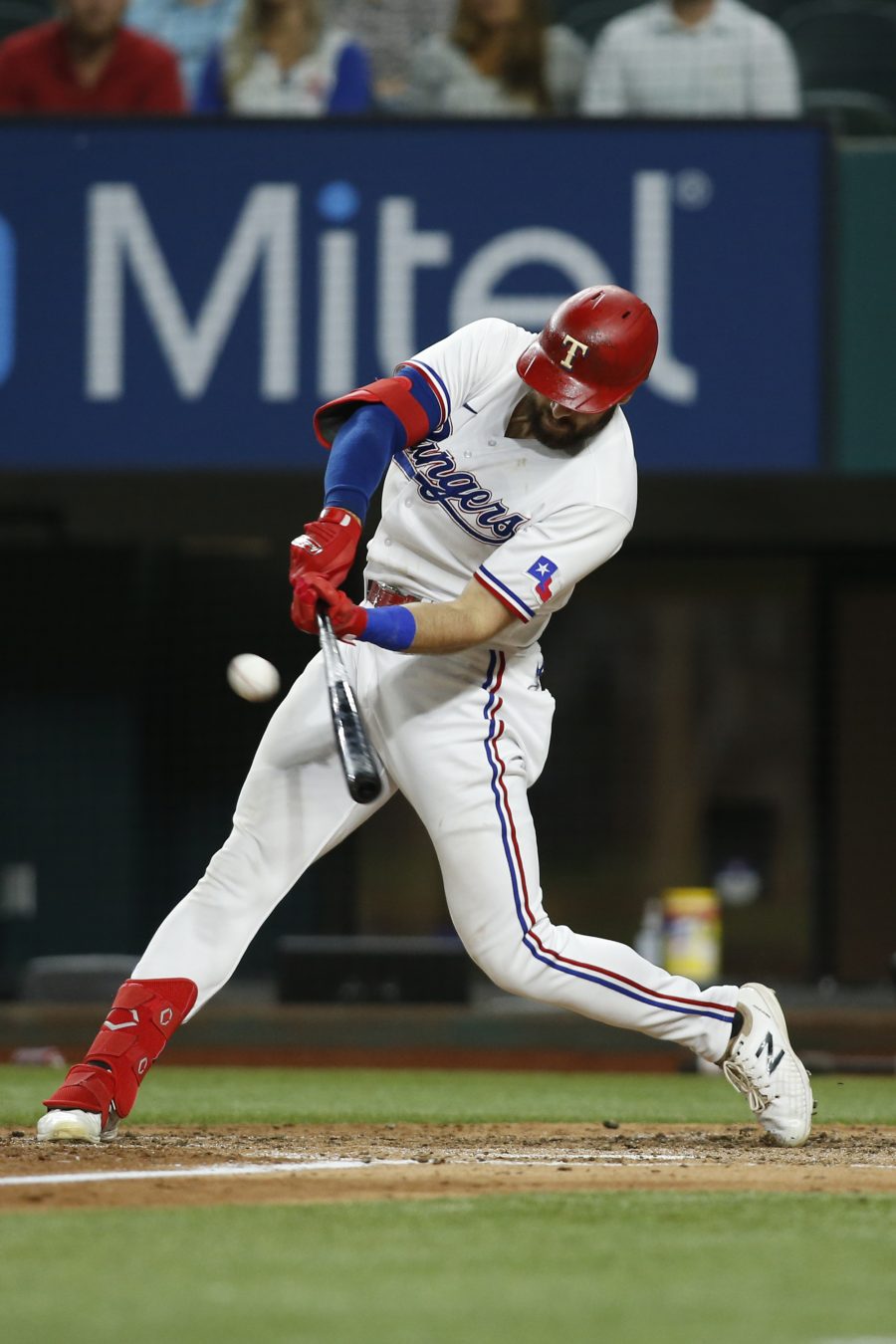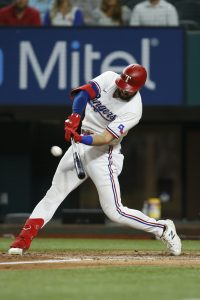 It's a bold strike for the Yankees, who have hovered a bit above .500 for much of the season. New York entered play tonight 8.5 games back of the Red Sox in the American League East and three behind the Athletics for the final Wild Card spot (with the Mariners also ahead of them in the standings). That the Yankees aren't leading the division — as many anticipated they would coming into the year — is largely a reflection of a lineup that has been more decent than great over the course of the season. The front office is looking to remedy that by adding another of the game's most prodigious power bats to an order that already includes Aaron Judge and Giancarlo Stanton.
Gallo deservedly earned his second career All-Star nod this summer amidst a tear between June and July. Overall, he's hitting .223/.379/.490 with 25 home runs across 388 plate appearances. As he has throughout his career, Gallo has been prone to strikeouts and hit for a low batting average, but his power and plate discipline more than offset the swing-and-miss concerns.
The 27-year-old has always been a patient hitter, but he's taken that aspect of his game to new heights in 2021. Gallo's 19.1% walk rate is a career best, and it's the highest such mark of any player with 250+ plate appearances this year. That abundance of free passes has allowed Gallo to reach base far more often than the .320 league average. The 27-year-old's ISO (slugging minus batting average) is a whopping .268, and only five players top his home run total. Altogether, Gallo owns a 140 wRC+, indicating he's been forty percentage points better than average at the plate this season.
Gallo's low-contact, high-power approach resembles those of a lot of hitters in the Yankees lineup. That could lead to some concerns among fans about a lack of stylistic diversity. That said, Gallo's lefty bat helps to balance a lineup that otherwise skews heavily right-handed. And Gallo's production this season has neared or bettered that of anyone already on the New York roster. Only Judge (147) has a higher wRC+ than Gallo among Yankees with at least 100 plate appearances.
Unlike many sluggers, Gallo also offers quite a bit of value on the other side of the ball. Advanced defensive metrics have long pegged him as a plus right fielder, and he won a Gold Glove award last season. He's best suited in the corner outfield, but Gallo also held his own during a run of center field play in 2019, and has plenty of experience at first base as well.
Throughout last offseason and this summer, the Yankees have worked to keep their payroll south of the $210MM luxury tax line. Gallo's playing this season on a $6.2MM salary, about $2.2MM of which remains to be paid. Rodíguez, meanwhile, is making $2.5MM this year — about $900K of which is still owed — and has a $3MM club option for the 2022 campaign. If the Yankees assume the remainder of Gallo's and Rodríguez's salaries, their luxury tax figure would land at approximately $209.4MM, in the estimation of Roster Resource.
Gallo is controllable via arbitration for one additional campaign. He'll pick up a nice raise given how well he's played this season, but his 2022 salary will still be a bargain relative to the caliber of player he is. It's not clear whether the luxury tax will be such a concern for Yankees brass next winter, if they can limbo under the threshold this season and reset their tax payor status. (The current CBA contains escalating penalties for teams exceeding the threshold in multiple consecutive seasons).
For this season, the current luxury tax projections suggest the Yankees have almost no room for further additions unless ownership allows the front office to cross the threshold. That said, it's possible the Yankees explore creative ways to clear funds off the books. New York offloaded the salaries of relievers Luis Cessa and Justin Wilson to the Reds last night, and they could look to make other similar moves before Friday afternoon's trade deadline.
The Cessa/Wilson trade could've also been a precursor to this evening's Rodríguez pickup. New York thinned out their bullpen depth yesterday but they'll replenish that a bit by adding the 29-year-old southpaw. (Initial reports suggested the Yankees were likely to acquire John King alongside Gallo, but a last-minute shuffling will apparently result in Rodríguez landing in the Bronx instead).
Rodríguez has tossed 27 1/3 innings of 5.93 ERA ball this season, a disappointing follow-up to a brief but productive 2020 campaign. His peripherals, though, are far better. Rodríguez has a 3.40 SIERA, with average strikeout and walk numbers but a huge 63.9% grounder rate. Clay Holmes, whom the Yankees acquired from the Pirates earlier this week, has similarly strong groundball tendencies — as does King. Based on their pattern of acquisitions, it seems the the Yankees front office is particularly keen on relievers who are consistently able to keep the ball down.
Assuming the deal eventually gets across the finish line, it'll mark the end of Gallo's nine-year tenure in the Rangers organization. Texas selected Gallo 39th overall in the 2012 amateur draft, and he's been a fixture on the major league roster since 2015. It'll no doubt sting Rangers fans to see Gallo depart, although it's hardly a surprise he wound up on the move this summer.
With Texas' window of team control dwindling, the team's last-place standing in the AL West, and recent reports that extension talks weren't progressing, Gallo's name was bandied about in plenty of trade rumors. He was also linked to the Padres, Blue Jays and Braves in recent days, but the Yankees ultimately put forth the offer that the Texas front office deemed the strongest.
Indeed, it seems the general opinion from public prospect evaluators is that the Rangers did well in this deal. Texas didn't get a marquee headliner, per se, but they added a group of talented young players to an already-deep farm system.
All four prospects Texas is expected to acquire appeared on Baseball America's midseason ranking of the top 30 prospects in the Yankees system, with Duran (6th) and Smith (8th) checking in among New York's ten most promising farmhands. Eric Longenhagen and Kevin Goldstein of FanGraphs have already slotted the group among Rangers prospects. The aforementioned quartet all checks in among Texas' top 40, with Duran and Smith again among the top ten.
FanGraphs pegs Duran as a 50 FV, the equivalent of a top 100 overall prospect. Ranking him third in the Rangers system, Longenhagen writes that the right-handed hitting second baseman has plus raw power and some chance to stick at the position. He's mashing this season at High-A, hitting .290/.374/.533 with twelve homers as a 22-year-old.
Smith, meanwhile, was a second-round draft choice out of LSU in 2019. He's also performed at an incredible level in the low minors and had an even better .320/.435/.583 mark in High-A this year. He's not especially toolsy, and he'll turn 24 years old next month, but Longenhagen writes that Smith has a chance to be a plus hitter and should at least develop into a high-end utility option.
There are similar stories for Hauver and Otto. Both are having stellar seasons in the low minors and project to be at least solid role players. It's a well-regarded group of young talent, and it's likely at least one or two will wind up important contributors when the Rangers are better positioned for contention a few years from now.
Levi Weaver of the Athletic was first to report that the Yankees were set to acquire Gallo. Jack Curry of YES Network was first to report the final terms of the deal. Jeff Passan of ESPN was first with the inclusion of the four prospects involved. Curry reported prior to the deal being agreed upon that the Yankees were making a push to land Gallo.