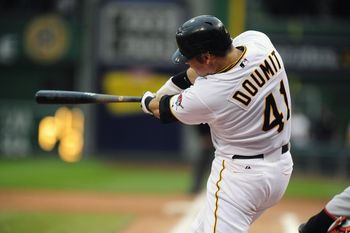 It's hard to imagine a scenario that would keep Ryan Doumit in a Pirates uniform past the 2011 season.  Even if Doumit had a Jose Bautista-esque massive breakout next year, it would only hasten his depature from PNC Park, since the Bucs would jump at the chance to acquire some prospects for a suddenly-valuable asset.
Why is Doumit's future in Pittsburgh so dim?  Doumit signed a three-year, $11.5MM extension following an impressive 2008 season that saw the catcher post a .318/.357/.501 slash line in 465 plate appearances.  Since then, however, Doumit has been beset by injuries and has only managed a .728 OPS in 760 plate appearances over the last two seasons.
Doumit has club options worth $7.25MM in 2012 and $8.25MM in 2013, and the Pirates must decide on both options at once following this season.  It's a no-brainer that Pittsburgh will take the $500K buyout rather than exercise the two options, given Doumit's struggles and durability issues since 2008.  The Pirates have already been openly shopping the switch-hitter this winter and last, and have offered to pay a healthy chunk of Doumit's salary, but no takers have been found.
The challenge for Doumit in 2011 is to both stay healthy and to play well enough to impress his next team.  Even if Doumit avoids the DL next year, though, playing time could be hard to come by for the 29-year-old despite his experience at three positions.  Garrett Jones and Matt Diaz comprise a lefty-righty platoon in right field, Lyle Overbay will start most days at first base (with right-handed hitting Steve Pearce as the top backup) and Chris Snyder is slated to catch. 
Doumit's best chance at playing time is a platoon with Snyder.  Doumit has a .796 career OPS against right-handed pitching, including an .832 OPS against righties last year.  (Snyder's career OPS against righties is just .687.)  The downside to that plan is Doumit's career-long defensive struggles as a catcher, which is why the Pirates tried him at other positions in the first place.
When it comes to a catcher with pop, however, most teams are willing to overlook defensive problems on a short-term basis, especially for a catcher that can hit right-handed pitching.  A catcher-needy team could make a move for Doumit at the trade deadline, and for Doumit's sake, an AL team would be the best option so he could get off the field and pick up a few DH at-bats.
Doumit is too much of a defensive liability to be an everyday catcher and a .796 OPS against right-handers isn't enough to sustain a full-time job at first base or in right field either.  Doumit's future is likely as a platoon or bench option, but if he hits well next season, he should have no trouble finding a Major League contract in 2012 given his multi-positional experience and solid bat from the left side of the plate.
Photo courtesy of Icon SMI