Kicking off our Offseason In Review series, the Twins.
Major League Signings
Notable Minor League Signings
Trades and Claims
Notable Losses
Summary
This winter Twins GM Bill Smith signed Pavano and Thome again, albeit at larger commitments given their fine 2010 campaigns.  He cut ties with Hardy after one season, gambling on the international market with Nishioka rather than dealing with the weak domestic middle infield market.  The Twins also saw a large chunk of their 2010 bullpen sign elsewhere and chose not to sign replacements.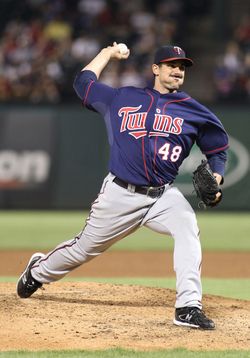 By re-signing Pavano, the Twins maintained the starting pitching depth that allowed them to place fifth in the AL in rotation ERA in 2010.  Pavano has begun to shake the reputation he acquired during his Yankees stint.  Including the playoffs he's racked up 433 1/3 innings over 2009-10, so he's been a horse.  Still, Smith did well in waiting him out and limiting the term to two years.  Cliff Lee, Ted Lilly and Jorge de la Rosa were the only free agent starters to sign for three-plus years this offseason.  Pavano and Scott Baker are solid sidekicks to ace Francisco Liriano, who I do not believe the Twins are open to trading.       
At $3MM, the money committed to Thome remains reasonable.  He's primed to hit his 600th home run in a Twins uniform after turning down more than $4MM from the Rangers.  Once again Smith's patience paid off and he was able to negotiate a slight Minnesota discount.  On the other hand, a net price of $4.9MM for Kubel is fairly steep if he ends up spending most of his time as a platoon DH.  Hideki Matsui and Jack Cust are coming off better offensive seasons and signed for less.
The Hudson-Hardy middle infield combination is gone after one season, with the Twins importing Nishioka from Japan to play second or shortstop and going with Alexi Casilla for the other position.  Spending $14.3MM on a player with no MLB experience is a gamble, but it would have cost just under $6MM to retain Hardy.  Rather than simply non-tendering Hardy after another disappointing season, the Twins paired him with Harris and cleared $1.25MM in salary they otherwise would have been burdened with.  That the return was Hoey and Jacobson suggests the Hardy trade was more of a salary dump than anything else.
As MLBTR's Mike Axisa outlined a month ago, the Twins' bullpen took a big hit with the losses of Crain, Guerrier, Fuentes, Rauch, and Mahay.  In hindsight, the risk of offering arbitration to Type A free agent Guerrier and Type B free agent Rauch might have been worthwhile.  But more importantly, the Twins were wise not to commit multiyear contracts to their departing relievers.  They've got Joe Nathan coming back and another year of Matt Capps, and can piece together the rest of the pen without adding more veterans to an already tapped-out payroll.  The bullpen depth doesn't look good on paper, but Smith can always make midseason additions if no one emerges.
Like most teams, the Twins have concerns heading into Spring Training.  The bullpen must be sorted out.  A slew of key players are coming off "cleanup" type surgeries, and Justin Morneau is still recovering from last year's concussion.  Middle infield roles must be determined for Nishioka and Casilla.  And third baseman Danny Valencia must avoid a sophomore slump.  But these were not issues the Twins could have solved by opening the free agent checkbook in tandem with the division rival Tigers and White Sox.  Smith's trademark patience resulted in significant savings this winter, perhaps leaving some midseason flexibility for trades.
Photo courtesy of Icon SMI.