To call 2011 a make or break year for Mitch Moreland and Chris Davis wouldn't technically be right. They aren't even arbitration eligible yet, so they can't really 'make it' the way prospective free agents can. But this season will undoubtedly be crucial to determining the future of the two first basemen and whether they stay in Arlington.
Davis arrived in the majors two years before Moreland as a highly-touted prospect. His .311/.370/.569 minor league line has yet to translate to the majors, however; the 24-year-old has hit just .248/.300/.459 as a major leaguer. Southpaws have held Davis to a .666 OPS, but he has shown power overall, hitting one homer per 20.7 at bats.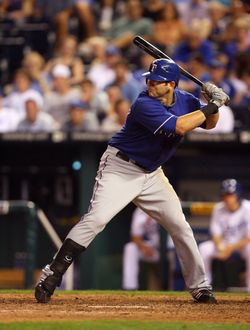 Moreland (pictured), who's a year older than Davis, debuted last year and posted a .255/.364/.469 line in 173 plate appearances before posting a .900 OPS in the postseason. Like Davis, he's a left-handed hitter who struggles to hit southpaws (.604 OPS last year). He's the favorite to win the starting job and has impressed GM Jon Daniels, who told MLB.com's T.R. Sullivan that "our guys viewed him as one of the best workers and makeups [around]."
Neither player has any guarantees from the Rangers, who are in win-now mode and aren't in a position to be overly patient with developing players. Davis has drawn trade interest in the past, so the Rangers could consider dealing him if he doesn't produce more or becomes redundant. Moreland has done everything the Rangers have asked him to do, but he's just 224 plate appearances into his MLB career, even if you count the playoffs. Let's not assume that he can be a cog at first base.
Next year's free agent class features Albert Pujols and Prince Fielder, two sluggers who figure to be looking for deals worth $180MM-plus. It's not hard to imagine Texas pursuing Fielder or Pujols next winter if the Rangers continue winning and the new ownership group decides its new TV deal allows for expanded payroll.
Even if the Rangers don't go after the most intriguing and expensive free agent first basemen, others, such as Derrek Lee and Carlos Pena, will be available (or the Rangers could opt to make Michael Young their everyday first baseman). Whether second tier first basemen like Lee and Pena appeal to the Rangers front office depends in large part on how Moreland and Davis perform over the course of the next six months.
Photo courtesy Icon SMI.