As the 2011 Draft draws closer, MLBTR will be introducing you to a handful of the top eligible prospects with a series of Q&As. The series started with three of the top college pitchers in the nation and a top college position player. Here's another arm to watch.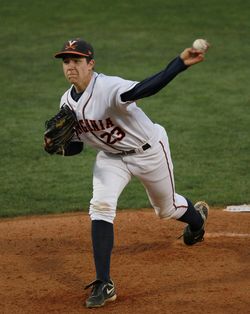 Danny Hultzen was the ACC pitcher of the year and a semi-finalist for the Golden Spikes Award last year, but even he is a little surprised by how well the 2011 season is going. The Virginia left-hander has helped lead the Cavaliers to a 36-3 record and the top ranking in the country thanks to his arm and his bat.
Baseball America's Midseason Player of the Year is climbing up draft boards and may be the third-best draft prospect in the country behind Anthony Rendon and Gerrit Cole. ESPN.com's Keith Law reported last week that the D'Backs, Orioles and Royals are among the teams eyeing Hultzen. Anyone picking much later on can likely forget about him, since he doesn't figure to be available for long.
Earlier today I spoke to the 21-year-old about his team's title hopes, his two-way play and the draft. Here's what he had to say:
Ben Nicholson-Smith – I know that you were expected to be a pretty good team, but did you expect going into the season that you would be 36-3 and doing as well as you are.
Danny Hultzen – Well that's a lot to expect of any team. I'm not surprised that we're doing well, but there were some questions that had to be answered after coming off of last year. We lost a bunch of guys into the draft, lost a bunch of guys to graduation, so there were a lot of holes to fill, but a lot of younger guys have slipped right in and filled those spots really, really well. 
BNS – If I had come up to you before the season and said you're going to be 36-3 as a team and you're going to be personally 8-0 with all of these strikeouts [99 in 61 innings this year], which one of those things would have been more surprising to you?
DH – Definitely my success. I knew that we were going to be a good team. It doesn't really matter, whatever my stats are. That's nice to have, but it's all in the effort to help the team win. We're a very confident bunch and we were very confident going into the season, so it doesn't surprise me that we're doing so well.
BNS – When you start breaking these records – the all-time wins leader for the school and the all-time strikeouts leader – and there's recognition in the media, is that a distraction, or is it invigorating to get that recognition?
DH – I think it's an honor. It's an honor to be recognized in that kind of way. It feels good to be recognized like that, but at the same time, you've got to stay level-headed and realize that just because someone says you're good doesn't mean you're very good. You've still got to go out there and compete. So it's very cool to have your name out there like that, but you've got to stay humble and just go out there and play baseball.
BNS – What kind of an arsenal do you have and how do you go about your business on the mound?
DH – I'm a typical left-handed pitcher. Fastball, change-up and slider. But the main thing I do when I go out there is just compete with an aggressive mentality every time I pitch. You're not going to have your best stuff every day, so to compensate, you've got to go out and be competitive and be aggressive and attack hitters. I think that's really important and it's something that I try to do every time I go out there. 
BNS – And is that [aggressive approach] the reason that you have so few walks?
DH -  It's definitely a result of attacking the hitters. We're not going to try to avoid contact. We're not going to try to strike people out [at all costs]. We're going to throw strikes and make them beat us and not let us beat ourselves by walking people and getting behind in the count. So the aggressive mentality that I was talking about feeds into that.
BNS – If you think of some MLB left-handers who don't walk a lot of guys, Cliff Lee comes to mind. If you were to compare yourself to any Major League pitcher, not obviously in terms of where your game is now, but in terms of who you might look up to as a pitcher, who would you point to?
DH – I don't necessarily compare myself to Major League pitchers, but I do try to learn from Major League pitchers and watch them and Cliff Lee is definitely up there as one of my favorites to watch because he has that aggressive mentality that he's going to throw strikes. He's going to make you beat him and he's not going to walk people. He's going to be the attacker.
I watch Cliff Lee and Cole Hamels and I really liked watching Andy Pettitte when he was playing. So there's guys like that who I look up to and try to learn from.
BNS – What about you as a hitter [Hultzen entered the season with a .316/.405/.426 career line as a first baseman and outfielder]? How would you describe yourself?
DH – I'm just out there to try to hit the ball hard somewhere. I'm not going to hit many home runs, if any at all. I'm just up there to try to hit the ball somewhere where they're not. I'm not a power guy, I'm just going to try to put the ball in play somewhere in the hole or in the gap.
I try to take that same competitive mentality to hitting, too. I know the pitcher's now up there to walk me, so I try to take my aggressive mentality to the plate, too. I wait for a good pitch to hit and try to hit it somewhere hard. 
BNS – When you look ahead, say, a couple years from now, do you see yourself still hitting and being a two-way player, or do you see yourself focusing more on pitching and trying to develop your career in that way.
DH – I'm not really sure yet, but my guess is that I'd probably be focusing on pitching. I'm a lot more confident on the mound, not that I'm not confident at the plate, but I feel better pitching than I do hitting, even though I love doing both and I'm very lucky to have the opportunity to be a two-way player in college. Probably down the road I see myself as a pitcher.
BNS – How much are you looking forward to the rest of the season now that you're off to such a great start?
DH – It's awesome. We've been playing well right now, but I think if you ask any of my teammates, they'll say that we haven't peaked yet and we all feel that we're capable of playing better baseball, even though that may sound a little arrogant to say given the record we have, but I think that we're confident that we still haven't played our best baseball yet and we're working to get there and try to reach that goal of playing our best baseball when it matters most – in the postseason.
BNS – Are you thinking of the draft now? Is it even in the back of your mind? How much of a role does it play in terms of your state of mind at this point?
DH – I'd be lying if I said I hadn't thought about it, but it's in the back of my mind. That kind of stuff can overwhelm you a little bit and I don't want that to happen to me. I don't want to be concerned about focusing too much on my personal situation, so I've been focusing on the team's success and not personal goals. My personal goal and every player on the team's personal goal is to win the national championship and we're just working hard to reach that goal.
BNS – Have the Diamondbacks approached you about selecting you again or is that something that you would be open to giving them permission to do if they were interested in taking you? [The D'Backs drafted Hultzen in 2008 and would need his permission to select him again. They have the No. 3 and No. 7 selections this June] 
DH – That'd definitely be something I'd be interested in. I haven't talked to them at all and I haven't talked to any scout like that at all, so that's a little bit down the road, but that'd be something that I'd be willing to do.
Photo courtesy University of Virginia Athletics.